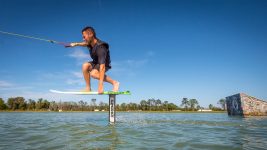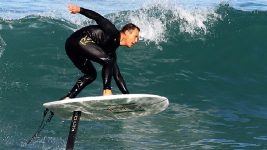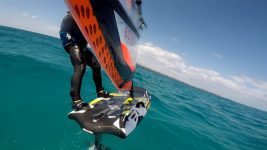 They're everywhere, on all your screens, on everyone's lips and in all of our wildest dreams as surfers. But are they in your shop yet? Foil surfing is creating a serious buzz, but it remains to be seen if it will create serious business for surf retailers. This is an in-depth look at the high-flying hydrofoil craze by David Bianic.
If the term "disruptive" gets entrepreneurs in search of the next big thing salivating, foil surfing is only just starting to kick their imagination into gear. While SUP is shaking up the aquatic boardsports market, it's not a disruptive technological force, more like a clever mix of surfing and paddle sports. What makes foil surfing unique is the way in which it has invented a new way to approach riding a wave… and even better, an unbroken swell. Expanded horizons also mean a wider range of opportunities to make money from this brand new market. However, before running in blindly with your head down, read these words of wisdom from a few key players in foil surfing.
With the advances in hydrofoil technology seen on boats in the America's Cup, windsurfing and especially kitesurfing became early adopters, with the first manufacturers going into business almost 10 years ago, such as Ketos in France: "We are on the market of kitefoil since 2009, more or less the first in 'mass production'," emphasizes Anne Rostain, company director. As naval architect and foil designer for the multi-board brand F-One, Charles Bertrand reminds us: "Kiting is the sport that has enabled foiling to emerge for real and show its potential these past few years. The setup fits really well with foiling and really belongs to the identity of kiting now." The distributor of Naish products in France and the Benelux, J.W. Mulder feels the best exposure possible will without a doubt be the 2024 Summer Olympics where the kite and windsurf athletes will use hydrofoil boards, which should lead to exponential growth in the sector.
But will the same theory hold true for surfing and SUP? These two sports are the ones that really matter for surf shops and the rate at which they've been evolving can be daunting for retailers: to wait for just the right moment or to jump in before it's too late?
"Surfing is the most niche market for foiling right now, but the size of the total market is big enough for surf-foiling to become the biggest of all foiling markets," thinks Charles from F-One, adding that the SUP foil is a good first step before transitioning on to foil surfing on a shortboard. Jeff Logosz from Slingshot is also convinced that foil surfing will become a goldmine: "Foiling is hard, so it will be respected. And it does not replace surfing. In fact, it changes what you can do in areas that you don't surf in." The enthusiasm is catching. Even endemic players in the wind/kite market are convinced by the potential of the hydrofoil in the SUP/surf market. "Foiling in crappy surf is really fun", guarantees Alex Aguera from Go Foil.
Is the hydrofoil, an instrument of death?
The most important question facing retailers interested in investing in the market segment is how large is the risk factor, since a foil's sharp wing can transform instantly into a meat-cutting knife as much for the rider as other people in the line-up… For the president of Ke Nalu, Lane Mead there's a one-word answer: "Communication!" According to him, instilling foiling safety rules and etiquette from the start is essential, and he adds "there's almost never a need to be around surfers". If we take the example of Slingshot, the answer to the education question is in the form of an online platform (foil-academy.com), whose brand neutrality is commendable.
But, the self-inflicted injuries are not the kind you'd expect. "I have seen a lot more dangerous wipe-outs due to higher impact stresses than I have seen bad cuts related to the blades of the foil," notes Charles from F-One. Which is why there is so much focus on the impact vests that are more often used by kite/wind specialists, but are starting to appear in the SUP market as well. At Manta Foils, Renaud Barbier recommends wearing a helmet, in addition to the impact vest. Another solution put forward by the president of Crazy Foil, Serge Fraser is the use of footstraps, because "being fixed to the board keeps you away from the foil and one has better control when falling." We should also pay close attention to Go Foil's Alex Aguera when he recommends avoiding long masts during the early stages of learning how to foil SUP/surf, since "when you flip over, the wings will be closer to your face." Therefore, it's better to start with masts around 24" (60 cm) and to not use sharp kiteboarding wings, which Alex warns can result in severe cuts. For Jeff from Slingshot, it's still essential to trust in the future and technological development: "When kiting started it was 10X more dangerous than foiling.  After about seven years of product and schooling innovation, the kite industry has made it pretty safe."
One or two foil markets?
In spite of its short existence, the foil market has already played host to several opposing trends. At first, foil developers sought to work with board manufacturers, before the latter began developing their own technologies in order to produce a complete "board and foil" offering. Today, a number of foil manufacturers are counter-attacking with their own SUP/surfboard lines. What should retailers do? Go for a "foil only" strategy, or offer fully equipped "board and foil" package deals? "Actually, there is place for both markets", thinks Serge Fraser from Crazy Foil. "Bundles will appeal to starters or users that do not want to spend any time assembling the foil and board together" while "younger or budget sensitive people will try to reuse older model boards with their foil brands." As Charles from F-One confirms, most of the time it is possible to mix and match products from different brands, because "a lot of them are based on the same connection system," which are "fin boxes like Tuttle or plate systems," specifies Renaud from Manta Foils. Nonetheless, J.W. Mulder from Naish warns that the biggest obstacle to the market taking off may not be technological, but financial, since in the surf segment "foil hardware is way more expensive than a normal board."
Nonetheless, Stéphane Mocher from Select Foils feels that foils for SUPs and surfboards can eventually be built from less expensive materials, since the forces exerted are less than those on a windfoil: "A foam core, with 80% fibreglass and 20% carbon is enough for this segment and the price is much more in phase with the SUP and surf market." Jeff from Slingshot is of the same opinion, insisting on the fact that using an aluminium construction won't result in a mediocre level of performance any more than using carbon guarantees optimum performance levels. So, the brand offers hybrid aluminium carbon constructions that are both less expensive and that will help people "learn faster and get better on it faster than going with a straight up high-performance carbon version." However, not everyone agrees with that take on the matter, like Alex from Go Foil who states: "Carbon is king!" For him, aluminium foils are dangerous because they don't float and maintain their momentum after a fall due to their heavier weight.  Anne from Ketos also advocates the "black gold": "Today carbon is used on hydrofoils not for cosmetics but for its property of mechanical resistance and its weight", not to mention the material "allows to be refit or repaired".
Foilboard vs. Hybrid
While the price of a foil alone remains a handicap for the democratization of the sport, the purchase of a foil-specific board adds to the cost of a full set-up. Wouldn't it be better to offer hybrid boards that could be used with or without a foil? "Adding the connection system represents a significant alteration to the original board," specifies Charles from F-One, implying that it's not such a good idea, except possibly on a SUP, whose performance would be less affected by such a modification. The choice of a foilboard over a hybrid will become more and more common taking into account the (ultra-quick) evolution of board shapes. "Smaller boards used in foiling are harder to use in their regular disciplines," explains Alex Aguera pointing out that the very muscular Dave Kalama, who weighs in at 95 kilos rides a SUP board that's only 5'6"! For the founder of Go Foil, the hybrid concept is better suited to a SUP/windsurf combination. As a matter of fact, Mantafoils brought a new innovation to the table last year, by commercializing an inflatable SUP/wind foil.
As far as foil surfing is concerned the boards are now so specialized that it would no longer be possible to surf on them, assures Jeff from Slingshot: "They are short, no rocker, and offer super sharp rails. They are designed to catch a wave fast and get on foil." At the very least, these micro-boards compensate for the size of the foil, which is another negative point on the "for and against" list for potential buyers. 
The last question is also one of the most important for retailers: is now the time to get into the hydrofoil segment or not? In the opinion of Charles Bertrand from F-One: "We're past the early adopters and we're selling today to the early majority with a transition soon to the wider crowd." Jeff from Slingshot thinks that the best advice to give to retailers is to "choose a leading brand in foiling" that has been around for a sufficiently long time, and to do your homework on foil developers: "If the designer's name isn't featured front and centre, buy another brand." We'll let Lane Mead from Ke Nalu have the last word: "Go for it! But learn about it, know the proper terminology and ideally get out there and foil, too." No more excuses. It's time to learn how to fly.