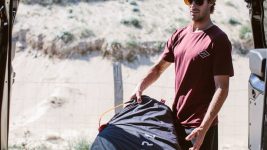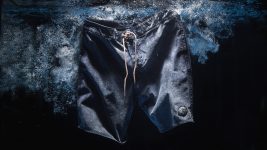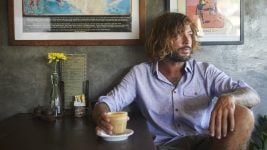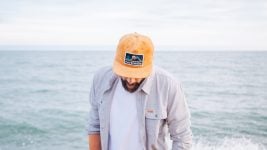 From the streets of downtown to the edges of the beach the styles are on show, the looks are mixed and the lines are more and more blurred between the surf, retro, street, casual and skate universes… But one theme resonates more than the rest; it's the big 90s comeback. It was a key period that left its mark on the existence of every brand, the career of every designer, the adolescence of every consumer… A flashback to a future, that's not so far away. By Denis Houillé.
80s / 90s: like a duck in water
In 2018, the influence of the 90s has never been stronger. Surf, punk, folk and funk trends battle as if they were vying to reach the top the music charts! The origins of the brands, exploding at this time, are reappearing as if time had stopped. With a certain amused nostalgia, the designers in our industry are diving with precision back into a time of pomp and circumstance when the beaches were less crowded, designs were more daring and the rules of the game hadn't really been defined yet…
In the meantime, the industry restructured itself, the prêt-à-porter world passed on its codes of practice and the arrival of mass retail channels undercut and perverted the whole thing… Nonetheless, surfwear continues its march forwards from downtown to the line-up, from prêt-à-porter tradeshows to the essence of surfing itself, without showing too much concern for anything else.
The encounter between the 90s and 2018 has lots of fun surprises in store with lines that inspire everyone, in so much as creativity, colour bias and typography contrast between collections. The do it yourself spirit continues to claim its etymology far and wide in illustrations, majorly reinforced by big marker pen lines and other thrash effects. Like a duck in water, designers are preparing collections capable of touching the heart and soul of anyone who lived through that time period or who looks upon it with fond admiration as they would a documentary film. This universe is the playground they created, and have been able to observe the evolutions that have followed it. So, for 2018, it's time to set the record straight.
DARING COLOURWAYS
In a true ode to the 1990s, retro washes, vintage treatments and other things like tie-dye will be very popular again this season, especially on t-shirts. The 90s vibe is also a staple in terms of colours. From fluro tones to vintage fluro, from graphic designs to original lettering, the pieces are astonishing and no two are alike.
However, designers aren't just copying the same styles of the era, but have managed to reinvent themes, going back to their roots, while incorporating modern manufacturing techniques. The typographies of the time are being refreshed on the palette, which is making them irresistible and incredibly modern. The same thing goes for materials, they're not satisfied with just reusing corduroy and washed denim from back in the day. They've been reworked, made more elastic, waterproof and durable.
The colourways chosen for the season are rather invigorating, with fluorescent blue, pink, green and yellow, as is the case at Maui & Sons. At Rusty, things are oscillating between two distinct themes; one composed of typical 80s fluro colours, the other built around darker works from the 90s. While at Rip Curl, the colourways follow the pace of deliveries, staggered over the course of the season, changing from neutral and organic tones in Spring to bright and pastel colours in Summer. Superbrand is using light washes of grey "onto which we add depth with greens and blues", specifies Jason West from the design department. More 70s, orange, blue and mustard tones make for an interesting dynamic, to which are associated different nuances of blue, with pink, yellow and mint greens.
The sun faded treatment used notably by Deus Ex Machina that appeared this season was a client pleaser and we're waiting to see reds, yellows and greens re-emerge, accompanied by classic blues to stabilize the balance of colours. Also, at O'Neill they're proposing very seductive military tones (khaki, black, white, red fruit wash). Quiksilver is evoking a mixture of shiny vintage on the lifestyle side and deep blue and grey nuances for the performance aspect.
MATERIALS AND MORE
A 90s best seller, almost on the same level with denim, corduroy is a not-to-be-missed hit. Be it on shirts, pants or jackets, you can't pass it up / do without it. Certain brands have even made it their specialty.
At Billabong, the jerseys and poly / cottons are complemented with chambray and corduroy to keep that 80s spirit. Finisterre, for whom keeping the oceans clean is a daily preoccupation, is putting forward the use of "lots of recycled plastics with UV protective and quick drying properties" as well as "super light jackets and lots of seamless products." O'Neill is also weaving bionic fibres thanks to plastic waste recovered from the ocean, and via ECONYL old fishing nets are being recycled into brand new nylon! For Spring 2018, Reef has developed a comfortable, light, and water-repellent four-directional perforated stretch fabric for their shorts and boardshorts.
THEMES & INSPIRATIONS
"With all the crazy stuff happening in the world our inspiration mainly came from finding freedom, getting creative and having fun," is the vision shared from within the design department at O'Neill, which at the same time helps us keep our feet on the ground. The men's department at Protest also cites "a return to nature, liberty and the art of living," which is materialised stylistically in the form of skilfully washed tees and tops, as well as shirts with a raw cotton look. Rip Curl is going back in time too with an utterly pleasing return to modern retro-surf. Inspiration at Superbrand comes from opening the window onto the coast of Southern California and the distortions that appear from looking at it through a modern eye.
Always loyal to the universes of surfing, fishing and sailing, Salty Crew is doubling down on inventiveness and trying to touch "everyone who works at sea and in the ports, and who's out in the line-up on every lunch break," puts forward Josh Barrow. Finally, in the design department at Finisterre they say "we've plunged our heads underwater to find our inspiration." Get ready to see tones inspired by "jelly fish, coral, as well as products made from recycled plastic!"
FROM DOWNTOWN TO THE BEACH
In light of the sell through rates, technical and multifunctional clothes seem to be highly appreciated by a larger and larger customer base, who are looking for this extra added value in surf clothing. Hybrids have never been as popular! Every client wants to have an outfit to wear that's just as well adapted to the corner café as it is to the middle of nature and on the shores of their favourite surf spot. So, at O'Neill, they're emphasizing "very functional pieces that you will be able to wear the whole season" while dealing with variable climates.
At Protest, the crossover of looks is the heart of the matter, and from surfable shorts to polyester / elastane shirts, which offer "streetwear looks with sportswear comfort," these mixes are performing well. Quiksilver is also widening its offer of technical clothing "with products that work in different climatic conditions, while still easy to wear on a daily basis" affirms Ronnie Reyes the International Head of Design at Quiksilver.
Passenger Clothing notes: "The adventure surf trend has notably increased especially in accessories and utility products as well as transitional multi use apparel pieces". Patagonia has put to good use their hours of research and development to create "a line that covers functional simplicity, performance and pieces which are more travel savvy and fun," offers Gabriel Davies the Surf Division Manager.
Right in the middle of this trend towards multifunctional clothing, the surf influence is discreet in the cuts and the details, but formidably efficient in the choice of materials. Maui & Sons, faithful to their roots notes using a material in their shorts that is "a very technical, ultra-rapid drying stretch in order to transpose beach shorts onto the street," as explained by Global Design Director, Lacey Corkery. The same thing for Finisterre products, which "even if they're rife with technology, they'll also be very popular in bars," explains Sales Manager, Hennie Aylwin. New to the market, are the British folks at Surf Perimeters who are offering very technical products with a very contemporary look. Finally, amongst other new things for 2018, in the shorts aisle, O'Neill cites a jean hybrid (lighter and more stretchy than the real thing), which seems to seduce fans of denim as much as fans of surfing.
ENVIRONMENTALLY FRIENDLY DESIGN
In the end, consumers are well informed nowadays and know how to tell the difference between brands that have done their homework, and the rest; those that use recycled polyester in their technical shorts and that weave their fibres from plastic collected from the depths of the ocean. The initiatives are numerous, and so remarkable that they tend to trickle down through the rest of the production chain, which is the case at Patagonia where they help their partners and suppliers obtain the Fair Trade certifications.
By their ethics, the brands in our industry set themselves apart from the fast fashion trend, which the guys at Passenger remind us is the second most destructive industry after oil. Once again, it's the consumer who, based on their purchasing power, will have the last word.