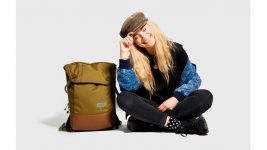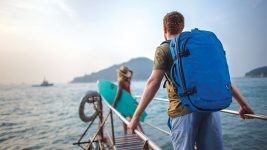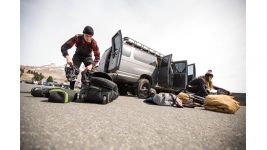 Backpacks FW17/18 Trend Report
Boardsports enthusiasts appreciate reliable backpacks as companions on every journey. With the advent of "always-on-the-run" lifestyles, performance-proven packs are also winning over students and commuters. 2017 Backpacks Trend Report by Dirk Vogel.
Backpacks remain a safe bet: Current research values the market for backpacks at $100 million in the UK and $2.7 billion in the United States. Backpack sales reached an all-time high in 2015 with over 174 million units sold in the U.S. (Travel Goods Association). Overall, market growth in the segment has settled at a solid 3.9%, down from 9% in 2011 (Euromonitor), but there are breakouts: Recent NPD Group statistics reveal an 18% increase in women's backpack sales, at the expense of handbags, which saw a 5% drop.
Backpacks from endemic brands remain in high demand for two reasons: They follow customers through their day while visibly displaying allegiance to the boardsports lifestyle through branding and styling. And they pack the kind of features and functions – all the way to back protectors and avalanche parachutes – that our culture puts to the test on a daily basis. Brands in this trend report shared the assessment by Heimplanet owner Stefan Clauss: "We believe that packs are becoming even more important as an accessory in 2017." As Stephane Froment at Rip Curl puts it: "Wherever you're going for surf, you'll need to carry stuff!"
On a product level, the two major factors – style VS. performance – reflect in two distinct design approaches. "The simplest way to divide our range is by technical and lifestyle-oriented products. Technical packs are designed responding to the specific needs of our athletes. They aim to provide the right features to spend a better day while travelling or riding," said Markus Otto, EMEA Marketing Manager at DaKine.
SEASON TREND: MOBILE LIFESTYLES
The importance of technical features increases as more and more consumers adopt mobile lifestyles. Whereas the home previously functioned as the go-to hub in between activities, many consumers leave home in the morning and spend their time at work, school, and play without returning before settling in at night. And since many boardsports packs are already built with travel in mind, they're a logical stand-in for living-out-of-a-bag. "The Ful range includes all the travel gear you need to make each trip from A to B that much easier – especially if you have the day-in, day-out needs of a serious commuter," said Ful's European marketing expert Mark Griffiths at Concept One Europe. "It's clean and smart products that make your journeys better. We have taken the urban style to the mountains," said Sanna Johansson, Marketing Coordinator at Douchebags. SnoKart Founding Director Christian Williams points out that his company's Bak Pak is, "as good for cycling as it is for skiing or commuting on a train!" One to watch out for is Doughnuts, a Hong Kong-based bag company,already big in Asia, is now taking the European market by storm thanks to their "functional heritage product design, technical outdoor mountaineering influences and detailing mixed in with an up to date colour pallet."
PRICE POINTS
In return for real functionality, customers are ready to pay real money for their packs in 2017: While most companies provide entry-level lifestyle packs starting at €40, technical backpacks with advanced materializations and innovative design features generate action up to €120. Meanwhile, DaKine sells their Poacher Series, "the most technical, airbag-compatible packs for the consumer with the highest technical demands," at up to €230. Duke Johnson, Nixon's Global Category Manager Softgoods and Accessories, even said: "Our category ranges from $25 – $350." Retailers are best advised to know their customer base, and stock up on the right mix of flair VS. luxury and lifestyle VS. performance as the category picks up momentum: "Depending on the country, we can tell that wearing backpacks is definitely back on trend again. This was not so much the case a few years ago," said Markus at DaKine.
STYLING
Boardsports customers score big on style, as 2017's backpacks have outgrown the clanking overload of straps, hooks, and zippers for more refined constructions. Herschel is seeing great success with their Classics line of student-friendly backpacks, while beefing up their Trail Collection with progressive styling: "The backpacks have water bottle pockets, unique storage features — all the bells and whistles from outdoor, but designed from an urban perspective," said Jon Warren, Herschel's Director of Design, while pointing out that the technical ApexKnit Collection is "really pushing the boundaries of construction and what it means to create bags."
As technical demands surge, brands are reengineering their packs from the ground up. "We are playing with the shape of the bag. Traditional shapes, such as the school bag, will still be most popular but we are having fun with unique origami, folded styles. We are also seeing the trend moving away from top loaders to more front loaders," said Duke Johnson at Nixon. "As the line between tech and lifestyle becomes increasingly fluid, expect to find dialled in detail across the board," said Charlotte Wilcox, Bags and Accessories Designer at Animal. Next season sees the rise of sleek, aerodynamic, and pod-shaped packs without protruding pockets or zippers from a majority of leading brands. Meanwhile, UK brand Daniel Poole delivers refinements on their classic streetwear bags based on bomber jackets: "The original MA1 bag produced in 1994 is currently featured in the Victoria and Albert Museum," said Laurence Poole, Sales and Marketing Director.
COLOURS & MATERIALS
Next season's backpack colourways are following streetwear trends, dominated by military classics such as black, tan, olive, navy, and gunmetal grey in monochromatic finishes with the occasional colour blocking or suede accents. In terms of patterns, camo is making a big comeback: "Animal's original British Camo print features across both men's luggage and backpacks, given a new twist on a dope-dyed herringbone," said Charlotte at Animal. Nixon is injecting patterns into the line via a collab with, "US-based Pendleton, placing the brand's 100% pure virgin wool patterns onto Nixon's bags. We have also worked with British Millerain, using their waxed cotton on some of our favourite styles." Mi-Pac go a little leftfield as they "explore 'futurism', by introducing new fabrics such as transparency, glitter and mirror providing as a nod to this integral trend for a truly cosmic vibe."
Materials add value and performance across the board. "All Ful backpacks use 1680 denier super tough ballistic nylon. Ful does not compromise on the quality of the materials used," says Mark at Ful. Jon at Herschel is "exploring different types of rip stop, and different processes for cotton canvas, whether it's enzyme washes or stone washing," and is stoked on "ApexKnit, our first trademarked fabric. We're the first to do jacquard woven backpacks, so that's a huge technology for us." Rip Curl is adding overprinted heather and two-face coated high resistance fabrics to the line, while Heimplanet is pushing a specifically developed Diamond Rip Stop Nylon Melange fabric that elevates durability and creates a unique look. Duke at Nixon said: "As far as materials go, we really run the gamut from cotton to poly, to nylon to cordera, dobby and rip stops."
FUNCTIONALITY
The shift towards performance aspects is consumer-driven, said Heimplanet's Stefan Clauss: "We believe strongly in real functionality and see that our customers seek these out. They are getting more and more educated about materials and functional elements and want the real thing even if they are searching for a pack for everyday use." Customers want bags with lots of stash room, fuelling the major trend towards roll-top backpacks with roll-able sleeves secured by latches. Skateboard-specific packs feature latches for carrying a board, placed on the back – as in Ful's Overton model – or beneath the pack, where they double as holders for the ever-so-trendy yoga mats. And as Laurence at daniel poole points out: "Many people carry expensive tech, Mac Books, iPhones, and cameras and they need a bag to transport these items securely." Pac Safe are so nuts on security, they named their company after it and are really upping the game in backpack safety, as Marcus Johnsson, VP of Design informs: "Pacsafe has made a name for itself in creating innovative solutions to the bag industry through bags that are offering a peace of mind at any journey. We have tons of patents involving anti-theft security so when getting a Pacsafe you're not getting any other ordinary bag." Today, padded sleeves for tablets, phones, and laptops and pockets for camera gear and boardsports tools have become the status quo, while sports performance features such as SnoKart's hydration drinking spout are the next frontier.
"Outdoor has arrived in daily urban life. Waterproofing and low weight are expected standard features. Reflective and transparent fabrics remain a strong trend," said Niklas Pastor at Aevor, adding: "Many brands are experimenting with supplemental features such as detachable toiletry bags, vacuum-sealed laundry sleeves, or USB smartphone chargers." Speaking of laundry sleeves, waterproofing has become important on the packs' outer shell as well as inside pockets for those sweaty gym clothes or wet shoes. Bags also fit more comfortably thanks to cushioned carrying straps, together with "padded air flow zones, integrated lash points and sternum straps to lighten the load," said Charlotte at Animal.
Customers also want more tech while riding, so DaKine is letting them have it: "We provide the full range of key tech features, from more sophisticated ones like removable airbag systems or integrated back protection to more simple ones like vertical/diagonal ski/snowboard carry systems, deployable helmet carry, snow tool and shovel pocket, ice axe loop or rescue whistle on sternum strap," said DaKine's Markus Otto. Evoc, the brand founded by freeride pro Holger Feist after an avalanche accident in 1999, also packs back protection and extra protection: "You can turn your backpack into a fully-fledged avalanche airbag pack by combining our ZIP-ON ABS pack sacks with the back system from ABS, the market leader," says Evoc Marketing Coordinator Jessica Negele.
OUTLOOK
As the functional needs of boardsports athletes align with the mobile lifestyles of city dwellers, the future of the backpacks segment holds more technology and performance without compromise on style. Future packs are bound to up the ante with built-in solar chargers for devices and other tech to support those long and active days away from home.