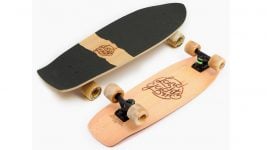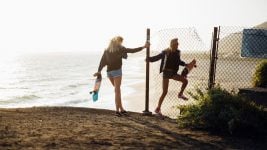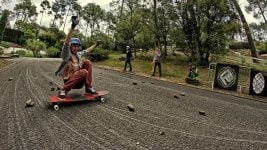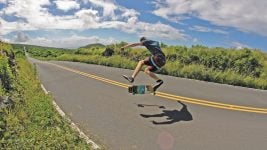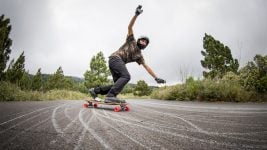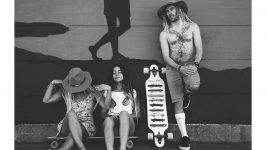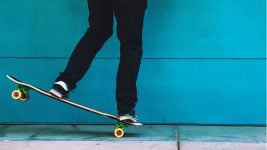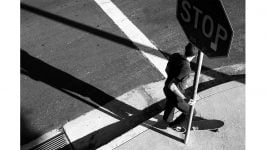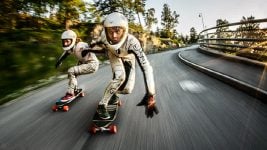 With lots of talk in the industry about the health of the longboard market, where's the segment really at? And where is it heading next season? Here's our Longboard 2017 Trend Report by SOURCE Skateboard Editor Dirk Vogel.
People at tradeshows and other industry events have been discussing the health of the longboard market quite a lot recently. But what market, specifically, are they talking about? Because at this point, longboarding has matured and specialized so much, it actually consists of several markets, all with their own product preferences and customers. Longboarders are out there gunning downhills at over 60 mph, but they're also cruising to the store, popping ollies in a ditch or pushing through the 'hood with an SUP paddle.
All of these riders pursue completely different riding styles, the only common denominator being their preference for slightly "longer" boards – but not the same boards. "I don't believe there is one specific thing customers are looking for today, as skateboarders are becoming more and more diverse," said Shane Maloney at Madrid Skateboards. Much like "regular" skateboarding can be divided into street, park, freestyle, and vert, the "longboard" contingent breaks down into three groups: downhill/race, street style, and cruising.
Cruising has been the focus of longboarding's mainstream appeal. It's made a lot of money, seen a lot of growth, but now it's taken a dip in participation (with only female skaters bucking the trend). On the flipside, hardcore participants in the downhill/race segment have been keeping the faith, and while they represent a smaller fraction of the market, they are also the ones willing to pay for premium product. "I think that quality, materials and innovation are the key in the market now," said Joel Raivio at Nordic upstarts Uitto Boards, adding: "Riders are finding better options and are willing to pay more for quality and durability."
Understanding these groups and audiences and serving their specific needs is the key to future success. With that said, here's what's trending in the Three Schools of Longboarding:
RACING & DOWNHILL
Audience: Core riders; speed freaks
Trending shapes: Drop-throughs, longer wheelbases
Really, no casual customer is going to strap on a helmet and hoist himself down a steep mountain pass at breakneck speeds like those guys on YouTube. Downhill and racing require some serious skills, and also serious equipment. Drop-through shapes continue to be in high demand, also since they offer a low centre of gravity, and most shapes allow conversion to top-mounting of trucks. Current downhill board constructions also make interesting use of dips and rocker segments in the concave, while next-gen fibre, sandwich, and hollow constructions by major brands are pushing the boundaries.
As opposed to casual riders, customers in this segment purchase individual components such as decks, wheels, trucks. But all premium manufacturers also serve complete downhill boards, including Madrid, Landyachtz (Hollow Tech Stratus model), Hydroponic (DT Kick 3.0), Loaded (Icarus), Lush (Machine 3D X-Tuff), and Dusters. "Our brand-new downhill complete longboard introduces a new shape, new mould, heavier grip tape and brand new wheels that we developed with our rider Malachi Greene," said Dusters California Creative Director Nano Nobrega. And as mentioned earlier, these core customers are willing to pay for top-shelf quality. "We've seen high demand for our $600 retail foam core carbon fibre downhill/race board, the Triple Beam," said Dave Price, International Sales Manager at Landyachtz.
FREESTYLE & STREET
Audience: Core; street skaters
Shapes: Hybrid shapes 36 to 38 inches; kicktail and nose
The most innovative in terms of riding technique, freestyle longboarding attracts a core audience, including "regular" street skaters in search of new kicks. These customers demand hybrid shapes that are "longboards with skateboard trucks as a crossover, trying to wipe away the line between skateboard and longboard," said Christoffer Stivén at Urskog, makers of the Gren Jacaranda all-terrain board. Trending shapes feature a kicktail (kicknose optional) with straight rails, mellow concave, and the occasional rocker. Also going strong for many brands, street-oriented mini cruisers are basically longboards for kids: "They help learn the tricks of the trade early, and riders will later switch to a full long board," said Christof Peller at Indiana.
Sector 9, who basically started the category of trick-ready longboards, barge ahead with several 2017 entries such as the Heffer, Orbit, and Royal Flush models. Almost all major brands feed the need with heavy-hitting hybrid shapes next season, including Lush (Samba model), Sector 9, Jucker Hawaii (Skowl Bottom), Arbor, GoldCoast, Madrid, Indiana, Flying Wheels, Quiksilver (Repeater), Loaded, Landyachtz (Revival Series), Mindless (Hamu), Moonshine MFG (Elixir), Uitto (Bark), and Dusters California. Freestyle wheel sizes have been trending down and now range between 62-67mm.
SURF SKATE & CRUISING
Shapes: Wide-bellied, pointed nose, reverse front truck
Audience: Mainstream consumers; surfers and other 'boarders
The category with the strongest mainstream following, Cruising is currently trending hard towards "surfing on land" with lots of cross-over appeal. "The carving front truck is the real trend in the longboard market right now. People want to find the same sensation as in surfing or snowboarding," said Benoit Brecq at HOFF/Flying Wheels, who just released their Surfin'Series with the new Cut Back Surf Truck. Surf training is also a growing trend: "A lot of kids want a combination of a normal cruiser with the option of a surf trainer. You can do more turns on a surf skate in ten minutes than you can in a two hour surf," said Kris O'Brien Founder/Director at OB Five, adding that many young girls on Australia's Gold Coast aspire to the "Surf Skate Lifestyle." Arbor is also serving the growing women's market with boards like the Axis model, "now offered in a slightly shorter 37 inch version," said Christian Siebrecht at Arbor.
Spanish outfit, Miller Division are big on carving and that "surfy" feel and for this season go heavy on late-80s themed graphics to complement their front-truck pivoting model with RKP truck technology. Miller Division also have a collab with Jimmy'Z to shout about: "We're really proud to give our customers this throwback to the epic late 80s and our collab with JIMMY'Z helps to elevate Miller Division to the global stage," says Miller Division's Kote Olaskoaga.
Quiksilver teamed up with Euroglass for a line of surf-inspired longboards, explains Darren Broadbridge, Manager at Euroglass: "We are at the base a surfboard company but the link between skating and surfing is so strong that we were never afraid when Quiksilver asked us to step in and look after this product segment." For next season, Carver Skateboards introduces the eco-designed Proteus surfboard/skateboard pair, "a two-board set with similar functional characteristics for seamless transition between land and sea," said Peter Shu, Marketing & Operations at Carver. German board makers Pogo transition into snow sports with the Asueto, "a bindingless powdersurf excitement device." And finally, Spanish mainstays HLC deliver a tune-up kit to add surf-like turns to any set-up with the YOW truck/suspension system (short for "Your Own Wave"). A quick word on graphics by GoldCoast European manager Mike van Mosel: "The era of wild screaming graphics is over in the mainstream audience and they are looking for high quality graphic designs, relevant for multiple years."
HOT TREND: PADDLING ON CONCRETE
For this season's hot trend, the folks at Indiana are taking their stand-up paddle surf expertise into the streets. Used alongside a carving board much like a SUP paddle on the water, their new Skate Pole comes in two versions: Fibreglass (149 SFR) and Carbon (279 SFR). The Poles feature telescopic action and can be adjusted for height, while the rubber Pusher Tip is replaceable to accommodate wear and tear on concrete. Also catching the SUP wave, Pogo longboards offer the Sk8Pole Landpaddle for an extra boost, and other manufacturers are bound to follow.
HOT TREND: SUSTAINABILITY & RECYCLING
In search of new materials, Globe unlocked a new sustainable resource with coconut: "The natural coconut fibres we've pressed into exterior plys allow us to use less maple wood and have a little more eco-friendly deck," said the team at Globe Europe, adding: "Coconuts are readily available, self-sustaining crops, being farmed for their many uses, including coconut milk." Another growing trend is recycling, which is built into the brand DNA of Aluminati: "Our boards are made in the USA out of recycled aluminium, making us very eco-friendly, which is currently an important selling point," said Jimbo Gaskin, General Manager of Aluminati.
Carver is working with Bureo to introduce a composite plastic deck using recycled fishing nets next season. At Landyachtz, the "the Revival Series is about finding lost and forgotten timbers and repurposing them into high quality skateboards," said Dave Price. The crew at Uitto went deep into product development to make the entire deck recyclable out of biocomposite material, using sustainable wood fibres from Finland: "The Uitto Biocomposite Skateboard was created because we felt guilty throwing warped and delaminated decks to the landfill," said Joel at Uitto, finalist for ISPO's BrandNew Award (decks hit shops this summer). Swiss-based Indiana are going the DIY-route by recycling salvaged snowboards into mini cruisers.
ACCESSORIES: TUNE-UP YOUR RIDE
As participation evolves from casual to mature riders, the level of risk-taking increases. Consequently, "helmets and gloves are accessories that more and more people use," said Benoit at HOFF. Mike at Jucker Hawaii is outspoken about the issue: "I know too many people with injuries because the did not wear a helmet or pads. If you are a first time buyer you must buy protective gear. If you are a shop you should encourage everybody to wear protective gear." Serious riders keep their boards longer and like to tune-up their gear: "Longboard wheels and bearings are the biggest consumables once skaters are set with a complete. A good selection of bushings also allows retailers to tune a complete to suit the customer's weight – a big difference to end-user's enjoyment," said Richard Auden at Lush longboards.
Manufacturers have re-engineered their wheels from the ground up, offering real benefits such as the extra-grippy Carver Roundhouse wheels with centre-set lips with an hourglass surface patch: "You get way more surface area on the road. This allows you to lean into your carves harder than ever before, just like you do when you engage the rail of your surfboard in the water," said Peter at Carver. Madrid tackles 2017 with the Venom Hard in the Paint Series wheels for massive slides, Flying Wheels has the Forward model, while Penny has been going for smaller sizes: "The double conical 83A durometer wheel has been reduced in size by 3mm to 66mm providing greater acceleration without compromising top speed," said Becky Dimelow, Trade Marketing Manager at Absolute Board Co.
Truck innovations for next season include the new Mindless Talisman II truck featuring, "improved castings, a strengthened hanger and precision bushing mounts." Penny has re-tooled their recessed trucks for a lower centre of gravity and increased stability. The Bolzen inverted truck is winning new followers, while Carver Trucks emerge as a popular choice on complete boards, offering adjustable turns and reverse geometry. The Carver brand is also backing its "adjust-and-repair philosophy" with the multi-use Pipewrench tool. Other must-have accessories for 2017? Definitely stock up on sliding gloves, those SUP land paddles, and some solid POS brand displays, or even better, the Landyachtz Pretty Good Chair as a welcome chill zone in every shop.
MARKET: CURRENCY EFFECTS, OPTIMISM
Speaking of shops, how is the current retail situation in Europe? "About two years ago we saw the longboard market in Europe take a pretty serious dip. Since then it appears that most brick-and-mortar stores have cleared up their old stock issues, and are hopefully a bit more stable," said the team at Globe Europe. While this is true for stationary retail, the online channel is still under pressure. "Bad news is that the Chinese get more and more aggressive on the market with their own stuff at very little tested quality. They profit from the current mess and try to take over the online market via algorithms and e-commerce," said Andreas "Maui" Maurmeir at Sector 9.
For added pressure, recent US dollar exchange rates are forcing brands into price changes. "The current FX rate has been a burden on all brands for the past 18 months," said Dwindle President Bod Boyle, adding: "We have adjusted our pricing where it is possible. However, unfortunately it is just not possible for retail to remain flat given the FX fluctuation." Benoit at HOFF/Flying Wheels concurs: "All the materials for producing longboards are bought in dollars and with the rate changes to the euro, end prices have increased around 20 per cent." Deb Fuller at Moonshine MFG suggests: "This is a good time to re-set pricing and level the playing field."
European manufacturing promises at least some independence from exchange rates. Jucker Hawaii recently shifted production of two dancer models to Cologne: "We are very happy that we were able to work with people in the neighbourhood of our German HQ," said Mike Jucker. Indiana, Pogo, HLC and other home-grown outfits are still flying the "Made in Europe" flag, joined by newcomers such as Uitto and Urskog.
Outlook
It's still a not-so-smooth ride, but Jogi Maerz at Pogo expects the rough patch to end soon: "The serious users will remain. Those people will look for quality and buy more expensive boards, like we have seen after the windsurfing, snowboarding- and many other so called 'fashion' waves." Inevitably, this consumer shift will also affect the brand landscape in the long run, said Jordi Quinto, in charge of skate marketing at Hydroponic: "Only real passionate brands are going to stay, the rest of opportunistic board sellers are going out of business."