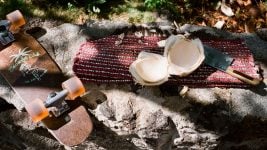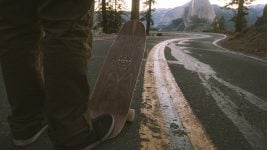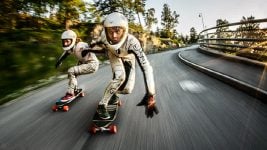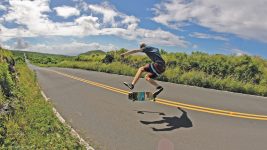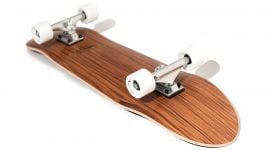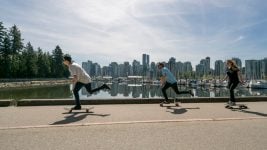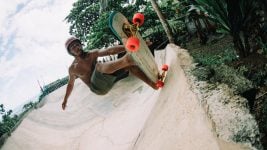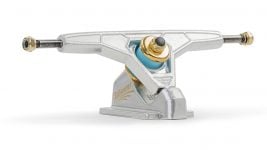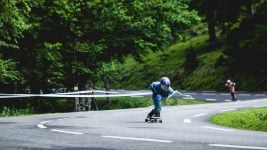 Dancing boards, female pros, off-roading: Our 2018 Longboards Retail Buyer's Guide has all current trends. By SOURCE Skateboard Editor Dirk Vogel.
Just when you thought you'd seen it all, skateboarding keeps delivering new concepts off the beaten path. Quite literally, as next season's "off-road" longboards – splatter-proof and equipped with heavy-duty all-terrain wheels – unlock a wealth of new terrain out in greener pastures. And how about stubby drop-through cruisers or symmetrical dance shapes that are all the rage now?
The gold rush is officially over, but the category is far from finished. "The casual market seems to have settled to a more sustainable level this year, seeing consistent interest without the large rider influx of a few years past," said Nathan Pauli, VP Sales & Marketing at DB Longboards, adding: "Core participation is small but stable, supported by a solid circuit of well-organized downhill events and freerides."
Speaking of "rides", industry insiders agree that market growth in the next few years largely hinges on new infrastructure. "Skateparks will be very important for the development of surfskate, as it is such an experiential activity," said Peter Shu, Director of Marketing and Media at Carver Skateboards. Pablo Castro at Loaded is on the same page: "Pump tracks and boarder-cross events are definitely adding some cool variety to the kinds of terrain that longboarders can ride." And Bob Tanner, Director of Global Marketing at Sector 9 sees a two-fold effect, as specialized parks will "lead to not only more potential participants but also to current riders upgrading their equipment."
MARKET & PRICE POINTS
In order to activate participants, plenty of endemic brands are supporting European events and event series, including Madrid Skateboards with the Big Mountain Series and Bella Joyride, "specifically targeted to women riders, which was awesome to see," said Shane Maloney. On that note, 99.9 per cent of brands in this article agreed that women's longboarding is having a growth spurt. And what's more: "We are not just seeing female consumers, but a larger presence and platform for women athletes, managers, and even brand owners. Women are coming into skateboarding in a very integrated, sustainable, and lasting way," said Nate Shute, Marketing Manager at Arbor, who are releasing the first female-specific board in their Solstice Collection. Sector 9 even issued a pro model longboard for Tia Blanco. "As a World Surf League competitor, Tia has a global reach and we're confident her model will be embraced across all the continents," said Bob Tanner.
As for price points, the hot price window is around €149 for completes right now, but premium boards and components sell for over €300, depending on brand and features. There are no general rules to ideal price points and retailers know their customers' budgets best. But keep in mind that impact from big-picture economics – mainly exchange rates and trade agreements – is a factor at the moment. "The fallout from the Brexit vote continues, with the consumer becoming more price conscious then ever. £100-£125 completes sell really well. High-end aftermarket decks for over £135, wheels over £50, and trucks at £60 and up are steady," said Richard Auden at Vandem MFG. Meanwhile, the team at Quiksilver said: "We have dropped our Rapa Nui range back down to €179 and our New Wave Surf Truck at €169. We saw the need in this financial climate to reach out to the consumer."
SEASON TREND: STUBBIER RIDES
Customers are gravitating towards shorter, more manageable boards next season. The hot ride for 2018 implements longboard construction, but at a length approaching cruiser board territory, preferably with "surfy" trucks. "Carving surfskates are the big trend. Pocketable boards that really surf the street!" said Benoit Brecq, Marketing Manager at Flying Wheels, pointing out next season's 29.5 inch Eyethorn model as a "pocketable board for street and cruising in collaboration with artist, Plot." Enrique Becerril at Miller Division also notes: "People want small and versatile skates that permit them to move in the city and include them in their day to day life." Arbor created a winner with their "Drop Cruiser" – yes, a cruiser with drop-through construction – in the Flagship Series, while also offering downsized versions of bestsellers like the Axis, Timeless and Fish. Retailers, look for cruiser-type boards from all major players next season, including Urskog (Barr), Globe (Blazer Series), Aluminati (Mullet), Jucker Hawaii, Quiksilver, Landyachtz (Dinghy), Sector 9, Madrid, Dusters, Loaded and more.
MATERIALS
Exotic woods, bamboo, coconut, aluminium, fiberglass – these past seasons saw board manufacturers adopting a wealth of new raw materials into longboarding. And they're not done. Globe is doubling down on mother of pearl, expanded from ornament to full bottom material: "Our two new cruiser shapes – The Insider and The Outsider – get a full bottom pearl sheet that not only looks quite unique, but also serves extraordinarily well as a slick bottom!" said the team at Globe Europe. Over at Sector 9, Josh Rolf, Product Development Manager, has been "experimenting with flax and hemp as an alternative to fibreglass for a while now," together with basalt fibers. Urskog is keeping a low carbon footprint with ECO Veneers and water-based glues, while Moonshine MFG is implementing "vertically laminated Paulownia wood cores, lightweight and durable."
Dusters continue their collaboration with the California Locos, which will see a longboard and cruiser put together with some interesting features. "We took one of one of our bestselling longboards and a new 80's inspired shaped cruiser and implemented design by legendary California Locos artist, John Van Hamersveld. Both boards feature full top and bottom graphics with florescent ink, mix matched wheels, and an inlayed bottom opener to crack open your favourite beverage."
The Three Main Constructions to Stock in 2018
Symmetrical dancing shapes. Ideal for customers with difficulty knowing their board's nose from its tail. Just kidding, because dance shapes with double kicks and well-placed rocker are no joke next season, with a sweet spot around 37 to 39 inches in length and functional flex. Watch out for dancing boards from DB Longboards (Dance Floor Flex), Mindless (Hamu), Loaded, Moonshine (Elixir), Original Skateboards, Sector 9 and more brands ready to get on that dance floor.
Built for speed. Also keep an eye out for downhill and racing-ready constructions – drop-through trucks optional – at just around 40 inches (remember boards are getting shorter) and turn-friendly trucks. A variety of shapes are on the menu, but make sure they're "anything but pintails," said Mike van Mosel, Brand Manager at Goldcoast Europe. Landyachtz charges into premium territory with the Triple Beam model, while the Arbor Flagship models, Landyachtz entire downhill line or Loaded's Icarus are season highlights in this category.
The big board that shreds. Hybrid boards that combine longboard-type wheels and trucks with street-inspired shapes into a shreddable package continue their winning streak. At Sector 9, where cruising and carving are 70 per cent of sales, Bob Tanner outlines how board lengths are trending: "The average board length across our entire SS18 release is just over 35.5 inches and bamboo continues to be our most used and best-selling material." All major brands are re-upping their hybrid boards, including Arbor's "expanded offering of Hybrid shapes including a new Pro Model offering from European based Team Rider, Axel Serrat." Also keep an eye out for Mindless (Lakota), Globe, Lush, Jucker Hawaii, Uitto, Urskog, Arbor, and Landyachtz (Revival Series).
HARDWARE & ACCESSORIES  
ATOM also offers their off-road wheels as a kit. Further hardware highlights for SS18 include Carver's evolution of their truck line: "Keep your eyes peeled for the new surfskate truck system, the C5, which will be hitting the market come 2018," said Peter at Carver. Sector 9 offers completes built with Gullwing Sidewinder Trucks, while Flying Wheels are proud of their Cutback carving truck and Mindless boasts the Talisman V2 truck. Pointing out a growing trend, Dave Price, International Sales-Landyachtz Longboards said: "We just released a narrower, 160mm Kodiak as we see more and more riders going with narrower trucks and shorter wheelbases for downhill."
In wheels, Shane at Madrid lists the season's major seller: "Slide wheels like our Cadillac Swingers which are great for freeriding. Also race wheels like our Venom Cannibals." Sector 9's Josh is also stoked on, "Buttersauce wheels with the new durable slide formula we came up with and how it works with the Cosmic Core." Moonshine has some White Lightning wheel innovations for 2018, and Orangatang showcases the Kegel, In Heat, and 4President wheels. And what else do well-stocked retailers need? Cool accessories, like Miller Division's protection series featuring, "coloured helmets that fit really good, gloves and protection kits with the best quality price ratio." Aluminati nailed it with their new door and wall hangers for longboards and cruisers, while Sector 9's ratcheting skate tool makes a great stocking stuffer for a shredding Holiday season.
On that note, our friends Urskog now make natural soap that's also a great gift. And when it comes to purchasing longboards and other consumer goods, Urskog CEO Christoffer Stivén said: "We can no longer live in a world where consumption is everything, where we buy a product today and throw it away tomorrow. We have to think more circular when it comes to consumption; instead of throwing things away buy quality and sell or donate it to a new happy owner once you are tired of your product."