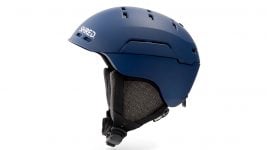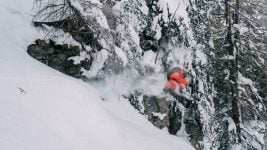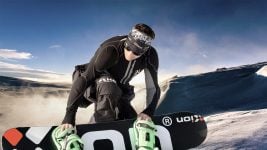 Body protection is slowly finding its way from the pros to the mainstream and, as riders get more capable of higher speeds and more technical manoeuvres, this is no longer an optional piece of kit for many.
Consumers are not necessarily more risk averse in recent times but are increasingly more risk aware when pushing boundaries in snowboarding. "It's all about spending time on the hill, and if you're injured – you're not going to be able to do that!" explains Tom Howells, Head of Product Design at AMPLIFI. If correctly designed, you won't even notice that you're wearing protective products until they "step in" to protect you from injury.
Nowadays consumers do various types of riding in one day; from relaxed turns on groomed (but icy slopes) in the morning followed by a couple of laps through the park – and maybe even some off-piste in the afternoon. EVOC are continuing their legacy of providing premium products by "developing completely new concepts and products to make snow sports safer and more comfortable and to guarantee maximum fun when touring or freeriding." Look out for their completely redeveloped line launching at ISPO.
BACK PROTECTION
Back protection has undoubtedly been the most popular investment for the mainstream-user providing that insurance policy, without being restrictive, for those that want to try new things. "I expect a naturalness (if not an obligation) in the use of back-protection for snow sports within a couple of years" states Simon van Lammeren, Founder and CEO of XION® Protective Gear.
Riders want protection that they can forget they're wearing and in response to this there's a growing demand for back protectors that are especially thin, light, and flexible whilst also offering thorough protection. Simply put, if riders can protect their backs without compromising mobility and comfort, they're far more likely to ride with protection. Shred's Flexi collection is so thin, light, and comfortable that riders forget they're wearing it. "This has enabled us to overcome the historic barriers to adoption," explains Co-Founder and CEO Carlo Salmini.
The team at Forcefield noticed a growing trend of customers using body armour built into high performance base layers, rather than the traditional style back protection. Products such as their Winter Pro Shirt X-V 2 features a CE2 'free fitting' back insert and chest part as well as CE2 Isolator 2 shoulder and elbow armour. It has a super lightweight construction and the BeCool™ 4-channel, base layer technology provides increased breathability and wicking for long days on the mountain.
XION® originally designed body protection for film industry stunt professionals but expanded their product line over recent years by providing dedicated protection for extreme sports such as their 'Freeride Range' for snowsport athletes. Part of this collection is their comfortable long-sleeved jacket that includes a CE Certified – EN1621-2 D3O ® back protector, extended protection at the lower back area and removable D3O® pads cover the shoulders, elbows and back.
AMPLIFI's back protection comes in the form of their MKX Top. Based on 3D body-scanning and sport-specific musculoskeletal analysis, the ergonomic cut, flatlock seams, sweat-wicking Miharo 6+, zipper placement and high-tech comb protector combine for a killer fit and total freedom of movement in any conditions.
OTHER PROTECTION
Protective shorts and kneepads are popular with park riders and certain (more padded) models are also popular with beginners. Gone are the days however of bulky knee pads or restrictive padded shorts with brands now seeking solutions that are incredibly supportive and protective, but barely noticeable to the user when riding.
Triple 8's Undercover knee pads deliver top-notch protection, flexibility and comfort, and are slim enough to be worn under any first layer or shell and their breathable, neoprene Undercover wrist guards give you the highest level of protection while being slim enough to fit under your snowboard gloves for low-key added protection.
AMPLIFI's MXK knee and elbow protectors have utilised the latest in 3D knitting tech to create products that mould perfectly to your body meaning you'll feel its awesome flex and breathability, but not the bumps.
XION's Bermuda crash-shorts cover the hips and tailbone and offer additional protection without adding bulk thanks to their second skin design. The integrated D3O® pads provide protection for the waist, coccyx, hips, thighs and knees, and the comfortable 4-way stretch base layer fabric prevents any restrictions in flex.
Forcefield's all new Winter Pro Shorts X-V 2 are constructed using breathable BeCool™ base layer fabrics and ergonomically shaped CE2 Isolator 2 armour pieces that have been designed to provide maximum protection, while offering huge unrestricted movement and breathability. The 3-piece armour set covers hips and buttocks/coccyx and is removable quickly and easily. Their new production techniques have resulted in a super strong open mesh that is even more breathable, yet super soft and strong.
These innovations in the body protection market have started to appeal to the mainstream market and, as snowboarding's demographics shift and riders age, there has been a lot of experienced riders using protection for the first time having turned to a body protection after sustaining serious injuries in the past.