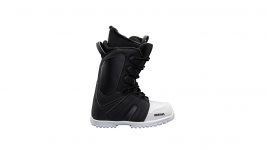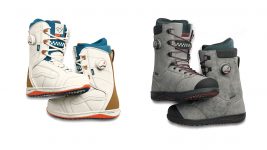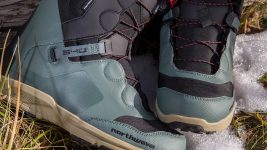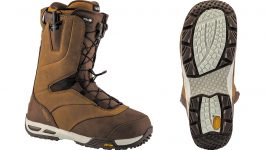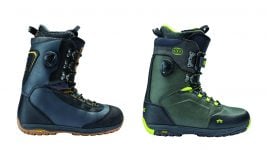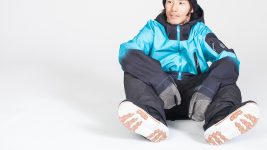 Snowboard boots have come a long way since the puffy, oversized lumps from the turn of the century; nowadays your boots are slick, slim and hella comfy. Well, they should be. And things are only going to get better next year. Tom Wilson-North reveals all in our snowboard boot trend report.
KEY NEW MODELS
32 take the prize for the hardest work done this spring with not one but three new models out for FW17/18; the customizable TM-3 with brand new midsole, Storm Shield weatherproofing and Exo Armour reinforcement is our favourite of the lot. Then there's their lightweight and surfy Zephyr – a throwback to the brand's skate roots with a buttery flex which also comes as a Jones Edition with half-zip gaiter. Finally, there's their Lashed Premium, which goes all top-endy with feature upgrades like full-grain leather and Performance Fit liner.
There's a new brand out there – something of a rarity in a shrinking market – which you'll want to go and see; binding masters Flux are now turning their hand to boots. Their line is full of technical details and attention, with Vibram soles linewide and reinforced top panels for maximum binding engagement. We liked their MXS-Lace backcountry boot with memory foam and neoprene around the toe for a freeride-friendly fit. Salomon are coming in heavy with a fully upgraded Synapse with new upper and outsole, and Northwave add an all-new Domain CR (Crampon Ready) with heel and toe grooves for automatic crampons. Vans are also showing a brand new backcountry specific model called the Verse, with a zip-up shroud sealing the lower portion against the elements.
Elsewhere, Adidas' new Tactical ADV boot receives a trickle-down Boost foam outsole to create a brilliant value package, and DC's Judge has been redesigned with a new BOA routing and Vibram outsole. Rome are showing a brand new all-mountain boot called the Libertine SRT with Boa Heel Lock closure, their proprietary PowerStay Strap at the cufftop and, again, a Vibram outsole. I should buy shares in that company.
Also worth a look is, Deeluxe, who show their commitment to all things boardsport with the noboard-specific Footloose. "We provide a tool for every type of riding and style, so we didn't want to leave anyone behind. This will be the first noboard/powsurf boot ever made, two years in the making," enthuses Marketing Director Mathieu Perez.
FOR CLOSURE
The continued market demand for easy and robust lacing systems means that the only ones still used in snowboarding are the ones that work the best; trad, BOA and a couple of no-nonsense quick lace solutions.
32's Fast Track gets a complete overhaul with new eyelet guides, handles, lacing patterns and a lock with no external hardware. Vimana are also set to join the speedlace party, and adidas will be employing the Burton Speed Zone lacing system on certain models under license.
In BOA, Head come top of the innovation pile with a New Instep Comfort Enhancer (NICE, geddit?), which puts the ankle guide and liner tongue on the outside of the liner to scrub out pressure points. "This tongue placement is a problem solver for those of us who hate the daily wrestle with the boots in the parking lot. It's designed for riders who are fairly new to snowboarding – we feel it is very important to invest at our base, making it more attractive for newcomers to enter the sport. All this starts with a comfortable boot," says Max Thurner, Head Snowboard's International Marketing Manager.
We're also seeing a couple of new ideas in heel-hold: Flow's Tracer has asymmetrical lacing and a Heel-Lock quickfit, which really locks the back of your foot in place. And on DC's Mutiny, a new lace leverage system pulls the heel back rather than crushing it down, giving more of a skatey feel.
AESTHETICS
If a boot doesn't look good, it's not going to sell. Not at full price, anyway. Snowboard shops the world over know this, with garages or even warehouses full of what looked like a great idea at the time… but the clients voted otherwise. Earth tones seem to be the safe middleground for buyers here; nothing too flashy or garish, but interesting enough to sell. "Our aesthetic direction for the coming year is on natural tones and unique blacks that we highlight with pops. Rich browns and rich blacks definitely drive the style of our boots", says Rome's Philipp Kammerer.
DC take their lead from their outerwear design team, working closely with them on colours; SKUs like the cool Beetle colourway on the Judge work perfectly with their men's technical clothing, for example. Over at 32 it's the same story, with desaturated and muted tones like burnt orange, browns and yellows dominating the palette. "Same here, we stay away from being too flashy," says Nitro's president Tommy Delago. "We'd prefer to encourage riders to spend a bit more on their boots and get a better fitting product which they don't get sick of looking at after a few months."
TECHNICAL INNOVATION
Thankfully, gimmicks are becoming a thing of the past as brands vie to create the best fitting, best looking and best value boot out there. But there are some cunning implementations of new technology that caught our eye. Salomon's all-new Custom Heat Liner on the women's Kiana Toast promises great fit and guaranteed warmth for up to 18 hours, whilst Vimana keep things cosy with a cold screen layer beneath their footbeds. The pinnacle of the Burton women's line is the Ritual Ltd, which they say is "recognized by our field testers as 'the most comfortable boot' in the line. It combines top-tier technology for a lighter, warmer, more cushioned experience because of the Ultraweave Shell Material."
32's new Elite Liner sounds cool; it's an injection-moulded shell made from their dense Energy Foam, then lined with Intuition Foam for heat mouldability. This liner comes with an Elite footbed with Adaptive Arch Support – four interchangeable arch wedges come in the box, so you can customize the footbeds to fit and support your plates of meat whatever crunk shape they are.
INSPIRATION
For years snowboard boot companies have followed skate shoe trends for inspiration – now things are changing. When we spoke to brands, football boots (!) came up as important influences alongside the classic comfortable runner or hiking shoe. Furthermore, functional and utilitarian footwear such as safety shoes, work boots and biker boots were also cited, far more than the inevitable skate shoe which was only referenced in a retro or old-school context.
SHOP FIT
Boots are often hailed as the lifesaver of bricks and mortar. The online and offline snowboard community is insistent that boots should be tried on before purchase, so there are still plenty of people coming in to give 'em a go. Brands are paying particular attention to enhancing 'shop fit', or how the things slide on and off first time, to make the client so blown away they buy it then and there without a hint of showrooming. "We made this a priority… now our boots fit great right out of the box. We want snowboarders to slip the boots on in-store and feel right at home, right away. It works," confirms DC's David Appel. Flow's Dale Rehberg agrees: "It is of the utmost importance that when a customer tries on our boots at the retail level that they have a perfect experience. This is where the sale is made and brand advocates are born." It's good to know that brands are thinking of us when we're scrabbling around on our knees, with paper balls, smelly socks, size charts and sketchily piled boot boxes towered up around the back of the shop.
CONCLUSION
Well, it looks like next year's boot buy is going to be an easy one. With fewer boot companies out there, a lot of unnecessary crap has been removed from the marketplace, leaving only the strongest performers in terms of quality, value and fit. The brands that will work the best next will be the ones that look after their distribution; it's important that the boot brands you offer aren't commonly discounted via online mega retailers. This ought to keep that vile showrooming effect to a minimum and sell through, hopefully, sky high.