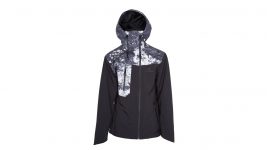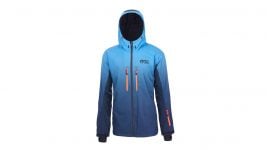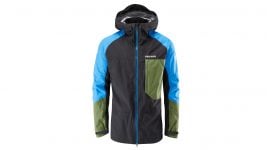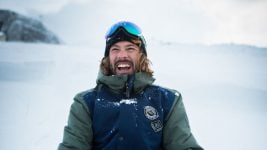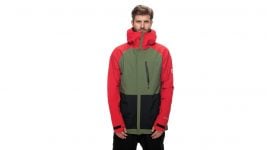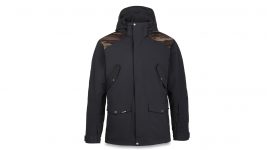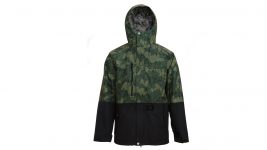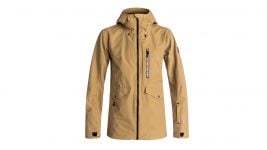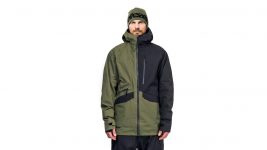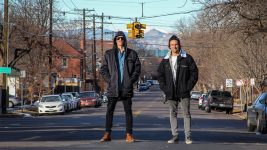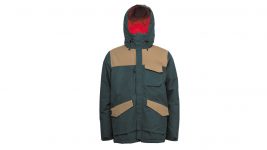 Staff Sales Handbook: Men's Outerwear 17/18
Editor's note: Retail buyers used this guide last winter to put together their outerwear orders for this season and now we're releasing it as a Staff Sales Handbook to provide all staff with a comprehensive overview of the 17/18 men's outerwear category.
It seems that everyone is eager to get a slice of our boardsports outerwear market, from supermarkets to generic sports brands to the fast fashion houses. Now more than ever it's important to differentiate your brand and your channel, shut out the noise and focus on the real-deal snowboard gear that's stood the test of time. Here's a recap of the best of the bunch, along with an injection of the latest and greatest, in our Men's Outerwear Staff Sales Handbook FW17/18. By Tom Wilson-North.
SUMMARY OF NEW LOOKS
We identified two major aesthetic trends around this winter's outerwear. The first is BACK TO THE NINETIES. Think big-logo slogan midlayer hoodies in bold graphic style (Bench), pullover jackets (Airblaster and Templeton), post-Soviet athletica, large lettering and bold fonts, chunky metal zips and coppers (Protest) and reboots of boxy fits. It's all very Kid n Play. There isn't a Fila outerwear capsule yet, but anything could happen.
The second trend we call DRAB ARMY. This is that minimal and faded look with a focus on plain fabrics with only the merest texturing, whether printed on or from the material itself via face fabrics like wovens or wale corduroy. "We see most of our fabrics trending towards more plain weaves while keeping things fresh with some streetwear influenced textures," confirms Dakine's EMEA Marketing Manager, Markus Otto. Minimal long mountain parkas and simplified down jackets, strongly in evidence across major collections next year, also slot into this trend.
Coach jackets are still out there, but starting to be replaced by thicker gas station jackets with zip fronts, smaller collars, shorter lengths and dominant badging. The ubiquitous bib pant trend continues this year, de rigeur when matched with a black balaclava, garish long sleeve flannel and mediocre Instagram account. The only bibs which are trending out are the super-baggy, sack-of-potatoes cuts; slimmer bibs are definitely more popular. Conversely, overly skinny pants trend out, replaced by articulated regular fit pants; long jackets still look good with these wider cuts, but there will be fewer 'two pencils shoved into a kiwi' looks on your local mountain. Also in pants we noticed a reduction in kneeblocking (and colourblocking in general), being replaced with tone on tone or mixed fabrics in the same colour. Onepieces are also edging their way back; we saw a gorgeous one from Brunotti which is well worth a look.
In colours, Scandinavian design and pure Pantone card classics are evident at Picture Organic Clothing, and we saw Warm Yellow playing an important role, particularly from Light. Amongst the really core brands, toned down and mellow colours are definitely the most popular. Browns, khakis, army greens. Halldor Helgason's brand atrip apparel use the vile but somehow alluring 448C heavily, and there's traditional skateboard colours at L1. "You know, my biggest inspiration is and has always been skateboarding. Whatever you see trending in skateboarding you can be sure it will make an appearance in snowboarding at some point," says L1's Jon Kooley. So the corer the look you want, the more muted the colour palette. As usual.
Crossover remains a strong story for multiple brands, but after some hit-and-miss, commercially questionable designs in recent years the future is "apparel that you can snowboard in" rather than "outerwear that looks like streetwear." There's hence less use of waterproof denim, and more of a premium, clean, sleek look in rideable hoodies, softshell pants and integrated-face-mask fleeces. The crossover style plaid wool 1OK jacket from Protest was particularly nice.
That clean look extends to the high end too. "We took our cues from the sneaker geek world and sought to mix athletic performance with a keen attention to texture, colour, and trim. Clean lines, technical features, ergonomic fits, subtle patterns, and rich colour," explains Bonfire Marketing Manager Vicki Vasil.
If none of that is floating your boat, check out Sessions for a look at their unmissable Metallica collab jacket. "Yeah, but the Metallica piece is much more than a functional, technical garment. It speaks to both the brand and band's legacy & new beginning. We're both reenergizing our presence in our respective markets – it's not only strategic, but just meaningful. And the print inside is a collage of album covers," explains Session's Nick Visconti. What's not to like about that?
LININGS
Lots of brands cited improvements to their linings as key technical stories this year. Burton's marketing push centres on their existing Living Lining tech which trickles out wider into the line, and O'Neill have a new warmth retention liner called Firewall Magma. With a name like that we expect great things, and they promise crossover thermal tech from their cold water wetsuit division, which absorbs energy to retain 25% more body heat than a conventional liner. Finally, Holden are using a material called S.Café in their linings, which combines upcycled coffee grounds into yarn, and dries twice as quickly as cotton as well as having anti-microbial odour control and UV protection.
Also notable is the lack of linings in certain pieces. Paclite jackets are on the rise and visible from most brands. These do-it-all windbreaker solutions are a versatile and useful layer. Billabong's reversible Tradewinds windcheater has an angular and esoteric shape, with functional trims, and 686's Multi jacket is an extra durable option which uses Gore-Tex. It's a little thicker and tougher than the rest, and is perfect for backcountry or splitboard use.
PERFORMANCE ENHANCEMENTS
It's been a while since snowboard outerwear has been taking cues from the high end sneaker market, so no surprise we're seeing knits – as featured on the key Nike Roshe & adidas Yeezy models – appear on outerwear. "We are inspired and proud to have created our new ProKnit technology series," beams Picture Organic's Julian Durant. "Proknit is made from one piece of woven jacquard fabric, without seams and uses body mapping to permit varying fabric density across specific areas, giving the user maximum breathability, double the stretch, and unparalleled waterproofing when backed with our R-PET membrane." There's a new seamless knitted construction from Dainese too, which promises to be more form fitting without compromising comfort or ergonomics.
Elsewhere in funky tech stories, we really, really like Sessions' genius external media pocket, which flips down to give full and immediate smartphone screen access…perfect for chairlift selfies (or 'chelfies', as they're apparently known). Brunotti have a new system called Blast which they designed with the Technical University in Delft to regulate body temperature, and a new lightweight fibre called CLO-i borrowed from industrial freezing systems. Elsewhere in materials, there's widespread use of Polartec's new Neoshell which gets the thumbs up across the board, particularly from Aspen-based outerwear company Strafe, and DC added Sympatex at the top of their line for extra breathability. There's a focus in this area from Airblaster too; "as more snowboarders get out and earn their turns," explains brand manager Jesse Grandkoski, "many are starting to realize that no matter how dry they are on the outside, they're actually getting wet from the inside."
Lastly, there's a significant technical upgrade to the Westbeach line, culminating in their new signature 30K/30K Paramount Jacket with integrated Recco technology and ergonomic design. Find it up at the top of their range.
PRICE POINTS
Price points are generally fairly consistent for brands who increased last year, and brands who haven't yet gone up will realign. This is, of course, mostly due to the USD currency rate – most raw materials that go into outerwear are priced in dollars. Hence price increases, or quality decreases. "We prefer not to downgrade details or fabric performance, and we really believe our consumer isn't looking for a cheaper product," says Light's Gerd Weisner.
Whereas last year saw developmental emphasis at the premium end, this year sees increased activity around the 'value' price point. Activity means demand, and for the most part brands are responding with low-cost solutions to real-world problems of function, fit or tech. Airblaster and Nitro have overhauled their value price points with some really interesting offers, and DC's "The Resistance" series loads plenty of features into versatile fabrications and hybrid "outer or under" layering options.
This is a good thing. Decent snowboard jackets shouldn't have to cost €450. In an age where we're constantly exposed to price cuts, red stickers and MEGA HUGE SALES we are hearing more about consumers who suffer from "discount fatigue". These guys – and let's hope they are a growing crowd – are no longer impressed by sales and instead evaluate feature sets to MSRP before purchasing.
NOT DOWN WITH DOWN
The snowboard outerwear industry seems conflicted; it wants to offer cosy down insulation, but the abhorrent image of ducks and geese being liveplucked whilst contributing the aforementioned lovely toasty feathers is not particularly marketable. Thus the advent of responsible down, like the Allied Feather and Down branded feathers in Holden's Redwood Down Jacket. "Allied's sourcing and proprietary cleaning technologies give Holden customers peace of mind. The down is also traceable via a QR code, showing where and how the down is processed," explains Holden's Sales & Marketing Director, Mike LeBlanc. Over at Picture Organic Clothing, they've canned animal down completely, switching the down lines to Sorona synthetics which dry quicker than regular feathers. And means the waterfowl can remain happily content on their ponds, lakes and Christmas dinner tables.
DURABLE IS THE NEW ECO
Whilst "being eco" remains a vague aspiration for pretty much every brand selling snowboard outerwear nowadays – partly due to a reconfigured consumer ideal and partly from a genuine desire to stop trashing the planet quite so much, some brands are choosing to make products with longer lives as well as using the 'standard' set of eco-componentry. Over to Patagonia's EMEA Head of Product, Paul Anderton: "The theme for our whole outerwear collection is 'Crafted to Last'. We want to make outerwear that is durable and repairable, that can endure misadventures and has longevity that can be passed to the next generation. Simple, durable, reliable, wearable equipment that is meant to stay in play."
Traditional workwears thus become more popular due to their high abrasion durability and tear resistance. There is a re-emergence of duck canvas and heavy twills – which are also compatible with the DRAB ARMY look described earlier – and high tech fabrics like those used in Norrona's new Lofoten ACE Gore-Tex jacket. Try as they may, Norrona's R&D team couldn't cut that stuff with regular scissors during their developmental process. Sounds like a challenge to me.
Continuing on this durability theme, pop colours and acids predictably trend down. "We believe in good, strong basic colours with strong pop colour accents. People want to buy something they can wear for years to come. You simply can't do that with some of the crazy trendy stuff people were throwing at snowboarding a few years ago. For us it's about keeping it simple and classic. Each detail is in its place and for good reason and all our silhouettes & colours can withstand the test of time and trends," says 686's Brent Sandor. Likewise, Rip Curl's durable palette goes slightly more timeless with deep greens and ochres playing an important role for them.
DWR
Durable Water Coatings are applied to outerwear face fabrics to make them hydrophobic and create the visual 'beading' effect of water dripping off the piece when snow melts. And there are big steps forward in DWR this year. Thirtytwo will be treating all their apparel and outerwear with their new proprietary REPEL treatment, and Nitro will use an eco C6 DWR on their Alagna 3L shell. Rip Curl also go eco with their PFC-free Rudolf Eco DWRs. Why PFC-free? Well, PFCs aren't great for factory workers, and they hang around without breaking down for a long time in the environment. So we were pleased to see Picture Organic partnering with Chemours to develop a coating called Teflon EcoElite, which they claim is the world's first renewably sourced, PFC-free durable water repellent. And yes, don't worry, it'll still do the nice beading thing when you're getting rained on on the chairlift.
PRINTS
Prints are always interesting to look at in detail; whether you like them or not, prints give a quick snapshot of a collection's vibe, and a highlight of 'what's hot right now'. But not everyone feels that way. "Fuck, if I see another floral jungle print I will projectile vomit," laughs 3CS Creative Director, Brad Scott. Fortunately for young Brad, snowboard outerwear prints are not quite so garish this year. In camos the subtle watercolour camo from Bonfire is great, and the snow camos from Bench (and many others) make a reappearance. There are also plenty of pin-dot patterns, particularly on black or navy. And Quiksilver are doing a print based on detailed macro photography of a marine iguana's skin for their new Toray Textile mega-stretch Travis Rice collection. Finally, we liked L1's abstract prints lifted from the tanks of 1960's motorbikes, and Airblaster's Japanicana print which combines Japanese Shibori and Indigo with the classic Americana bandana.
BASELAYERS
Another reflection of the crossover trend – making gear that works beyond snowboarding and for different sports too – are the changes happening to the baselayer market this year.
Merino continues to be the big story, with a strong second-year baselayer programme from Norrona and an expanded range from specialists Mons Royale who move some pieces in their range to a blended merino/nylon fabric for increased versatility. "The introduction of some new fabrics to the range means we've been able to create garments from wool that can genuinely be worn as outerwear," says founder Hamish Acland. "Our new Transition range allows you to shred in the freedom of a hoody, but with added warmth and protection." We also saw a blended merino wool and polyester fabric from Supernaturals.
But synthetics remain the biggest part of the market. Thirtytwo have a full baselayer programme called Ridelite which is lightweight, stretchy and bulk-free, and there's a killer ninja suit style onesie from Horsefeathers using their Nanosilver Stretch fabric. And Dainese will integrate 1621.1 standard back protection into their performance Dryarn Trailknit bases to allow users to cut down on layers but remain protected against slams. Finally, Quiksilver and Phunkshun both use the new Repreve fabric, constructed from recycled water bottles, in their bases.
CONCLUSION
So, there you have it. This year there are plenty of fresh technical stories, some killer must-have pieces and a solid attempt at being reasonably planet-friendly by pretty much everyone. But be careful and avoid the fakers and those just in our industry for a quick buck. "The key to our success has been staying true, and not faking clients. The brand DNA and sincerity is so important these days," confirms Horsefeathers' Marketing Manager Tomáš Koudela. Snowboarding and skateboarding were born from originality and a sense of creative uniqueness, so celebrate your look, try to understand exactly what it is that your customer base wants, and don't be afraid to pick out something different to win over the outerwear category this year.