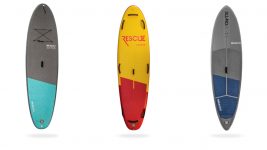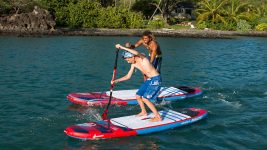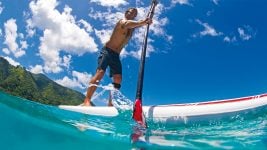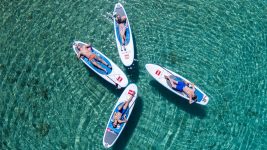 Stand Up Paddle SS17 Trend Report
Stand up paddle boarding continues to march progressively forwards with new technologies and developments coming thick and fast. As one of the newer paddle sports on the block, growth has been full throttle and the thirst for SUP is tangible, even though Europe suffered from a slow, weather-affected start to the 2016 season. New recruits are entering the water all the time, intermediates are improving at a steady rate of knots and advanced riders carry on pushing the boundaries of what's possible. As such, stand up paddle companies are reacting accordingly and the industry is riding high on a barrelling wave of enthusiasm. Tez Plavenieks takes a look at what's going to be on display at PADDLEexpo this weekend.

Having spoken to a number of key stand up brands, the verdict is clear; there's plenty in the pipeline and the future's looking peachy creamy for SUP. Settling down and maturing, 2017 should be a bumper period for stand up with rider experience the continued focus – from point of sale to on-water enjoyment and after-sales backup, the whole industry is committed to improving SUP for all.
iSUP
Inflatable stand up paddle boards remain a key product for many companies, and these widely popular air filled platforms will evolve further in 2017. Unfortunately there's still saturation from low quality businesses, which confuses the buyer – using low pricing structures as a lure but failing on their promise of delivering quality equipment. Thierry Kunz, Laird StandUP brand lead comments: "The market is over-saturated with products coming from 'non-brands' who just take this opportunity to try and do some quick business, make a fast buck and not deliver anything near quality customer service. We've dropped our inflatable range for the moment. Instead we are working on very progressive inflatable products for the future. But, as of today, we want to focus on rigid SUPs and soft tops."
Lokahi's International Sales Manager, Sylvain Aurenche agrees: "Inflatable stand up paddle boards became the most important part of the market recently. There are a lot of deals to be had but a good 80% of boards out there are terribly constructed and not fit for purpose. It's not hard to create an iSUP collection but it's another thing all together to produce good equipment. I'm not talking about expensive kit either, I'm talking about respecting the consumers and the market by producing good quality boards that won't fail or be a hazard on the water."
Fanatic's Craig Gertenbach says very similar: "We are focused on all parts of the sport, not only sales. We need to develop the sport so that it is sustainable for the future. Simply producing a range of iSUPs and offering them for cheap prices does not help the sport. Although it might help some tiny brands to make a quick profit, it´s not sustainable or long term thinking unfortunately. Fanatic has always been the leader in quality and technology, we want to continue that tradition and believe there is very much a place in our sport for quality products and services."
In terms of type of inflatable boards, there appears to be a steady shift away from the all-round style iSUP – although stock 10.6ft's remain the benchmark for now. Red Paddle Co's John Hibbard notes: "There is an increasing trend towards premium inflatable touring and racing shapes. We are now able to offer a board that is exceptionally rigid and light at the same time." Naish's UK Agent Alex Tobutt concurs: "Inflatables will go more touring-orientated as the market matures."
PIMP YOUR RIDE
So the future is looking bright for the inflatable SUP market and paddlers entering the sport for the first time, with this type of product in view. But what of those who are already converts to the cause? How can they be enticed to part with further cash for either upgrades or new kit? John Hibbard describes Red's focus on accessorising stand up paddle boards. "Our 2017 boards now have RAM compatible fixings on them that allow you to fit a whole range of RAM attachments to the board. It is now much easier to mount action cameras, GPS units and fishing gear to the board." It would seem that Pimping your ride has never been easier…
And what about other developments? Well, how about a completely new approach to inflatable SUP design altogether? As previously reported, Tripstix will enter the market in 2017 with a completely new way of manufacturing. Brand Founder, Andreas Trapp describes what's coming from their corner of the iSUP universe: "We've invented a totally new technology for inflatable boards. We don´t use Dropstitch material, instead we combine a pressure chamber and a vacuum chamber. We will present the world's first inflatable board, which has a shape like a real hard board, and that surfs and paddles like a hard board."
Red Paddle Co are also giving a chunk of their R&D budget over to stand up paddle board racing and making these shapes stiffer. John Hibbard says: "We are focused on increasing the performance of all our boards but we have put a stack of development into our race division. We created a dedicated project to develop the world's fastest inflatable race boards. We have designed and are in the process of patenting our new FFC system. This system works to stiffen up the front section of the board. Working in partnership with our RSS system, you now get a board with unrivalled waterline consistency. Add to that the shape development and we have been able to produce a range of inflatable race boards with lightning fast performance." Exciting times ahead…
In terms of other R&D areas for iSUP, RRD have introduced their brand new PVC Sharp Rail Edge. This makes the board more stable and gives improved comfort when facing choppy conditions. NRS, meanwhile, remain an inflatable-only brand with no hard SUP shapes in their range: "We focus entirely on inflatables," says NRS Director of Marketing, Mark Deming. "We've been building inflatable watercraft for more than 30 years, so that's our expertise. Why change that?"
OUTSIDE THE BOX
But enough about inflatables. There are alternative pockets of stand up which have also had the spotlight shone on them. Possibly the most hyped brand development currently is SIC's new patented Foot Actuated Steering Technology (F.A.S.T), which is set to revolutionise open ocean paddling. From the pictures and video doing the rounds, it certainly looks pretty hi-tech and much more efficient than standard rudder systems currently found on open water (unlimited) boards. Downwind SUP never looked so inviting.
Focus SUP, the Hawaiian-based company are working on prototype hollow race SUPs, with testing currently underway. Meanwhile Starboard are pushing the greener side of manufacturing with their Bio resin material. Clement Morandiere explains: "All Starboard composite boards are now using Bio resin content and are certified by the Eco Surf Project, which is a separate organisation. We've taken things a step further by using recycled material as well. We'll also be using the FCS Connect fin systems for our Deluxe range – you'll never need to look for your screw driver again!"
He then adds: "We're also launching a new Yoga crossover board and a new exploring / touring line for 2017 as well. Plus we've developed a new kid's line, from surf to race and all-round boards, available as composite or inflatable. This new line is in conjunction with our SUPKIDS program. After all kids are the future and life blood of all these sports."
Lokahi are also focussing some of their energy on race SUPs, but in a slightly different way: "Lokahi want to create performance race boards that win. But it is a lot of research and development," says Sylvain Aurenche. "We now work with the support of designers from the boat industry who have more experience with hydrodynamics and water flow. We also decided to move on to custom-made race boards. With this new custom production option we can produce the exact board each rider would shape if he (or she) was the one in the shaping room."
GROWTH, CONSOLIDATION AND THE FUTURE
For many consumers, hard stand up paddle boards remain on the expensive side of the spectrum – although work is being done to bring these costs back down. One of the reasons inflatables are so popular is the price point, which, due to large volumes of competition, remains static. Norden SUP's Andy Wirtz (Founder, Owner and Designer) comments: "I think the industry went a little too far with their retail prices this season. Hard boards especially are too expensive for the consumer."
And what about company growth in 2016? By and large it's been pretty good, with brands reporting anything from 20%-60% depending on the style of board and territory in question. France and Germany are key markets for all types of SUP, while the UK's recent Brexit vote makes the future of that economy more uncertain. NRS: "Brexit has made the UK a very interesting market indeed this year." Light also reported good growth: "Since spring we've seen a massive increase of around 40% in sales compared to last year."
GTA Distribution (distributors of Light)'s Delko Canda is equally as buoyant: "Our European SUP sales have been growing the last few years. Within the last 12 months we were able to open up many new accounts across Europe and get the attention of both existing and new customers. Since spring we see a massive increase around 40% in sales compared to last year."
It's worth considering, however, that the more companies that spring up, the less share everyone will get, as suggested by Hoff (Ari'I Nui, NSP & Surftech)'s Marketing Manager Benoit Brecq: "The SUP market is certainly more stable than in the past and still growing. But with increasing numbers of brands in the market the number of cake slices is being reduced all the time. That said France, Spain and Germany are still seeing good growth across NSP, Ari'I Nui and Surftech."
Jacopo Giusti, RRD's SUP Marketing Manager, added: "The European SUP market is growing fast. For example, one of the indicators that you can see is that every single weekend there is a SUP event. People love this sport and they like to share their experiences with all their family." He goes on to add the caveat: "The best market, however, is the USA. But there are many barriers that stop brands entering it and making it successful. I think the secret is continuing to produce high quality products, with fresh graphics and innovative shapes. RRD invests heavily in communication as well. I really believe in SUP bloggers to help propagate the brand."
Focus Hawaii's European Sales Manager, Phil Mandeau says the company has been seeing good traction across Europe: "Germany, Lithuania, Greece and Holland have been interesting markets for us in 2016. We´ll aim, however, to increase our surf shape sales for French, Spanish and Dutch territories." Casper Bleijenberg, GM at Brunotti Boards & RDP states: "The Netherlands and Norway are the best performing countries for us. Italy is coming up strong now as well."
New for 2017, BIC introduce their TOUGH-TEC, which they will be targeting at surf schools, first time buyers and rental locations: "We have developed our new TOUGH-TEC technology that is a significant break-through in board construction. By moulding a PE skin around an EPS core in a very quick and efficient manufacturing process, we are able to produce boards that are extremely durable, relatively light, and remain cost effective. Available on the market in early 2017, these boards will be a significant break-through for either first time consumers or SUP schools looking for a long-lasting and cost effective product, with good performance," says Peter Durham, Product Manager.
So it's all looking rosy in the garden of SUP as we head into a brand new season. 2017 products have already been spotted out for testing with retailers on the water and as the sport continues to evolve, we're bound to see even further enhancements. But positivity and confidence in the Euro market is up and there's no reason why 2017 won't be another good year for stand up paddle board sales. With so much kit choice the consumer has never been in such a good place. And not only that, SUP gear is now easier and more efficient to use than ever before. What was once perceived as a cumbersome water craft has now become a refined ocean toy for all types of water baby – groms to ripper, part time enthusiast to fully paid up pro. Time to get on board if you haven't already!