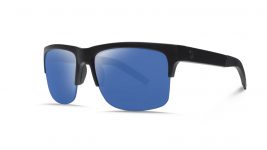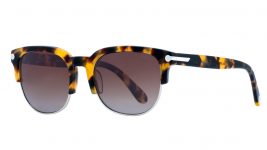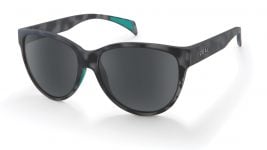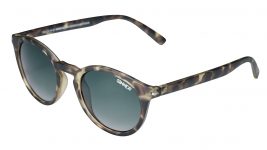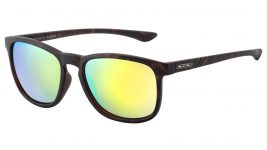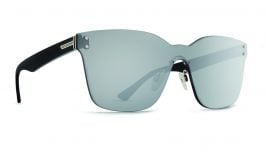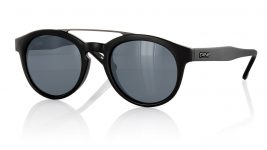 After years of going to the extremes, the current trend in eyewear is heading into calmer realms of more understated, sophisticated styles that rule the shelves with clever details and unexpected features. Anna Langer took a close look into the sunglasses trends you need to be aware of in 2017.
TRENDS
In our digital world that offers anything to anyone at anytime, "variety is going to be THE key trend of 2017," says Melon's Marketing Manager David Cowan. "Gone are the days of the overwhelmingly majority sporting Wayfarers and the Aviator being the most popular metal frame shape – it's all about the round lens," which can be found in collections from Spy, Proof, Sinner, Quiksilver, Roxy and Revo. The latter also feature "angular versions of Aviator and Cat-Eye shapes," Ashbury play with modern variations of 90s style frames, Carve reinvent some of their most successful styles from the past with "interesting combinations colours and finishes", Electric update "vintage inspired styles in round, square, and aviator with polarized and specialty lenses," and Dragon release four new models that "pay homage to Dragon's DNA of being bold and trendsetting."
Pepe Šetele, Head of Design at Horsefeathers says: "After the huge success of the pilot collection, we decided to expand the range with several new models and add new colours, prints and finishes to current bestsellers," and Quiksilver also see a "huge come back of the metal shapes (pilot, square or round shapes)," states JP Bonnemason, Global Eyewear Product Manager. Proof and Sinner add "double bars" and "browline" to the mix, while Dirty Dog introduce "double wire rims and flat wayfarer models," and Epokhe "focus on small details and weight."
VonZipper agree that "Retro Modern with a fashion touch is a reality" that is supported by the increasing popularity of mixing materials, like their combo of Nylon Grilamid and metal that delivers "a wild retro modern look". With its inherit lightness, this combo is "hard to beat" as Spektrum notes. Quiksilver add flat lenses to their metal acetate combos, Ovan pair acetate and wire "with exclusive trim detailing" and Proof mix metal with wood or acetate to make a statement.
The second key trend for 2017 is versatility. "Consumers don't want to carry around two different pairs of eyewear for their performance and lifestyle needs – they are seeking a blend," says Oakley Category and Product Line Director, Will Conk. They are catering for this with their new Crossrange™ that "bridges the gap between lifestyle and sport," with interchangeable lifestyle and sport nose pads and temples. Austrian brand gloryfy agree that "consumers keep on asking for models that combine a stylish look with high-tech features," Poc see a "continuing trend towards sunglasses that are activity-specific but can also fit a lifestyle perspective," which they answer by "incorporating lenses which are specific to activity and the environment use," explains Head of PR, Damian Phillips. while Spy also develop more "crossover sunglasses that merge fashion with function," like the retro-inspired Hunt with thin temples. Smith add "megol nose and temple tip pads for a secure, precise fit," and Bliz use "rubber coated materials for a sporty feel with a trendy look", offering more hybrid styles than ever before.
And while Neff find that "customers are definitely looking at more stylish products nowadays," VonZipper also see "more purely technological developments, especially on lenses to deliver more performance and permit the expansion to other markets like golf and fishing." Other sub-trends for 2017 include frameless models (Revo & VonZipper), semi-rimless (Melon), smaller (Ashbury) and thinner frames (Proof, Quiksilver, Roxy) as well as ultra-light (Sinner) and floatable sunglasses from Dragon, Quiksilver and Roxy.
LENS TECH
With their amazing benefits for our sports, polarized lenses have seen good growth and are almost a standard. Horsefeathers and Revo offer their collection polarized, Spektrum "dive deeper into polarized" and Dragon have polarized lenses in a number of their frames. Zeal feature polarization on their plant-based Ellume lens while Ovan have their "polarization fused inside the material itself, it is not sandwiched in, and it is not a polarized coating."
Roxy are adding more polarized styles for females: "The women consumers are now educated on the benefits of polarized lenses so being an outdoor and surfing brand we have to propose more polarized shades," explains JP. Quiksilver use polarized lenses in their floatable collection, mineral glass polarized lenses in the Waterman collection and High Definition Polarized next to Photochromic Polarized lenses with variable tint.
Sinner use a similar combination of their Polarized SINTEC® lens, which eliminates reflections from flat surfaces with their Photochromic TRANS+® lenses, "that react to changes in light conditions, constantly adjusting its colour to optimize visual experience and reducing eye fatigue." Dirty Dog's Photo+ lenses also offers photo-chromic properties, as does Dragon's Lumalens, the colour filtering technology used for their snow goggles, and gloryfy offer various photochromatic lenses as well, as do Bliz with their Ultra Lens Science™.
Oakley's leading lens technology is Prizm: "A breakthrough development in contrast technology that dramatically enhances detail for an optimized experience." Electric use synthetic melanin for their proprietary technology called OHM lens to maximize clarity and protection, Spy expand their premium Happy Lens™ technology, "which is a colour and contrast enhancing lens that increases clarity and improves mood and alertness," to their entire line and Smith continue their ChromaPop lens technology for enhanced clarity and more details.
VonZipper expand their new patented "Wild Life Lenses" technology that selectively absorbs light in the area where the eye is more sensitive, creating an energy boost as well as a higher comfort in terms of comfort and clarity while Melon's Amplify Lens™ technology that is implemented in their Design-Your-Own Collection, ensures that only the right colours of light reach the eyes, creating an optical experience of unparalleled clarity and vibrancy. Gloryfy combine "the unparalleled optical qualities of the gloryfy I-Flex ENERGIZER lenses and the I-Flex TRIPOL lenses," for their CONTOUR lens technology that "creates contrasts where there doesn't appear to be any."
With their focus on "keeping things simple and wearable," Ashbury count on high quality lenses from Carl Zeiss. Melon feature them in their premium collection, Quiksilver in their Originals Collection and Roxy in the lifestyle models. Spektrum use "high quality polycarbonate lenses that are very optically pure and scratch resistant," Carve combine polycarbonate technology with coordinating lens colours, Dragon use a specialized and lightweight Nylon lens construction in the H2OFloatable and Ovan have "high grade optically true nylon 6 based Polyamide injection with fused polarization," taking "the best features of a mineral glass lens, and the best features of a synthetic lens and combining them into one."
Last but not least, Cyclops Gear gets a special mention for adding the most technology possible to their sunglasses: built in video recording capability with 67 degree CMOS sensor, 1920*1080 video image resolution, and 32GB class 10 memory card.
LENS TINTS
In the overall trend of variety and modern interpretations, classic tints like black, grey, green and brown are staying popular while getting an overhaul at the same time. Proof just started offering brown and green tints on a lot of their lenses, "and the response has been great so far," while VonZipper aim for a "good balance between grey/vintage greys and chromes." Oakley have some of their most popular lens colours now available with Prizm technology, "with the option of black iridium for customers who prefer a neutral grey tone."
"Iridium reflective lenses have been popular, but we see a move to a more subtle approach to colour in this area," notice Carve, which is catered for by new, less flashy variations. Zeal have a new copper mirror coating, Electric work with bronze, Spy with gold, Quiksilver pair pink with silver, VonZipper add a pink chrome and Revo offer Champagne next to brighter options like green water (Revo), Dark Blue Spectra™ (Spy), red chrome (Melon), as well as tungsten, ruby, sapphire, and jade with Prizm (Oakley).
Spektrum add a "light brown/rose tint with anti-fog treatment aimed at outdoor activity," that is great for quick transitions from dark to light. Epøkhe work with "slightly coloured lenses" in warm shades like red and Electric offer rose next to "some other exciting fades." VonZipper and Sinner also play with gradients, that are "clearly a market trend" (VZ) and give a "fashionable look" (Sinner).
Dragon create their lenses "with a specific light range in mind, so there is something for every lighting situation. From low light Transitions lenses in our EnduroX to polarized lenses in a Monarch to Blue Ion in a Proflect, there is a style and lens to meet you needs." Poc tailor the tints to the respective activity: "The importance is more on choice within a category of riding condition and having sunglasses that allow different lenses to be used dependent on the conditions of the day," explains Damian.
FRAME COLOURS
"Blacks and torts still rule the preferences of the consumers," according to VonZipper and can be found in all collections and various variations, including more and more matte options, which are doing very well with consumers too (Proof). Ashbury rely on black and brown tortoise for wearability, Epøkhe feature "deep dark and rich colours, nothing too flashy," Revo have a "sophisticated palate ranging from dark tort, matte tort, honey tort, matte honey tort, ivory/black tort, and blue tort." Spektrum sport "timeless and stylish black and Havana tortoise, timeless and stylish," Quiksilver show a matte brown/green tortoise and black Havana option, Roxy go for matte black or vintage tortoise while Spy pair a black frame front with navy tort patterned temples with a "luxuriously soft texture."
Smith's collection is "grounded with traditional black and tortoise frame colorations and then complimented with seasonal and trend colours", like blush tort from Revo that accompanies their best-selling Blush opalescent frames for the women's collection. Electric agree that "vintage torts remain very important and are set off nicely when combined with flash coatings and mirrors." Horsefeathers offer their most successful colours in both glossy and matt finish, Ovan introduce a new series of matte frames and Zeal focus on earth-tones for their plant-based line while Carve find that "organic colours work well with matte finishes and metal details." Melon report the highest demand in their Matte Rootbeer, Terrapin and Orca colourways and Dragon also opt for a "muted colour palette" with black, grey, tortoise and steel.
After their entrance last year, transparent frames are becoming more popular again as well, with brown, char, olives and blacks from Carve, "translucent acetate material on the temple arms so you can see the core wiring" from Dragon, crystal from Sinner and crystal split with Red Sol-x lens from Smith.
Poc ensure that their eyewear seamlessly works with the helmets they tend to be used with and Spektrum adapt their sunnies to match their goggles.
PATTERNS
For all those who want to go really crazy, there are some interesting patterns in stores for 2017. Neff match their prints to their apparel line, offering a "very large colour pallet especially on the Daily and Chip. We really offer any kind of colours from tennis rubber (neon yellow) to blue rubber."
Horsefeathers match their colour palette with their SS17 streetwear collection too and feature "special prints like transparent zebra or camo." Roxy also use artwork from their apparel, especially the Pop Surf collection, while Sinner take inspiration from nature with prints of wood and cork. Dragon feature custom designs on various frames, from Clark Little's signature to Hawaiian flowers, and DirtyDog introduce Marble.
PRESCRIPTION
Overall these trends also apply for ophthalmic RX ranges, yet since they're worn all day, the main focus here is on "keeping them as comfortable as possible and complementing," as Epokhe explain.
"In addition to our sun Rx collection, Smith offers a complete prescription frame/eyewear collection, exclusively developed and created for everyday prescription eyewear customers," consisting of 34 unique and dedicated prescription models. Spy cater towards "those with an active lifestyle" with new frames that are "incredibly lightweight" and offer all day comfort and grip through over-moulded temples in different colours: "We want your eyewear to fit your style, but perform for whatever the day has in store for you." Oakley set out to "solve the problem of frames not fitting all face shapes; the result was the development of TruBridge™ Technology. A frame fitting system consisting of four different size nose pads, available in a selection of Oakley's best-selling prescription frames."
Dragon also offer an "entire RX line of both optical and optical suns. They are all high-quality acetate frames, that feature a more fashion-forward design sensibility, yet still offer 100% UV protection."
Horsefeathers build their RX collection on "distinctive colours" that "work great as they are not as common in classic prescription glasses. Regarding the shapes, it's a very diverse collection. From distinctive closed acetate frames to classic open metal ones," explains Pepe. Carve also look into "new versions of retro shapes with interesting combinations colours and finishes," while VonZipper play with various styles "from strong bulky models, to mixed combos of classic acetate and metal frames," to their "pure women's model, a classic reinvented cat eye model frame." The Roxy optical range is "becoming more fashion-forward as the Roxy consumers are changing and becoming older and more trendy," with "thin round acetate still on trend." Proof also move to thinner frames and mix materials: "When you can offer something different than just a standard black acetate frame, it gets people excited." Roxy and Quiksilver pair acetate with metal, injected plastic with rubber or metal with Grilamid. Gloryfy on the other hand rely on the same technological idea as their sunglasses: "Due to the memory effect of our material NBFX, the frame and lenses always return to their original shape and are unbreakable."