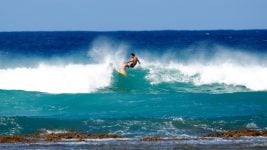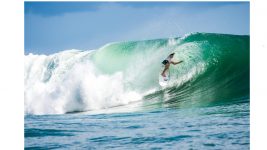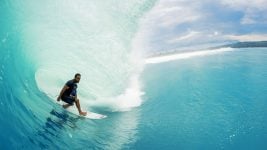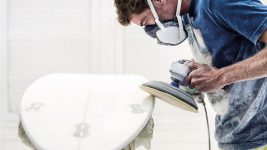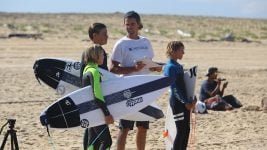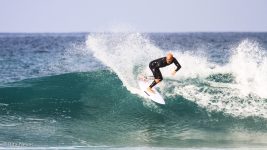 The Euro has never smiled so fondly upon the surfboard manufacturers of the Old Continent. Both brands that were born in Europe as well as American/Australian licenses are enjoying unprecedented momentum, driven by the success of top-of-the-range boards. Manufacturers now have the confidence to innovate in terms of construction. And customers are following! By David Bianic.
If you ask any surf shop manager or brand rep if business is good at the moment and the reply is "not too bad", it should be understood as "sales are good'. So when we interviewed our panel of European surf industry players, their enthusiasm was a way of saying that "business is going better than we want to admit. Surfboard sales are continuing to grow in double figures," reveals Nuno Viegas, Brand Manager for Aloha Europe from Glassing Monkey workshop in Portugal. Others prefer a more nuanced answer: "We operate on various board categories, different technologies, different disciplines…" declares Jaime Azpiroz at Olatu (Pukas, Channel Islands, …Lost, McTavish), before quickly confessing that "sales are up overall and especially on traditional high-performance PU boards."
Euroglass have made a decision to stop putting their range of softboards for surf schools on the market. "This was a logical decision since we were losing money due to the US Dollar/Euro exchange rate," says Darren Broadbridge, Logistics & Operations Manager at Euroglass (Quiksilver Surfboards, C. Bradley, M. Phipps, S. Anderson, P. Grace) in Hossegor. On the other hand, Euroglass have confirmed a 15% rise in sales of boards manufactured in Europe." Other examples are in line with this and have a similar sound: surfboard sales in Europe are continually on the rise. The margins? We'll get to that…
THE SHAPES OF THE MOMENT
After at least two years summarised by the emergence of the 'hybrid-performance' shortboard embodied by the best-seller at Haydenshapes, the Hypto Krypto model, a new design will probably claim the throne in 2017. Or maybe not. "No, this type of board is here to stay", asserts Darren from Euroglass, although "we look for any kind of board that can take waves easily and prove to be of the highest performance." The perfect equation? Without doubt for Rémi Chaussemiche, Commercial and Marketing Director of Superbrand Europe: "People want to get up easily so there needs to be volume, but they also want to make tight turns and surf radically so they need shorter boards." The variations of this hybrid-perf concept are so subtle they serve as proof that this kind of board will take a permanent place in surfshop racks, as Jaime from Olatu explains: "The trend these days is to go for a bit longer hybrid shortboard, by two or three inches. The 5'6" of yesterday is now a 5'8" and the 5'8" is now a 5'10" generally speaking."
Some shapers have made a speciality out of it like the South African Kevin Olsen, established in Capbreton in Landes and whose 2007 Plonka foreshadowed the success of the hybrid-perf model: "All my boards are hybrid shortboards." For him, it's just as much a board for the ex-beginner in full progression as for the accomplished surfer. "You just have to put the adage foam is your friend into the equation and everyone surfs better."
Better still, the magic recipe is spreading into other surfboard categories, as Nuno at Aloha Europe points out: "We are witnessing a return of shorter versions of high-performance boards. They have the same volume as performance boards but with just a bit more float surface and a reduced amount of drag with shorter rails."
Nevertheless, the omnipresence of shortboard hybrids could become a concern at a commercial level as "everyone is launching models called 'hybrids', so much so that customers are bombarded and have difficulty finding the right board for them," reckons Richard Preistley from Surftech.
QUIVER
The paradox of such a popular shape as the hybrid shortboard resides in its versatility, capable of dampening a customer's desire to expand their quiver. On one side, as Rémi (Superbrand) believes, the general trend is "to reduce the number of boards in the quiver as much as possible. Our Pig Dog and Pig Dog S models subscribe to this model perfectly. With these two boards, you can surf 1 to 10 feet." Of course, this is assuming surfers are rational creatures… "One board is never enough", notices Andreas Mencke, Commercial Director and marketing expert at NSP. Even beginner boards are subject to this phenomenon as "beginners of today are not the beginners of yesterday", affirms Benoît Brecq from Hoff/Torq. "The old funboard is no longer the only weapon for a beginner. They can surf on a longboard, a hybrid, a big fish made of resin or foam…"
For Mikel Agote and Johnny Cabianca from the Basque Country Surf workshop in Zarautz in Spain, "the sport and its marketing have advanced so much that surfers think they need 3-4 boards according to the conditions. And every year people think they need a new board because new models and constructions have appeared." Let's leave the last word on quivers to Darren (Euroglass): "Quivers will never die." Amen.
The dominance of the hybrid-perf concept hasn't managed to hide the emergence in recent years of a disruptive design incarnated by the shapes of Daniel "Tomo" Thomson, popularised through Firewire and now Kelly Slater Designs. The strangely square outlines, "no noses" and parallel rails: OVNI boards that are highly emulated and copied. Such a simple design that you have to wonder whether the stranger the board is, the more appealing it is. The Portuguese shaper Nuno Matta of Mattashapes wonders "if this type of board is so good why don't we see more surfers on the CT using them?"
These unusual boards do posses one significant virtue as real "shop window" products that spark curiosity and generate traffic in the shop as Rémi from Superbrand explains: "From a commercial viewpoint, I think the customer wants to see these strange boards in the shop but is not prepared to wax his budget on this kind of model. They inspect them, think about buying before turning back towards more traditional shapes."
CONSTRUCTIONS
While the PU board is not quite ready to step down from its pedestal ("95% of our sales are PU/Polyester", confirms Basque Country Surf), clients are opening up in big numbers to new foams and other sophisticated stratifications. "In 2017 we are heading towards more developed torsional flex on performance boards, combined with new and improved epoxy and new proportions of fibre and carbon," explains John Isaac from Seabase in Cornwall.
Also, at Olatu, the European manufacturer of …Lost and Channel Islands, we find Carbon Wrap technologies (Lost) and Flex Bar (CI). At Superbrand they aren't changing a winning formula and Superflex will again be order of the day in 2017, assures Rémi Chaussemiche: "We are using a foam without an EPS stringer, layered with 4 types of material orientated in 6 directions to spread the flex and solidity over the surface of the board." While cautious last year, Euroglass have incorporated the new tech with their LC6 epoxy range, "ultra-light boards with layers of carbon to manage the flex," explains Darren, "able to generate projection by pumping and in the turn," while admitting the limitations of epoxy in the wind and on bigger waves. Amongst the biggest innovations yet, we can count PC8 technology from the Germans at Pump Surfboards, "the first handmade board stratified with polycarbonate," affirms Brand Manager Toby Atkins, "a material used to make bulletproof glass for its strength." So this added 'tech' value is also spreading to the mid-range bracket like at Torq who are introducing Torq XLite technology into models and cobranding with Channel Islands: "A mix between our TET and TEC technology combining carbon/epoxy/biaxial fibreglass and Impact Mesh", explains Benoît Brecq.
One of the key argument at Lib Tech is the durability of their boards and it's subject to an update in 2017, as pointed out by Julia Mantler, EMEA Marketing Manager: "We are introducing a new Magnesium, Basalt, Carbon (MBC) construction that perfectly blends the best characteristics of epoxy – durability and liveliness – with the best performance characteristics of PU, flex and dampness."
Innovation often goes hand in hand with eco-construction. The use of bio-resins is spreading in the same form as SMARTech technology at Mattashapes who use "EPS foams recycled from their own manufacturing as well as cellulose fibre," in their Eco range. In 2017, Mattashapes will even introduce a waterproof solution, hermetic foam, which means: "you don't need to repair dings on your surf trip."
Beyond the board itself, environmental and sanitary efforts are now a high priority for all brands we talked to. Sanding workshops are now so clean at Glassing Monkey (Aloha) that "we can hold business meetings in there," says Nuno Viegas. "Clinical standards" are Euroglass' MO, who want to become the cleanest factory in the world: "Honestly, we are almost sure that this is the case already but we want to do even better," assures Darren. Just as willing on the eco-friendly front, Firewire have built an enviable brand image. Listing all their drives would require a whole binder in itself but we'll settle for "a zero waste objective for 2020," as quoted by Mark Price. In the same vein, Torq are using "foams injected into moulds so there are no off-cuts and nothing thrown away," assures Benoît Brecq while in their lamination "the quantity of resin needed is calculated and provided by computer for unique precision and almost non-existent loss." Even the final packaging is subject to special attention with "specific boxes, fitted to the size of the board to limit the materials used and the carbon impact of transportation as much as possible."
SOFTPOWER
Alongside hardware consisting of hard boards, a "software" market has exploded in the last two to three years, that of softboards not only destined for beginners and schools but also for accomplished surfers. The two brands involved are determined to become much more than a flash in the pan. Toys used as crash tests in the shorebreak are heading out back: "We have seen that our Softech range is now used in summer to surf the main peak," notes Franck Besse, Commercial and Marketing Director at Surf Hardware International. It's the same story at the competition: "You'd be surprised to see what kinds of conditions these boards are able to go out in!" rejoices Andreas "Maui" Maurmeir, European distributor for Catch Surf, the brand behind the Beater phenomenon. 5 foot micro boards with bodyboard shapes are now joined by a whole range "from 5'8" to 7'6"" with different shapes," (Softech) at the express request of retailers.
Similar steps were taken by Catch Surf with 4-9' models with traditional shapes (single-fin retro and longboard), but not only that… "Wake Surfer models are aimed at being pulled by a cable or riding the wake behind a boat." Ultra-strong boards, "even when they crash into the hull of a boat."
PRICES AND POSITIONING
Now we're a bit more clued up, we wondered why shortboards haven't dropped in price given that their size has somewhat diminished over the last five years or so. Is the fact that they use smaller foams and less materials not enough to warrant a reduction to the final price? With his skill at finding the right expression, Darren at Euroglass reminds us that: "It's in the best restaurants that we find the smallest dishes and they are the most expensive." While the boards are shorter overall, they are also wider: "The volume of the boards has not changed much in the last five years, this is a good indicator of the quantity of materials used," explains Mark Price (Firewire) before adding that "labour costs are continually increasing and lots of shapes require complex work on the keel and outlines, which bumps up the cost." And this is not just a case specific to the United States; John Isaac from Seabase confirms that "the cost of the foams just like other raw materials has increased; economies made on smaller boards are so negligible that they don't affect the price."
Even for Craig Butcher from the originally South African brand Hurricane Surf, the advantage provided by the Rand vs US Dollar is no longer of consequence: "We import the majority of our raw materials to maintain the highest quality international standards."
Just like for any widely distributed product, the price of surfboards is not just the sum of the manufacturing costs: "We all have to spend more on marketing, transportation, packaging and design", reminds Andreas from NSP. Thus, the rates should not be revised downwards rather than upwards, suggests Julia Mantler at Lib Tech: "Surfboards have always been under-priced in terms of the amount of labour that goes into building them," before adding Lib Tech "has added value to boards by making them more durable, as a Lib Tech will require less ding repair and will provide you with many more waves in its long lifetime than a traditional disposable polyester surfboard."
However, this race for excellence has killed off a previously prosperous category; that of mid-range boards sold for between 450-550 Euros. "There are workshops all over the world who sell directly and can release honest boards in this price range," reminds Mark from Firewire but "going through retail commerce, it is impossible for big manufacturers like us to be competitive at this price." Perhaps there's a niche for retailers to fill, suggests Surftech through Richard Preistley, "by selling their own brand or that of a local shaper." Replicas of popular shapes but at a more affordable price.
DISTRIBUTION
In contrast to skateboards and snowboards, surfboards are not seeing larger quantities of online sales and this is not about to change, reminds John at Seabase: "The best way of judging is still about putting it under your arm!" Getting good advice as well is a bonus, as Richard from Surftech reminds us: "When you are selling a highly technical product, you should be able to count on a surfer that knows all about it to sell it."
Nevertheless, some are seriously studying the topic of e-commerce. "We are studying a mix between direct online sales and placement in core shops", reveals Jaime from Olatu. "If we can expect more online sales in future, it will only be because the physical shops are supplementing their supply with online sales to create a hybrid model where we find the best of both worlds, a win-win situation for all," suggests Andreas from NSP. Euroglass are also checking out the Internet, "but it's a complicated process and we don't wish to put our current partnerships at risk," insists Darren Broadbridge. "The only thing I can promise is that you will not find a reduced button." There's also a revolution taking place at Firewire with Mark Price announcing the start of an e-commerce platform, "in which retailers are involved." To be continued…