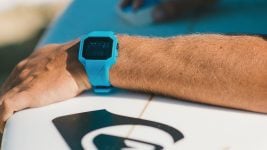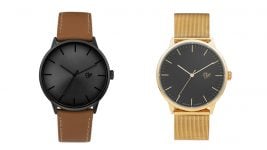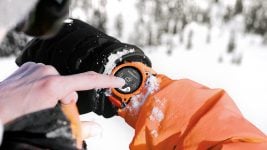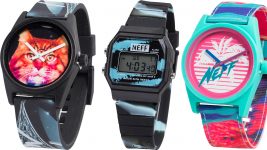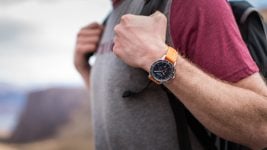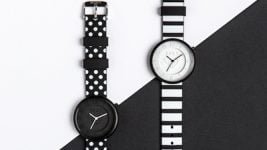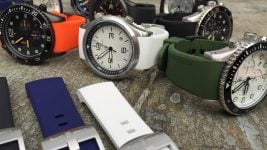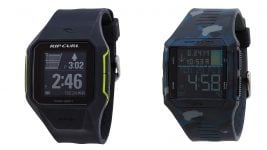 Watches SS17 Trend Report
Fun fashion accessories, elegant status symbols, and functional ride enhancements: Watches are a lot of things to different consumers these days. And with boardsports companies entering the smartwatch arena, it's high time to look at the latest watch trends hitting retail next season. By Dirk Vogel.
Let's start with some good news: the Apple Watch is not the "category killer" many feared. During the second quarter of 2016, the IDC reported a decline in Apple Watch shipments of 55%. And while Apple still controls almost half of the smartwatch market, there's room for new players and creative ideas. What's more, new research from Mintel found that 24% of UK watch owners "rarely use it to tell the time." A solid 27% of respondents – and 47% of 20-to-24-year-olds – admitted to only wearing watches as a fashion accessory.
These trends create the perfect storm for watchmakers in the boardsports segment. The category is currently seeing an evolution in the signature boardsports blend of function, style, and performance (always performance, watches have to be able to take a beating in our sports). The evolution includes smartwatches tailor-made for board riders with functions you actually use instead of a gazillion random apps.
In these interesting times, watch companies with a boardsports background have a key advantage: They know what athletes and team riders demand from a watch. "The building blocks for Nixon product are team-designed and custom built. What this means is the product we build is designed to live up to the demands of our global team of athletes who travel the world and need products that live up to and compliment their lifestyles," said Joe Babcock, Director of Product at Nixon, who just released their first smartwatch.
Price points: Fun on a budget, performance at a price
Much like the sunglasses segment, watches attract two consumers types: Casual, impulse-driven customers looking for fun fashion accessories to align themselves with boardsports culture. And also performance-seeking, active riders looking for a timepiece that functions well, with premium finishes and technological capabilities thrown into the mix. Naturally, these approaches are reflected in price points. "The main price points are €99-€139 for selling watches. But it depends on the function and benefits a watch gives you. Smartwatches are coming up, and customers are willing to spend up to €500 if it gives them the needed benefit," said Christian Dittrich, Junior Key Account Manager for G-Shock watches at Casio.
While companies such as G-SHOCK, Quiksilver, Roxy, Rip Curl, and Nixon cover the entire pricing bandwidth, some brands have successfully specialized in either end of the spectrum. "Neff is positioned as an opening price point brand. Our watches are built around being a fun and fashionable accessory that tells time. Key price points for us fall into the $20-$45 range, but our offering also includes some more elevated styles with metal cases at up to $65," said Kevin Dell, Neff's Director of Merchandising. Also playing this segment is Cheapo, a new watch company from Scandinavia with original designs and collabs with pro athletes. "We believe that good looking watches shouldn't cost you a fortune. That's why we offer great looks, great quality and great social values at prices anyone can afford. Our price range is between €55 – €70," said Founder, Viktor Telégin.
Companies also do well by targeting the premium segment, including UK-based brand Elliot Brown Watches: "We're right at the top end of the market on price going up to £600, although it's fair to say that the bulk of sales are in the £300-£400 bracket," said co-founder Ian Elliot. Meanwhile, pricing is a bit different in women's watches, said Xavier Faucher, Global head of Roxy Watches: "For girl watches, the sweet spot is below €100 and even below €80 for a basic time function."
Style: Something for all tastes
Next season's watch styles range from traditional to wild and futuristic. Most companies offer their take on the classic diver's watch with a rotating bezel in a rugged package. Prime examples include the Quiksilver "Kombat" model with Japanese quartz movement and chronograph function as well as date in a 43mm wide stainless steel case. In the premium segment, the trend is toward understated, slimmer variations on timeless classics with minimal branding. "There is no denying an overarching trend of 'minimalism' in men's accessories and apparel. Logos have become more subdued to the point where they're almost invisible on a majority of the product in store. We introduced a new model called 'the Porter' to address this trend," said Joe at Nixon. This impression is seconded by Dutch label Komono: "We notice that sports driven designs are loosing impact and that lifestyle and design are gaining influence in the boardsports market. I get the impression that nowadays the boardsports market is more looking into fashion for inspiration," said Anton Janssens, CEO at Komono.
The other major trends are 1970s style digital watches with wild colour and pattern variations – including options from Neff and Nixon – as well as analogue watches with graphics on the watch face and wristband. Again, Neff kills it with a three-eyed cat graphic and the 1980s flashback "Miami" model with a woven wristband. Roxy is connecting pattern flair all the way into apparel lines: "The black Roxy Fun Heart watch boasts a de-bossed tonal logo on the dial and dot or stripe pattern on the strap, which is seen throughout the Roxy Swimwear collections," said Xavier Faucher. Cheapo joined up with Swedish snowboarder Caroline Degardh in a coffee-themed watch celebrating the 3 o'clock ritual of Fika (coffee and pastry).
In the ruggedized performance segment, the Casio G-Shock is a design classic in its own right, while the Rip Curl line of smartwatches also cultivates a unique look by integrating their watches into oversized wristbands. Nixon's first smartwatch, the "Mission," creates a break from the norm by embedding a circular touchscreen (instead of square) in a protective bezel.
Materials and colours: Classy and flashy
Choices of materials follow the division between "fashion" and premium watches. Although stainless steel casings and leather straps have trickled down into the upper low-end price segment, customers still get what they pay for. Entry level watches start with woven straps and plastic watch bodies – preferably adorned with bold graphics and patterns – while mid-segment pieces incorporate Italian tanned leather straps and scratch-resistant mineral crystal glass. Material innovations are happening in the premium segment, where Elliot Brown Watches are pushing "technical rubber strapping and new canvas strapping," next to "case-hardened stainless steel that literally won't scratch or mark in normal use." At surf watches brand Carve, Product Development Manager, Colin Foy is banking on, "casings with a combination of aluminium, stainless steel and high density durable plastics, mineral lenses, resilient silicone bands and coordinate trim details."
Joe at Nixon is stoked on a new process to add interesting colour options: "This year some of our most popular models come with a new material treatment called 'cerakote.' It's a ceramic coating we adopted from the military that allows us to colour-coat stainless steel in a variety of colour and finishes." And speaking of colours, this season continues the trend towards dark, understated watches – either brushed metal or black coating – joined by a wave of royal blue and dark brown watch faces paired with gold digits. All this maturity is offset by playful neons and splashes of colour on wristbands and bodies in the entry level and mid-price segment. And for an extra flash of flavour, here's Komono: "This fall we will present the new Mirror Series that integrates a reflective face into the watches as a reminder to shine bright."
Functionality: Enhancing the experience
This season, Carve introduces the Elements model, "a multi-mode digital chrono with excellent functionality. A dominant appearance with a Japanese quartz movement."
Nixon's new "Mission" model is, "the first smartwatch that is made specifically for action sports and lifestyles that require a watch rugged enough to withstand the elements," said Joe Babcock, adding: "Built on the latest technology from Google's android wear smartwatch platform and the Qualcomm Snapdragon wear 2100 system-on-chip, the Mission features a suite of custom applications tailored to action sports, including Nixon custom apps powered by Surfline and Snocounty. These industry leaders give real-time surf and snow conditions to your wrist."
Rip Curl have also had great success with their smart surf watches, said Borja Torres, Wetsuit & Watches Product Manager: "Even though you can find some style watches in our range we are focused in surf and tide watches. Main styles for us are the Search GPS watch; the only watch that can track your surf and give you the exact time, tide and GPS location with only one touch." This season, Quiksilver introduces the "Addictive 2.0" tide watch, "featuring Quiksilver's award winning Deep Tide System Technology, with 15 years of pre-programmed tide data for 200 spots around the world. Plus our European Tide edition includes tide info for 100 European beaches," said Xavier Faucher.
So there you have it: Only watches that can talk the style language of boardsports, but also walk the walk and take a beating will cut the mustard. As Joe from Nixon said: "At the end of the day, if the product is built to last, the customer will buy it."