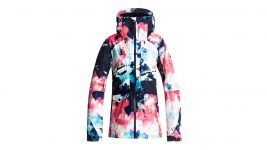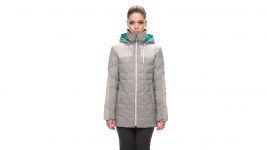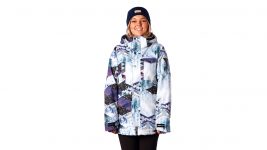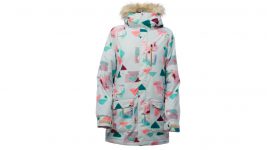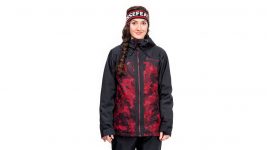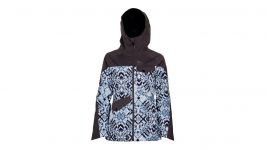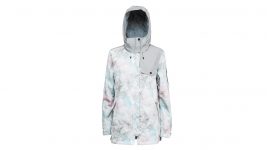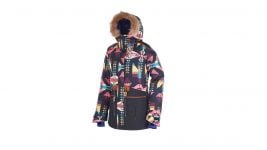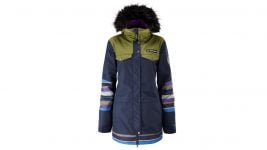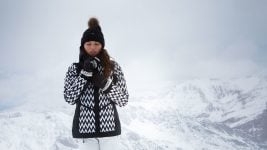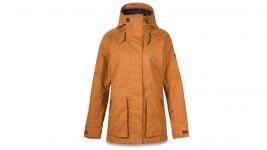 Nothing calls for a wardrobe clear-out better than a new-season collection of outerwear fits, shapes and colours. Begone, clingy pant. Away, foul boxy jacket. Vamoose, rancid fleece. FW17/18 is all about variety, versatility and refinements; read on for a closer look as Tom Wilson-North examines the evidence in our FW17/18 Trend Report.
AESTHETIC SUMMARY
Before we start, a quick disclaimer; there's not a hygge reference in sight. No, the fast fashion and household furnishing houses can keep their dumpy bathrobes, fluffy blankets and vanilla chai lattés. Boardsports outerwear is wholly incompatible with this done-to-death-before-it-even-started tabloid trend, thank god.
What is new are two nascent trends we identified which have meaningful roots in catwalk and contemporary art, and translate well to our industry. The first we are calling HARDENED. This is about the raw, plain and matt look so beloved by the high fashion scene of late. The raw dull metal and bashed brass by Versace surfaces as chunky alu zip fronts and pocket poppers, and the military thing popular at Gigi Hadid for Hilfiger, and to a lesser extent Pinko, comes out as varied-front asym jackets (Dakine) and drummer-inspired jackets (all over). It's androgynous without being goth but textures like wool and quilted fabrics, and darker colours like slate, quarry, oyster and of course true black definitely play the biggest part of the palette. "Yeah, us too," confirms L1's Jon Kooley. "We're drawn to that harder look with a feminine twist, the same way a girl can grab her boyfriend's old Harley shirt and the moment she puts it on it changes from this dirty old shirt to something sexy. That's kind of the place I go when designing the L1 women's line, this slightly more masculine styling with feminine silhouettes and colour palettes." A good illustration of this trend is the resurgence of the women's onepiece. Nikita are showing a utilitarian-look, waxed black canvas 20K onesie called the Mondran, and Picture Organic's Xena One Piece is in the same vein offering fully taped seams, top technical performance and styling lifted from female pilots' flight suits.
The second major trend we identified for boardsports next year is LUXURY/SPORTS LUXE. Think shiny soft tracksuit-style materials, neoprene and drawstring pant waistbands, varsity mesh hems and cotton cuffs. Whenever there's a major mainstream sporting event taking place, fashion designers stamp their take on it, and a couple of months later it echoes back into snowboarding as collection inspiration – although you can probably appreciate the irony that boardsports were probably part of that inspiration in the first place. Anyway, it's here, and in this iteration of the trend, sporty is streetified with opulent, shiny and OTT bling. Think satiny souvenir jackets, soft finish bombers with florals and metallic finishes. A truly luxe feel entwines the 686 women's line, and Rojo's beautiful collection uses "unique threads and weaves – soft and luxurious fabrics which are highly rated for alpine adventures, but also unique trims and features," explains Director David Salveson. Brunotti were big on details too, like the striped interior linings and neoprene tags that we noticed in their No Matter The Conditions capsule collection, and the pearl feather print jacket with gold accents paired with matching gold snow pants was pretty out there. The faux-fur at Protest slotted right in too, as did their unique slim-fit softshell pants with a skinny cuff that slides easily into the snowboard boot.
LONG LASTING
Less of a trend, more of a new industry direction. Boardsports clothing manufacturers are facing up to the fact that making all this gear year after year isn't exactly the best thing for our beleaguered planet, and perhaps it's time to create tougher garments that will last longer and not end up a the back of the cupboard in a year – or, worse in a landfill. And if those tough garments are made in an eco way, so much the better.
Rip Curl are doing it exactly right with the launch of their Search Series. "This collection is all about strong and durable mountainwear, made from a selection of recycled and eco-friendly materials, that will stand the true test of time. For the first time, we made PFC free products, with a PET recyclable membrane and Rudolf Eco DWR (PFC free water repellent). And way more. All in all, we managed to retain the best performance level and add an eco-friendly construction for a lower carbon footprint," says Rip Curl's Mountainwear Product Manager, Edouard Cousty. Dainese's new bomber Trailknit construction is a similar step in the durable direction, and 686 trim down their collection to try to make products that are bought once then kept for a lifetime. Likewise, Norrona continue with their Loaded Minimalism design philosophy to ensure usage year after year.
Durable products need a durable identity, so expect this type of production to sport visual cues to the toughness factory. At 3CS, course brushed oxford and twill textures underpin the handfeels, which conjures up a feeling of old world quality and longevity.
Furthermore to the long-lasting thing, we're seeing a blur in the lines of seasonality. "Seasons are so… last season, says O'Neill's Bernhard Ritzer. "Today we're buying product when we need it. Seriously, who still runs out to the stores to get that full winter wardrobe in August when it's 30° out? Our new medium and lighter weight products can be worn all year round. Awesome versatility: comfort for leisure as well as function for sport. It's an extra layer when you're in your shorts, or an under layer when you head to the slopes. Good for you, good for business too. It generates sell-through earlier in the season, then combines well with the snow line, so it has a longer shelf life." Likewise, Brunotti's NOOS (Never Out Of Stock) program features key fleeces and synthetic tees and can be ordered winter or summer, bringing an end to some parts of seasonality.
SILHOUETTES
In silhouettes, there are some key refinements that you'll need to understand before doing your women's outerwear buy. Firstly, the tailored look of more form-fitting jackets and pants is coming back. Jackets are shorter and more fitted (Nikita & Westbeach), but have idiosyncratic detailing to enhance their uniqueness, like tails which drop even further (Holden).
When it comes to pants, the two options out there remain slim or skinny. No-one talked about baggy or loose this season. L1's Heartbreaker Twill is a perfectly-executed example of the skinny look, and their boyfriend fit – which is a relaxed slim fit with more room in the seat and thighs – is offered in one style called the Siren. Roxy have some great new pant options too, with high waistlines and neoprene belting.
Up top, the oversized puffa is back, drawn from catwalk looks seen at Moncler and in the mainstream at Pull&Bear and Topshop. Holden and Bench both have nice examples of this look. Generally in jackets things are cleaning up somewhat with sleek, flat fronts gracing the pages of Dakine & Strafe's lookbooks. And Billabong's overhauled Soffya jacket gets a fur lining and super clean quilted wave pattern up front. Minimal and effective is here to stay.
STREETWEAR STYLE
In men's, streetwear looks are declining in popularity, whereas this look is working well for women's. Central to this theme at Nikita is the Maple jacket. "It's important for us because it showcases our denim-look, streetwear-inspired waxed canvas. Available in black or blue, the Maple features Thermore Classic Compact insulation, our highest 20K waterproof rating and a bevy of other features," enthuses Nikita's Stephie ter Hürne. Protest push this look a little further, and are offering their snow range as part of their streetwear range; no cuts in quality or durability, just way more use of treated denim, stretch fabrics and softshell mountainwear. Lastly, there's a great piece from 3CS called the Pret A Porter jacket which strikes a perfect balance between street-inspired and snowboard-functional.
JAPAN
We noticed that there is a lot of influence coming from the Land Of The Rising Sun. Fabrics, prints, cuts… you'll see lots of Japan in women's outerwear next year. We can't pin this trend down to a specific catwalk movement or look, but it links in well to the values of sleek minimalism and simplicity cited above. And let's face it, the Japan segment of today's snowboard videos is always the best bit.
Burton will be showing antique boro treated prints; boro is a patchwork of traditional Japanese workwear cloths stitched together, like bluey denim and narrow white-and-grey stripes. Likewise, Brunotti are using a Japonisme bird print, L1 are using a kimono print with ravens and cherry blossoms as liner detailing, and Holden are using Toray Textiles' Mountain Cloth as the face fabric for their key Rambler Moto jacket.
BIBS FOR DAYS
Ubiquitous in menswear, the bib pant has thus far eluded most womenswear lines due to the fact that they are deeply unflattering, making the wearer resemble a North Atlantic fisherwoman wearing a Mrs Beeton apron. FW17/18 will be remembered as the year where brands Got It Right, opening up a whole new door of steez, comfort, waterproofing and convenience for female snowboarders.
"We developed a new technical and feminine bib pant that perfectly completes our street-inspired collection while answering to the needs of the most demanding freeriders. Those girls really want to push the boundaries; we want to make sure they can do so," says Roxy's Product Manager Marion Bertrand. Bibs are generally pretty technical pieces; we liked Nitro's high-tech Yamanouchi Bibs with their lightweight 2L material, which are reflective of a general lightweight and durable material trend in bibs and beyond. Meanwhile, Strave's Scarlett Bib has a halter-top for easy bathroom use and Westbeach's Rapture Stretch Bib Pant has 20/20 stretch fabric, Recco and a mesh back panel to ensure you don't overheat.
COLOURS
As every year, a full spectrum is available in women's pants and jackets, but there's clear theming towards certain colour stories. Keep an eye for soft neons, alpine brights and jewel tones from brands with a younger audience. More established brands with longer histories going for a heritage feel play more with tones such as petrol or spice colours like saffron or paprika. There's also use of brick red, fatigue and dry leaf green here – look out for Light's Bone Brown which feels really modern – as well as some contrasting gold and silver metallics and shiny matt blacks.
Pop colours of coral, red, pink, blue or green alongside blacks, whites and earth tones will remain popular, and colour blocking is trending back for womenswear too. White is an important theme for the mountains again this year, and there is an extension of urban chic colours like grey and khaki, particularly in our Hardened trend mentioned above.
TECHNICAL INNOVATIONS
Girls get colder than boys, so it's no surprise to see brands addressing the chills. Nikita's approach is bifold, with Thermore Classic compact insulation spreading out almost linewide for bulk-free warmth. Meanwhile, they pop Radiant Heat handwarmer pockets at the inside of the lower back. Bonfire are doing the same and adding in the nape of the neck; these two places are where the skin is particularly thin, so warmth is crucial for comfort and long days on the hill.
In laminations, 3CS launch their proprietary ClimaTech Hybrid membrane, the result of a three-year partnership with a Korean chemical company. This mix of expanded PTFE and microporous PU up the ante in waterproofing, breathability and durability. Same deal with Nitro, who expand their use of 37.5 throughout their womenswear line.
CROSSOVER APPEAL
We touched on streetwear style earlier, but true crossover products are becoming more and more of a thing next year. Snowboard jackets are expensive. So why just use them for snowboarding? Next year's generation of riding wear is geared for cross-discipline functionality, whether that means walking the dog, commuting or wearing around town on chilly evenings. Burton's investment in the insulator and hybrid fleece categories is symptomatic of this shift, and baselayer specialists Mons Royale are amping up their use of merino and synthetic blends to make layers suitable for snowboarding, gym visits and lurking around Starbucks.
In crossover jackets, we liked 686's Womens GLCR Bliss Down Jacket. It's an activewear-inspired and fully packable 100% Responsible Down insulated jacket with an extra-tall internal collar designed to, as the cliché goes, take you from the mountains to the streets. Bench's 3-in-1 jacket is purposed with a similar job in mind.
PRICEPOINTS
Whilst we saw some fancy feature and fabric upgrades to affordable price points, the real action in women's outerwear is happening at the top end. "We heard the demand for a premium female shell jacket loud and clear, which got us to work promptly on the technical and slope-ready 2-in-1 'Alpine' with fully taped seams and 3M padding", confirms Protest's Anjet Wesselink. From Billabong their Kirima and Kiana outfit shoots up to big 30K/20K numbers, the top end of the Rip Curl line receives a substantial overhaul, and 686's first signature Klaudia Medlova pro models are crammed with tech features and look the bee's knees.
PRINTS
Whether you're a high fashionista or camper-van inhabiting dread, chances are you'll buy a piece of snowboard clothing with a print on it next winter. It's not that prints are particularly 'back'… more they never went away. As the catwalks indulge themselves into floral and animal print meltdown, with print melanges and colour clashes abound, snowboarding keeps things a little less scary and more commercial. Horsefeathers have an easy-on-the-eye Strawberry Camo, Nitro uses a techy print called X Ray Floral and Rojo created an art canvas which they turned into a yardage piece as part of their Boarding for Breast Cancer collab jacket. Bench keep things more classic with subtle worn-looking texture prints on their fabrics, and Billabong use a Navajo print and some basic painted stripes.
At Roxy, "we have added more details and depth to photo prints and the results filled us with enthusiasm. Our latest favourite, the Cloudnine print, is a clever combination of neon colours and a deep blue. It has unique vibrant though soft and dreamy touch," says Marion Bertrand. There is a lovely (and Japanese inspired) Ginko print from Supernaturals, and plenty of eclectic and bold print clashes from DC. Finally, expect to see mixed-print mashups from Burton; we loved their blends of different camos, their monotone florals and their folky hand drawn motif repeats.
CONCLUSION
Well, it's a lot to take in. Women's outerwear isn't just shrinked and pinked versions of menswear anymore; as represented by the opposing trends across the genders, these are definitely two very different markets with very different consumer ideals and market demands. The Hardened trend shouldn't be too difficult to sell through with commercially safe colours and styles. And by all means go for Luxury/Sport Luxe too… just perhaps don't go in too deep on the gold satin puffa jackets, though.