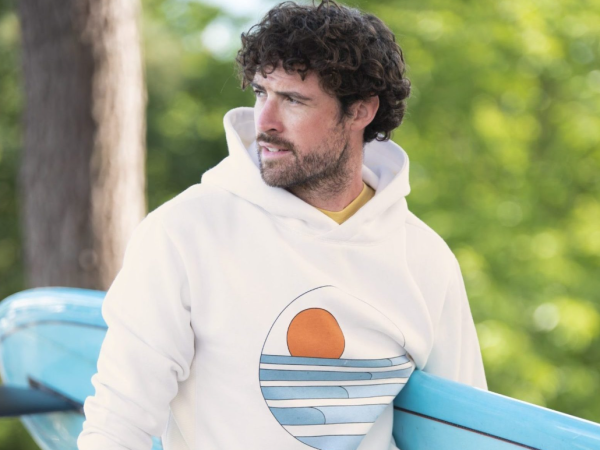 Brakeburn S/S 2023 Mens Apparel Preview
Retail Buyers Guide: Men's Surf Apparel S/S 2023 Retail Buyer's Guide
Brand: Brakeburn
Interviewee: Mark Noble, Marketing Manager
In anticipation of the 2023 summer season, what is your assessment of the current SS22 market? 
Well, this past spring and summer has been just great for us. We understand that plenty of industries and brands haven't been so strong and that they have seen better days, and of course everyday life seems to be changing rapidly but this past season has been very positive for us both in terms of our website and our vital Brakeburn retailers. Wholesale support and shop success has really taken us by surprise this year, our range has gone down extremely well with retailers and their customers alike, so right now we're in a really buoyant mood.
Massive chain stores such as Zara and Ikea are betting on the surfing lifestyle. Is this good news for the endemic Surf Apparel players? 
If you've been around the block a few times like we have, then you will have seen large non-core corporates jumping in and out of action sports and apparel industries all the time and it always creates a bit of a stir. Ikea is a really interesting one for sure plus they've brought some legitimate surf names in to help with their homewares designs. It'll create some awareness in the wider scheme of things. If we were making vases and tables then it might be an issue, but I doubt it'll impact the endemic apparel brands in our market. I can see it as somewhat 'outside the tent' business, supplying those customers who otherwise wouldn't really step into our local surf shop.
Can you please sum up your collection stories for SS23? 
So SS23 carries on from SS22 and beyond, in that we lean on the decades spanning, surf-culture legacy of our founder, Nick Jackson. We also take story and collection influence from our local environment and our lifestyles and blend them all together to help make Brakeburn tick. It's a very organic process and I think that shows in our collections.
What prints & colours will be key? 
We're playing to our strengths again. We have timeless colours and graphics and have taken more inspiration from our surroundings and our enviable location here in Dorset. When you have what we have right out the front door, it's hard not to be motivated by it! Our heritage is right here on the coast, our life is here, so we've got seaweed patterns, printed pockets, contemporary prints, and more iconic, retro graphic packages and we have much more to come for SS23.
There is a significant revival of natural fabrics blended with synthetic material for their performance specifications. Do you fit in that trend? 
Yep! We always have, to be honest. Taking quality natural fabrics and adding the right tech and textiles to add the performance edge that our customers really like. Our in-house garment designers work hard on the details in terms of fabric specifications working a little more with recycled polyester, Lyocell and organic cottons for example and on a wider topic, we've also spent a tonne of time on improving the fit and sizing right across the garment range for both men and women.
The consumers now want the sustainability to extend beyond the production itself, through ethic/environmental campaigns. What is your answer for SS23? 
This is nothing new for Brakeburn. I think the main thing here, is our focus to make the opposite of fast-fashion. We simply make clothing and garments that stand the test of time. Pieces that look and feel great that last well beyond the seasons. All our suppliers work hard on ensuring their production methods and their people are on board, so we're all aligned. Over and above this, we're always looking to be more involved in positive action, and there's more work to do, so watch this space.
Chinook Change Robe 
We introduced this product a couple of seasons ago and it's just taken off. For  SS23 we've refined it, changed up the colour and graphics and we know it'll fly! Ripstop Nylon with PVC coating and waterproof taping creates a weatherproof outer, faux wool borg provides comfort and warmth, and it has all the pockets you could ever need. People love this thing.
Seaweed Print Boardies 
All of our prints are designed in-house right here in Poole, and our new Seaweed print works so well on our Brakeburn boardshorts. 100% Polyester Micro Fibre Peach Twill is durable yet lightweight with fast-dry properties with a four-way stretch for comfort. The detailing, construction and everything on our boardies is top-notch yet affordable.
Camo Sliders 
Footwear has always been a consistent performer for Brakeburn. You can't beat a comfortable pair of slides for throwing on at the beach and new for SS23 are our Camo Sliders. We paired a durable grippy outsole with a comfortable moulded cork midsole and a PU upper, finished off with our bird icon in a de-bossed metal badge. These new Camo Sliders will go with everything!