TSG Skate Helmets and Protection Preview
CATEGORY: SKATE HELMETS AND PROTECTION
BRAND: TSG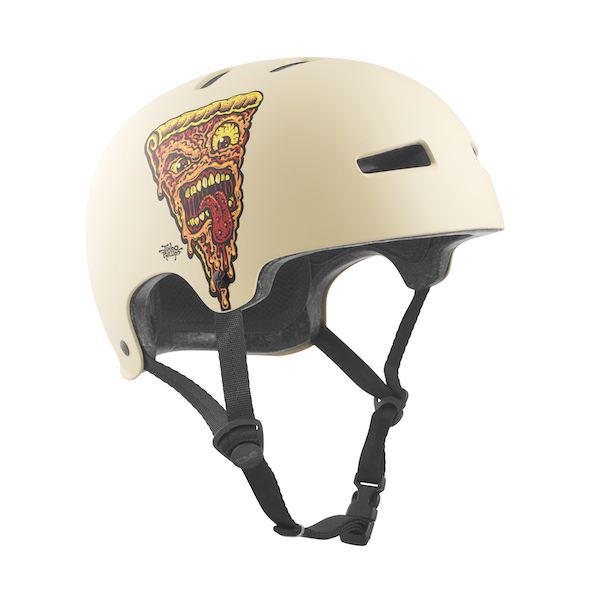 What are the main trends in skate helmets and protection for SS17?
We don't see big changes in the skate helmet category. Our classic Evolution helmet in flat solid colours is what skaters mostly pick. The full-face segment for DH skaters is covered with our Pass helmet. We launch the Pass Pro which comes with a more refined outer shell and a even lighter weight thanks to a more elaborated production moulding process.
Speaking about trends I would summarise that fit, wearing comfort and certified safety are the main trends.
Fit and wear comfort also dominate the protection gear segment. Pads that shift and fit improperly don't work and annoy the wearer.  We have been successful with adding an extra layer of PU like D3O or Arti-lage to the EVA foam. This provides increased shock absorbing performance and improves the wearing comfort.
Do you have any new product release planned?
We have been developing a new vert skateboard knee pad, the Force V, in close collaboration with our team rider Jono Schwan. We improved the design to receive a great ant-slip fit. An extra layer of Arti-Lage foam guarantees superior shock absorption.
We also launched a new helmet. The Meta is multi-sport helmet targeted to the everyday user.
What materials are you working with? Anything new to talk about?
As mentioned we now use Arti-Lage foam in our top level protection line. Arti-Lage mimics the property of human cartilage. Soft and flexible at normal use but building a hard protective shell at impact.
– EN 1621-1 und EN 1621-2 approved
– High performance shock absorption
– great flexibility
– extremely comfortable
Where do you stand on the issue of hard vs. soft materials in your protection?
In skateboarding we prefer mixing both materials. The contact to the concrete is so close and unavoidable that a hard shell on the outside is a must. Otherwise riders would rip off pads regularly. It is another story when we look at bike protectors where we use mostly soft materials but add a thin insert on top of the foam but inside the pad to protect against sharp objects entering the foam.
When it comes to design, colours & patterns – what are the main trends in your SS17 collection? In protection black is the new black! People mostly buy black. For the ones that like to stand out a bit more we offer some colours: our old-school design mixes red, blue and yellow and pays tribute to the first TSG pad designs in the eighties.
Helmet choice is mostly solid coloured. We offer a huge range of colours. We will present a new illustration design of skateboard artist Jimbo Philips and keep working with the artist Tanner Goldbeck.
What about wearing comfort, anything to note here?
Fit and function is our first priority. If the pad doesn't come with a great fit and wearing comfort it doesn't work and will annoy the user. So no compromise here. Our team riders wouldn't wear our products if the fit isn't perfect.
Are your products targeted to specific customers/rider types?
We mostly target to vert and pool skaters as well as beginners. And we keep investing into the longboard and DH market.
Our helmet range is large and we target every customer. We have a model for every single rider type.
What about price points, what is your standard here and where is the development going?
If you are using good materials and workmanship in production there is not really much leeway in price. We have to stay confident that the skateboarder understands the difference between a cheap product from a discounter and ours products.
We have a very tight calculation for our kids helmet to be able to offer a good entry price.
Please talk us through your 3 keys models for 2016/17.
Kneepad Force V A
Developed together with skate pro Jono Schwan. A pad for vert skaters that need most reliable support. The thickest and largest knee pad in our line. We add a layer of Arti-Lage foam to the multi-layer EVA. Arti-Lage mimics the property of human cartilage. Soft and flexible at normal use but building a hard protective shell at impact. Provides even more impact protection. Better wearing comfort and fit as foam adapts to the joint. Soft during normal movement  strong on impact. Foam is also much more curved to surround the knee even more: Low fit, more stable, max anti-shift, more confidence. Anti-Slip Silikonprint on inner lining. 
Protection: Arti-Lage foam, multi-layer EVA, Hard Shell Protection
Comfort: Pre-Shaped Design, Horseshoe Shape, Neoprene butterfly straps, Top velcro 360° strap, Adjustable bottom velcro strap with snap buckle, Open-back design, Enlarged coverage, Strong Cordura fabric, Reinforced at critical stress points, Lateral Padding, Comfortable lining, Anti-Shift silikon print
Also available without Arti-Lage foam for a better price point.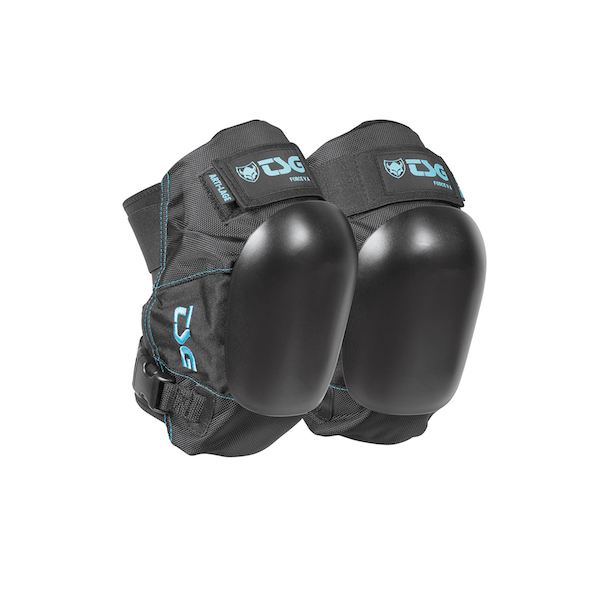 Kneepad Sk8 DHP's
Kneepads for extreme Downhill longboarding developed together with Kevin Reimer. Super robust cordura construction with oben back butterfly strap entry. Additional top and bottom straps for more comfort, fit and adjustment. Very large Cap with lateral slide extension at the bottom of cap.
Protection: Hard Shell Construction, Multi-Layer EVA
Comfort: Pre-Shaped Design, Horseshoe shaped foam, Neoprene Butterfly straps, Top velcro 360° strap, Bottom velcro strap with snap buckle, Open-Back Design, Top, bottom and lateral foam padding, Strong Cordura fabric, Reinforced at critical stress points, Comfortable lining fabric
Evolution Art Design Jimbo Philipps and charity Design Skateistn and skate-aid:
1. We continue working with the non-profit organizations Skateistan and skate-aid and also offer helmets in their design. We donate 3$ for every sold charity helmet.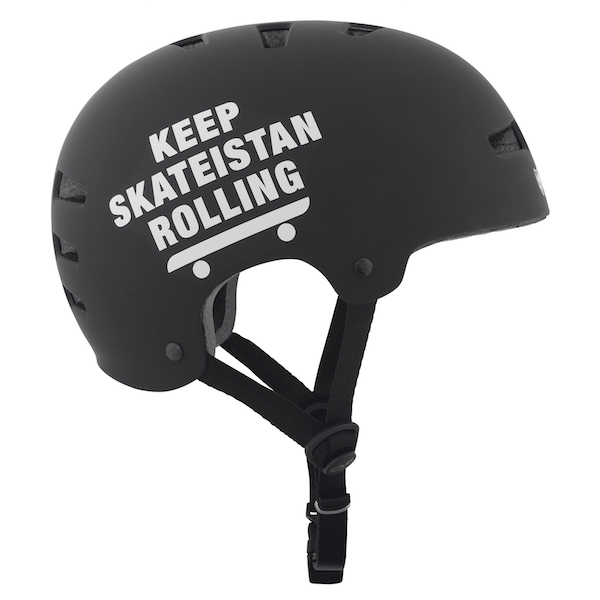 2. We launch new art design pieces with skateboard designer Jimbo Philipps. Find his illustrations "poor digestion" as well as "surf's up" on summer 17 Evolution helmets.