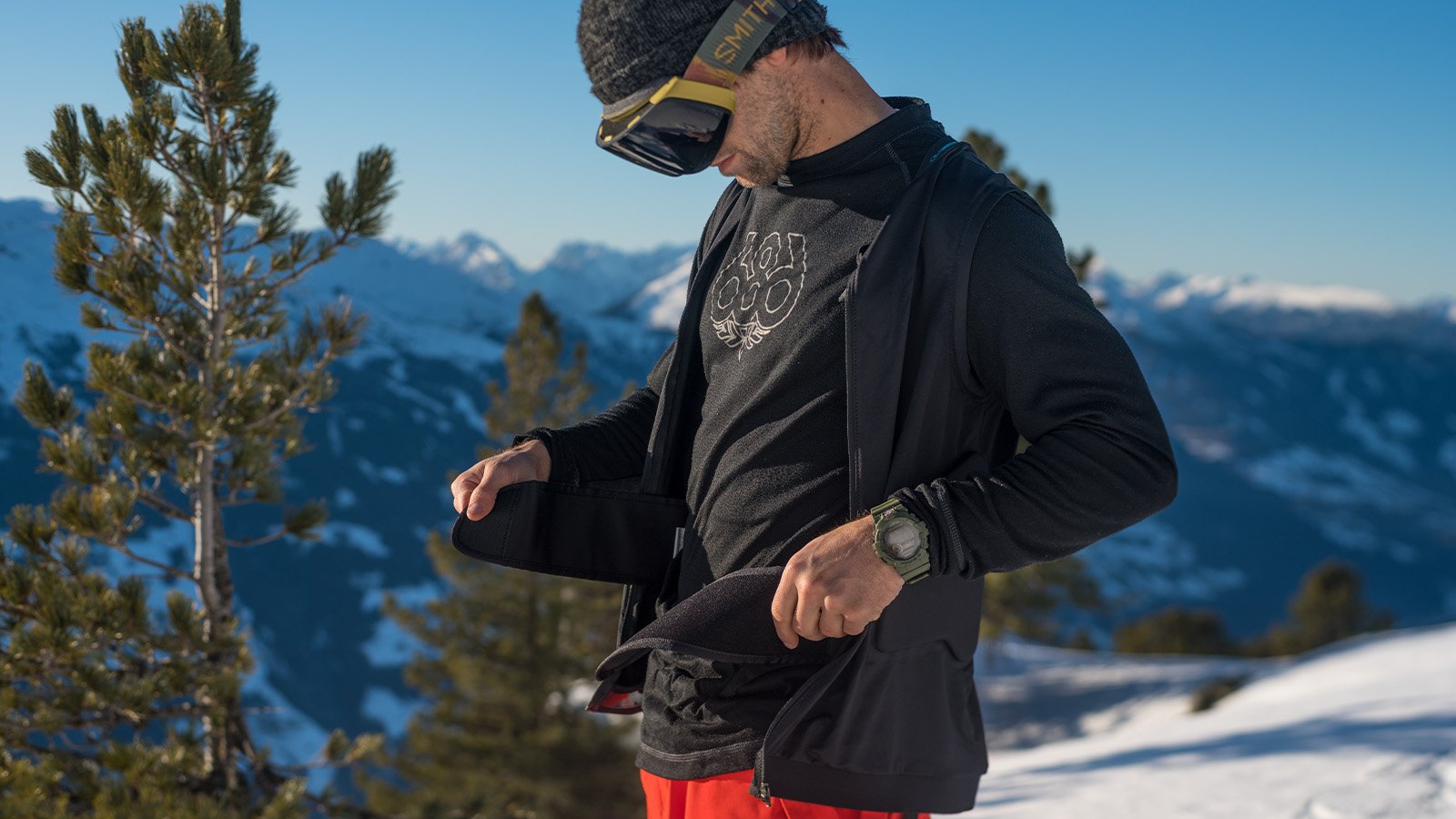 Amplifi 21/22 Snow Protection Preview
Retail Buyers Guide: Snow Protection 21/22 Retail Buyer's Guide
Brand: Amplifi
Interviewee: Jens Hartmann, CEO, Towm Howelles Design Lead
What are the main trends in protection for snowboarding in FW21/22 and how do you address them with your products?
We are continuing to improve our products technically, but also focusing on producing products using more eco-friendly materials and processes. In addition to our responsibility to our product, our environment is our responsibility and the people who produce our goods.
We have been aiming to create flexible, invisible but reliable protection with adaptive characteristic. The new MKX is only 10mm with really great shock absorption, extremely flexible and creates no heat build up.
Which snowboarding protection products sold best during FW20/21?
Back protection is our primary seller, but we also have seen a big uptake in our new MKX knee protector which is an awesome seamless low profile second-skin design.
Where do you expect the biggest growth in snowboarding protection during FW21/22?
Comfortable form fitting protectors, using technical, eco-friendly materials.
Do you have any innovations in terms of design or materials for FW21/22?
Innovations are mainly in the realm of materials technology and continuing to reduce the environmental impact of our product, whilst maintaining quality and craftsmanship. Using natural fibers such as Miharo Those fiber have proven to be a leader amongst all other climate control fabrics with their unique characteristics of being a fast growing, renewable source, eco-friendly and a distinguished odor managing function.
The blend with Polyester creates a fabric which absorbs odor, is anti-bacterial and works active on moisture regulation for pure comfort and dryness.
On the production side e.g. we know we're not perfect, nobody is. However, every little bit counts, and it's with this in mind that we managed to implement the Zero Waste Production process when injecting the MKX parts. Every off-cut, every spare millimeter of material that would otherwise be thrown away – is carefully collected and upcycled into brand new products! Zero Waste Production is the future, and we're happy it started here.
Are your products targeted to specific customers / rider types?
Everyone needs protection, from beginners making their first turns, to pros pushing the boundaries of the sport. Our range is focused, yet suitable for all rider types.
What is the general consumer's attitude towards wearing snow protection? Has this changed in recent years?
People are really seeing the value in protecting their assets – if it means you avoid injury, and spend more time on the hill, that's kind of the point isn't it?
Do you have any interesting POS materials for retailers? Are you offering any other kind of retailer support for this category?
We work closely with our distributors and retailers to create custom made POS materials based on their specific needs. We find this to be really fun, actually – helping people get the product in their hands and "catching eyeballs"!
Did the early spring lockdown affect the sell-through of the FW20/21 range? If so, how have you addressed this issue?
Sure! Just like everyone else, but we've always carefully managed our stock levels and tried to reduce our risk. We've got great hookups with our suppliers, so we can reorder quickly and easily. Also selling across summer for MTB has been superb. Right now we see no stock shortage. We have been shipping in time for this season and the outlook is promising for the next months
Please talk us through your 3 keys models for FW21/22.
The MKX TOP:
The MKX Top is the next generation of flexible, breathable, high performance back protection for ski & snowboard.
The unique design and HexFlex construction of the MKX Top makes this our lightest, most protective and breathable silicone protector ever – building on our years of experience, extensive testing and rider feedback with similar materials. The huge weight saving and super breathable cell design, combined with a super flexible four way flex ergonomic jacket give a true "second skin" feel – for longer, safer days when you're pushing your limits.
We are moving the concept of protection from an "Exoskeleton" concept to a more form fitting "baselayer" or "second skin" concept, that is a true "Fit it and forget it" product. Movement is absolutely unrestricted when worn – and will truly allow progressive alpine sports enthusiasts to test their limits, and push their riding to the next level.
At AMPLIFI we were unsatisfied with "off the shelf" solutions for back protectors – even so called "soft protectors" are not able to flex in 360 degrees, and are bulky and don't offer top level breathability. We wanted to create a product that feels like a "second skin" base layer by using MIHARO 6+ fabrics, but gives the safety that is expected of a top level protector.
The specific properties of the silicone based compound used creates a "liquid" feel when the protector is worn, developing the tessellating hex design with our materials engineers,  reduces weight AND allows free movement of air and moisture through the protector – and only 12mm thick! This is the result of 3 years of hard work with our engineers.
The MKX Knee: The ultimate Flexible, Breathable Protector
They say that less is more, but how do you square that away when it comes to protection? Your protective gear is the ultimate contradiction: you want it strong, but you want it flexible. You want confidence in it's strength, but you want it to be lightweight and comfortable.
Our team of science punks has been in the lab and on the hill for the last few years trying to develop a product that bends the laws of physics, and truly gives you ultimate fit AND awesome protection.
The MKX Knee is deceptively simple, but simple isn't always easy. It is the culmination of years of development. Tweaking compounds, testing geometry, studying ergonomics and anthropometrics, building prototypes, hitting the hill to test, and starting all over again when things don't work out like we want. Well it's here, we made it: It's arrived.
A 3D knitted second skin allows perfect fit, ultimate flexibility and full breathability, and our next generation silicon hybrid protector moves WITH your body, not fighting against it – and exceeds the motorcycle protection norm EN1621-1:Level 1, so you can have confidence that you'll know it's there when you need it.
New for 2020/21 is the reduced weight of fabric in the hollow of the knee for a better wearing climate. Also the sock has been extended in the thigh area with a 360 degrees silicone band for a fit like a boss in every situation.
The Reactor Waistcoat Junior:
The Reactor Waistcoat Jr. rocks full back protection with a super-lightweight, vented EXOFLEX back protector for bombproof comfort. Its strategically integrated, 4-way stretch panels and a discreet hip-belt mean that whatever your body shape or riding position, it fits you like a boss.. We protect your kids so they can ride safely and enjoy the spills and thrills! The Reactor stands for maximum protection and comfort. The integrated EXOFLEX protector made of special PU foam is ultra-light, breathable, ergonomically shaped and acts as a shock absorber. The repeating triangle pattern design, makes it ultraflexible so that natural movements are possible and the protector acts like a second skin, to ensure an optimum in protection. The protector consists of viscoelastic foam and quickly returns to its original shape whenever it was exposed to an impact. In addition, it is multi-impact resistant, which means the protector won't be destroyed in an impact, but retains its full functionality. An adapted and spontaneous damping behavior ensures that the protector adapts to the type of impact. Air is trapped in the cells of the foam. If only light impact is applied, the air is distributed steady and even and can escape slowly. The protector remains soft and absorbs the impact with no time-lag. If a fast, heavy impact is applied, it reacts immediately without delay, the air cannot be displaced, the cells strain-harden and the impact is firmly decelerated.