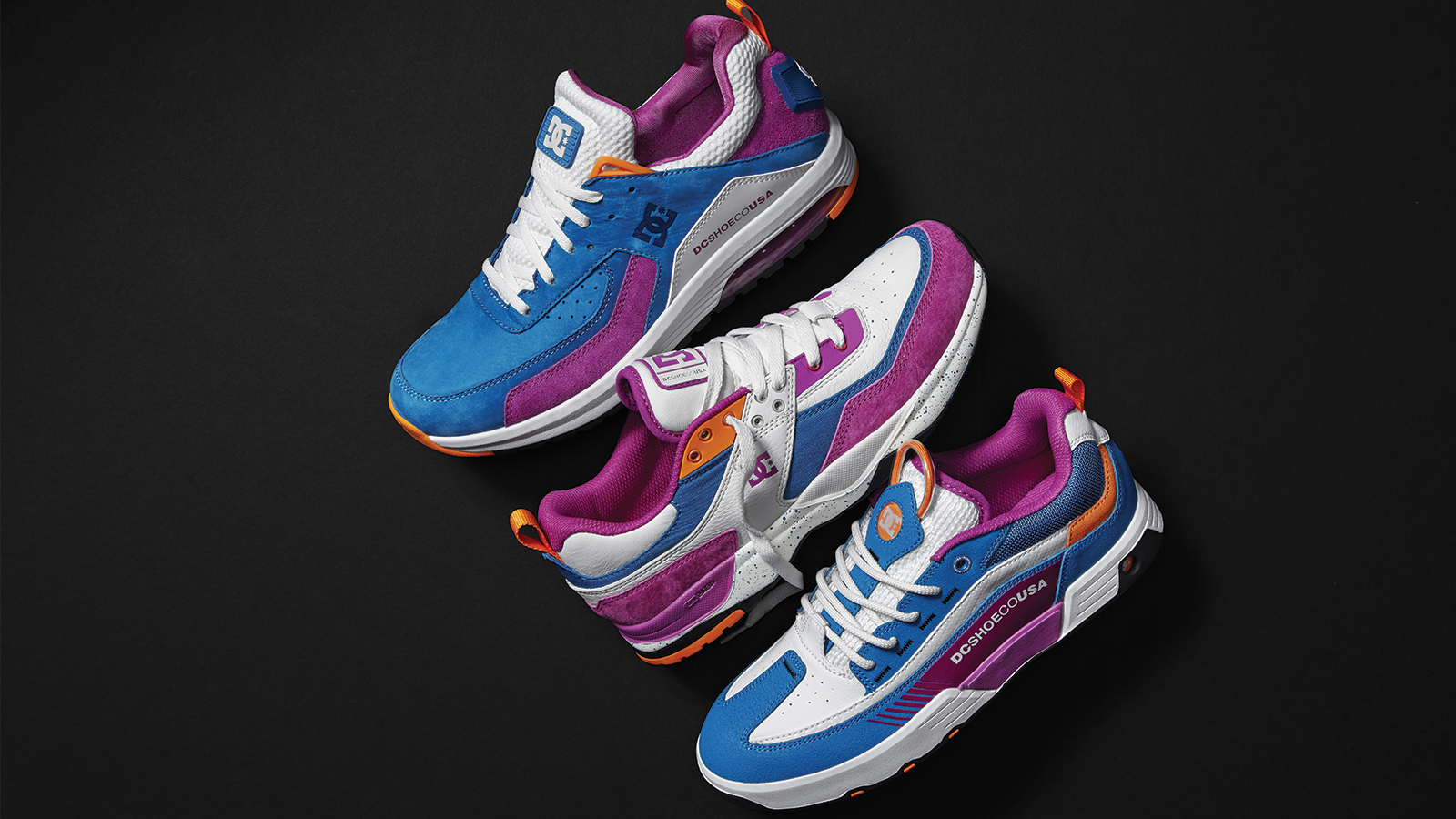 DC Shoes SS19 Skateboard Footwear

Retail Buyers Guide: Skateboard Footwear FW19/20
Brand: DC SHOES
Interviewee:  Halsey Keiler, EMEA Footwear Regional Merchandiser
What are the key trends in this segment for 2019 and how are you serving this in your SS19 collection?
From a market perspective, apart from the vulcanised wave, we are seeing a rise in bulkier retro models and runner-style sneakers; a mix of cupsole and cold cement construction. We believe consumers want style and freshness with an inherent comfort factor, so they can wear their shoes rolling out of bed all the way to stumbling home from a late night out. We are presenting some models in late 2018 that will remain in our collection through 2019 that fit this trend, while also introducing new models that are as multi-layered and multi-panelled – in order to utilise different materials, patterns and colours – with an added focus on comfort. We are also re-issuing several models that hark back to the 1990s styles that are permeating the market in more fashion and streetwear circles.
What shapes/forms are most popular in your range?
Our cupsole range is getting new energy, with a mix of bulky and built-up to more discrete and traditional styles.
What materials are you using? Any innovations to talk about?
Perforated leather, suede, speciality textiles (ripstop, denim, canvas, …), our UniLite soles and Dynamic Grip Technology rubber treads. We are also introducing new models with our Impact Air technology.
What about colour palettes and prints? Any crossovers from other parts of your range?
Our main design and style themes use a mix of DC Heritage colours and bold colors and blockage of the 90s – sports, symmetry, nautical graphics, branding, etc. – and wild energy of 90s rave culture juxtaposed with classic sportswear styles – amplified colour combinations with orange, blue, viola, popped with white and/or black. We are also focused on a gritty, understated, concrete style theme that plays into 90s skate culture, with muted desaturated tones and colour blocking with utilitarian and even military undertones.
Why should retailers stock your brand & your latest collection?
Retailers should be excited about the brand refresh DC is currently undergoing. We have introduced new models that push the consumer forward while also keeping our DC roots well ingrained in each product. We are focusing on on-trend styles, seasonal colours and prints, that can easily be merchandised in great colour stories. Throughout social media, we are represented by celebrities, top influencers, and a world-class skate team. We are amplifying street and skate culture through our products.
Please take us through three of the key products in your line.
For S119 we are presenting the Vandium SE, the Maswell, and the Barksdale. Hitting a well-balanced price structure, these three products bring DC DNA to the fold.
Multi-layered, with great use of material and colour, the Vandium SE is a highlight to our lifestyle range. It incorporates our Impact Air technology in addition to our CEVA UniLite midsole for extra comfort. This model stays on trend but you won't break the bank to cop it.
The Maswell is a true callback to early DC days. Great lines, super comfortable, and with our heritage T-Toe design, the Maswell is a great play into 90s nostalgia. We have used a super stylish construction in excellent colour and material balance for the spring and summer seasons. It sits in multiple colour stories and can be worn all day and still be comfortable.
The Barksdale rounds out our new models for the spring season but do not sleep on this slim silhouetted cupsole. Multiple panels allow for different material use, and in three ideal spring colourways that keep it fresh to be worn in any setting.