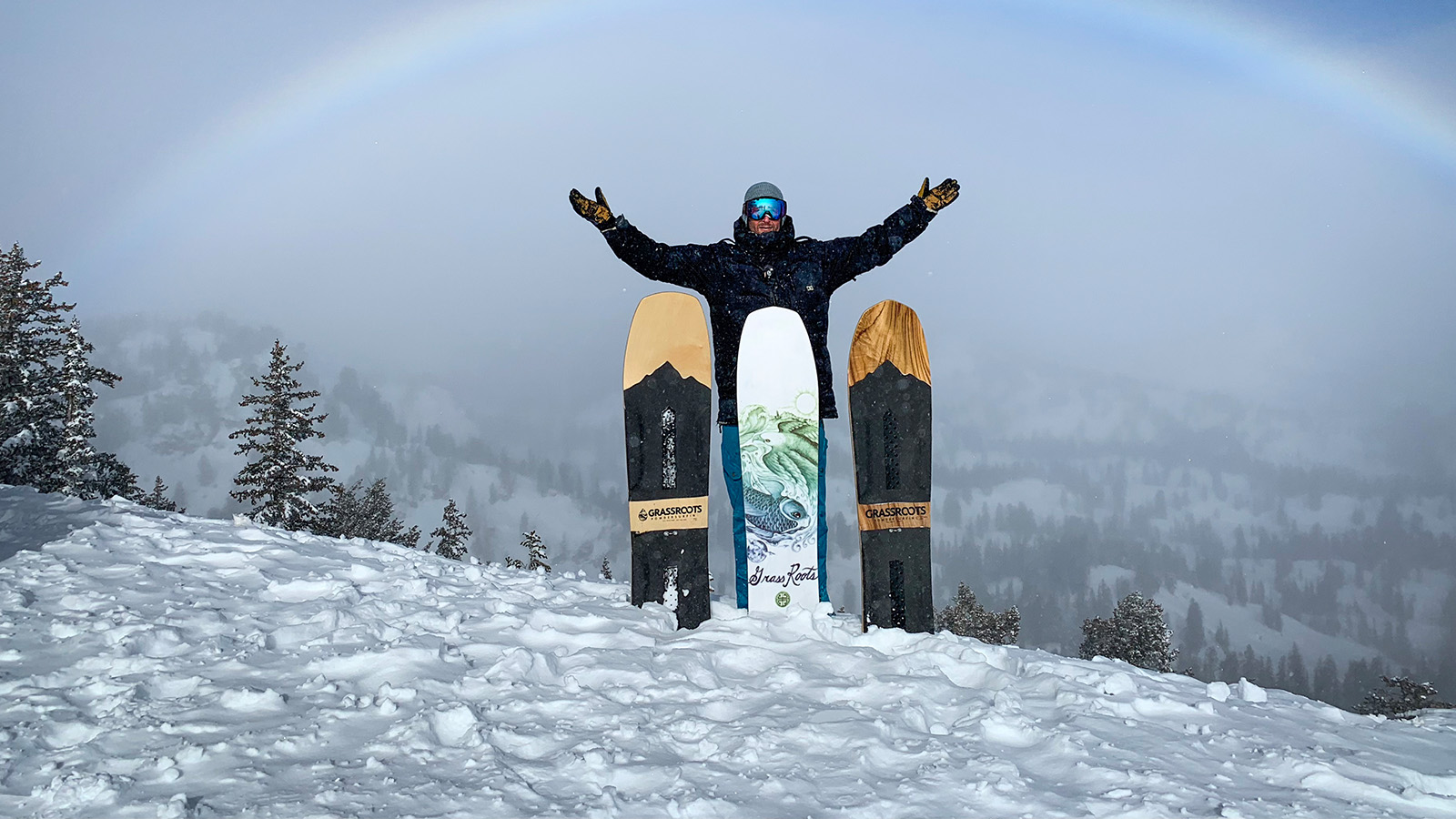 Grassroots FW20/21 Powsurf Preview
Retail Buyers Guide: Powsurfers FW20/21
Brand: Grassroots Powsurf
Interviewee: Jeremy Jensen, Owner & everything else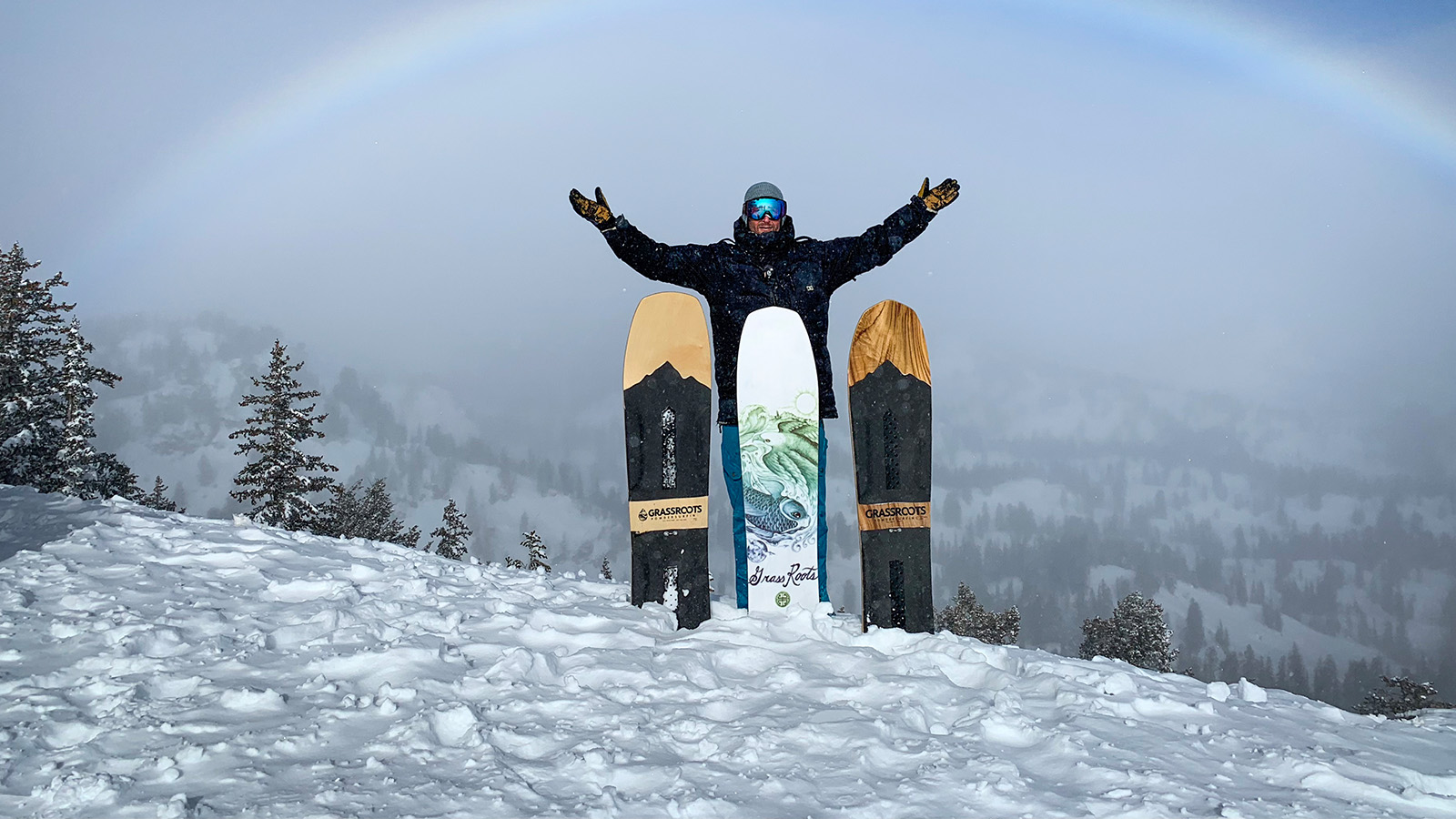 What is the single most exciting powsurf in your line next year and why?
There's been a lot of excitement around our splitsurfers recently. While we've been creating these for over a decade now, they are more dialed in than ever and we are hyped as ever about them. The boards are lightweight and our binding systems for the ascent are ultralight and can pack down small enough to fit in your pocket. The splisturfers are quite a challenge to make because when you are working with 3D channeled bases so it completely changes the production game. It's very fulfilling to solve the many issues that come up and in the end come out with such an incredible product. They are awesome tools that will help get many people access to the best powsurfing terrain possible.
The most exciting thing about next years standard powsurfers from Grassroots are the variety of shapes and styles we offer. No single shape or style would be the exact fit for the diverse amount of rider size, snow qualities and terrains across the globe so one of our focuses has been to create a wealth of shapes in a variety of widths and profiles to best match any rider's needs. When you take bindings out of the equation having the board that's the right fit for you under your feet will make all the difference in the world.
CONSTRUCTION
This is the place where you can talk to us about the new ingredients in your boards, and how you are building uniquely. We're interested in anything new in inserts / edges / cores / sidewalls / glue / resin/ wood types / base material etc here.
Our powsurfers are crafted by hand, one at a time using sustainable hardwoods and earth friendly bio-resins. We use various blends of hardwoods to create different flex patterns and ideal strength to weight ratios. Sintered p-tex bases are used for ideal waxing, durability and speed. We believe that the function and esthetic properties of wood are unmatched by the toxic plastic fillers that go into typical snowboard production so we happily shy away from those in our production as much as possible even though using wood costs us more. Each board is gripped individually with our specially blended 3D foam grip and can be crafted to fit the rider's boots size giving them ideal leverage and board feel.
The guys building these boards are the most experienced powsurfers and powsurf shapers in the world, so they know exactly what they are doing, and they sincerely care about the product they are creating. The end product is more of a piece of art than a mass-produced commodity and each board is numbered and signed as any piece of art would be.
Where are you building, what factory in what country, or your mum's front room? There's no wrong answer here. What makes this production facility the best solution for you?
Our powsurfers are crafted in the Grassroots "factory" in Utah, USA and have been since day one. We literally built our workshop from scratch and have upgraded it according to our needs over the past 12 years. All of our raw materials are sourced in the USA so our carbon footprint is minimal, and we can feel good about the product we create. We're located in a beautiful mountain valley so we can craft a powsurfer and be riding and testing it in the snow-covered mountains within 30 minutes. This makes R&D ideal.. The owner/founder of our company lives a few footsteps away, so Grassroots is close to home and heart.
Which pricepoint is seeing the most action at retail? What do people want to pay for powsurfs?
The majority of our powsurfers range from $400 – $500. Since the beginning we've done our best to make them affordable so that we don't price people out of having fun. Our boards are so much fun and work so well that our customers come right back and quiver up. Once they experience the nuances in the various shapes and profiles it opens a whole new world for them to explore and within a few seasons they've got 4 or more Grassroots Powsurfers in their quiver.
What is your most popular shape going to be next year? Blunt, reverse sidecut, short, tapered, swallow, what?
This is always a funny kind of question to answer. We have such a deep selection and they all work so well that it's impossible to say. Our shape/styles are designed to excel in different snow qualities and our customers vary in rider size, boot size and they are also scattered all over the world. Often many are drawn to the shelf appeal of swallow tails and big tapers, but many experienced riders find that there is so much more to it than that stereotypical outline. We try to educate customers the best we can and line them up with what is best for their size and their terrain. When supplying to shops the boards we recommend most are the Slasher, Flying Carpet, Megalodon, and Powder Slut. If the shop or customer exists in an area that gets lighter/dryer snow then the Big Phish, Great White and other reverse side-cut shapes can offer a very cool and unique ride and feel.
We're really interested in graphic themes running through next year's line. What is inspiring the colours & patterns on your powsurfs?
Mother nature is the main inspiration behind our graphics and overall look. We immerse ourselves in the outdoors year-round so inspiration is constant.
Do you think powsurfing has a future in developing into conventional snowboard retail/distribution channels, or is it destined to be a brand-direct business?
I think it has great potential to serve as both. We love to support the core shops who really give back to their communities and we grew up with boardshops being our second homes, so we want to see them succeed. We love that people can physically pick up and hold the boards in shops and stand on them to help them visualize themselves powsurfing and feel how good the boards feel under their feet. If a shop's staff is knowledgeable when it comes to powsurfing that will make all the difference in the world for that shop's powsurf sales.
The beauty of the direct to consumer sales is that we can personally chat with the customers about their boot size and weight, get a sense of where they ride and how they want to ride and then direct them to the absolute best board choices for them. It's a pretty amazing thing for a customer to get advice straight from the shaper and a more personal connection can be made. The rider has a great experience because they get the best product for them and they end up loving powsurfing and coming back for more.
The real bummer with some shops is they are selling powsurf look-a-like products made in China by companies that don't actually care about powsurfing and just use it to promote their brand to sell other things. This is such a sad thing to see and a really sad thing to have your handcrafted product sitting next to in a shop. On one hand these cheap products can be seen as an inexpensive "gateway" to powsurfing but on the other hand if a customer gets one and it doesn't really work well then, they are bummed on powsurfing and may never try a board from a legit powsurf company. This seems it could do more damage than good in the end. Flooding fragile markets with cheap/bad product is never healthy.
We hope that the future powsurf customers will see the beauty in powsurfing and recognize it as an art form and a lifestyle. If this is the case perhaps, they will care more about where the product is made, how it is made and who they are supporting when they make a purchase. We think instilling this mindset in the customer would be the healthiest way to grow this niche of the snowboard industry.