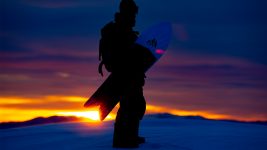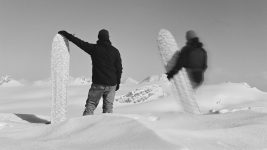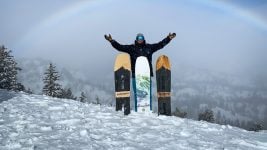 The powsurf 'movement' has a reputation for being favoured by obsessive oddballs, like Beatles fanatics that won't settle for anything other than the original mono mixes. In reality, it's as accessible as a drunken pub singalong to the chorus of 'Hey Jude'. You don't need to go to a resort and buy a pass – hell, you don't even have to be a snowboarder. With so many different brands and varieties, most of which come with a good story attached, you can definitely find some bindingless decks that are bound to shift from your shelves. Andrew Duthie takes a look at a few of next year's choice options.
THE LOOK
Most brands have really gone to town on making these look just as nice on the wall as under your feet, and that counts double for powsurf specialists. Don't expect to find much flouro pink; earth tones and good old black reign supreme. The standout in this field has to be Grassroots; this Utah-based collective of binding-averse purists has hand-crafted a wide range of options, all of which boast cracking artwork. "The end product is more of a piece of art than a mass produced commodity," says founder Jeremy Jensen, "and each board is numbered and signed as any piece of art would be."
Meanwhile on this side of the pond, Wolle Nyvelt continues to tinker with prototypes for Aesmo powsurfers in his Ziller Valley workshop. Most production, however, happens in a factory in the Czech Republic. On graphics duty for those is Fernanfo Elvira, who's also responsible for the look of Salomon's Aesmo collab boards. "i've loved his work for a long, long time," says Wolle. "Very proud to feature his work on our boards."
THE SHAPE
Grassroots also offer a shape for every type of conditions, and they're not alone. If you start by thinking about the kind of terrain your customers can access, and work forward from there, you can build an attractive line of decks that have been curated for the local shred community.
If you're not based in the mountains, or you just want to keep all options open, then there are a few can't-fail options, like Konvoi's asymmetric Escal. Without the benefit of bindings, any extra edge control is very welcome, and it looks great too. Besides, how often are you going to be riding switch anyway? One possible downside is that folk in the crew with different stances can't share, but that's about it. If that's a concern then the Colon and Volato serve as more universal alternatives.
One of the more well-known models is the Jones Mountain Surfer. All the things that have made it a hit will still be there next year, including the Chris Christensen-shaped design and subtle aesthetics, and there'll be a new, bigger size (152cm) available too.
THE BOOTS 
If you're giving serious thought to upping your powsurf offering, then we'd also recommend getting some appropriate boots in. Our top picks include the K2 Taro Tamai Snowsurfer (available in both men's and women's versions), and the Head Operator. New for next year is the Nitro Daily – a soft-flexing, leather-shelled option that has bindingless travel as its main focus.
THE SELL
It's unlikely that powsurfing has much of a future without shops. It may sell well online these days but the Jones Mountain Surfer built its reputation through brick and mortar. "It is a board that really has to be seen to be fully understood," says Jones Marketing Manager Seth Lightcap, "so customers benefit from being able to lay hands on the boards in shops."
Even if you're not based anywhere near a pow field, there's a lot you can do to win people round. Frame it as an investment, for starters; a powsurfer should last a long time, especially as your customers won't be using it every day – and maybe not even every season. Their aesthetic is unlikely to fall out of fashion, though, and while the tech is moving forward (Aesmo, for example, are unveiling a new topsheet/fibreglass combination next year), it's not happening fast enough to necessitate regular upgrades. Most of them look great hanging on the wall between sessions, too.
Finally, don't miss an opportunity to organise a powsurf session for your staff. By the time they've all put in some free-footed turns (or made face-holes in the snow trying), they'll be bonded tighter than Easy Company, and fired up to spread the gospel to your customers.
CONCLUSION
While you shouldn't be clearing your racks of all-mountain decks to make room for powsurfers just yet, the potential is definitely there for a substantial upswing in sales. There are so many angles to mine – as well as what we've already covered, you can press the fact that powsurfing has even more 'back to nature' cred than splitboarding could ever hope to possess. It won't take long to find something that'll work for your customers, so what are you waiting for.