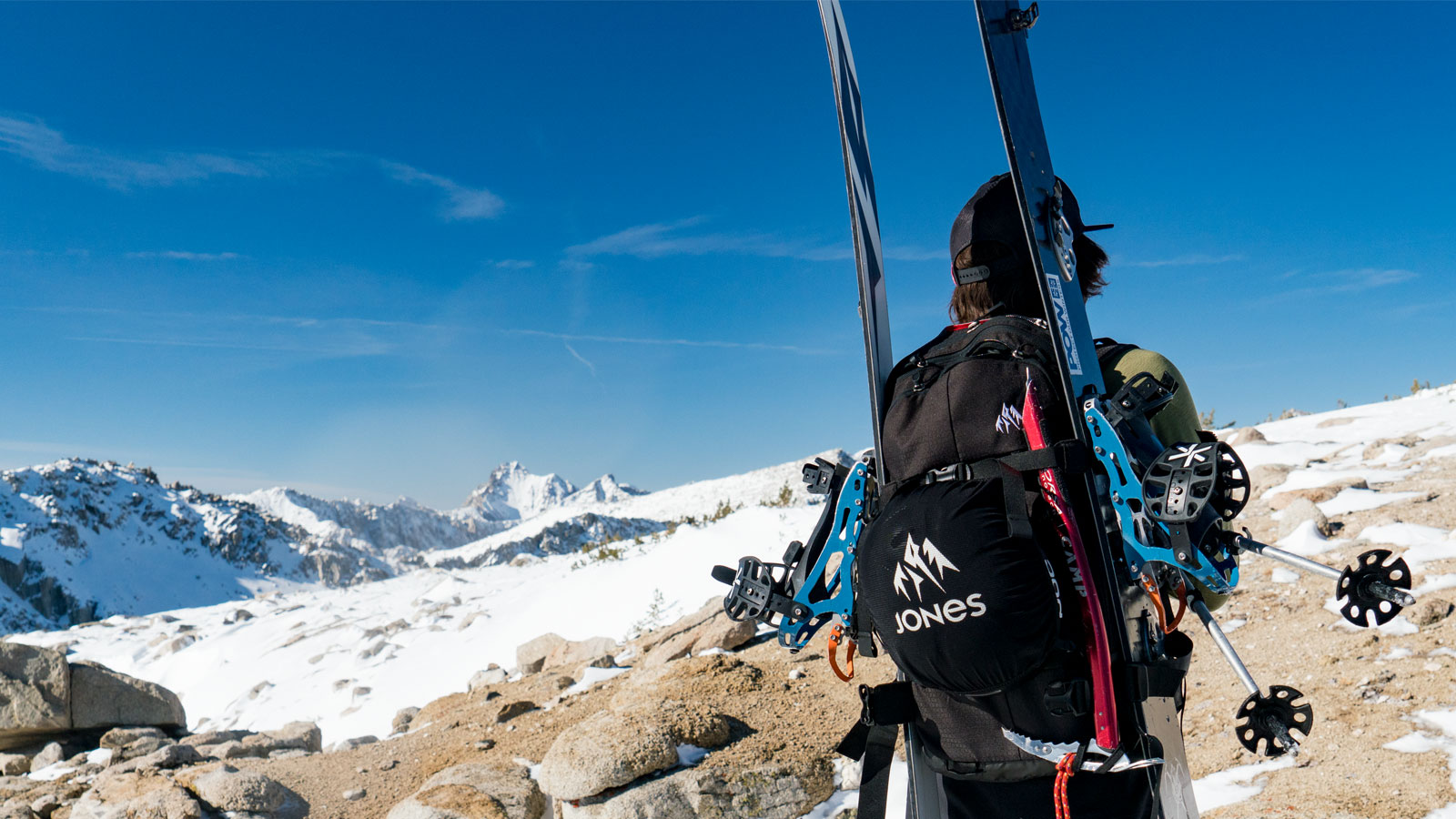 Jones FW19/20 Technical Backpacks Preview
Retail Buyers Guide: Technical Snow Backpacks FW19/20
Brand: Jones
Interviewee: Seth Lightcap – Marketing Director
What are the major trends in the snow backpack market next Fall/Winter? What do customers expect from their technical snow backpacks?
Riders are looking for packs that blend technical performance with a modern clean look. They expect packs to be purpose built to efficiently hold the gear they use and to stand up to serious use and abuse in the mountains.
How are you segmenting your technical backpack collection and what are the main price points in each segment?
Jones packs are segmented by volume and by function. Our low volume packs that are built for sidecountry and quick backcountry tours are premium low price packs (109-129) and our full volume packs that are designed for longer technical tours are in the mid-upper price point (149-199). We also offer two load designs with one zippered clam shell model and one cinched top loader model.
What are the main marketing stories and inspirations behind your FW 19/20 collection?
Jones packs are designed to be compact with streamlined shapes that keep the pack weight close to your body. We like to say Jones packs are 'Made For Movement' as they keep your center of gravity tight even when riding with a full load. This is why we named our most recent pack line the DSCNT series. They work great holding your gear on the way up too but they shine in their performance while shredding.
What are the most important technologies/features in your technical backpack collection?
Jones packs feature an array of useful pockets including two oversize hip belt pockets, a fleece lined goggle pocket and a helmet holder pouch. All Jones packs also include side accessory straps and burly front boards straps that lock your board to your back when climbing a steep botpack.
What color palettes, prints or patterns are you working with? 
We stick with black packs for universal appeal.
Which materials are you using?
We use PVC free nylon in all our packs and a recycled main body fabric on our Minimalist pack 
Please name and describe highlight items from your FW 19/20 collection.
DSCNT 19L:
The DSCNT 19L pack is a sleek sidecountry and quick tour pack that's the perfect size for the bare essentials. All of the board straps and the hip belt can also be tucked away for streamlined use off the slopes.
DSCNT 32L:
The new DSCNT 32L is designed for long tours and technical objectives that demand you carry the full kit. Featuring a streamlined rectangular shape that evenly distributes weight and volume over the center of your torso, the DSCNT 32L is built for both ascent and descent performance. When it comes time to bootpack, vertical board carry straps plus side ski-carry straps allow multiple options for carrying your board and a back panel zipper to the main pocket provides access to your gear even with the board attached.
DSCNT 32L RAS:
The DSCNT 32L RAS pack is the ultimate tour pack for technical backcountry terrain. It has all the features of the DSCNT 32L pack plus the pockets that hold the MAMMUT Removable Airbag 3.0 system. The Removable Airbag 3.0 system allows you to use the pack with or without the airbag installed.