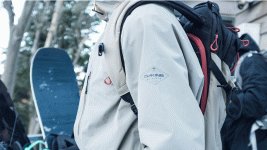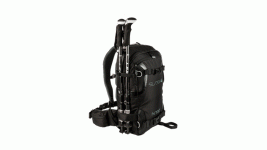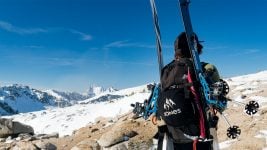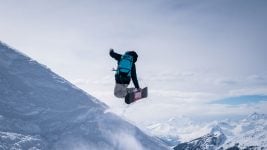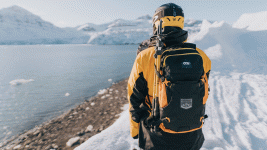 Technical Snow Backpacks FW19/20
It's all about touring this coming winter season, so technical snow backpacks need to provide the right features to support demanding customers, and also pack a healthy dose of style! Retail Buyer's Guide by Natalia Maruniak.
"Ambitious touring and splitboarding is a big topic for next season," said Jan Sallawitz, Head of Marketing at Evoc. Last season's touring trend retains its momentum, with no end in sight. More and more winter sports athletes are leaving the slopes to explore nature, which leads to rising demand for suitable equipment. And since climbing to elevated locations is physically challenging, and riders want to avoid excess weight on their ride down the mountain, the focus lies with light and functional product. Asked about major trends for FW19/20, the crew at Ortovox said: "Definitely ski touring. And there's the fact that gear is getting lighter without losing its performance." Safety is also a trending issue and "airbag-compatible backpacks continue to trend in the more technical space," said Dave Trenholm, Product Line Manager for Snow Packs at Dakine. For more info on ABS bags, please stay tuned for our Mountain Safety feature next month.
PRICING & MARKET SITUATION
When it comes to pricing, the snow backpacks market displays significant differences based on technical features for various applications. Most collections are divided into resort-based, backcountry, and touring-oriented packs. Entry-level models start at €70 (including the Dakine Heli Pack), crystalize around a mid-range price window between €130 and €180 and retail for up to €240 in the premium segment (including the Evoc's newest avalanche collection LINE R.A.S.). Most brands cover all three price segments. 
100% RELIABLE PACKS
In the backcountry, riders need to be able to depend on their backpacks 100 per cent, so stakes are high for technical performance. "As more and more customers are earning their turns through touring they need to have better, more stable carry-ability and more breathability in the backpanel", explains Austin Robbs from Patagonia, who offers The Snowdrifter Series in response to those demands.

Aside from breathability, low weight and safety being key, protective elements are also in high demand. Most current models feature light back protectors (for instance Amplifi's BC Pack, Nitro's ROVER with Koroyd EOP Protector and Evoc's FR PRO).  Similar to airbag systems, the protectors are fully removable to facilitate the year-round use of these packs, even off the mountain. "Ideally people can use the avalanche safety backpack all year around, as we feel the times where people are willing to buy multiple backpacks for a different use are over," said Jan at Evoc. The market is hungry for all-round packs that can be worn in the snow just as much as in daily life. After all, backpacks have made an impressive return as acceptable style accessories over the past few years.
But it's not all fashion. As Seth Lightcap, Marketing Director at Jones points out, backpacks also need to "endure serious wear and tear in the mountains," which is why longevity is a leading factor for consumers. At brands such as Patagonia, Dakine and Picture Organic, development of durable products includes a search for more sustainable solutions and environmentally-friendly manufacturing processes.
TREND: CLEAN LOOK
Ultimately, style is a major factor when it comes to deciding between products with largely similar characteristics. In terms of aesthetics, the category is trending towards, "a clean, modern look" (Jones), "urban styles" (Picture), minimalism, and aerodynamic shell exteriors. True to the motto "minimize to the max", Amplifi is banking on aerodynamic and sleek backpacks that are loaded with all necessary features, "without having tons of straps flying around and snagging on lifts and trees when you don't need them to be in use." For this reason, straps for attaching skis and boards, as well as hip straps and other attachments need to stow away safely. Ergonomic designs, slim silhouettes, contoured fits and optimal weight distribution also loom large over this season's offering. Standard features now include hydration channels inside the shoulder belts, dry pockets for clothing, ventilation systems, fleece-lined pockets for goggles, as well as helmet compartments. And fans of roller top enclosures will be delighted to find new choices like Dakine's Poacher RAS Series.
COLOURS & MATERIALS
Next season's colours and prints offer attractive picks for all tastes. "We are really proud to offer such a colourful backpack portfolio," said the team at Ortovox. Evoc are also staying true to their roots with bright and strong colours, which avoid being overly garish thanks to earthy and natural tones. At Dakine, the colour palette extends from dark slate, to shiny golden yellow, to tandoori red. In the women's segment, these are complemented by camo and floral prints. The design team at Picture likes to draw inspiration for prints from, "natural resources such as marble or mythical and artic atmospheres from Svalbard." And to match their outdoor collection, the team also offers classic colourways such as yellow and khaki. Amplifi presents "retro looks with a classic mountaineering feel," in a tonal mixture as well as denim models. Patagonia uses black, classic navy and a higher visibility Hammonds Gold for safety. And Jones plays it safe by featuring the most timeless of colour choices, black.
In terms of materials, prepare for an influx of rip-stop, high-grade nylon, and PVC-free materials. We'll also see an upsurge in sustainable materials such as recycled nylon and polyester from PET bottles, as well as Bluesign-certified fabrics – an area to which Dakine, Picture and Patagonia show strong commitment.