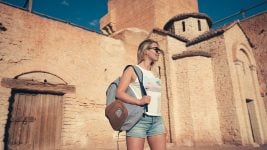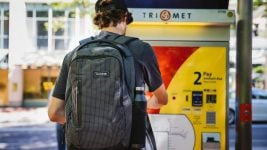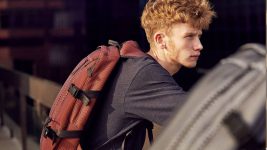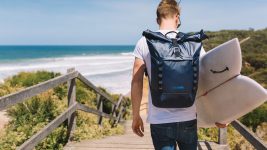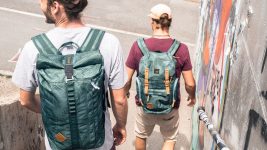 Lifestyle Bags & Backpacks SS19
Functional carry-all, stylish accessory, all-day companion, and safeguard against identity theft: Next year's boardsports bags and backpacks have you covered. Here are the major trends for 2019 in our Retail Buyer's Guide by Dirk Vogel.
Today's consumers are changing the world. They spend less money on things, more money on experiences. Car ownership is trending down, public transportation and ride sharing are on the rise. As a result, people spend more time out and about without a quick ride back home or a trunk to store their belongings. In the process, the humble backpack emerges as the trusty keeper of everyday carry items on all-day missions.
"We see the backpack business as a very future-oriented market. Everyone needs and will need bags to carry their stuff," said Niklas Pastor, Brand Manager at AEVOR. As people spend their days lugging around more and more technology while also looking to stay active, bags get to flex their technical muscle. "We see a trend towards more versatile and functional styles. Packs that will serve different purposes adjusting to your kind of day," said Flavien Foucher, Marketing and Merchandising Manager at Dakine.
Functionality, boardsports bags have come a long way over the past decade. Today, you can fully trust the same bag to securely hold your laptop or tablet, plus your soaking swim trunks or wetsuit without any issues. And performance features previously reserved for three-digit price ranges have trickled down into entry-level offerings; at least in collections from endemic boardsports brands.
PRICE POINTS & MARKET
Speaking of price ranges, bags and backpacks may exhibit the broadest spread of any category at your everyday board shop. Backpacks start as low as €20, crystalize around a main price point window between €80 to €120 and go all the way to premium offerings over €350 by brands such as Filson. Much like in other categories, consumers get what they pay for – although they can get a lot at relatively reasonable price points. Eastpak stands behind most of their products with a 30-year warranty and applies military testing in their quality control. The FUL brand includes RFID protection (see trends) in bags under the €60.00 threshold, while waterproof and weatherized models sell for under €100.
Ultimately, finding the right bag depends on the individual customer's needs and motivations. As Jarrod Clarke, EU Brand Manager at Doughnut bags, notes: "Consumers are becoming more and more interested in knowing about the people who make the product – are they treated well, do they get a fair wage, are the fabrics ethically sourced." As it turns out, sustainability looms large over 2019 collections as one of the Seven Backpack Trends Retailers Need To Watch In 2019.
1. Season Trend: Urban Performance
Putting a finger on next season's biggest trend, Niklas at AEVOR said: "Urban performance – the fusion of outdoor performance with urban fashion." Think all-day bags enhanced with weatherization, padding, and functional features in an understated overall package. Features include wet pockets for swimsuits or gym clothes, laptop sleeves, waterproof zippers, sunglasses pockets, and roll-top entries for extra "cram" factor. Picture Organic Co-Founder Julien Durant says: "Bags that people can use for their urban escapes thanks to the cool design and image for their daily life, to wild escapes thanks to the technical features. Actually, today, a backpack is a fashion and an outdoor essential!" Outdoor performance experts Evoc nail the style side of things in their new daypack, which also has a smart expandable function. The Roark Bearing Series is all about blending "the rigours of travel and style for the city." Quiksilver serves the trend with the Adapt Carry On, a travel-savvy pack loaded with surfing-approved features. Doughnut bags assist urbanites with the Colorado, "a daytime backpack with super secure side entry laptop pocket that is padded both sides."
2. Small all-day bags
Next season, smaller bags under 20L capacity are gunning for the spotlight as the perfect all-day, carry-all solutions. Flavien at Dakine recommends the Wonder Sports 18L Pack, "a minimal all-purpose pack with the right amount of storage to suit any kind of day." At Evoc, Co-Founder Holger Feist sees a major trend behind "light packs up to 12L with a high carrying comfort and perfect body fit." Lefrik touts the Handy Backpack with a "10L capacity, inside zipped pocket and double strap fastening system, this backpack can comfortably fit all the essentials." Herschel has it covered with the Nova Mid in Pink Lady Crosshatch, designed for urban adventures.
3. Sleek outside, complex interior
Next year's bags are tailored in the streamlined, pod-like style without superfluous straps and dangling parts on the exterior. To hear Florian Lang, project manager bags at Nitro Backpacks, tell it: "Styling-wise we will see a more sleek and reduced look on the outside, while the inside is feature-loaded and thought out." Dakine's The Network 32L Pack exemplifies this design with water-resistant main zippers, mesh pockets for headphones, storage for gym clothes, cord management solutions and a foldable laptop compartment to speed through security. Retailers may want to turn these bags inside-out to show customers the function-laden interiors, for instance the Quiksilver Adapt capsule collection boasting "internal luggage organization, top and side carry handles as well as sternum straps and back trolley sleeve to fix it on your trolley luggage when your back needs some rest," says Alizée Rames, Global Product Manager.
4. Splashes of colour
While branding remains minimal in most collections – think business-card sized labels in the mode of Herschel Supply Co. – colour palettes break past seasons' monotony of black, grey, olive, and navy. Doughnut celebrates colours in a single colour series, "where every aspect of each bag is the same colour," including pastel pinks and aquamarine hues. Evoc celebrates 10 years of sports travel with a sky blue, orange and grey pattern. Dakine pays tribute to its surf and Hawaiian roots with print patterns "Cannery" and "Kassia". Eastpak goes big on prints that are, as Domitille Parent, Product Director put: "Inspired by one of the hottest streetwear trends of the moment, Chatty Pattern plays on the visual aspect of the graphics or written words." Eastpak also announced designer collabs such as Raf Simons, Marcelo Burlon, White Mountaineering, and Maison Kitsuné for SS19.
5. Next-level materials
At the end of the day, price points in the segment fluctuate around materials. At the top of the line, Filson incorporates Rugged Twill Cotton, Ballistic Nylon, and Matt Nylon printed with Mossy Oak Shadow Grass. Dakine keeps it tech on the heels of their "Ready2Roll" range last season, with 1000D Cordura Nylon and Cotton blend featuring DWR coating and 420D Hypatex rubberized material (in other words, it's hella rugged and water-proof). Quiksilver is stoked about "the introduction of the waterproof Hypalon fabric in our range. Commonly used on floatable boats, it has a very high puncture- and abrasion-resistance." At upcoming brand Lefrik, CEO Curra Rotondo emphasizes sustainability: "Lefrik offers practical commuter products made using 100% recycled polyester (RPET), providing a sustainable alternative to the fashion accessories market, at the same time we keep prices affordable." At Picture Organic, "every single bag uses recycled polyester and/or organic cotton, made in ethical factories."
6. Enhanced security
Spending all day on the go leaves consumers vulnerable to predators looking to steal valuables or even digital data via RFID skimming. That's why security features, previously pioneered for the travel segment, are finding their way into everyday backpack lines. Pioneers Pacsafe double down on PopNLock, Roobar Locking Systems, eXomesh slashguards, and RFIDsafe blocking pockets. At FUL, Director Mark Griffiths points out: "The RFID protection pocket is essential for storing your bank cards, passport, key fobs etc., to ensure you're not prone to possible identity theft."
7. Hot Trend: Cross-body bags
It all started with skateboard style icons wearing their old fanny packs (bumbags) boldly across the chest in a sideways arch. Now it's the latest season trend. "We have noticed a huge spike in hip packs / cross-bodies. They're a mix of fashion and function, which is our sweet spot," said Herschel Supply's Jon Warren, Design Director, pointing at their Fifteen hip pack. "Cross Body Bum Bags of all shapes and sizes," confirms Leigh Kilby at Mi-PAC. UK brand Daniel Poole has been down from day one: "Fanny packs, side bags, man bags – call them what you like, but they're back in various formats! In the early '90s when these were huge, consumers were not carrying smartphones, so we have adapted our bags accordingly," says Marketing Director Laurence Poole. Cabin Zero offers colourful hip bags with RFID pockets, while outdoor aficionados Evoc go XXL with the Hip Pack Pro that holds two 3L water bottles to keep you hydrated on your next rave.
SOME COOL 2019 BAGS THAT AREN'T BACKPACKS
Tote bags have arguably peaked when Gravis dropped the Dylan Rieder (RIP) skate tote bag in 2012. But next season's offerings carry the torch in equally sleek and functional pieces such as Quiksilver's Upshot tote in cotton canvas style and Pacsafe's Dry Lite 30L tote. Water-resistant and splash-proof – plus loaded with the brand's signature security features – it's "the perfect companion for a day on the beach or shopping at the market," says Brand Manager Thomas Ryll. And to keep documents safe, Evoc created a nice zipped passport folio as part of their travel collection.
Duffel bags feature front and centre in next season's collections, many have the same level of performance exterior as their backpack counterpart, plus equally neat inside compartments. Season standouts include the Filson Ballistic Nylon Duffle Pack and Roark's Bearing 3-day duffle. Jon at Herschel has some multi-use bags in store: "For our Independent Trucks collaboration, we made a duffle that transforms into a backpack, as well as a dopp/travel kit that can double as a skate toolkit." And for something completely different, Picture Organic kills it with the Hey Bro Cooler bag in a cool navy colourway – 14L capacity, plus side pockets and a padded shoulder strap for low-impact chilling with the homies. Retailers need to watch the category, because as Florian at Nitro says: "Bags are a great way to express your style. Bags get people excited. Bags are like shoes, everyone needs them, and you can never have enough."