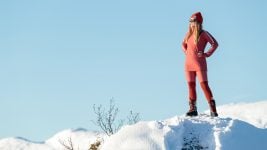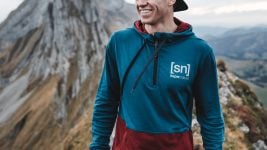 Base Layers seem to have been under-appreciated in the industry but that is changing with more brands looking to explore and expand in this category for FW20/21.
Nikita are looking at this expanding category in a whole new direction: "there are so many activities we do in our day to day life that we can use the base layers when designed with this in mind." Super.natural call their products "the perfect companion, whether for daily life, travelling, outdoor adventures, winter sports, fitness or yoga." Picture Organic Clothing equip their layers with high collars to better protect and provide a neck warmer effect, as do Eivy, who have worked a UPF40 into all of their pieces.
Swedish base layer brand Eivy take their eco approach one step further by replacing plastic packaging with multifunctional bags in the same prints as their base layers. Horsefeathers will introduce P-life to package their FW20/21 collection: "The world's only proven oxo-biodegradable plastic additive. P-Life oxo-biodegradable technology is an effective way to accelerate plastic degradation," explains Tomas Koudela, Head of Sales and Marketing.
With materials needing to be "lightweight, breathable and insulating," Polartec is a favourite choice that many brands feature in their line. Volcom work with them for polars, sherpas, hoods and neck gators, Picture feature them in their Expedition range, and Black Diamond bring back their Coefficient Fleece Hoody with grid back Polartec Powergrid fleece. They also use patented Nuyarn stretch merino wool, a fabric that dries 5x faster than regular wool and is 35% stretchier. Holden's layers are extra comfy due to the WHOLEGARMENT knitting process that eliminates cutting or sewing and creates 30% less waste. Rojo offer a "fun, luxe and cosy" choice with their new Velvet Skivvy. DC see "tremendous growth in the mid-layering categories with Veneer Hoodie and the Snow Star hoodie.
The layers segment has been growing for some seasons and is not scaling down. Picture Organic Clothing have expanded to a wide selection and a more hybrid range with mixes of Power Stretch on areas that need to breathe, and Primaloft on areas that need to be isolated. DC agree that this category is "growing rapidly" and expand the offer in their mid-layer program. Adrian Rief, Marketing at super.natural add that their "products' timeless design makes them suitable for every age group, any occasion and all types of people."
Due to its moisture wicking and odour repelling qualities, Merino wool is also a popular fabric for layering, like in FW's Raw Collection. Super.natural combine it with synthetic fibres, creating a tightly-knit connection between the materials for an "extremely soft surface that doesn't scratch and offers incredible natural comfort."
Holden use a WHOLEGARMENT knitting process for their base layers, where each garment is knit to completion in a machine, without cutting or sewing. Dainese use Dryarn, "a mix of Polypropylene and Polyamide fibre which makes it one of the best in the market for baselayers in contact with the skin."