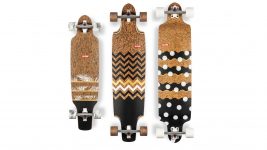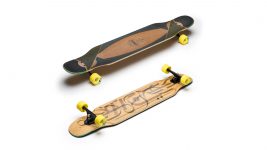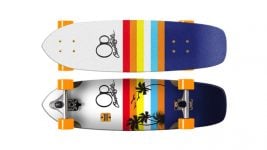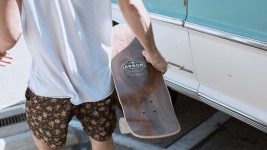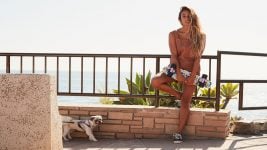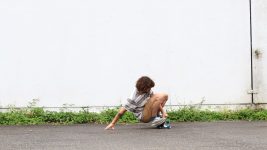 With a focus on quality and authenticity, the cruiser skateboards market is making a fresh start. All the news in our Skate Cruisers Retail Buyer's Guide 2019 by SOURCE Skateboard Editor, Dirk Vogel.
Now that skateboarding is recognized as a 'real sport', the question remains whether the 2020 Tokyo Games will bring a new wave of beginners on board – and into skate shops. Then again, does watching athletic ski jumpers soar hundreds of metres through the air on the telly make anyone want to pick up a pair of skis? Top-notch athletic performances are impressive, but to inspire mass participation, we may need something more laid back and relatable.
Going into 2019, that thing could be 'surf skate' – a budding grassroots movement bent on bringing the joy of surfing to concrete environments. With deep hooks into both surf and skate culture, it holds enormous potential if retailers play their cards right, says Xué Gil, Brand Manager at Spanish brand YOW Surf (Your Own Wave): "Surfskates are really fun, but you don't know it till you try it. So the best way to grow the customers interest is organising little test events or having test boards inside the shops. Surfskates are by far the best surf training one can get!"
Nate Schumacher at Landyachtz also noted: "Longboard dancing has attracted a much more diverse demographic than street skating or more core hill bombing. We've seen a big growth in women getting into dancing." At Penny Skateboards, Head of Marketing Jay Baikie said: The simplicity of riding a cruiser is the easiest sell.  The ability to grab a board and simply cruise with mates is so simple.  No rules, no expectations… just cruise and have fun."  While at Ocean Pacific, they see the category shining towards "multi-functional cruisers that are great for tricks, cruising and carving."  
THE MARKET
The cruisers segment has been battling overstock and competition from no-name brands for some years now. "The market is still 50% full of boards from been-and-gone brands, which is causing a knock-on effect," said Andy King at UK brand Mindless Longboards. Speaking on the issue, Nate Shute at Arbor Skateboards said: "The consolidation of the market has meant that there has been a consolidation of brands, which is a good thing. In the speciality channel – brick and mortar and online – there are now very few non-branded or no-name brands left. And most of what is left is from excess stock from prior years. It's possible we still need to go through Spring/Summer 2019 before the market has really been cleared of excessive older stock."
A clean slate is exactly what's needed to tell exclusive brand stories and build perceived value around cruisers again. In terms of price points, €109 is now the entry point for beginners completes from authentic brands offering quality deck constructions and hardware. From there, it's a wide-open field in 2019: More elaborate boards with inverted kingpins or surf-style trucks gravitate around €179 while premium boards from Arbor retail for €239, retro-style surf skates from YOW for €295, premium boards from Loaded between €300–400, and the high-end Sidewinder Carving boards by Sector 9 featuring Gullwing Double Kingpin Carving Trucks for €339.
SHAPES: A WIDER RIDE
The trending cruiser for 2019 offers a stubby nose, wide belly and blocky tail next to wheel wells and curved rails to create a stable, pocketable ride. Looking for the main cause of this trend, Globe's Senior Skateboard Designer, Dave Gitlin offered: "Wider shapes and more female participants may be going hand-in-hand in some cases. In skate decks, 8.25"-8.5" sizes have grown in popularity largely due to girls wanting a wider more stable board. That same mentality, along with a revival in old-school boards is causing us to look at widening our offering." Penny developed a, "wider and more aggressive 32" board allowing for the rider to perform more technical skating." Key models serving the wider cruiser trend next season include the Pocket Rocket (Arbor), Villa Belza (Flying Wheels), OP Surf Skate (Ocean Pacific), Ray Collins Five Mini Cruiser (Sector 9), Sunset and Lombard Cruiser (Mindless), Huntington Beach Surfskate (YOW), Dinghy Summit and Dinghy Creature (Landyachtz), Swallow (Carver), Beanbag (Lost), 30.5" Fat Cruiser (Kryptonics), and Koi (Dusters California).
But before going all-in on stubby shapes, retailers need to keep in mind: "Variety is key. Some people want wider boards to feel more stable, some people want really small boards they can bring anywhere, others want boards that can be skated like street boards or taken to the skatepark," said Shane Maloney at Madrid Skateboards pointing to best-selling models such as the Madrid Explosion OG Cruiser and Madrid X Stranger Things Mini Cruiser. At Loaded Boards, Pablo Castro is stoked on the "Kut-thaka board, which is a cut down version of our Kanthaka. It's a 30.75" (78cm) board using our technical longboard construction. Response has been stellar."
STYLING: SWAGGER & ATTITUDE   
Speaking of Madrid's Stranger Things cruiser, it's a masterclass in mixing retro style with on-trend pop cultural storytelling. Penny is pumped on the Star Wars collection in both the 22" and 27" categories featuring characters such as Darth Vader, R2-D2, Boba Fett and the Strom Troopers and will release more artist series boards including the renowned surf artist Andy Davis. Artist collaborations are a way to keep it special, as Sector 9's Andreas 'Maui' Maurmeir explains: "In 2018 we had the pleasure to work with Ray Collins for a special line that went out very well. For 2019 we will have two absolutely stunning Artist Collaborations – one with Roshambo and the other one with Spencer Keeton Cunninham. Don't miss those." At Carver Skateboards, Eben Woodall, VP of Sales said: "From our Pro Surfer Models such as Taylor Knox, Courtney Conlogue, and Yago Dora to our collaborations with Channel Islands and Lost Surfboards, Carver strives to epitomise the essence of surfing and surf culture."
Arbor keeps creating an upscale aesthetic out of wood veneers paired with modernist graphics, including artist collabs with DOC. For Globe, it's all about, "large reverse wood-burned art, cork textural inlays with bold patterns, and a few of our key styles are getting a full tiger-camo overhaul." Flying Wheels is bringing in a major pop culture trend: tattoo style. "We are working close to artists and the main stories in our collections are tattoos, photo collage, flowers, retro and typo," said Benoit Brecq at Flying Wheels/HOFF Distro. Mindless heads into 2019 with cool mandala graphics on pink wood veneers, while YOW features comic-style lightning bolts in the Power Surfing Series. One more thing: Top graphics paired with griptape stencilling will be a big theme in 2019!
TECHNOLOGY: ROBUST & SUSTAINABLE
Next season's deck constructions stay true to the proven formula of Canadian maple mixed with birch, and bamboo. Loaded Boards is playing with natural materials like bamboo, basalt, and bio-resin in premium cruisers. Behind the scenes, Loaded is working with eco-friendly bamboo, bio epoxy and water-based finishes. Many brands such as YOW, Arbor, Carver, Globe, Flying Wheels and Mindless are also improving their carbon footprints and replacing glue with non-toxic alternatives – all without compromising on quality. Landyachtz is expanding Hollowtech and planting one new maple tree for every board sold.
In major news, Arbor is launching a fullly-fledged alternative to griptape, made from 30% recycled rubber for a padded ride: "Our Collaboration with Vibram, using their INVRS material as an alternative grip solution has already been generating a buzz around it, being chosen as Gear Junkie's Best in Show at Outdoor Retailer this summer." Over at YOW, the Huntington Beach surfskate is, "the first surfskate to feature a cork top instead of griptape. Perfect for barefeet sessions and beach lifestyle." The best part: Both inventions won't scratch your feet during surf-style sessions. 
On that note, the season's biggest innovative push comes surf-style trucks, reports Dave at Globe: "We've got a new offering featuring Revenge trucks called our Onshore series. They're for the guy or girl that surfs when the waves are up, and wants to catch a bit of that feeling on land when they're not." Spanish brand YOW has based an entire line around surf-style front trucks and brand manager Xué Gil, wants shops to know: "It is important to emphasise on the fact that the more you improve on a surfskate the looser you feel when surfing in the water."
ACCESSORIES: TRUSTED QUALITY
Wheels are trending in two opposite directions: Extremely big or small and compact. Arbor caters to both sides with the 75mm monster Highlands Wheel as part of the Sucrose Initiative, as well as the 58mm Axel Serrat Pro Model Wheel for hybrid skaters. Maui at Sector 9 proposes the 69mm Top Shelf model as the wheel to rule them all, while pushing partner brand Gullwing as the premium choice in trucks. At Mindless, Andy King said: "Our custom Talisman V2 truck has been in the market for some time now and without any negative feedback, we've managed to put these on almost all completes where pricing allows." Carver offers two proven options: "Our CX truck system is tight and snappy while our C7 trucks is smooth and flowy."
Brands without their own hardware departments saddle up with quality manufacturers, including Paris, Caliber, and even Indy trucks as well as Cadillac Wheels. Speaking on rider demand, Benoit at HOFF said: "For trucks, inverted kingpin and forged trucks are the trends for technical riders, but since last year the surfing trends is exploding with new trucks technologies to create new truck variations." And while bright-coloured wheels are all nice and retro, look for more black wheels making their way into the streets next season.
HOT TREND: KIDS CRUISERS
Women aren't the only growth market for cruisers – kids are next in line. Nate at Arbor is proud to introduce, "the Seed Series; a line of street shapes meant for the younger ripper to learn on and grow with. Our Certified Arbor Completes in the Seed Series feature Arbor Revert 90A Wheels, ABEC 5 Bearings and Ace Trucks, making it a quality component build at a very competitive price." Look for more mini and kids cruisers in 2019 selection, as a new generation explores the joy of casual cruising.