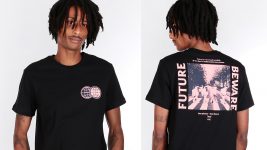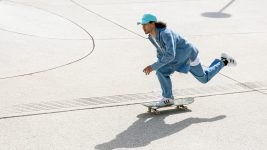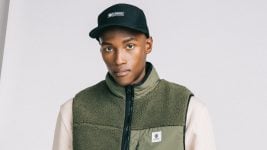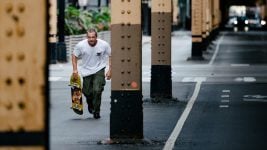 Men's Streetwear FW 2021 Retail Buyer's Guide
As the pandemic lockdown stretches into winter, streetwear brands are flaunting their creativity. See the coolest trends and styles for cold weather season in our FW21/22 Men's Streetwear Retail Buyer's Guide by Dirk Vogel.
While skateboarding had an unexpectedly hot year in 2020, streetwear is officially sizzling right now as well. At least looking at recent market transactions: Global streetwear hype leaders Supreme recently became part of the VF Group, home of Vans and The North Face, in a $2.1 billion deal. Impressive for a label started out of a New York skate shop in 1994, but even more impressive keeping in mind that previous owners, Carlyle, had purchased a roughly 50% stake for about $500 million in 2017, giving Supreme a valuation of nearly $1 billion. So Supreme more than doubled in less than four years, indicative of streetwear's ongoing appeal.
But asking the man on the street, not everyone is on board for the sell-out. "Before it was called 'streetwear' in the early '90s, it was skatewear. I am convinced that skateboarding and streetwear are in a consequent correlation to each other. It gives streetwear a second life," said Julian Wolf, Head of Marketing at Homeboy, adding: "After all these sportive, tracksuit brands like Fila and Ellesse or luxury brands like LV and GUCCI kind of ruined the term 'Streetwear', the skateboard scene set it back and redefined it as it was initially. Because skateboarding gave streetwear a totally different vibe, there is again demand for the modified and more authentic look of it!"
Others consider streetwear and skateboarding separate entities, including Rey Gautier, Global Creative Director at Element: "There has been an evident increase in skateboarding and by default, this also draws a parallel with apparel and affiliated products. However, the beauty of skateboarding is that it evolves independently extremely fast, so whilst the demand for streetwear may benefit in some respects from the demand, the boom does not define the direction of either."
MARKET SITUATION: STAYING OPTIMISTIC
Speaking of demand, a look at current market numbers signals trouble brewing among young consumers. According to recent report, the coronavirus pandemic has caused teen spending on apparel to decline by 11% on last year, and 48% of teenagers reported a pessimistic outlook for the economy, up from 32% in 2019 (Piper Sandler). "The whole market is facing a very tough situation due to the Covid19 pandemic. People are forced to stay at home, many retailers don't know how to survive the next months," said Patrick Kressner, Head of Design and Product at Iriedaily, adding: "The good news are that people seem to have more money in their pockets, because they maybe weren't going to holidays, concerts, out for lunch or they just saved some money for later. They have to stay more or less at home or in their area. But people are bored. They start or re-start new hobbies like skating, biking, hiking, or whatever they like. Or they simply spend their money for new clothes."
In other good news, price points are on par with last season and supply chains remain intact for endemic streetwear brands. Let's have a look what's coming down the pipeline for FW21/22:
SEASON TREND: FUNCTIONALITY
The miraculous summer of skateboarding makes way for a long, cold winter. Especially because lockdown measures are back across Europe and indoor skateparks remain mostly closed for health reasons. So skaters are back on their DIY grind, out in the urban jungle, hitting up carparks, abandoned buildings, and DIY spots under bridges. All of which requires warm, functional, and movement-friendly clothes. As Rey Gautier at Element sums up the season's focus: "Functionality appropriate to its intended use – bridging skateboarding and nature (outdoor) whilst remaining totally relevant in urban environments – it's all about multifunctional use for us." Look forward to rugged hoodies with insulation and water-repellent surfaces, like the Vans Versa hoodie from last season. Also, technical pants with stretch and breathability built in, as well as layering pieces that can step aside as the skate session heats up. DC Shoes is heading into the season with two themes: "The Outdoorsmen concept comes from the great outdoors mixed with workwear construction details meant for the utilitarian. This where skate meets comfort and luxe details. The Cold City concept is based off the cold city streets and off the mountain vibes. Built for those exploring the city with some attitude. This where the streets meet the great outdoors," said Amran Bachrain, EMEA Product Manager at DC SHOES.
FIVE STREETWEAR TRENDS TO WATCH IN FW2021
1. BAGGY PANTS
The ballooning of pants has been going from the fringes to centre stage in recent seasons. Next year will mark the breakthrough, said Julian at Homeboy: "We got laughed at for four years because even in the boardsports scene, the skinny pant was pretty anchored. SS20 everything started changing though and for FW21 the baggy will have replaced the skinny completely in the boardsport segment. We were the first European brand selling baggys in the nineties, are still one of only a few baggy brands and we are definitely the most authentic one today." Rey at Element also sees a clear trend towards larger fits and workwear in early 1990s style.
2. TECHNICAL GARMENTS
True to the season trend towards functionality, people want extra support from their garments on missions through the city. Patrick at Iriedaily said: "The main trend for us this season is called Urban Nomad. For us urban nomads are people that like to travel self-determined. From every place they visit they take inspiration for their wardrobe. That's why the urban nomad look is a wild and colourful but stylish mix of ethnic inspired patterns, basics and functional garments." At Element, Rey outlines the components of functional technology as follows: "Our focus in pants has been placed on hybrid outdoor and skate – mainly inspired by climbing and hiking pants. Mixing a lot of insulations, Sherpa fleece, Oversized Checked Wools, Heavy Cord, Heavy Brushed Fleece and Recycled outerwear yarns. Interesting textures created by mixing fabrics together." At DC Shoes, Amran announced: "A large portfolio of heavy canvas jackets, puffy jackets, baggy pants made from cotton herringbone twill fabric (283g/m2), and a brand new tees range using new designs, new washes and ink execution."
3. FLEECE
Across all brands, fleece is a hot ticket this season packaged into zip-up jackets or used as ultra-warm lining. Rey at Element announced: "We have developed a versatile collection of reversible Sherpa and Polar fleece garments to be compliment the outerwear collection. One of the highlights is the collaboration between Element x Hotel Radio Paris with Polartec fabrics, bridging our vision of skateboarding, culture and nature." Also heavily trending is corduroy, a winter staple reimagined in 'fat' silhouettes on pants and tops. "X-Tra Baggy Cord in black. The cord pant is the perfect piece for the winter. The mix between the super comfortable fabric, the classic look and the trendy silhouette makes it a piece you definitely want to order," said Julian at Homeboy.
4. LOUD ARTWORK
Despite the cold, streetwear likes to send a loud message this winter season. Look for prints and fabric treatments in rich colourways and patterns across pants and outerwear pieces. As for the palette, Patrick at Iriedaily is banking on: "Seasonal colours are powerful natural, warm autumn tones in many shades from caramel, warm reds, browns and greens. We combine them with super dark and intense colours." When it comes to prints, the crazier — the better. "Crazy graphics like the ones Ozzy Wright has been painting on his surfboards for years will stay strong on tops. Otherwise, subtle embroideries will prevail and therefore discreet but special silhouettes will come to the fore," said Julian at Homeboy. Element is staying true to their nature focus with, "soft and abstract camouflages taken from the view of mountain ranges for example applied to heavy Sherpa fleece."
5. SUSTAINABLE MATERIALS
The year 2020 marked a major awakening of global environmental consciousness. Boardsports brands have long been leading the way (think Patagonia) and innovations for reducing the environmental impact of streetwear continue. "As a member of the Fair Wear Foundation we have a strict schedule and have to plan all work steps in time to avoid overtime in the factories. Iriedaily has maintained the Fairwear leader status again. This makes us proud and we are highly motivated to work together with the FWF for fair working conditions and wages in our factories," said Denise Graff, Brand Marketing Manager at Iriedaily. True to their brand philosophy, Element is also backing eco innovation: "We have greatly increased the use of sustainably sourced fabrics and yarns in partnership with partners such as Repreve, Recover, Polartec & Sympatex amongst others." At DC Shoes, Amran said: "Starting Fall 21, the DC Apparel range sees a shift in its denims production to one of the cleanest process known today with 80% less water, zero-chemical."
SEASON ESSENTIALS
Before we run out of space for this article, here are some FW21/22 essentials to look out for. Never leave the house without a mask during the pandemic and find some innovative choices from boardsport brands like Element: "We have a neck warmer / face mask hybrid as part of the accessories collection – again, multi-functional use." Denim is trending this winter, but it is getting more rugged: "Denim will stay strong, but while light denim is still a big part of the sales, indigo will overtake slowly. Twill and work wear materials will also still be a big theme," said Julian at Homeboy, who also suggests a fishermen's beanie as THE head covering for the season. What else? The trending in-between-seasons jacket is a denim hybrid coat, or shirt jacket, that can be worn solo during autumn and as a layering piece for extra warmth during the height of winter. With streetwear styles like these, the season is bound to be hot!