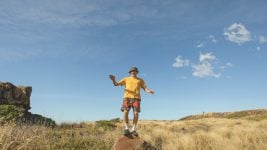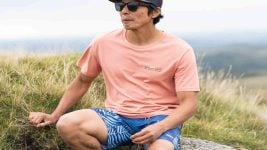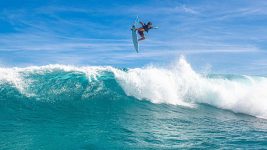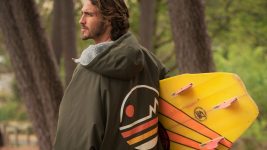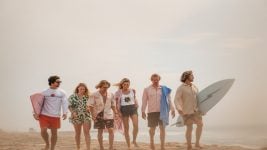 Men's Surf Apparel S/S 2022 Retail Buyer's Guide
Between the strong desire to get back to real life and the constraints put on production and transport, boardsports clothing brands have had to call on all their ingenuity to meet the demands of customers with limited means. Introduction to the Spring/Summer 2022 collections by David Bianic.
After nearly two years of war against Covid, the time has come to tally the casualties and victories. After a decline of 15-25% in turnover on the clothing market in 2020 (despite a leap of around 40% in e-commerce), the pointer ticked upwards in 2021 (around 5%), but this is just a mirage because the results of 2021 still represent a loss of over 10% compared to 2019 (Sources: FashionNetwork, IFM, Fevad). "The retailer remains uncertain about the future", admits Briana Mori, Brand Manager at Lightning Bolt even though she did note "a more confident attitude in-season". Will this confidence last into Spring/Summer 2022? "Early indications from our pre-sell periods are very promising and inline with our EU and UK forecasts", assures Richard Bouch, Commercial Director at Rietveld. At …Lost Enterprises as well, Freddie Sipowicz (President) and Jonathan Gilbert (CEO Europe) wish to spread a positive vibe, reporting that after struggling in early 2021, "we will end the year with continued growth over last year in all countries".
Dakine stands here as quite the exception, as their apparel line has been put on hold for the past couple seasons, only to be relaunched this summer in the US and to be fully available in Europe from winter 2021/2022, "so the surf apparel relaunch will really be in 2022", says Rémi Chaussemiche, their surf marketing smooth operator.
In this context, the brands had to decide between two commercial strategies: stay patient and go for partial reissues of their collections or risk it all by innovating at full force. You could also avoid putting all your eggs in one basket like at Brakeburn whose watchwords were "Innovation, evolution and practicing what we preach", reveals Head of Marketing James Elwood-Walls. Basically, the brand will offer new fabrics, new products and new categories while continuing to push successful classics. This propensity towards rerunning garments has its benefits in times of crisis, believes Sam Coombes, co-creator of TCSS (the Critical Slide Society): "In the past we've possibly made things a little too complicated for ourselves, we're actually trying to make the lines a little more simple to buy from and reduce the retailer risk." At Rietveld, Richard explains "the range has tripled in size due to customer demand for a more varied collection of Rick's (Rietveld) artwork."
SS22 COLLECTIONS: ESCAPISM
While the message in clothing is for positivity, the surf textiles sector is fighting on conquered ground, leaning on "heritage" values from the 60s to 90s, the glory years. Brands often take us on a journey back to a reassuring era. At Oxbow, the 1985 capsule collection is recalling flagship garments from the 80s and 90s, an era that was resolutely fun and colourful for the French brand: "Back to the roots!", proclaims Aurélien Sylvestre, Head of Product on this collector range.
While the overall message is "carpe diem", to help us forget the last two dark years, this does not exactly translate into a debauchery of effects within the collections, on the contrary. Earthy tones, passé colours, discreet, minimalist prints are on the menu for the majority of brands. This is because nature and open spaces are often the pillars of a collection. For the newcomer to the sector, Florence X Marine (yes, John John F), it's even a mark of distinction: "it's been fun to see how our gear stands out in a crowd just for the very fact it is minimal," remarks Edd Seater, Marketing Director at the Distributor for Europe, Hectic Ltd. Same here at Dakine, which will dig up from their Hawaiian roots to offer a rather versatile range of cools, progressive neutrals and interesting warms "to make this palette accessible to every surfer looking to vibe with the shades of the ocean and the natural landscapes that surround". 
For O'Neill- who will celebrate their 70th birthday in SS22 – the collection is divided into two colour groups: the first heavily inspired by the elements (neutral colours combined with light tones and pastels) with prints featuring the movements of the tides in particular and a second group turned more toward the future (bright colours and psychedelic flower prints, photo prints, mixed up logos). Oxbow are also enjoying playing with nautically inspired prints. Colours are also used as reference to nature like at Salty Crew (green, coral, deep blue) or TCSS (sunshine yellow, seaweed green, tobacco).
Of course, for other surf apparel brands, the low-profile aspect is not in play, too far from their DNA. This is the case for Rietveld, the label of artist Rick Rietveld whose creations are always out there. "Classic prints like Surf Skull, Mona Kea and Einstein (on a board!) are so iconic that they'll always have a place in the range", says Richard Bouch. However even Rietveld has mellowed, offering new gentler colours like the evocative "prairie dust" and minimalist logo prints. Hurley have also declared an open bar, reinforced by neon colours and revisited surf prints from the 80s and 90s, "infused with a refresh of current hipster vibes, combined with new psychedelic and euphoric vibes". It comes as no surprise that …Lost are sticking to their cheeky image with a Feral Tropics theme based on "bright colours, washed back tie dyes, irreverent prints".
FABRICS SS22
Beyond their technical properties, the fabrics of choice for Spring/Summer 2022 are once again sending a message for more sustainable production and more eco-consciousness. One example comes from Brakeburn who are leaning heavily on recycled polyester while retaining the use of Lyocell (wood pulp fibre) and bio cotton to "continue our high-quality non-synthetic story", reminds James Elwood-Walls. It's the same idea at Florence X Marine (recycled poly & bio cotton) with Nylon 66 and Cordura as well, two ultra-durable fabrics with the brand holding "performance and solidity" as their two priorities.
Linen is also making a comeback in surf apparel as these natural fabrics allow the use of more durable printing techniques, highlights Briana from Lightning Bolt. TCSS are mixing linen and rayon because "It washes very nicely and has a little more texture than a straight Rayon", explains Sam Coombes. Even one of their walk shorts inherits linen (The Cruiser) and is getting an excellent reception. Of course, at Hurley the Phantom and Phantom+ fabrics are called upon again but the brand are also in the third year of their Oceancare series (durable denim and bio thread weave). Made in partnership with Wiser Wash, this denim does away with using toxic chemical wash products and only requires "0,2ml of water vs 80-200L for traditional wash".
Amongst the innovations, we should mention the multidirectional stretch fabrics from O'Neill made of Repreve, a recycled polyester as well as "Oceantech fabrics, made from oyster shell remnants boasting the best performance features", explains Jerry, Performance Menswear Fashion Designer, which comes down to "taking something out of the Ocean and bringing it back!". And for their active wear pieces, O'Neill are going for Polygiene® anti-odour treatments which means they can be washed less to save on water.
MILITANT SURF APPAREL
The ecological approach is not only manifested in the use of recycled fabrics and bio fabrics, brands have to go even further to convince their clientele to come with them. Florence X Marine have set up a membership card that pledges that a mangrove tree will be planted in their name through a partnership with SeaTrees: "These mangrove forests help stall coastal erosion, shore up ecosystems, provide local employment and help sequester more blue carbon than most tropical rainforests", explains Edd Seater.
And because militancy can also be fun, TCSS have launched a campaign called No Surf on Mars that reminds us that we only have one planet and pledges to give 10% of sales from their collection to the NGO Greenfleet which works on reforestation. A similar type of initiative comes from Dewerstone who, for each production series of Life Shorts Midnight Jungle and Sunrise Jungle, are planting 50 trees in Central America as well as collaborating with Save Our Rivers, Gili Eco Trust (two weeks of T-shirt sales are converted into food aid in Indonesia) and 1% for the planet: "Results are no longer just financial", believes founder Rory Atton, "we should be measured by the good we do, how we take responsibility for our impact and what we're doing to fight the climate crisis."