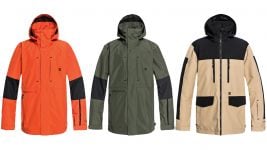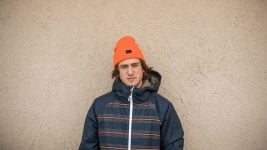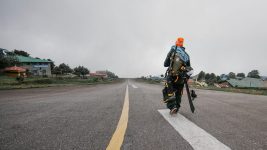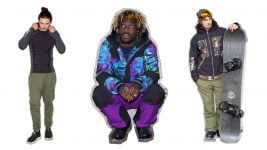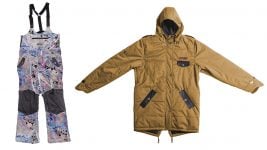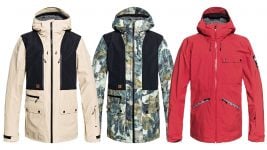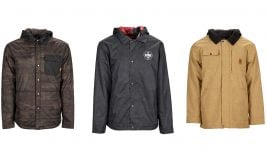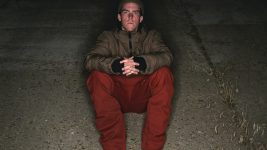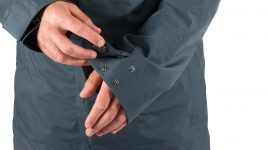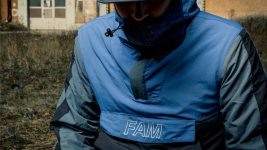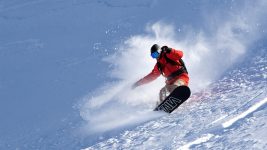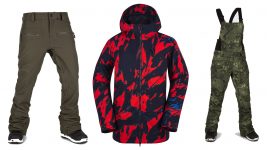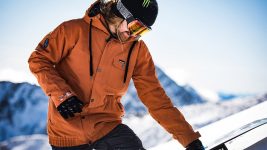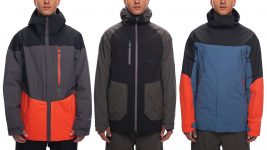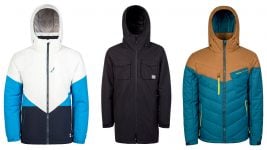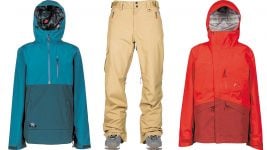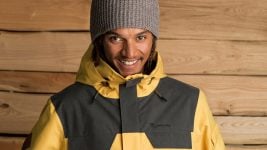 Staff Sales Handbook: Men's Outerwear 2018/19
Editor's note: Retail buyers used this guide last winter to put together their Men's Outerwear orders for this season and now we're releasing it as a Staff Sales Handbook to provide all staff with a comprehensive overview of the 18/19 Men's Outerwear category.
Outerwear – a great way to get people into shops where they can see, feel, smell and try the latest gear they've had forced into their eyes via high-budget Facebook display ads and relentlessly sponsored 'Gram posts. A great thing for classic retail channels. And now the fast fashion guys aren't so obsessed with ripping off our boardsport looks, our industry has some breathing space to be able to create, show and sell some very nice stuff. Tom Wilson-North looks at the big picture and zooms in on the key products and details in our 2018/19 Staff Sales Handbook.
TREND SUMMARIES
After analysis of this year's outerwear collections from the key players in the snowboard market, we've been able to pull out the following macro-trends.
The first one we're calling Work Smarter. This one is all about re-thought, modern-context workwear influences and is evidenced by modern colours, finishes and trims on traditional workwear pieces. Think whites and off-whites in parkas, gloss trims (whether hemming, buttons or the still-ubiquitous waterproof zips), reflective hits and panels, and asymmetric cuts – particularly off-centre closures – on classic waterproof workwear. 3CS are great here. "Yep, classic utilitarian styling underpins the 3CS 'Essentials' group. The timeless silhouettes and fits combined with a muted colour palette make for a versatile mix-and-match wearability throughout the range. Furthermore, our Rockwell Club trend feeds from inspirations found during the Klondyke gold fever, the harsh nature of the environment dictating what people had to wear to exist and survive", says 3CS Creative Director Brad Scott. Work Smarter develops the Western gold rush fever idea further including an almost indigenous feel creeping into some pieces, particularly from Picture Organic whose inspiration trip to Nepal yielded brights, primaries and digital geometric prints.
The next big macro-trend this year is called Lighter than Light. This is all about so-thin-it's-barely-there technical materials. Windproofs and really techy touring pieces are the essence of this, we're guessing it's influenced heavily by the continuing rise of splitboarding and the masses of disgruntled, sweaty uphill snowboarders baking on hot spring ascents and coming down asking for lighter stuff. Burton have a late-season capsule developed with Danny Davis which is scheduled for mid-January delivery with a tech-boosted and lightened AK mini-collection. We're also liking the DC Packable range, which is going to be great for shred trips and will offer full Sympatex tech inside compact, portable and, well…packable pieces. The Command Jacket is the stand-out, with Weather Defense fabric offering an impressive 30k waterproofing. Brunotti's Hanna Verweij agrees: "Lightweight materials are a must for all kind of boardsports. They provide freedom of movement and comfort", she enthused. Whilst light is good, Swedish brand Tobe cautioned the compromise in durability. "We're still trying to do some lightweight products, but they're only going to market if they pass our demanding durability tests", explained Tobe's product designer Alex Bågling.
The next ridiculously-named-but-ultimately-understandable trend is Fly-By. Here, shiny finishes elicit modern aviation. Here it's all about short bomber jackets, swishy parachute-style material and military looks with avant-garde matte tones & detailing. The highs are skydiver-style asym colourblocking, particularly following the limbs (as seen at Sweet Protection, DC and Quiksilver). "Our pop-hit-heavy colour palette is clean, progressive, easy to wear and matches well with a lot of staples from other brands. The bright colours really work in our GLCR pieces for backcountry visibility as well as on trim hits throughout the collection", says Brent Sandor, Marketing VP over at 686. DC are showing a fully-reflective jacket and pant combo which is also compatible with Fly-By, and there are oversize puffa jackets with high collars, utility details and removable emblems in a lot of places. Silver is the dominant metallic in this trend, and the primaries are mostly those taken from NASA jumpsuits.
The final macro-trend we identified for 2018/19 is Old School. No surprises here; this one kicks it back to the mid-nineties and early 00s with heavy influences from the era's outerwear, and even reissues of archive pieces from back yonder. Balenciaga are doing it, so why can't we? Of course, this yearning for nostalgia is symptomatic of a maturing demographic, but it also meshes nicely to the powder surfing vibe which is getting interest now. "One of the key themes for our new line is our Re-Issue collection, which is a throwback to the early days of Billabong Outerwear back in the 90s. It features our new Wave Washed fabrics, with a washed and vintage look…and plenty of corduroy", says their Outerwear PLM Alexandre Berthonneau. O'Neill will be delving into their back-catalogue too with their own Re-Issue line featuring bold colours and neon blocking. Equally, we're seeing younger brands pivoting towards this look too. Fam's lookbook is all about 90s streetwear and colours – they're even bringing back the borg fleece quarter zip – and Templeton's collection inspiration is pretty unique. Over to them to explain: "It's Ski Patrol from the 90s. Those guys were the heroes in our hometown mountains. Always the fittest, fastest and most charismatic dudes, mostly relaxing with big futuristic sunglasses, hanging out in front of their little patrol chalets, playing Schafkopf cards and sipping coffee from their Thermos". Well, it's a look alright.
NUMBERS CLIMBING UP & UP
The counterpoint to Old School is the end consumer's insatiable appetite for higher and higher numbers in waterproofing and breathability. While no-one's claimed above the 50,000mm mark yet, it's inevitably going to happen soon, and our research calls yielded more than a few snarky comments about the legitimacy of these numbers, particularly on the notoriously-hard-to-measure breathability side.
Still, high technicity is clearly in demand. We love WearColour's new uber-tech Hawk jacket and pant combo with a refreshing clean Swedish look and recycled face fabric, and Holden's Summit gear with Schoeller's Corkshell 4-way stretch works brilliantly. The top-end Highline range at Quiksilver is growing wider as a response to increasing consumer demand in this segment, but we also saw a broadening of Gore-Tex availability down at the 300€ pricepoint from the likes of Volcom and Burton. We particularly love Burton's Dunmore Gore-Tex hooded jacket in the gorgeous reddy Sparrow colourway. Finally, expect to see better trickle-down technology in kid's stuff, as groms inherit the same desire for tech that we have; Horsefeathers have some impressive gear at good pricepoints in their kid's line this year, and Tobe's 2.0 Junior Mono Suits have all the same features as their adult versions.
KEY LOOKS IN JACKETS
The backcountry-style jacket is still going to dominate shelf space this year, with the combination of lightweight and function-over-form ethos resonating well with end consumers. Sweet Protection have evolved their Supernaut Gore-Tex Pro jacket to make it even more useful in a snowboard mountaineering context. "As our brand matures we are putting the onus on freeride, all-mountain and touring. This means that park and freestyle clothing is something we don't focus on anymore", says Sweet's Managing Director Bjørn Fjellstad. This move away from the jib scene towards more accessible, aspirational and real-life snowboarding has been on trend in hardgoods for a while (see Korua Shapes), so it's natural to see it in outerwear too.
We also really liked Quiksilver's TR Stretch Jacket, a Travis Rice powered piece with tons of freedom of movement, seamless construction and a pile of handy storage pockets. There's a nice 3L backcountry jacket from Nitro called the Glades, which clocks in at 20k/20k and is made of micro rip stop, and Dakine's Eliot jacket – which marks four years of design with pro skier Eric Pollard – has a split hem for touring.
Despite a few skier collabs from action sports brands, the snowboard jacket is definitely far from being over. There is, however, a trend of brands looking to zone in on skiers and snowboarders with the same product lines. Could this be the end of one of the last remaining bastions of tribal prejudice in modern sports? We hope so, and the quicker the skiers vs snowboarders thing can be put to bed, the better. So long as we don't have to wear Spyder too soon, anyway.
Transition pieces play a key role in jackets this winter with rideable tech hoodies and cross-purpose softshells increasing in popularity, particularly at the mid- and low-pricepoint. Billabong's oversize All Day jacket is a key example, and their unique Watson Hybrid hoodie is a heavyweight shell/fleece thing with a DWR coating. "Athleisure continues to blur the lines between sport and fashion. The emphasis, however, is on sophisticated styling with performance and comfort being a prerequisite", confirms Bench's Chief Product Officer Sebastian Streck. "Our Thermal-Tech Hoodie is an excellent example of the transitional sportswear trend, where streetwear style meets functional design. This hoodie equips the urban athlete with superior functionality in terms of breathability, flexibility and moisture control".
Templeton have a Pilot Softshell, which is minimal & functional with a brushed fleece interior, and will look spot on whether you're kicking it down the boozer or bagging freshies up the hill. Fam are all about this crossover look too. "One of the founding principles of our technical product is our ability to offer consumers multi-functional pieces, something you would wear in the mountains but also be happy to be wearing on a cold day in London. You simply can't do that with a neon yellow jacket," says Director Josh Cottrell. Sessions also have a 10k workshirt called the Steadfast which is a perfect hill-to-skatepark piece and a big part of their new All Weather Apparel line.
Finally, we can't talk about jackets without mentioning Airblaster's Alpine Surf Duster. This is a Corey Smith collaboration, a trench length jacket providing extra coverage for powder. They claim it'll amplify style exponentially…if you dare to rock it.
KEY LOOKS IN PANTS
Well, babies and road cyclists will be happy, because it's bibs, bibs, bibs all the way this year. Bibs, bibs, bibs. DC's new Sympatex plastic clip bib is one of our favourites, with a cavernous front pocket and new bottom hem clinch system. Meanwhile, fits are evolving fast in pants, with L1's (Sam) Taxwood Pant nodding back to a jogger style with included nylon belt and encased elastic hem at the leg opening. And their new throwback puffy pant – called the Aftershock – is totally unique out there. "It's really something I've always wanted to do. I thought this was the perfect time to introduce something like this. This one is fun and quickly becoming a team favourite", says L1's Jon Kooley. Meanwhile there's a new Freeride fit in Rip Curl's pants, which is kind of like an updated slouch, and 32 are introducing six brand new pant fits to cover lots of different riding styles.
Whilst straight cut pants dominate, very slim pants remain relevant – we liked Protest's Zed skinnies – and 241's lovely 3L Gore-Tex true denim jeans defy categorisation. "The idea here was to make something you can use no matter your lifestyle. Skate, snowboard, go to dinner…these are fit for it all", says 241 founder Mike Basich.
COLOURS & PRINTS
While last year Petrol Blue turned ISPO into an explosion in an ink factory, this year it's a Dijon detonation as variants of golden Mustard splosh the walls of the outerwear booths. It's an autumnal, leafy yellow, and it offsets a palette of natural tones – which are also popular – as well as it blends into workwear colours like rust, steel blue and chestnut brown (which are going nowhere either and evidenced at usual suspects Holden and L1).
Conversely, there are some flashier colours starting to come back in with the Old School macro-trend; particularly reds, corals and true blues. And the washed-out look has started to spread further into snowboarding too. "We're continuing to explore washed out hues: pale pink, blue, white and off white. Generally these run monochromatically or in tonal combination, but occasionally with an unexpected contrast," says Airblaster's Creative Director Jesse Grandkoski. L1 have a nice greyed-out mint green called Slit, and Billabong's Wave Washed collection referenced above brings a subtle fade. Expect to encounter light indigo and baby pink – although in a menswear context that last one's better described as 'very light red', we feel.
In prints, things remain pretty simple and clean. Bench's prints have a typographic focus, with classic fonts creating sophistication. Wear Colour are showing a faded-out forest camo, and Horsefeathers have a cool print called Drone View which is a top-down look onto a snowy pine forest. Gradients remain popular, and there are a lot of marble-style prints, particularly from Burton, 3CS and Nitro. Finally, Picture Organic have a nice Aztec print in their Adventure range.
BASELAYER
If you're not wearing one, you're probably stinky and cold. Luckily, clients know this as well as we do, so scoring a baselayer sale is actually pretty easy along with an outerwear purchase nowadays. The trend in baselayers is overwhelmingly towards merino wool over synthetics. And this year, consumers are going to expect a choice of multiple baselayer weights depending on the local mountain or dome conditions – and just how much they feel the cold. Patagonia's Capilene baselayer programme goes from Air to Thermal to Mid to Light, using different fibre blends as the grammage decreases. Sweet Protection have a new regular length pant to extend use out to four-season mountaineering, and Tobe will be collaborating with Swedish merino outfit Woolpower on their multi-weight line.
If you've not spotted Mons Royale's quiet yet constant acceleration to the forefront of the boardsports baselayer market, it's time to give these guys a good look. This year's line is wider than ever, and their collection is full of unique asym trims, cuts and details (we particularly liked the two-tone contrast zips). Mons' focus is on telling the 'wear anywhere' merino story, and their new MTN X capsule encompasses this. "We've seen an increase in riders using specialized garments prior to the snow season to get ready for winter", says Mons Royale Team Liaison Anna Smoothy. "Merino wool is the perfect fibre to wear through the temperature fluctuations between seasons. The MTN X capsule harnesses inherent merino capabilities in designs intentioned for riding, trail running and the mountain gym. This versatile capsule carries Mons fans from summer through to winter and enables our retailers to make sales even before the snow has arrived".
There are also new baselayer lines from Dainese, 3CS and 32 as more brands seek to round out their technical clothing offers.
MIDLAYERS
In midlayers, things are moving on from the now-tired-looking lightweight down jacket. We're stoked on O'Neill's Kinetiq Knit which uses ergonomic knitted panels for extra warmth and breathability in key areas, and reflective details for visibility. There's a cool looking Dainese piece called the HP1 which uses three different fabric technologies, and it's worth checking out Rip Curl's new Polartec Thermal Pro tall hoody midlayer. In a planet-friendly gesture, they chose to replace their puffer's down padding with the next generation of 37.5 synthetic down.
The new Polartec Power Fill insulation looks the business, a soft and bendy polyester lattice which uses hollow fibres to form thousands of air pockets that retain body heat and insulate against the cold. Find it on Millet's Elevation Airloft hoodie. In a similar vein, Patagonia are showing a new Micro Puff hoodie using PlumaFill synthetic insulation.
FEATURES
Living in the twenty-first century has its perks – one such is intelligently designed outerwear. 686's GLCR Hydrastash Reservoir Jacket is claiming a world first – the only jacket to have a built in hydration system. "This is a patent-pending system that is exclusive to us. It truly is one of the largest innovations in outerwear over the past few years. After using it, you will never want to go back to not having water on you while riding again. It completely changes the experience", claims Brent Sandor. We're also fans of the new Storm Hood on Rip Curl's Search jacket which deftly becomes a high and strong collar when folded down, protecting the rider whilst retaining freedom of movement.
Elsewhere, on an ecological tip, Dakine make the laudable move of ditching PFCs from their Vapor 2L and Smyth Pure 2L jackets, Volcom are using Repreve recycled fabrics and WearColour have a 100% recycled polyester face fabric in all of their 3L pieces. Patagonia, meanwhile, extend their 'made to be maintained' concept to their redesigned Powder Bowl pants. "We have focused on designing these pants for durability and reparability. This includes a new single piece of scuff guard that is easily replaceable and a reinforced stitched crotch gusset. The refined fit and simplified styling combined with the durable design and construction make our pieces a lifetime investment", says Patagonia's Louise Brierley-Ingham.
Bonfire have got some good stuff going on this year too; their entire collection will now feature a minimum 15k waterproofing, fully taped seams and a lifetime warranty on everything they make to increase consumer confidence. They're also using a new fabric called TuffTech Flex-Mobility in their outerwear. It's pliable and bendy, but uses Cordura fibres for mega durability. Finally, we're happy to see 241 stick with their innovative Boa cuffs on their jacket sleeves for maximum lock down…and to keep the pow outside, flying around, where it should be.
CONCLUSION
That's about it, then. A particular focus on lightweight fabrics, lots of action up at the high pricepoints and increasing interest in the backcountry and touring sector mean that there's something for everyone this year, whether they want to look like Maverick, Kid 'n Play or Hercule Poirot. Or, God forbid, a mix of all three. Stick with the tried and tested brands, put the focus on quality and value, reference some of these key trends and your outerwear sell will surely be an easy one!