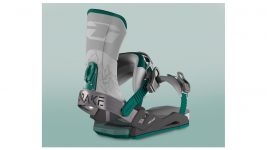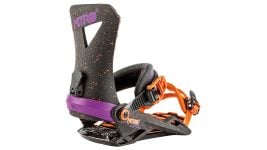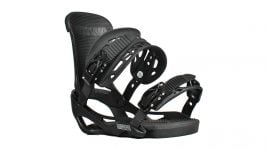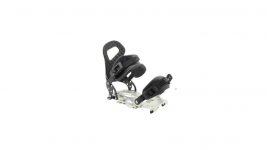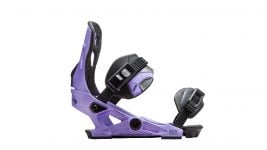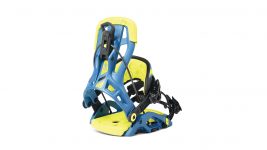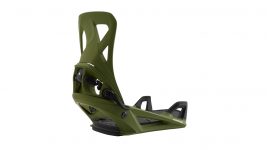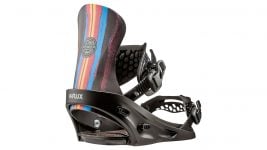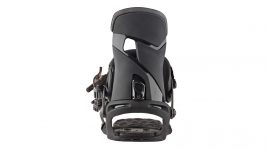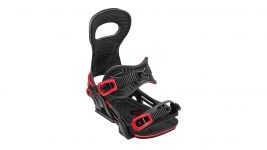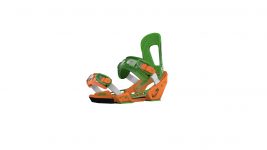 Staff Sales Handbook: Snowboard Bindings 2018/19
Editor's note: Retail buyers used this guide last winter to put together their snowboard binding orders for this season and now we're releasing it as a Staff Sales Handbook to provide all staff with a comprehensive overview of the 18/19 snowboard binding category.
Snowboard bindings get a bad deal. Not as touchy-feely as boots, not as interesting as a snowboard…but a key part of the control and steering of the setup. After Burton disrupted the market last year with the well-received Step On system, this winter is going to be an interesting one for the humble foot-clamp. Our own Tom Wilson-North has got your back this season with our 2018/19 Snowboard Binding staff sales handbook.
TREND OVERVIEWS
Like elsewhere in snowboarding, the high end is seeing the most action and development as riders buying new stuff seek no-compromise durability, reliability and performance. Flow – newly run by the Nidecker group – have a new model out called the NX2-CX which we really like; it uses a carbon infused nylon highback and an aluminium base for a really stiff and lightweight feel. There's more use of carbon than usual next year, with Spark R&D injecting it into their highbacks, and K2's new carbon chassis underneath the Fomula C. There's a new duo of Jones bindings based on the Now chassis called the Apollo and Mercury and Burton round things off at the front of their high end binders with a brand-new Super Grip Cap Strap 2.0 which boasts a better toebox wrap, and lightweight design.
Elsewhere, Flux's stiff and responsive XF booster looks like it'll be well received in the premium segment. The injected part provides feel while the upper thermoplastic drives power. Tidy. Also in highbacks, there's a new blended urethane shape on Switchback's new Smith. And, naturally, innovators Union drop a 100%-new one-to-beat model called the Strata, with a brand new waterproof closed-cell foam which "is good as it gets for vibration dampening and long term durability," according to Marketing Director, George Kleckner. Salomon have a new dampening solution called VIBE borrowed from their running shoe department. It's a polyolefin EVA blend which will appear on Shadow Fit bindings, and is lightweight, soft, and comfortable.
It's very possible all this action at the high end is due to lifelong, ageing snowboarders having a bit more disposable income to throw at their sport, as well as the frequent – yet often disproven – assumption that "pricier means better".
In aesthetics, the biggest trend in bindings – apart from black, as usual – is about precision matching graphics to boards more than ever before. Arbor are putting wood inlays alongside their carbon fibre to match the topsheets of their boards, and Bent Metal have released a new model called the Joint with high resolution photography which syncs perfectly with the photo topsheet of the Lib Tech Cold Brew. And in collabs – because collabs are always cool – you'll see Nitro doing a Drink Water binding, and Now doing a Yes collab, "because friendship is at the heart of it all," explains an emotional JF Pelchat.
STRAP UPDATES
Whilst you're not going to see anything mind-blowingly new this year, incremental upgrades to straps will make the season's bindings work better than ever. Straps get the most attention, with even further use of the lightweight, cheap, durable and now ubiquitous injection moulded strap. People like them. "Our straps are moulded rubber", says Vimana's Tronna Husvaeg. "You feel strapped in without actually feeling the straps." Over at Ride, there's a nice new injected two-piece strap that we saw on the LTD and a funky pad-less system on the El Hefe, whereas Flux will be showing a brand new component called the Honeycomb Strap.
Bent Metal have a new strap on their Joint, Logic and Upshot models. "It is made with a variable thickness construction with multiple flex windows and a detailed multi-dimensional surface, then uses an intricate structure to create comfort and support," explains Bent Metal PLM (& former Mt Baker Banked Slalom winner), Paul Ferrel.
COLOUR PALETTE
Well, there's clearly lots of black, but what other retina-ticklers does the industry have for us this year? There are retro neons and pastels from Now and metallic purple (wut?) on Rossignol's magnificent Cuda, while Nitro have a whole line called Muted Brights which use neons across four different models. Technine have a cool palette too, with the industry-beloved military green and a few hot reds on highlight duties.
The process of graphical application is advancing too – Ride have a cool waterdip treatment next year which delivers a high-definition, high-gloss finish and looks the business. We also like the look of the  Nidecker Glam: "We changed the aesthetics around this year for a more bad-ass overall matte black finish, then added this cool and trippy holographic footstrap material to set the tone for some serious and stylish shredding. And ladies beware; matching Nidecker Onyx snowboard boots are available!!," enthuses Nidecker Product Manager & Designer, Margaux De Mercurio.
PRICE-POINTING
Everyone we asked kind of agreed on one thing – they're trying to keep prices reasonable in the face of tough market conditions, exchange rates which always seem to be going the wrong way and spiralling raw material costs. That said, there are indications from various brands that the top end is becoming slightly more reasonable – whilst that won't mean price drops any time soon, it will mean prices flatten out despite those factors.
And what of the bottom end? "Well, one issue we see across the industry is brands competing to offer the lowest price, no matter what. When price is the main concern, there is a lack of creativity and progression leading to sub-par offerings across the market," claims Switchback's Dennis Dusseldorp. It's true, there's a lot of junk out there at the bottom end. Our advice? Avoid the entry level completely until something that truly gives you confidence pops up.
To keep prices under control, splitboard binding company Spark R&D have been quietly investing in their own premises and machines over the last few years to become more of a production company than a marketing company. This allows rapid flexibility and prototyping, and – long term – has cost advantages. "While the development costs and in-house labour used to produce our bindings and straps have been considerable, we saved a lot of money by producing the moulds for our new Pillow Line straps in-house and not paying to ship Chinese made straps across the ocean. The remaining costs we make up for by being efficient and having total control over quality, which eliminates waste. We have worked hard to keep our bindings at a steady price" says Spark's marketing guy, Dan Ventura.
There's value about at the big B next year too, with the tried-and-tested Mission binding getting a long-due overhaul. "Who's ridden a Mission before? This binding has pushed more snowboarders to the next level than any other model", exclaims Burton's Patrick Allegritti. Next year this inline staple will inherit the popular Hammock Strap as well receiving as a gaggle of interesting new features.
EASY IN: EASY OUT
Burton's reboot of the fast-entry category turned heads this year, and the market's favourable uptake of the innovation has provoked investment development by competitors. Burton continue the Step-On journey with new boot models added to the interface, as well as a kid's Step On line which will make life much easier for your sideways-riding ankle-biter. But what of the other brands? Drake confirmed that they are working on their own solution, and Nitro will be reuniting with Clicker – the proprietary K2 system – for an easy-in boot/binding interface. Fix also have a quick-release system called Simple which provides an alternative to slow-mounting discs for rentals and quivers. Otherwise, regular strap bindings see incremental upgrades for faster buckling, such as Head's proven Auto Open system, which folds the straps away to the side when you open the buckles.
FIT
Whilst technical innovation is important, if the binding doesn't fit the boot right, with slop and lateral play, the binding is going to suck whatever the marketing blurb says. "Totally," agrees Bent Metal's Paul Ferrell, "riders need be able to choose a boot for their unique foot shape and preferred support level. We have a data library of the market's boot shapes and sizes that we use to build our binding components for the ideal fit. This process is key." Union take things a step further and work directly with what they refer to as "compatible" brands (that don't make bindings) to get a wide variety of models and sizes. "For the non-compatible brands who do make bindings, we go and buy sample pairs from our local snowboard shop. We have a room dedicated to our boot library and have developed a system based on which models are most popular, and what kind of footprint and volume they have. The Union fit is based on all this compiled information," explains Union's George Kleckner.
SPLITBOARD BINDINGS
The splitboard binding segment is showing so much growth and innovation that it practically merits its own article, but we'll deal with the evolutions from the primary players here.
Leading the way is Plum, with big steps forward. They're rounding out their line with a hardboot system, a rear entry softboot system and a direct-mount low-tech toepiece. "The hard boots project was tricky because this isn't just for core hardbooters who ride hard boots on their solid boards. We realised that riders who normally use soft boots prefer hard boots for splitboarding for performance reasons – weight, stability and precision. So our hard boot binding includes a base plate that you can use with our current interface line. This way, splitboarders can choose. Soft boots or hard boots depending on the run or conditions", explains Plum's Tal. The rear entry system for soft boots uses SP Fastec highbacks, and the toepieces are stiff, minimal and lightweight.
Rossignol have done some smoothing out on their Xavier de le Rue split binding, with lighter buckles and pre-curved ratchets. They're also adding a new, narrower 130mm crampon for the skinnier Xavier splits and the women's Diva 52. "Split is always a matter of fit-to-weight-to-function ratio," says Rossignol's Arnaud Repa, "and we believe we've now come full circle." Meanwhile, product year #2 of the Union Expedition series sees a new lighter highback design, new ankle and toe straps and a new EVA coating called Non-Stick which stops the snow…well, you can guess.
Karakoram are promising a couple of new products around tradeshow time, so their booth will be worth a visit to check those out. But Fix were the surprise contenders here, showing us an over moulded plastic injection binding with new interface called, simply the X. At 280€ MSRP, this one's going to shake things up.
Finally, we were very excited to hear about K2 who will be bringing out their own brand new splitboard binding. It's going to be called the Far Out and will use the tried-and-tested Voilé puck system. It'll feature an aluminium chassis with pinless mounting system, waterproof K2 Sender straps and the possibility to add a powerstrap for skinning. Sounds intriguing: we can't wait to try it at the demos.
CONCLUSION
There it is. A bunch of tweaks to proven performers, some interesting new models, and quite a lot going on in both the high end and splitboard segments. Lots of black, some mad new treatments and print processes, and further use of those injected straps will consolidate consumer confidence and make next year's binding sales a breeze.