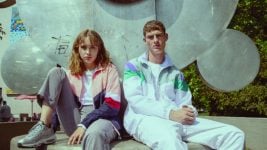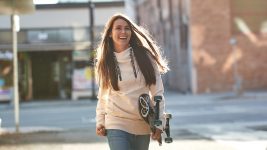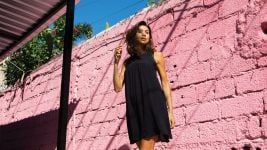 Street culture is all the rage these days, and the fashion business is full of brands looking to share the streetwear mantle. From high fashion to activewear companies, they all follow the streetwear market for inspiration. Our Retail Buyer's Guide for Women's Street Wear has all the latest looks from boardsports-based brands for SS19. By Natalia Maruniak.
TRENDS
"Most recently, we've all been influenced by 90s-inspired streetwear, and this trend seems to be one we can count on sticking around for a while," said Nikita's Lifestyle Apparel Designer, Elise Roy. For its SS19 women's collection, the Scandinavian brand offers more sportswear silhouettes with fashion tweaks, ruched waistlines, lots of nylon "Golden Girls"-inspired windbreakers, and a hint of "lazy" styling. This attitude is also reflected in graphics with a Miami Beach vibe. Almost all brands focus heavily on catchy graphics and prints this season. Santa Cruz delivers colourful neon accents paired with impactful prints. For Berlin-based brand Iriedaily, "expressive, tropical patterns on dresses and pants are a must." The label is inspired by 1980s-style colour blocking, while sweaters and jackets incorporate fresh and bold colour combinations. In true "mix-and-match" style, all Iriedaily collection items invite free combinations: sweats with colour blocking play nicely with all-over-prints and Hawaii-inspired embroidery. Brixton is also taking a trip down memory lane to bring the "Dance Hall/ Rocksteady music and culture of the seventies and eighties," back to the streets. At Protest, the focus lies with structural details as well as ribbons and bows, blending functionality with design: "Functional straps take on a decorative role as they are knotted, crossed and made into patterns."
Sustainability is another major trend for SS19 across the board. More and more consumers demand sustainable fabrics and environment-friendly manufacturing processes; which ultimately affects their wardrobe choices. Ragwear are among the streetwear labels with a focus on developing sustainable concepts. Their PETA-approved vegan collections are crafted from natural and recycled raw materials. Iriedaily, whose clothing is predominantly manufactured in Portugal, is championing better working conditions in the textiles industry as a member of the Fair Wear Foundation, especially in countries such as Bangladesh, India, and China.
THEMES
"If you can't bring the city to the beach, bring the beach to the city," claims Iriedaily with a collection grounded in tropical patterns and prints, full of palm trees, hula dancers and colourful stripes. Ragwear is also feeling the tropical vibe next season, as the team draws inspiration from the Caribbean islands reflected in floral patterns, pastel colours, and delicate all-over prints. At Protest, the collection is dominated by a fun-loving vibe: "For this Spring/Summer 19 collection, we have been inspired by the idea of Shangri-La – a paradise here on earth, a summer utopia. For us, it's a place where there's a great swell, the sun is shining and the sand is between your toes." Protest is also combining functional features with a streetwear look in order to bridge the gap between beaches and streets with their looks. Look for sweatshirts with a neoprene-like material or bold zippers otherwise found on wetsuits. And true to tradition, the ocean features front and centre in upcoming Brunotti collections.
Makia is not looking towards tropical escapes, but finds design inspirations for new collections in their native city of Helsinki and the surrounding natural landscapes. As a result, the brand offers wearers practical clothing for everyday wear. "Our goal is to minimise the problem of getting dressed appropriately, so you'll have time to worry about the bigger picture. Whether it means waking up to a hectic routine with kids, an overwhelming day at work, or just plain harsh weather," said Elina Lappalainen, Women's Designer.
For SS19, Nikita is further expanding its initial "Girls Who Ride" ethos. "Summer and sun are the perfect combination for getting out with your crew of girls and exploring new skateparks, finding late-season side-hits in the snow or heading out at night to see a new favourite musician on tour in town." The collection reflects this approach in a successful blend between East Coast beach vibes and Japanese influences.
COLOURS
Pastels are the hot ticket in SS19 colour palettes. Nikita paints the season in a mix of pastels, bold green and earth tones. Iriedaily is banking on, "summer pastels mixed with bright colours like yellow and bright green," much like Ragwear. Makia features summery shades of pink, light blues, yellow as well as basic black-and-white. Strong retro colours and colour blocking inform the Brunotti collection next to soft tones. Protest segments its line into two collections: the first story is earthy tones with beet red and olive green at its centre, the accent colours are bright. The second colour group is blue-grey with blues and orange with a marvellous bright red as accent. Santa Cruz is counting on bright orange and lime green, paired with lavender. Brixton is all about warm red hues, while also catering to fans of eye-catching looks: "Gold is a key colour throughout our Spring women's collection."
PATTERNS & PRINTS
Prints and graphics remain in high demand. "Patterns, prints as well as mini embroideries are the most important part in the collection," said the team at Iriedaily, whose all-over prints on viscose and jersey create a summer-ready vibe. Nikita is styling with fun all-over-repeats in Harajuku fashion, while Ragwear enters the season with plenty of prints, including animal patterns, as well as geometric and nature-inspired shapes. Brunotti offers leopard stripes together with florals and palm tree patterns. Protest discovered dot prints as, "a fresh simple print that goes with everything, it signals the summer and comes with a playful vibe." Santa Cruz is also sticking with its bold prints, including gingham and a repeat print using elements of Jim Phillips original 'Salba Witch Doctor' artwork on a number of different tops.
Aside from prints and patterns, brands are differentiating their looks with small embroideries, lace, and Broderie Anglaise for a sense of lofty summer freshness. Protest's floaty Anyze dress has, "a mix of solid fabric and broderie anglaise – a beautiful dress to take you through your festival days." For another eye catcher, look no further than Iriedaily's "Fleuri Sweat" with impactful floral embroidery.
Protest's collabs also look large over SS19 collections. Nikita presents a range of graphics in cooperation with artist Victoria Jones, reminiscent of a blend between Santa Monica Pier culture and a hint of grunge. Iriedaily joined forces with artist Juli Jah, while Makia created a capsule collection with Finland-based streetwear brand CTRL including prints by label founder Mr. Freeman. The CTRL-Makia capsule is not just for girls, but based on the current unisex fashion trend.
SILHOUETTES
Going into SS19, silhouettes are versatile and cater to all tastes. The oversized trend of past seasons is still alive and well for warm weather season. Iriedaily is serving this trend with a range of boyfriend fits, especially in sweatshirts like the slightly oversized 'Different Hoodie' featuring a logo on the front and embroidery on the back. Makia is also pursuing a relaxed approach, with outfits naturally draped in a loose and elegant fit.
Nikita is unveiling new jacket concepts in its windbreaker collection, with the 'Gauge Windbreaker' as a key look in a "cool streetwear vibe". The sleeves are adorned with branding, while micro flower prints add refined accents supplemented by ventilation strips to keep wearers cool on sessions at the skate park. Ragwear is also going into SS19 with new jackets concepts. "As the last seasons short jackets were really strong we believe that the trend is going to change to longer jackets." Iriedaily is placing emphasis on cropped tops and tees, Santa Cruz has boxy looks and a revival of cigarette trousers in store. Nikita is expanding its denim collections with new styles, but also offers the usual range of chino pants, including the new 'Deck Pant' with hemmed legs. "It's our bread and butter of pant options for our rippers."
Spring/Summer collections would never be complete without dresses. For Ragwear, the centrepiece is the 'TAG'-dress featuring a summery all-over print. "With its short sleeve, the lovely belt and the small details it's perfect for all occasions during the summer. You can wear it to go to the beach or even for a nice evening in a restaurant." For the team at Protest, their 'Cam'-skirt is a must-have with a bow that turns a rather simple garment into an elegant showpiece. For ladies looking for that final accessory to pull an outfit together, Brixton has you covered: The 'Audrey Beret' in a black-and-white animal print elevates every outfit with a cool street vibe.