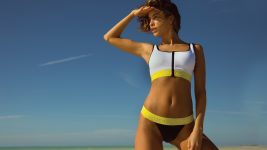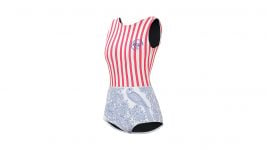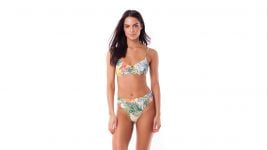 Swimwear in 2019 is all about giving women the choice between practical swimwear that looks great and/or high-fashion swimwear that still feels comfortable. Brands are creating swimwear that is the perfect combination of design merged with functionality with many citing their most popular pieces as either offering full coverage or skimpy coverage. High cut hipster briefs are just as popular as high-waisted retro bottoms with the middle ground evidently not being on-trend. Retail Buyer's Guide by Ruth Cutts.
TRENDS & SHAPES
Women want choices when it comes to their swimwear options and brands are taking inspiration from more than just what's currently fashionable in their SS19 collections; versatility, longevity and adaptability to all body types are just some of the added considerations. Wear Your Waste are bringing new shapes into their SS19 range with the addition of a one-piece swimsuit that "offers just the right amount of coverage for women who are not so keen on exposing so much of their body, yet like to feel sexy" alongside a new bikini bottom shape which "offers two positions so your level of coverage can be tuned to your mood on the day," explains Founder Rocio Enriquez.
When it comes to active swimwear, clean lines that create a minimalist aesthetic are proving popular with brands such as Protest eliminating any unnecessary seams, closures and other elements that might interfere with your fun in the water. Body Glove are using a lot of flat-lock seams on their active pieces to reduce the possibility of chafing and Picture Organic Clothing are using B-Stitched seams for added comfort and anti-irritation, "without forgetting to work on bringing in vintage style with original prints," explains Co-Founder Julien Durant proving that practicality doesn't necessarily mean sacrificing on style. Similarly, for Glidesoul their focus is on functionality whilst incorporating accentuated zips, tapes and trims which won't interfere with performance, "we are passionate about shapes, comfort and usability of our products to provide the best solution for women to do all sorts of water sports," explains Glidesoul's Julia Pipchenko.
One of the most popular shapes at Rip Curl continues to be their one-piece swimsuit that features sleeves and a back zip fastening much like a wetsuit. Valerie Wieser, Head of Design at Rip Curl Girl, explains how their customers "are really liking the look of the swimsuit with the bikini print on so it looks trendy but can be worn for surfing too."
Active swimwear pieces certainly still hold a prominent spot in SS19 as a staple for women that are wanting practical pieces for surfing, SUP, kayaking etc, but these are now working alongside stylish crossover pieces that are designed for the streets as much as the beach.
Carmen Krijnen, Marketing Coordinator at Protest Sportswear explains: "Our design department is exceptional and we are known for how well we translate street trends into our clothing while not compromising on how our garments perform when on duty." Daniela Messina, Senior Women's Designer at Rusty echoes this statement explaining: "we design our ranges to merchandise effortlessly for the Rusty girl, ready to go from beach to bar." Stylish one-piece swimsuits that can be worn as bodysuits under denim shorts or bikini tops that double-up as bralettes to be worn with oversized rock t-shirts are on-trend.
Another key theme to look out for in SS19 is the vintage cut of the 80s one-piece; think a high-cut leg, plunging neckline and retro prints. Christelle Kipping, Billabong Women's Marketing Manager Europe, explains that within their SS19 swimwear range they "explore the highest of high cuts, the cheekiest of bums and give more than a glimpse of side boob." Protest have followed suit bringing the deep plunge neckline into their range, "taking our cue from the evolving street trend of diving necklines, we've interpreted this into our swimwear", Carmen Krijnen explains.
Pukas are looking to the past for inspiration too with Designer Marta Campamà informing that the brand are "working hard on a retro line focused on the 80s in the line of bikinis and swimsuits, mixing leopard prints, and rubberised fabrics," focusing their attention on their surfing history as a brand in the Basque Country, looking through old super 8 movies and vintage photo albums for the most outstanding looks.
PRINTS & COLOURS
As expected, tropical floral prints continue to be popular keeping in line with the beach culture surrounding women's swimwear, but an emerging trend is the juxtaposition of bright floral prints atop black backgrounds or similar neutral solid tones. "Sun yellow meet reds and flirty pink, whilst midnight black and earthy olive keep things grounded," explains Christelle at Billabong. Volcom are "having success with dark ground florals", a "vintage inspired tropical print" continues to be a best-seller season on season at Rhythm, "original prints of flowers or birds, mixed with sober colours" are key for Picture and "a heavy focus on tile prints in modern colour palettes and botanical silhouette prints" is the direction for Rusty in SS19.
Rhythm and Rip Curl are both including spots in their collection whilst Body Glove are working with geometric shapes. Billabong, Body Glove and Rhythm will all have a focus on stripes too with "spots and stripes [being] reinvented in fresh, feminine new colourways" explains Rhythm's Trade Marketing Manager Helena Scholl.
Rip Curl will be featuring colours inspired by nature such as bright ocean blue and watercolour florals, for Billabong it's bright seafoam meets mandarin and sweet pink, for Glidesoul their theme is candy colours with a floral thematic and for Protest it's all about earthy tones such as beet red and olive green complemented by bright red and blue accent colours.
MATERIALS
Textured fabrics continue to be popular in SS19 with ribbed, mesh, metallic, matte and sheen fabrics all making an appearance. Continuing the success of their textured fabrications in previous seasons, Rhythm have chosen to carry over their popular Palm Springs Rib bikini in new styles and colours. They are also introducing two new textures including a gingham seersucker fabrication and a new raised rib which they've titled Flashdance. Christelle Kipping from Billabong explains that "texture is still strong with innovated fabrications of true knit, wavy stripe (for a vintage look) shiny fabric and rib fabric" all appearing in their SS19 range.
Pukas will be working with garment-tined cottons and crepe, Protest are introducing functional velvet using "new technology to create a fabric that has stretch and quick-drying properties while having the sheen and softness of sumptuous velvet." Volcom are bringing in novelty fabrics such as mesh and metallics, Body Glove are working with new and sophisticated ribbed fabrics whilst Rusty introduce a gorgeous metallic foil accompanied with matching metallic trims.
SUSTAINABILITY & COLLABORATIONS
Conscious shopping continues to be a hot topic for consumers with many specifically choosing to buy from companies that are using sustainable materials and that follow more ethical procedures within their operations. 
The whole concept of sustainability relies on the production of pieces that will last many seasons, an ethos which Wear Your Waste stringently adhere to. They choose to use a very high-quality fabric made of regenerated polyamide (ECONYL) mixed with Lycra XtraLife® to ensure the product is long-lasting. The 'Simply Solid' collection at Volcom is also made from an eco-friendly ECONYL recycled yarn produced from lost fishing nets and other discarded nylons that pollute the ocean. For Picture Organic Clothing, they're choosing to use EicoPrene in their SS19 spring suits, which is made from 30% recycled tyres, alongside eco-friendly water-based Aquaglue and 100% recycled polyester for their internal and external linings.
Through social, eco and betterment initiatives, ROXY are looking to protect the very oceans that their customers like to enjoy through their Roxy Pop Surf collection. Their Pop Surf wetsuits, wetsuit jackets, surf shorts and neoprene tops are crafted using an innovative water-based glue in the neoprene and lining lamination which eliminates toxic solvents that are harmful to the environment. They have implemented a new dope-dyed yarn process to not only cut down on the amount of water and waste being used but also to save energy without losing any of the 'pop' in their colours, and the neoprene is made from recycled Repreve polyester fabric in which recycled plastic bottles are transformed from harmful PET into polyester fibres with 25 plastic bottles being recycled per wetsuit.
Away from sustainability, there is Rip Curl's partnership with the brand TitsUp. Wanting to use their platform to highlight women's health, Rip Curl have worked with TitsUp to create fun and fashionable products that bring awareness to breast cancer whilst also contributing financially (€1 per product sold) to the cause. The products are bikinis, t-shirts and fleeces with a fun embroidery placed on the bust such as palm trees, pineapples, hearts and hibiscus flowers.