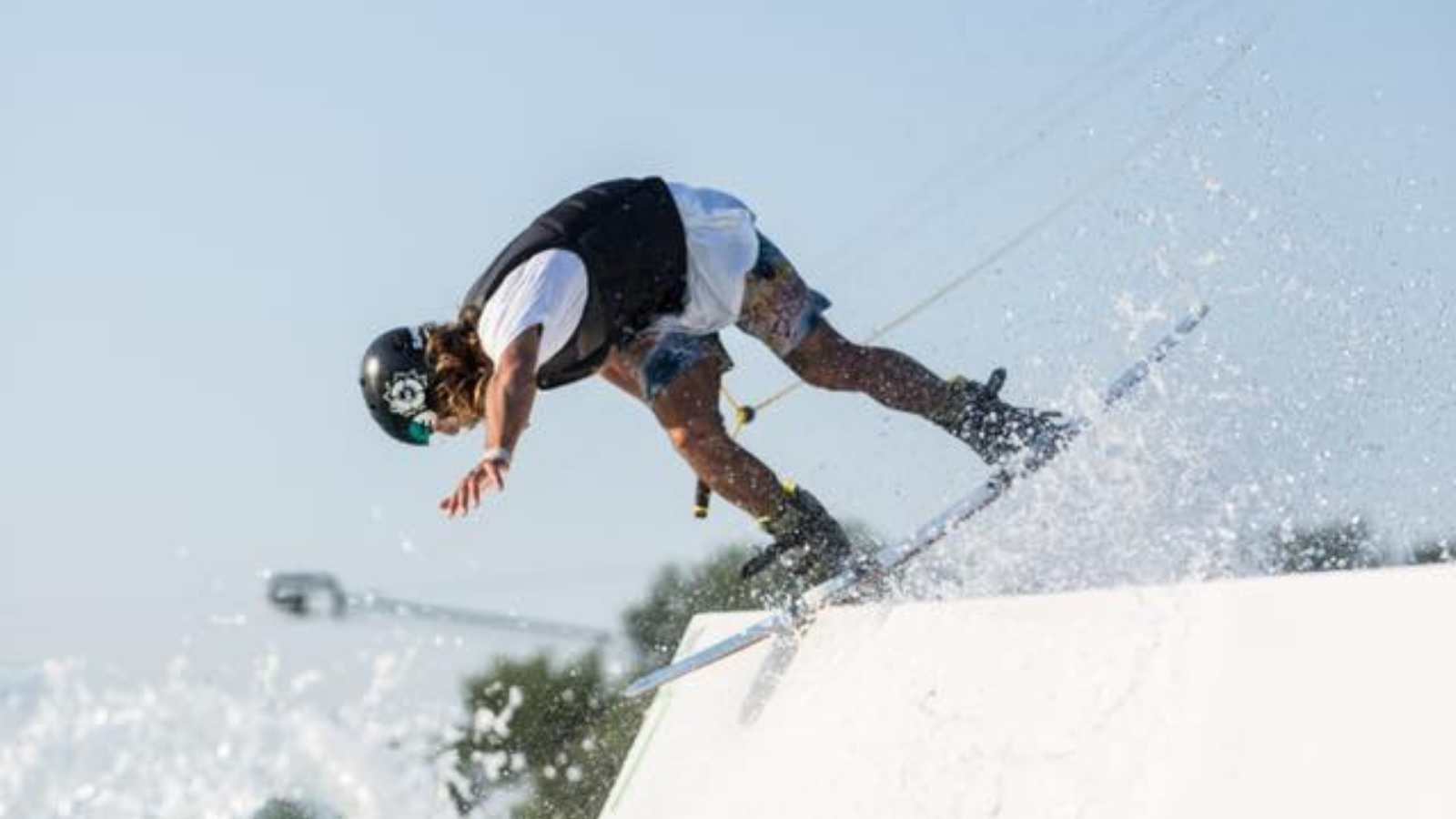 Slingshot Wakeboard Hardgoods 2019 Preview
Retail Buyers Guide: Wakeboard Hardware 2019
Brand: Slingshot Sports
Interviewee: Jeff McKee – Brand Manager & Andy Steel – Director of International Sales
Current Trends.
What are the main trends for 2018 in the wakeboard hardware market, in terms of categories: wake park boards, boat boards, hybrid boards, boots, wakesurf, wakeskate and helmets. Where have you seen the biggest growth so far in 2018?
Wake Park Boards – "Bigger is better…Ask your wife" – This quote came from a dealer based in Hungary, and really we couldn't say it any better. We sold out of all our longest park boards first, indicating that riders are all sizing up in the park. It makes for a fresh new feel and experience. More surface = more fun without the restriction of being "too heavy" thanks to our construction process. If you can't comfortably rest your chin on your board while waiting in line for a ride, you may want to re-think your board length.
Boat Boards – More rigid flex, minimal channel design to create just enough traction for comfort, but no more. This makes riding more fun and more forgiving. Longer lengths like the Nomad 150 – 160 allow for slower boat speeds and a more fun / forgiving experience behind boats.
Hybrid boards – Riders like Dylan Miller and Alex Graydon and Carro Djupsjö are blurring the lines and making wakeboarding look incredible, regardless of what's towing them. We are re-inventing style and originality behind a boat with these riders, and their boards need to be ready for anything. Flex tips on the Solo and Contrast models have proven ideal for the park while the stiffer belly of the boards are perfect for the wake.
Boots –Gummy Straps are KING! We're obsessed with our new closure system which has proven to be the ultimate in comfort and reliability. Set em' and forget em'. Plus, the kids are trading strap colours and constantly re-vamping the look and colourways of their setups.
Wakesurf – The endless wave has been pumping this year. Fast rocker lines are key to minimize drag and allow for the riders to "turn and burn" until their legs can stand no more. FCS II fins have been an awesome feature on the surf styles making customizing the feel on the fly easy as ever. No Tool, No problem. Our skim style board the Butter bar has proven to be one of the most popular for learning as it's easy to manage and delivers success to first-timers at an overwhelming rate.
FOIL – This new category for us within the wake market has been MASSIVE. Riding in choppy water is no problem, surfing the wave behind the wave is no problem, and even boosting airs and inverts like our UK master of foil Louis Floyd! If you haven't tried to foil yet you must. It's a whole new addiction with endless possibilities to ride water EVERYWHERE. We've also produced a series of videos to make learning easy, safe, and most importantly, successful. Check it out at foil-academy.com. #loyaltothefoil
Future Trends
What do you believe will be the main trends for 2019 in the wakeboard hardware market, in terms of categories: wake park boards, boat boards, hybrid boards, boots, wakesurf, wakeskate and helmets. Where do you expect the biggest growth in 2019?
Only time will tell, but we hope that riders will continue to realize the benefits of larger boards and the liveliness you find only in a Slingshot. We also trust our team of athletes will continue to set new trends which we will use to inspire new products and ideas.
In the world of boating our line of foil products will hopefully continue to boom as this new category continues to impress and excite behind ALL boats. We also have a new wakesurf model "the Coaster" that we expect to be a hit as it refuses to stop coasting even with smaller boat waves.
Board Hardware
What was successful for you in 2018 in terms of product technology, or changes in the product you implemented. What is new for your wakeboard construction and design for 2019 and are there any trends in terms of design and construction that the entire industry seems to be progressing towards? It seems the biggest growth of our sport over the last decade is wake park riding. What are you doing to combat the wear and tear that the wake park style of riding puts on equipment?
Our ballistic rail base has proven to be indestructible and the singleshot fusion sidewalls help to protect the full wood core. The flex provides forgiveness and longevity as well as a whole lot of fun. No product in sporting goods is unbreakable, but it's rare in the case of Slingshot, and if it does happen, it usually warrants the utmost respect and bragging rights amongst your crew.
New for 2019 we are introducing the Blake Bishop Pro model graphic on a 146 solo shape – Blake's favourite board for the park and with a STUNNER of a graphic done by teammate and mentor Wesley Mark Jacobsen. We also have an array of new sizes to offer (mostly larger of course) and of course some of the freshest artwork from our favorite artists and designers.
Boots Hardware
Which of your boots are selling well in 2018 and why. What is new for 2019 in terms of boot design and construction. Are you bringing in any expertise or creating partnerships with footwear brands from outside our sport, eg snowboard boot companies, etc.
When it comes to boots, comfort is always #1, and performance #2 because you can't perform without being comfortable. The fit is crucial to the success of a boot and we're confident it's our best fit to date. All of our boots are built off of the same last, so a size 10 Shredtown will hug your foot the exact same way a KTV or RAD will. The Shredtown boot has been a favourite in the park, with their walkable liners, and the gummy straps are tried and true – hands down the best closure system we've ever used.
In 2019 We have a new forged aluminium chassis for all the boots with K9 mounting, which means lighter weight for all! The Shredtown boot also features a remove-able tongue so you can achieve two stiffness's in one. Run the tongues in for a more supportive fit, or pull them out to get more flexibility.
Aesthetics / Pro Riders
Any stand out new graphics or artwork collaborations? How important is it to your brand, to have Pro Models and how much freedom do the pros have in term of graphics?
We are what we are today because of our pro team. The Coalition board has been the best-selling board in 2018 because the Coalition Crew has been on fire the past few years and built a real hype around the name and culture of riding.
When it comes to graphics, art on our boards is huge. Our team riders have 100 % Input on artwork and artist collaborations, and it's rare that we turn down an idea or concept. Featured artists in the 2019 product range include Wesley Mark Jacobsen, Kim Kirch, Micayla Gatto, Leo Zarosinski, Carson Wiser, Steffen Vollert, and Asti Faivre.
Retailer Help
How are you helping retailers sell your product and which method of help seems to be the most effective?
Marketing is one of the biggest tools we provide our retailers. The great thing about Slingshot is people buy it not just because the product is so great, but because they want to be part of the culture we've spent the last 2 decades creating. When someone joins us, we can count on them being part of our tribe through their entire addiction to watersports. Slingshot has them covered anywhere there's water, and we have the marketing content to inspire and connect them to the brand forever. The result is, when someone walks into a retailer's door, they already know they want a Slingshot product!
We feel that our Team riders have a huge part to do with the meteoric rise Slingshot Wake has enjoyed within the industry. We're so grateful to have such a talented, friendly and customer-oriented Team who understand how the industry works. Our Team helps fuel the stoke that every retailer and consumer feels when they interact with our brand.
It's hard to pinpoint any single action that drives our retailer's hunger for Slingshot, as the success we've found comes from a culmination of getting it right in every area. We are extremely thankful to have a kick-ass distributor network that offers great support and availability of products to the retailers. Combine that with our EU and US warehouses and there's not much you can't get your hands on at once. In addition, the feedback from distributors and retailers communicating market trends and demands helps Slingshot stay a step ahead and allows us to give the consumers what they want before they know they want it!
We also have arguably the best product development Team in the biz. If it wasn't for our beloved innovators being able to push dreams and product visions into reality, we'd be in a very different spot right now.
The retailers and consumers help us create the concepts, the product Team build the toys, the marketing, promotion and Rider Team help drive the demand, our factories deliver the goods and our distributors get it back to the retailers. It a big cycle that works great for us!
Key Products
Tell us about your 3 key products for 2019 and why you think they will be great sellers
The Bishop – The Bishop is Blake Bishop's pro model board. Blake is part of the next generation of park riders who slays EVERYTHING in site with his board as the weapon. Blake has been hooked on the solo, so this model is quite simply a solo 146 shape minus the fins and plus one of the best graphics to date from Wesley Mark Jacobsen. With Flex tips and a stiffer belly, it's the perfect fit for Blake's style charging hard at both kickers and rails.
The Coaster – Developed with a goal to surf smaller wave sizes, the coaster refuses to quit. It's large surface area and flat rocker line make it a true "coaster" – coasting down the line till days end. A great board to learn with, a great board to finally achieve success on your boat, and a great board for big waves when you want to cruise with more of a longboard feel and explore the space from up front to WAY back.
FWake Hydrofoil – We're all hooked and the addiction is spreading like wildfire! Foiling is here to stay and our the FWake Foil started it all. This year the front wing is larger and more suited towards stability with upgraded surf-ability. The result is you can learn easily with a rope in hand, and once you've mastered that take it all the way back to the 3rd roller for a surf session behind any wake boat. A more versatile wing paired with our foil academy "learn to foil" program delivers one of the simplest and most exciting new experiences on the water.