SWOX SS20 Sun Cream Preview
Brand: SWOX
Interviewee: Maximilian Jagsch, CEO & Co-Founder SWOX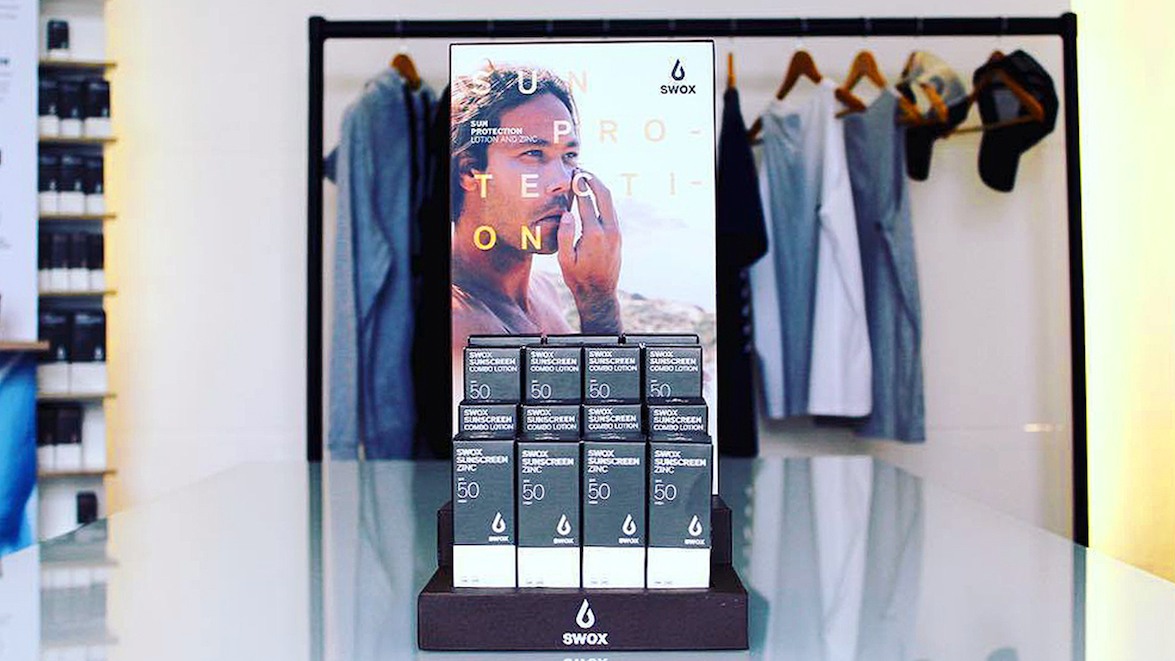 How does your sun cream directly appeal to those who partake in action sports?
"For surfers, by surfers". If you ask some of our top team athletes like world-class surfers Jordy Smith or Wade Carmichael for instance, why they use SWOX sunscreen, it always comes down to extreme water-resistance, the high quality ingredients and the sustainability of the products. All three are equally important to everyone in action and outdoor sports in 2019. No matter if you are a windsurfing world champion like Victor Fernandez or a pro snowboarder like Marko "Grilo" Grilc, the last thing you need is the stinging sensation of sunscreen running into your eyes from sweat and water or slippery hands from applying sunscreen. Our growing team of top athletes worldwide helps us keep up with the needs of sunscreen in extreme conditions on the snow and in the water. Our products are exclusively manufactured in Germany and Switzerland. By the European Cosmetic and Perfumery Association (Colipa) Sunscreen can be labelled "water resistant" if at least half of their Sun Protection Factor (SPF) is still measurable after at least two 20-minute bathing sessions. "Very water resistant" products must retain at least half of their SPF after four 20-minute bathing sessions. Under these specifications, all SWOX products are very water resistant. Actually, they're far more water resistant than "very water resistant" – SWOX products exceed EU standards in order to provide the extreme protection required by any action sports and outdoor athlete.
Do you think attitudes towards sun protection are changing? If so, how?
In 2019 the consumer doesn't just walk into a ski or surf shop anymore to grab a sunscreen out of a nice-looking display. The surfers, skiers, snowboarders and outdoor enthusiasts are well educated. Sunscreen is not just about avoiding skin cancer, guaranteeing SPF filters and best product prices anymore. The consumer is looking for a sustainable product, which is sourced and produced in a way, that doesn't involve animal experiments, for example. We keep a close look at the community, our team riders, influencers and any new developments in the chemical and beauty industry around the globe.
That said, there is also a lot of false information out there, mostly about the terminology of ingredients. Take the term "reef-safe" for instance. No sunscreen can be 100% reef-safe, just because every ingredient, which gets in the water, affects the water quality and all organisms in it. 14 000 tons of sunscreen enter the oceans every year. The common UVfilter oxybenzone weakens corals, making them more susceptible to viral infections and ultimately leading to coral bleaching. While it's proven, that oxybenzone is a big threat to marine life, there are several other chemicals used in sunscreens that are most likely an environmental threat as well. I could continue this list with "cruelty free", "animal friendly", but you get the idea. At SWOX, our attitude is to keep our standard as high as the latest scientific research. We are well aware and working daily to improve our products functionality and sustainability, not only to keep those standards up, but to be part of the movement that pushes them even further.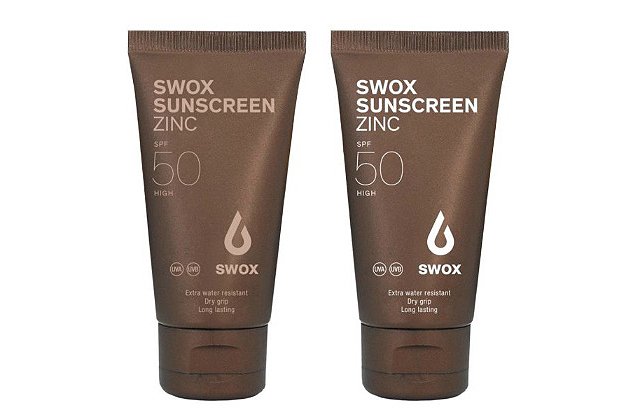 What materials are you using? Any innovations to talk about?
To reduce the environmental impact of our packaging, we use "I'm GreenTM – Green Plastic" for our SWOX tubes. It is partially made from renewable, organic sugarcane ethanol. This not only reduces carbon emissions in the manufacturing stage but also captures and fixes CO2 from the atmosphere during production, reducing overall greenhouse gas emissions.
Our new Zinc sun protection is free of any chemical filters and 100% mineral based. For the retailers and their customers, it's also important what's NOT on the ingredients list: SWOX products are dermatologically approved and hypoallergenic. That means they do not contain any substances that can cause allergic reactions. SWOX sun protection does not contain any perfumes and is free from parabens, potential carcinogens which are often used as preservatives in cosmetic products. The ocean is our favourite playground, and it's our duty as surfers to protect it.
Any exciting marketing campaigns coming up for your product line?
Right now we're very stoked about Wade Carmichael winning the WSL Tour Rookie of the Year Award. Anyone who's watched him throughout his amateur career and on tour knows that his best surfing is yet to come. Two finals in 2018, both against Filipe, we can't wait for 2019!
Our team of top athletes is the foundation of our marketing. It's the biggest joy to support and thrive with riders like Jordy, Bianca Buitendag, Bruna Kajiya, Lisa Zimmerman, Arianna Tricomi, Grilo or Seppl Ramsbacher on their journeys and adventures.
As a brand SWOX has long and ongoing collaborations with various international partners.
It's important to make our products available to customers right where they need it the most. Those partners include W Hotels, Saalbach Tourism, Roxy, O'Neill, Blue Tomato or BMW. For those and other partners we create products, which combine our and their DNA and equally represent the brands along the way.
On the product side, 2019 our SWOX product bundle is a great way to upsell to a selection of products "perfect for your next surf trip". Head over to our retailer login to learn more.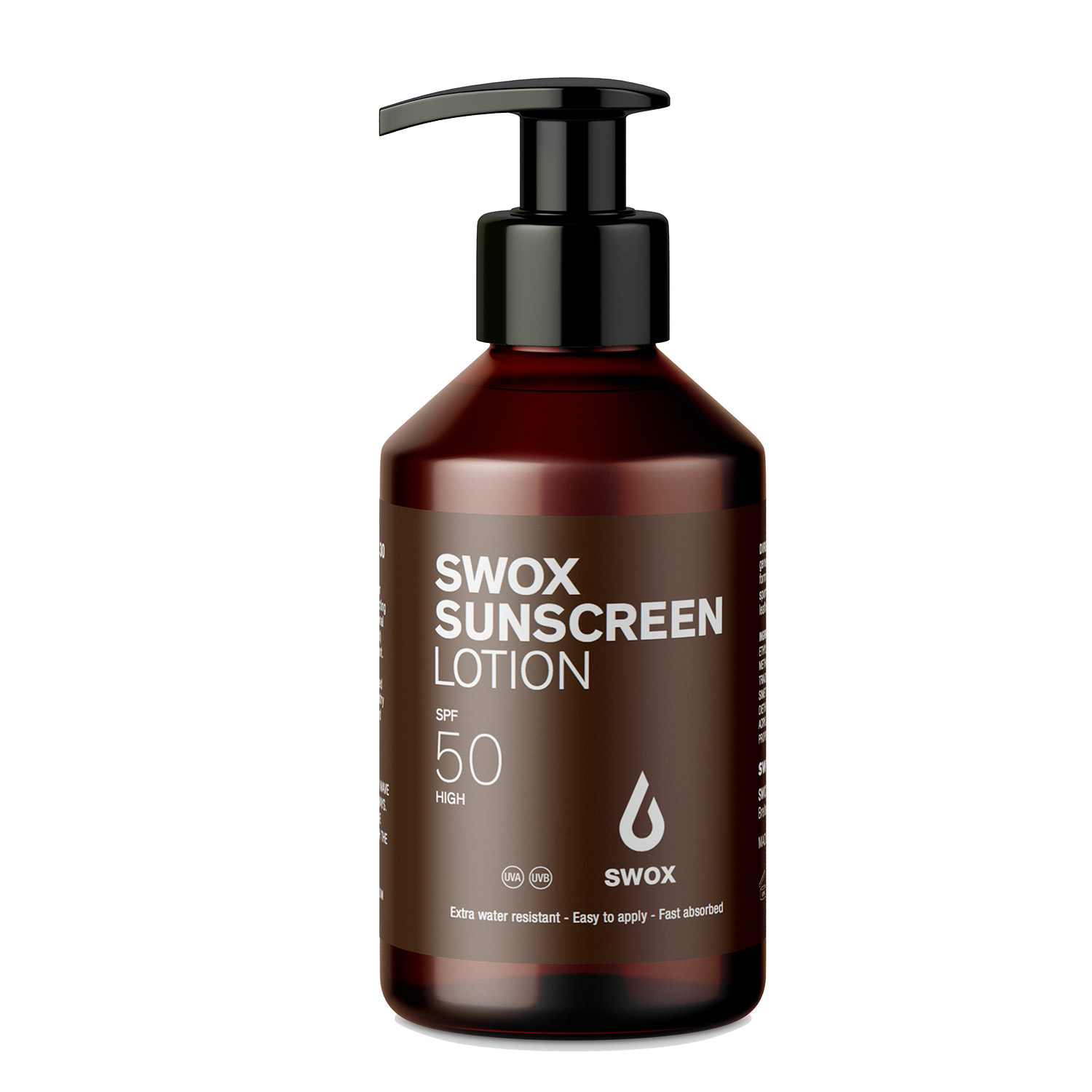 What other benefits, apart from sun protection, does your product offer?
To ensure your skin gets a good dose of love, SWOX products contain nourishing vitamin E and provitamin B5, also known as "Panthenol". Vitamin E provides additional protection from the sun's harmful rays and even has a regenerating effect. That is also why it's a common ingredient in wound healing and scar ointments. Provitamin B5 is known for its moisturising properties, which strengthen the skin's natural barrier and protect it from irritation and damage. Like vitamin E, provitamin B5 has a regenerative effect: it encourages wound healing, smoothens fine lines and wrinkles, soothes itching and painful burns, and reduces skin discolouration.

However, SWOX is more than just a sunscreen – we are a community of athletes who share the same lifestyle, passion for our sport and our eco system: Some of the world's best surfers, kite surfers, windsurfers, runners and outdoor athletes choose SWOX for their daily training and competitive events.

 What POS are you heeling retailers out with?
Even though sun protection and education is such an important topic to SWOX, we also understand that for a retailer sunscreen is a great way of upselling and bringing your sales to the next level – "Do you need any sunscreen today?"

Therefore, we offer POS, mainly high-quality displays in sizes XS to XL. All displays host a tester product and a short but very appealing brochure.

Our smallest display is a perfect on-the-counter option with exchangeable tops featuring surfing, kiteboarding, snowboarding or running for example. This gives us the opportunity to please different points of sales throughout various seasons. Large shops can stock the full SWOX range in our famously effective tower display.

 Please take us through two of the key products in your line.
Generally speaking, SWOX offers two different sun protection products: lotions and zinc. SWOX lotion products are easy to apply and absorb quickly into the skin. An oil-in-water emulsion formula gives them their smooth and light consistency – making SWOX Lotion products easy to apply on your whole body. SWOX Lotion products are available as SPF 30 and SPF 50.

The sun blocker, zinc, makes the SWOX zinc products (50 and 50 beige/tinted) the perfect sunscreen for areas most vulnerable to long sun exposure, such as the nose, cheeks, and forehead; as well as often neglected areas, such as the ears and neck. It's an essential for anyone planning to spend a lot of time in the water. SWOX Sunscreen Zinc 50 beige contains a skin-coloured tint to match the colour of the face instead of leaving white streaks.

We are riders, travellers, adventurers, moms and dads, and therefore find it's best to have your favourite products available in different sizes. For example, we sell small zinc and lotions, which are perfect for onboard luggage, your hiking backpack or your diaper bag. On the other end of the spectrum, we also have a 250ml pump which is ideal for families or on long trips. Exciting news for buyers for schools, clubs or associations, like the lifeguards or other first responders, we offer a 500ml pump set up in a wooden wall fix!


Fatal error: Allowed memory size of 268435456 bytes exhausted (tried to allocate 20480 bytes) in /srv/users/boardsportsource/apps/boardsportsource/public/wp-includes/wp-db.php on line 1889