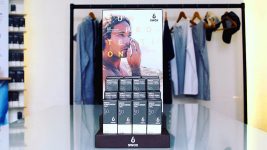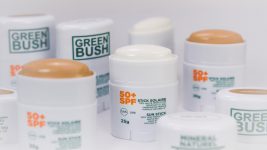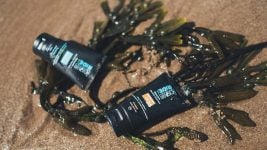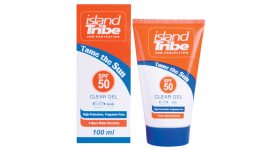 Surfers, skiers, snowboarders and outdoor enthusiasts are well educated in the importance of effective sun protection, not only to prevent skin cancer and avoid painful sunburn but also to prevent long-term damage to the very environment that they want to enjoy though harmful chemicals. Consumers are looking for a sustainable product that guarantees the best SPF filters which won't negatively affect their performance in the water or up in the mountains. By Ruth Cutts
Made for action sports
Sports-specific sun creams need to withstand the harshest conditions and sub-par performance simply won't cut it. Island Tribe's most popular product is their SPF 50 clear gel; a hardcore non water-based gel which offers full sun protection for four to six hours in or out of the water after one application. Their products are not only water-resistant but sweat-resistant too meaning no stinging eyes when you're on the move.
RIDE use a super, water-resistant natural wax in their sunscreen which helps to protect the skin in the most extreme conditions and the absence of chemicals in their product also prevents any stinging eyes.
Sustainability
As the consumer becomes increasingly more invested in their retail choices they are demanding more from their products and from the retailers themselves. Because maintaining biodiversity is essential, GREENBUSH have made their sunscreen entirely from mineral filters that don't erode coral reefs. Island Tribe's clear gels are based on coconut oil without parabens, perfume and oxybenzone, and are therefore coral reef safe too.
RIDE Skincare use a natural key ingredient called Titanium Dioxide which sits on top of your skin and reflects away the sun's harmful rays. This one mineral provides protection against both UVA and UVB rays (unlike chemical sunscreens that require a number of different chemicals to provide the protection).
To reduce the environmental impact of their packaging, SWOX use "I'm GreenTM – Green Plastic" for their tubes. It is partially made from renewable, organic sugarcane ethanol. This not only reduces carbon emissions in the manufacturing stage but also captures and fixes CO2 from the atmosphere during production, reducing overall greenhouse gas emissions.
Diversifying their range
The inclusion of SPF protection in many everyday beauty products such as moisturisers, primers, foundations and powders is testament to the increased awareness of the general public of the damage that long-term sun exposure can cause. Sun cream brands are becoming increasingly aware of this and have started to diversify their range into products that wouldn't have traditionally held much standing in the sun care industry.
The Greenbush dry oil is an example of this as it works to repair and protect the face and body, helping to restore the skin's natural elasticity and leaving a delicate natural fragrance on the skin. The Jojoba and coconut oil in RIDE's products works to keep the skin in great shape and their post-sport Ride Recover moisturiser uses natural and organic ingredients to help soothe and repair skin after exposure to wind, rain, sun and sea water.
To ensure your skin gets a good dose of love, SWOX products contain nourishing vitamin E and provitamin B5, also known as 'Panthenol'. Vitamin E provides additional protection from the sun's harmful rays and even has a regenerating effect (it is a common ingredient found in wound healing and scar ointments). Provitamin B5 is known for its moisturising properties, which strengthen the skin's natural barrier and protect it from irritation and damage. Like vitamin E, provitamin B5 has a regenerative effect: it encourages wound healing, smoothes fine lines and wrinkles, soothes itching and painful burns, and reduces skin discolouration.
Following many questions from parents about whether their popular clear gel is suitable for children, Island Tribe expanded their range to include a special children's SPF 50 clear gel that uses the same high-quality as the existing clear gel but in a new packaging especially designed for children.
Marketing Campaigns
Sun care brands are thinking of ever-increasingly creative ways to get their products into the hands of consumers. RIDE have been working with UK-based Orca publications (which produces Carve and Surf Girl magazine) on their surf camps to reach potential customers in an organic way by allowing them to test their product in real time.
Island Tribe work to generate a lot of publicity for their product not only through traditional athlete sponsorship but also by sponsoring many water sports events throughout Europe.
For SWOX, their athletes are their advocates. With a slogan such as, "for surfers, by surfers" this emphasis on being an authentic brand specifically designed for the action sports industry is very apparent. With top team athletes such as Jordy Smith and Wade Carmichael on their roster their focus is on providing extreme water-resistance in their sun care products. "Our growing team of top athletes worldwide helps us keep up with the needs of sunscreen in extreme conditions on the snow and in the water," explains SWOX CEO & Co-Founder Maximilian Jagsch.