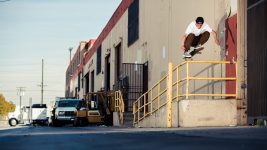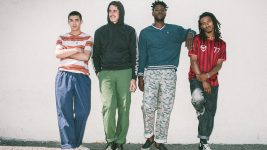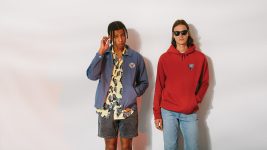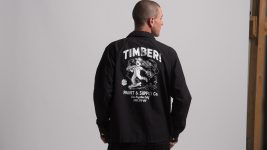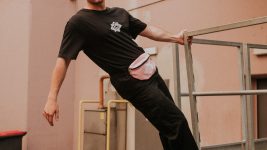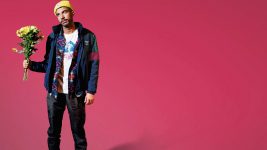 Streetwear is influencing the upper echelons of high fashion, but boardsports brands still find inspiration where it all started: the streets. Spring/Summer 2019 Men's Streetwear Retail Buyer's Guide by Dirk Vogel.
Not a day goes by without some hype blog reporting another high-calibre streetwear collection "drop" that has fans queuing around the block. Beyond these newest-latest styles, vintage streetwear appears to be aging better than fine wine; at least judging by price points for mid-1990s SUPREME box logo tees on eBay. But through all this hype, there is a key difference: While fanboys mainly like street-style apparel for striking a pose on their Instagram feeds, boardsports enthusiasts mostly choose streetwear not just because it looks great, but because it works on missions out in the urban environment.
For this very reason, boardsports will always play a special role in the increasingly complex streetwear universe. "Streetwear is using boardsports, especially skate, as a crystal ball to take a little peek into what comes next and as a tool to keep the 'gnarly vibes' up. The larger part of streetwear fans are these timid kind of people who like to watch others doing gnarly stuff while for them identifying with their style seems to be enough. The boardsport brands themselves are influencing and even creating the streetwear trend without even recognizing," said Julian Wolf, Head of Marketing at Homeboy.
Industry insiders confirm this style leadership, including Michael Spitzbarth, CEO and Men's Designer at Bleed Organic Clothing: "I think boardsports and especially skateboarding are again more and more influencing the streetwear designs and the market. That is good for both markets!" Most brands respond by cultivating their own design DNA, while also keeping an eye on big-picture influences such as the growing urban/hip-hop aesthetic. "Urban streetwear is HOT! The trend of hip hop and urban jungle continues and more and more brands are tapping into this. And SUPRA, being from the biggest, trendiest urban jungle on the planet, is in the middle of it," said Sascha Weil, Brand Director EMEA at SUPRA, who are expanding their apparel offering for SS19.
THE MARKET: MIXING STYLES AND FASHIONS
Ultimately, what's hot and what's not remains for customers to decide. And today's boardsports customers are unpredictable and brand-agnostic, which also affects product line-ups at board shops. "Streetwear brands gain more floor space in boardsports influenced stores. Customers mix their styles throughout the spectrum of fashion," said Joni Malmi, Brand Director at Makia. This impression is confirmed by Heribert Willmerdinger, Managing Director at The Dudes: "People from the scene start to also wear stuff from brands that are not rooted in the core of boardsports. The Dudes reflects this. Our interests moved more towards music, design, tattoo or vintage bikes and cars."
From a market perspective, boardsports apparel is still emerging from a period of overstock and market saturation. But course corrections in pre-order and distribution structures are starting to gain traction, allowing retailers to tell better stories around new collections. Meanwhile, the off-price apparel segment continues to grow, especially online, which erodes margins and cannibalizes sales for core brands. As the antidote, an on-point and on-trend approach is key. "In Europe, the trend orientation is into the streets. The streetwear market has never been so high, but a brand from boardsports which is not [serving] trends will lose some market shares," said Mathieu Santoni, Volcom's Head Of Product Europe.
Next to trends, price points are a major sales argument, and boardsports brands continue to deliver value at affordable cost despite geopolitical changes. Brands such as Bleed Organic sell eco-conscious tees for €39.99 and organic denim for €99.99 retail; a strong proposition compared to price tags at high street men's clothing stores. Iconic designs from core skateboard brands are even lighter on the wallet, including tees for around €29.99 and hoodies for €59.99. "We aim to make quality clothes that skateboarders can afford," said Nathaniel Jones, Senior Apparel Designer at Santa Cruz Skateboards.
SEASON TREND: 1990s ATHLETICA
Similar to footwear, the pendulum swings back to 1990s nostalgia in SS19 streetwear collections. Back to that glorious time when Wu-Tang Clan and sporty-tech designer gear dominated the scene at street spots and skate parks. "The Nineties are still the dominant trend in SS19. Sportive colour-blocking, classic checks and wild all-over prints all in the mix. It's all about style clash, celebrating the imperfection," said Patrick Kressner, Men's Designer at Iriedaily. Keep an eye out for athletic garments such as jerseys, track suits – from the likes of éS Footwear and Santa Cruz – as well as baggier fits and more generous logo placements. And did we mention that 1990s trailblazers Droors Clothing are back? Light a blunt to that!
MATERIALS: SOFT AND REFINED
Warm weather season is all about comfort and lightweight garments. Marion at Ragwear said: "We're all about nice soft mélanges, very fresh summer colours and streetwear details on every single garment." As the main season trend, Dan Preston, Global Apparel Design Manager at Globe identifies, "printed woven shirts. Party vibe shirts headline our wovens and feature head-turning custom prints combined with functional and breathable fabrications." SUPRA is playing with "multi-coloured knits," while Santa Cruz brings "some great piqué yarn dye stripe tees and polos." Almost all brands are implementing hemp as a great natural fit for summertime threads, next to organic cotton, bamboo viscose and lyocell. Brixton "keep line pretty timeless, but are now adding some stand-out pieces, such as acid washes, plaids, and bright colour pops."
True to the performance aspect of boardsports, brands across the board are also implementing tech into their materials, most notably stretch, quick dry, UV protection in chinos and denims, as well as coatings and membranes in jackets. The sustainability ethos remains strong in SS19, including fabrics such as Bleed's Econyl from recycled fishnets and Tencel. Makia is boosting sustainability with SpinDye and PureWaste in sustainable colouring and materials, supplemented by RePack reusable and returnable packaging on the back end. Iriedaily has joined the Fair Wear Foundation, while Ragwear is PETA-approved for animal-friendly production.
FITS & SILHOUETTES: ROOM FOR MOVEMENT
In line with the 1990s throwback, fits are getting roomier – also in part as a rebellion against mainstream appropriation of boardsports trends. "More than a decade ago, the skate scene started wearing skinny jeans and tight tops, because it was new, it was kinda punkish and it was just different from mainstream. Now that they see their parents wearing these fits they have to start a movement against them," said Julian Wolf at Homeboy. There's also a functional element, said Dan at Globe: "Featuring roomier tees and pants cut for skating, the Globe 'Concrete collection' blends directional colours and graphics with this season's essential relaxed fits." Brixton are also backing that functional vibe, seeing things go oversized as "comfort and function drive the trend."
In terms of lengths, pants are trending towards a shorter, cropped look in order to show off sneakers despite their bagginess. Shirts tend to run longer, extending below jackets that are cut around the waist. Speaking of jackets, coaches jackets still remain in play next to a new wave of 1990s-style pullover windbreakers with hoods and kangaroo pockets, for which Droors and Nautica nailed the formula in 1996. At Protest, Katrina Stronkhorst, Marketing Team, has a new classic: "You've probably noticed the rise of the raincoat in both men and women's fashion. This season we're coming out with our own longer length men's raincoat, the Cliffe." Asked about fits in accessories, The Dudes said: "We see that unstructured caps are getting more and more popular."
COLOURS & GRAPHICS: STAND OUT FROM THE CROWD
Colourways are a mixed bag for SS19. The monochromatic, black-meets-white trend is still in play across boardsports collections such as The Dudes. Out in the streets, get used to the staple uniform of black chinos paired with white long-sleeve tees and a dad hat. Then again, summer time is about standing out and celebrating some colours, which endemic brands are doing with a strong surge in subtle tones of blue, aquamarine, and green. "Pastel is definitely the main colour orientation. Not too bright, but keeping some flashy background, need to be washed, stoned. Red is also coming back because of the 90s," said Volcom's Mathieu Santoni. Also look for darker baseline colours contrasted with neon colour pops across the board.
SS19 graphics fall into two categories: big and bold VS. detailed and refined. The latter influences Protest's SS19 men's collection via so-called "conversationals. These mini-prints add a touch of humour to your summer outfit. Check out our Fearless tee. Another trend is retro Hawaiian prints," said Katrina at Protest. Also look for monogram prints and repetitions of detailed icons in a tattoo style (mermaids, florals, marine life) across collections, joined by graphic stripes and digital/glitch patterns. On the other end of the spectrum, "big photo graphics and big logo prints are definitely on trend, after years of clean Scandinavian looks without any prints and graphics," said Julian at Homeboy.
As a sleeper trend, also keep an eye out for the shiny, athletic glory of sports jerseys – fuelled by the 2018 Football World Cup – and racing-style tops, as seen in the recent SUPREME x FOX Racing collab. With that said, SS19 collections leave retailers with so much to choose from, and so many styles in play at the same time. But here's the good news: Everyone is looking at streetwear, and everyone is looking at boardsports to lead the way. "Streetwear is not just for the subculture of boardsports youngsters anymore. There are a lot of fashionable influences in streetwear now," said Marion Maier, Communications at Ragwear.