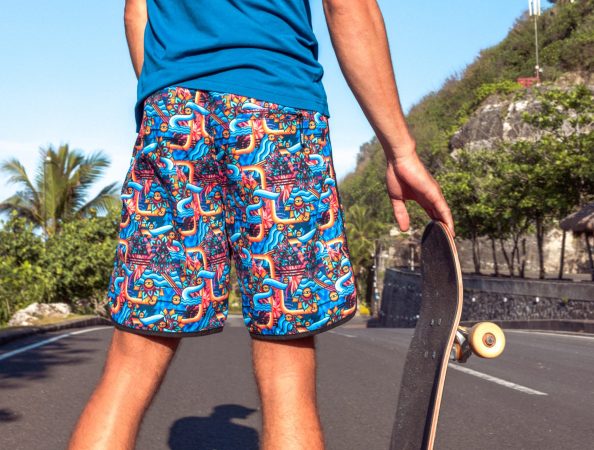 69SLAM 2024 Boardshorts Brand Preview
Retail Buyers Guide: Boardshorts SS24 Retail Buyer's Guide
Brand: Slam69
Interviewee: Alizee Barth, Brand Manager
The pricepoints for boardshorts are spread from €30 to €+100 for the highly technical pieces: what is your positioning as far as pricepoints are concerned?
€55 to €70.
What are the main design trends of SS23 for (surfing) boardshorts?
Prints inspired by nature, such as tropical leaves, palm trees, and ocean motifs, have been popular in boardshort designs for recent years. To make it more striking, these prints often feature high-contrast and neon accents to add a pop of color and create visual impact. Some of our boardshort print designs for SS23 incorporate this type of motifs such as Tropical Parrots, Mayan Head and Rex.
Same question for walkshorts/beachshorts.
Walkshorts with a tailored or slim fit have become popular in recent years. These styles offer a more refined and modern look compared to looser-fitting shorts. While solid colors dominate the walkshort market, there has been an increase in the use of subtle patterns and textures as well. These can include small-scale plaids, microprints, pinstripes, or textured weaves. These details add visual interest while maintaining a relatively understated look. To keep up with this tendency, we come with reversible walkshorts which feature a slightly shorter length, clean lines, and a tapered leg with textured solid color in one side while the other side showcases our typical playloud print. This allows the wearer to switch between two distinct looks with a simple flip of the shorts.
Which stories will be the main focus of your SS23 boardshort/walkshort collections?
Surf culture is closely associated with adventure and exploration. Our SS23 collections draw inspiration from the thrill of travel and the spirit of discovery. Our print designs incorporate elements that evoke a sense of adventure and wanderlust from cultures around the world.
How did you translate these themes in terms of colours/prints?
Our print Mayan Head, Barong, and Island of Paradise inspired from folklore and mythology include symbolic representations, characters, and stories that evoke a sense of mysticism and wonder. In the other hand, Rex, Exotic Sea and Tropical Parrots are influenced by the beauty and power of nature and the ocean.
Fabrics do tell a story as well: what do your material choices convey as a message?
Boardshorts have increasingly incorporated technical features to enhance performance. We include stretch fabrics for improved mobility, quick-drying materials, and water repellency.
Key Products:
Liam 4 Ways Stretch Boardshort: So light you won't even know they are there! Made in 4-way stretch fabric that allows maximum flexibility and movement.
Luke Medium Length Boardshort (SSL) If you prefer mid-length boardies, this one is for you! The 32' length board shorts sit at the knee and feature V-fly opening, back pocket zip.