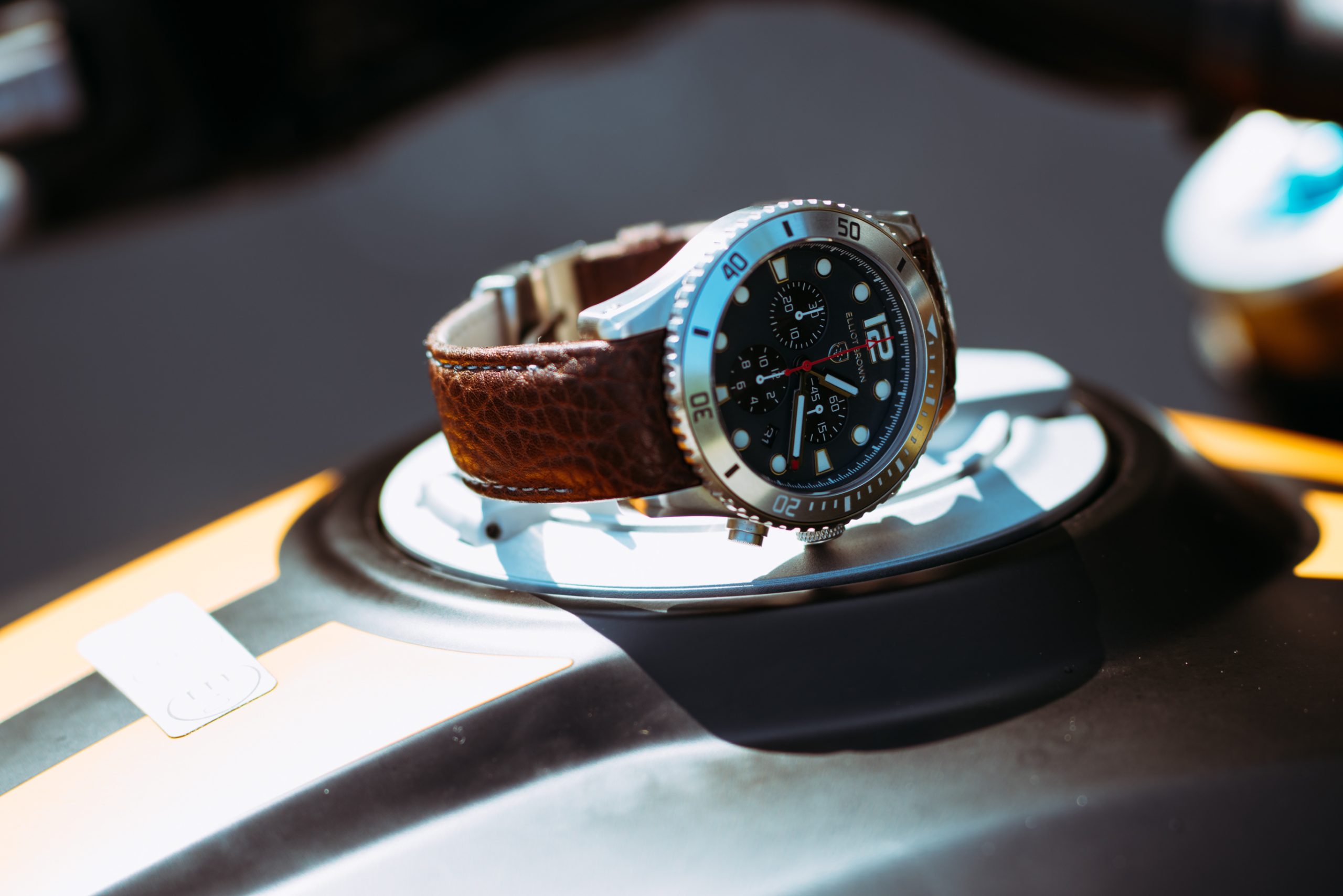 Elliot Brown 2019 Watches Preview
Retail Buyers Guide: Boardsports Watches SS19
Brand: Elliot Brown Watches
Interviewee: Ian Elliot Co-Founder
What are your main price points for next season?
There's a natural bias towards our £350-£400 price points in men and women's collections where we're delivering huge value for money with a uniquely durable feature set in the world of watches.
How are you segmenting your watches collection?
We use evocative local place names for our collections such as Tyneham who's the tallest point overlooks Kimmeridge bay, our local break and who's contours feature as breather lines on the inside of our rubber strap collections. Every collection has a separate design style and colour story so they're easy to recognize and group on retail displays.
What general trends are you noticing?
A shift away from fashion and a definite growth in story-based marketing. The high street watch fashion market has imploded as more consumers (especially millennials) search out brands that are 'a bit of them' and suit their more active lifestyle.
What is your collection theme and which stories are you telling to get customers stoked on boardsports watches?
Surviving extreme adventure is our main theme. Only when a watch has been on a journey and survived against the odds does it become a coveted possession. There's plenty of "white goods" wristwear out there but when you own a watch that's developed its own fingerprint from it's journeys with you, does it become a special part of your story.
What makes this product category important to your brand?
This product category IS our brand. We do one thing and we do it damn well. We call them tool watches.
What are the main features boardsports customers demand from a boardsports watch?
That's debatable! We would argue they want a watch capable of taking a proper beating and functioning reliably no matter what's thrown at it. Add to that some handy timekeeping functions with a dose of quality materials and craftsmanship and you have a long-term possession. We don't do seasonal, fashion wristwear.
Which technical features are you the most proud of?
We've just taken a watch off the bow of a Clipper Round The World race yacht. It kept perfect time for 11 months and 40,000Nm racing the oceans of the world. It's brushed aside solid ocean debris, suffered millions of thermal and pressure shocks, constant saltwater conditions, 110mph winds and 14m swells, held in place by nothing more than it's standard strap bars., It demonstrates perfectly how well our water and shock protection systems operate in the real world. Nothing any human being could endure could even come close to this level of punishment so we're happy that every timepiece we create is more than up to the task of any water bourn wipe-out or mountain adventure. There's no marketing hype at Elliot Brown – just real, honest, fit-for-purpose watches – nothing else.
What are you doing with materials, colours and textures? We're just launching a brand new collection of muted and bright fully fitted rubber straps for the Kimmeridge women's collection which will give literally 1000's of new combinations. We're loving the new greys and greens and this winter sees the launch of our first military watch with more grey, black and olive. It's a consumer version of an "issued" watch we've developed for the special forces and we're understandably excited about it!
BEST SELLERS
Please name and describe your 3highlight pieces and items that retailers should definitely order.
Canford 202-021-L17 £375
Kimmeridge 405-004-L56 £350
Bloxworth 929-015-L16 £525