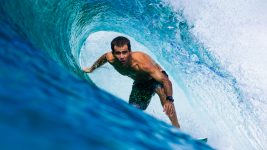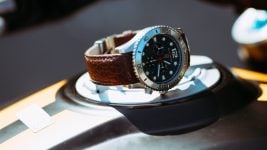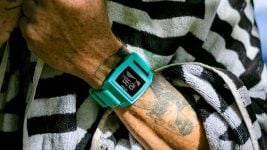 Bolder, smarter and more rugged – watches from endemic brands are stepping up their game next season. Find all the latest timepieces in our 2019 Boardsports Watches Retail Buyer's Guide by Dirk Vogel.
Some boardsports purists will scoff at the idea of walking around with a timepiece for fear of killing their free-floating vibe. It's always Island Time, brah! Others appreciate the unique blend of boardsports style, sports-specific performance and carefully appointed materials delivered in a rugged package that can take the occasional punch without breaking. For all customers in the latter group, next season's boardsports watches collection covers a broad spectrum of styles and price points from entry level to top-shelf.
Summing up the success-proven formula, Angélique Couéraud, Nixon's EMEA Senior Manager of Communication & Advertising, said: "Durability, comfort, functionality and style. Our customers want something that's built to perform and looks good doing it." At premium brand Elliot Brown, Co-Founder Ian Elliot is on the same page: "Customers want a watch capable of taking a proper beating and functioning reliably no matter what's thrown at it.  Add to that some handy time keeping functions with a dose of quality materials and craftsmanship and you have a long-term possession."
Asked about the current market situation, Rip Curl's Watches Product Manager Dylan Andre noted a split into two distinct customer segments: "Those who are wearing watches as fashion accessories, and those who are wearing watches that provide more than just the time. People who want more than a basic 'tell-the-time' watch are mainly active riders. They look for functionality first."  
MARKET & PRICE POINTS
Regardless of what customers are looking for, they will find their watch in boardsports retail as the market is more diverse and active than ever. For proof, how about the return of iconic Swiss label Swatch to the boardsports segment? The brand that counted icons such as Rodney Mullen on their team in the 1980s just made a fresh return at the Vans Open of Surfing in Huntington Beach in July after also showing at a number of surf and snow events in recent years. German athletic mainstays adidas are also back on their watch game: "Watches have always been a very important accessory in the fashion world and the re-launch of adidas watches will strengthen and add to the range of adidas in general," said Max Lindenlaub, Sales Manager at adidas Originals Watches.
Despite global turmoil in the supply chain, price points remain surprisingly steady next season. Boardsports-style watches like Freestyle's iconic SHARK watch or models by Cheapo start as low as €55.00, and even a rugged timekeeper like G-Shock's The Origin model retails for €89.00. Then again, consumers can also drop €499.00 on a tech-laden bezel like G-Shock's GMW-B5000D, or £400.00 on a premium Elliot Brown piece that's meant to last a lifetime.
Every brand in this report knows and plays its position and some even choose their partner retailers accordingly, including Komono: "In our Silver styles, we play with new materials and innovate the concept of 'luxury watch'. These stories – like our new Estate Mirror collection, the Konrad Retrograde and last season's Slate – are recommended for select retailers who we know will understand and promote these concept-forward designs," said Anton Janssens, Managing Director & Co-Founder.
SEASON TREND: Digital displays
Revenge of the nerds! Next season's hottest watch features full digital calculator buttons and an LED display. Okay, skip the calculator, but LED displays are all the rage in 2019. G-Shock has evolved the style from day one and is "re-launching another legendary case called 5700 together with tide graph function with Solar Powered and Radio Control," said Kazuo Shimazu, Division Manager of Watches at CASIO Europe GmbH. Meanwhile, for Dylan at Rip Curl it's not a trend, but part of a legacy: "We introduced to the surfing industry the first digital tide watch in 1992, the first analogue tide watch in 1995, the first digital compass in 2006 and eventually released the world's first GPS surf watch in 2014." Standout digital models for 2019 include the Nixon Regulus, Rip Curl Atom, and Freestyle Shark Clip. Max at adidas Originals is stoked on, "the wonderful simplicity of our digital watches."
5 TRENDS RETAILERS NEED TO 'WATCH' IN 2019
1. Sexy women's styles. Rounded, voluptuous bodies with eye-catching details on delicate watchbands – those are the trending styles in women's watches for 2019. Rip Curl nails the blueprint with the Horizon model in a signature version for Alana Blanchard in all-black with delicate shiny accents (also see 4. Black). CHPO gives ladies the Johanna Thunder model, while Komono has the Harlow Estate in Mirror Rose: "It's not just about telling time anymore, it's about capturing an aesthetic and bringing customers innovative design features," said Anton Janssens.
2. Next-level impact protection looms large over 2019 collections. G-Shock has impact-resistance baked into its brand name, and ups the ante with the DW-5600BB, "shock-resistant with 20Bar with universal design everybody can wear for long time period." On the ultra-tough Regulus model, Nixon have collaborated with U.S. Special Operations. The result is a bold watch (see 3.) featuring shock-absorbing PU jacket, impact-resistant Poron foam between module and case back, stainless steel bezel and adjustable brightness to keep you invisible on stealth missions (it also shoots tranquilizer darts at your enemies). Komono launches their most advanced watch to date with the animal-free Nuno that, in a brilliant design move, features the crown on the left side instead of the right, "so when you push up on your surfboard or beach towel the crown won't go in to your hand."
3. Bold statement pieces. The style pendulum takes a swing towards bulkier and flashier pieces next season. "The slim and minimal trend was huge for the past few years. We're seeing customers that are ready for something new and wanting to stand out in how they accessorise," said Nixon's Angélique, adding: "Whether it's shoes or accessories, we see customers looking for bold statement pieces to build out their look." Nixon covers the style with Regulus, Rip Curl in the Atom, while Komono offers the Winston Regal and Nato models for a strong appearance.
4. Black is back. Beachy floral vibes still have their place (see Hot Trend), but the boss colourway in 2019 collections is black on black on black. Pointing to the DW-5600BB model, Kazuo Shimazu at G-Shock puts it: "Blackout colour, pursuit of the ultimate black." Rip Curl slips into darkness with the Maui Tide, Komono has the Black Mirror, while CHPO blacked out the Harold Mini Rose. Then again, every brand has its niche and Marty Pomphrey at Freestyle can't help but notice: "The watch market that is pretty conservative by nature, but we definitely are not. As an example, last year we made a 'Since '81' platform focused on neon colours from the '80s that tie back to the Freestyle brand heritage."
HOT TREND: Colourful straps
The trend towards black-on-black behemoths finds the yin to its yang in vibrant and colourful straps for much-needed splashes of colour. Rip Curl experiments with patterns and colours in their webbing straps, while Marty Pomphrey at Freestyle points out his brand's leash Velcro closure system and announces the launch of the "Aloha collection which is inspired by classic Hawaiian prints. We call it a slice of paradise on your wrist!" G-Shock catches the vibe in the G-LIDE model of the Breezy Rasta collection, "inspired by US west coast with Rasta/Reggae colours." On the subject of straps, Kazuo Shimazu at G-Shock told us that "most of the plastic watch bands will break or tear in one to two years, but G-Shock's urethane band is much tougher than normal plastic." Johanna at CHPO keeps it natural with Cheapo Vegan leather in all straps, including "stainless steel, olive green, dark grey combined with gold, metal mesh wristbands." Elliot Brown is all about versatility: "We're just launching a brand-new collection of muted and bright fully fitted rubber straps for the Kimmeridge women's collection which will give literally thousands of new combinations." 
5. Big tech, smaller package. Many surf-style watches may never see an actual wave, but brands are supporting core riders with next-level technology in 2019. Nixon "launched the Base Tide Pro earlier this year and we put some pretty amazing features into it. We more than doubled our beach count bringing the total to 550 locations covering the globe." Rip Curl flaunts the Maui Tide 500 – pre-programmed beach locations in a moulded one-piece construction with black strap (see 4.) and gold details. Speaking of tech, Rip Curl updated the SearchGPS in a smaller package with even more tech: it streams swell height and direction, wind speed and direction from SURFLINE and already connects 44,178 surfers in the SearchGPS Community. Modern-day boardsports watches also synch with your phone via Bluetooth for hands-free calls, if you are more of a concrete surfer. Then again, if too much flair and technology on the wrist is harshing your mellow, there's always a Puka Shell bracelet, brah.