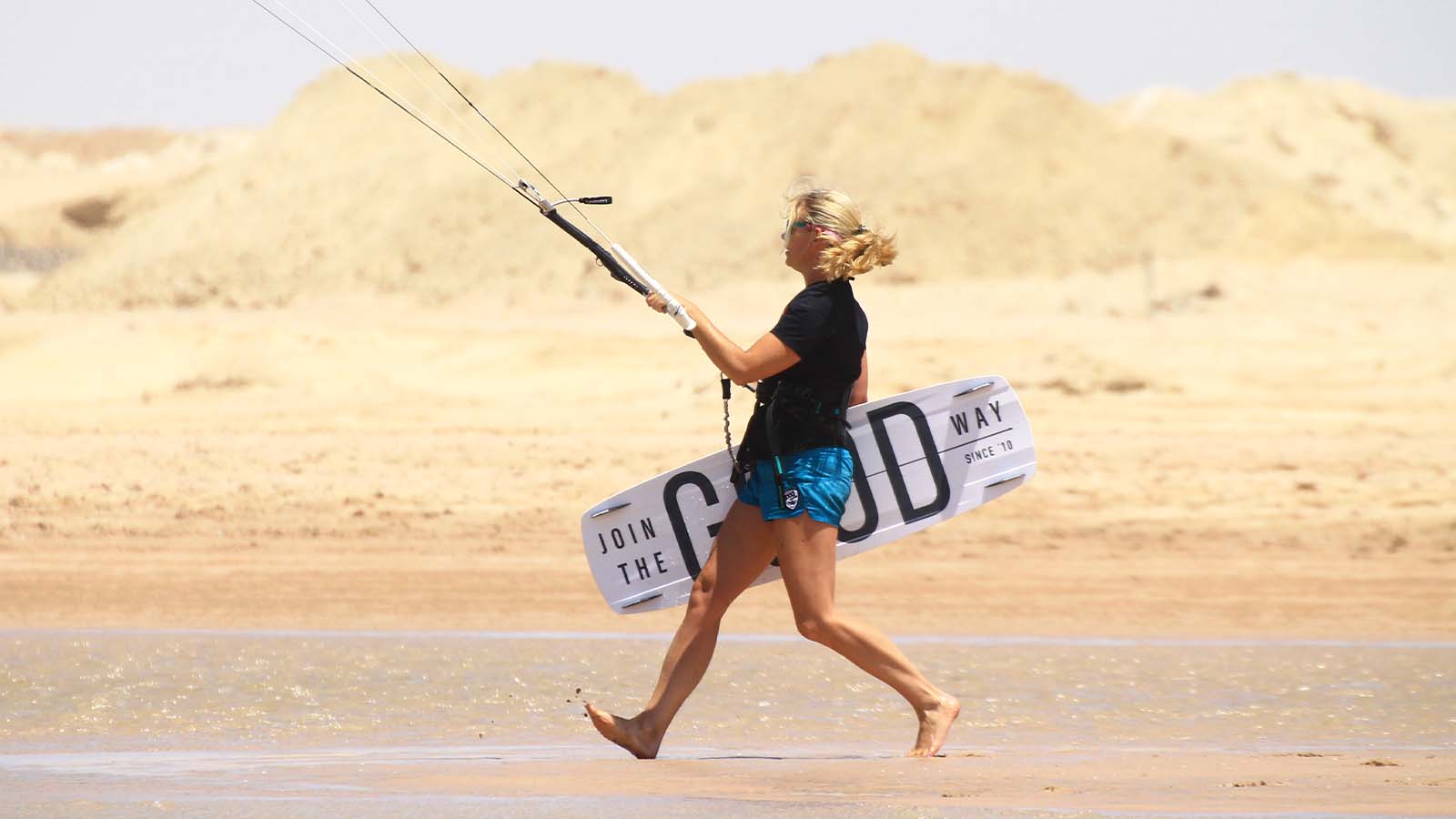 Goodboards S/S 22 Kiteboarding Preview
Retail Buyers Guide: Kiteboarding S/S 22 Retail Buyer's Guide
Brand: Goodboards
Interviewee: NA
What discipline (big air, wave, foil…) has grown the most so far in 2021 and why?
Big Air is more up to date than ever because of the oldschool tricks.Wave is the supreme discipline in kiting and for the spectator a feast for the eyes.Foil is still at the beginning and it goes higher and higher and some virtuosos on the foil dance to the tune of the wind into the sunset.
What do you believe will be the main trends for 2022 in kiteboarding, in terms of riding disciplines?
Kiteboarding is now also Olympic and the disciplines shown there will rise in prominence.
In what discipline do you expect the biggest growth in 2022 and why?
The wing foiling, as it is enormously pushed from all sides. It's something completely new that can appeal to kiters and windsurfers. Whether it really has a future we will see. Personally, I don't think it's pretty to look at, so when I've tried it, I'll be able to say more about it.
Which of your Kites are selling well in 2021 and why?
We are a pure board manufacturer, kite-wake and snowboards is what we master perfectly. We leave Kite to the brands that have the know-how in this segment. Maybe some brands should also better offer only Kites, because they are perfect in it.
Which of your boards are selling well in 2021 and why?
We are sold out in almost all board series or have only a minimal stock. We do not produce on the blue, but coordinate with our dealers and kite schools, so that there is no overproduction and thus an unnecessary discounting.  Small children's kiteboards like the Faphito in size 125/37 do not do so well, as it is also a marginal product. The new ACT (AntyChopTechnology) wavy edge attracts attention everywhere. It is important here that the customer test the boards with the wave edge to experience the difference from a normal outline. After that you do not need much persuasion and the customer buys.
What is new for 2022 in terms of board design, materials and construction?
After 8 years we have a completely new GOOD design on the base of our kite and also the wakeboards. It is more grown up and not so playful anymore and has integrated our slogan "Join the GOOD way". Each series has a different color.
On the Amnesia, Crossbay and Faphito board series, we have new designs. On the Amnesia Pro and Snake, the design continues for one more season. We have shortened our 3 year design change rhythm to 2 years with the agreement of our dealers and schools. Our Leichwind classic the AmmerGate remains of course unchanged.New is the cooperation of GOODboards and BOOOMtag. All kiteboards will be equipped with a NFC chip.
Are there any trends in terms of board design and construction that the entire industry seems to be progressing towards?
Why Gooodboards with booomtags? It happens.. sometimes, you get separated from your gear during a great session or during a quick snack at lunchtime. The integrated NFC booomtags in the 2022 Goodboards allow a finder to reach out and get it back to you. Lost. Scan. Found and returned like a boomerang.
Scan the NFC booomtag with a smartphone to register, and the board with all its specifications is added to your free booomtag-account. Your contact details are available but locked behind our gateway, respecting and protecting your privacy. Because the booomtag is integrated, it is virtually indestructible, and it looks a lot better than handwritten phone number with a waterproof marker (which isn't waterproof anyways). It will prevent your board from getting stolen or used by a not-so-honest finder because the registration can not be transferred to another account without your consent.
Anyone with a recent model smartphone can scan this NFC booomtag to notify you when your board is found or contact any of your emergency (SOS) contacts when something has happened to you. The possibility to contact you will help prevent unnecessary searches by Seach and Rescue companies after finding your kiteboard. This allows them to focus on what they do best: saving people's lives.
Booomtag is a Lost. Scan. Found, anti-theft and safety feature. Although it creates a strong bond between you, your product, and your favorite brand, booomtag is not in the spamming business. You are in total control of the level of communication with your favorite brands.
Any stand out new graphics or artwork collaborations?
GOODboards works with 5 different freelance graphic designers who are all passionate about boardsports. We are honored to have such a competent team behind us. I think this is also the reason why we have already won 6 Best Board Design Awards.
Do you have Pro Models?
The Amnesia Pro has a Pro in its name because anyone can kite like a pro with this board.
Have you implemented any new sustainable practices in your production and shipping processes?
Our entire brand is built on sustainability. High-performance, durable products with short delivery routes and material suppliers close to production. We put quality before quantity. Regional products for local businesses.
How are you helping retailers sell your product and which method of help seems to be the most effective?
Whether summer or winter, if the situation allows it, we are with our test stand around 180 days at the end customer and recommend our partners, whether it is stores, schools or wakeboard cable operators.  For us, end-customer tests are the most honest form of marketing. Expensive films with trips and top drivers cost a lot of money, which the customer pays for in the end via the product price.
Key Products
We fully rely on the ATC AntyChopTechnology for our kiteboards. The two series Snake (Freeride) and Amnesia Pro (Freestyle) are already established, now we have with the Humpback a pure wakestyler in the program, which feels just as comfortable at the wakeboard facility as under the kite.We also hope to finally present our new directional kiteboard in a durable sandwich construction next season.