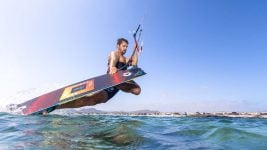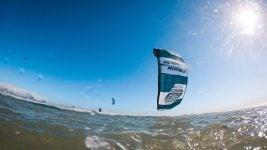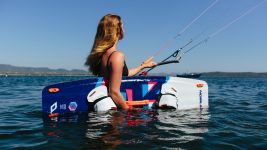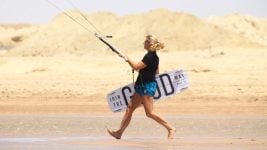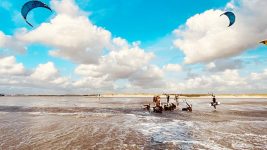 Kiteboarding S/S 22 Retail Buyer's Guide
Kiteboarding remains popular. Foiling offers the possibility of riding in all conditions. Lighter kite and board designs have followed that lead. Anyone that wants to get out will find the right equipment to do it. By Rocio Enriquez. 
Travelling is still challenging. Isolation rules and costly fit to fly tests break spirits and pockets. People want to use their home spots as much as possible, and that means being able to adjust to varying conditions. Foiling has offered the answers and has become the biggest trend, whether with a wing or a kite. Riders adjust not only to different conditions but also to different disciplines. This climate favours the introduction of newcomers into wind water sports. And newcomers are expected, especially after kite foiling's debut in the Paris 2024 Olympics. 
Many brands report an increased demand in Big Air specific equipment, such as Eleveight's XS kite. "We can see a growth in popularity for all the cool old school tricks", says Robert Bratz. Gaastra is extending their range with a new Big Air kite, MAX. 
The multi-discipline mentality that reigns in the sport will also push the growth of wave riding. "More experienced users will be switching to something new, either foiling in light wind or enjoying strapless directional board riding", foresees Jan Korycki from Nobile. Chloe Scamps from F-One shares: "We are expecting constant growth in all disciplines as people spend more time in the water at home". 
Kites
The main trend in kite design is lighter kites that work in lower speed winds. "There's growth in light wind kiteboarding and foiling. The Juice D/LAB is loved by our customers, on foils and twin tips", says Philipp Becker from Duotone. Their super light D/Lab and SLS series sold very well, despite the price increase. New materials like Aluula are making this possible. Ocean Rodeo was an early adopter of this innovative material. Their A-Series, which claim to be the lightest kites in the market, have sold very well. Most brands' bestsellers are this type of versatile, lighter kites. Such is the case of Cabrinha's Switchblade and Moto kites, Eleveight's RS, F-One's Bandit or Gaastra's The One, which can also be used with a foil set up. Nobile's one strut, also called The One, allows you to have fun under 10 knots. Combined with a foil set up, it extends the riding conditions to almost no wind. Slingshot's most demanded kite was the UFO. Its incredible drift and lightweight handling has turned it into a foilers' favourite. Gin's bestseller was the Spirit, an easy to handle all-terrain, very stable in any wind conditions. 
Summer 2022 brings some innovations. Nobile is improving their V-ride, a freeride kite with great hang time and quick response. They are also introducing a freestyle kite called The Game Changer. Gaastra builds up on the great feedback from their 2021 range. They focus on small improvements through reinforcements and optimised production processes. Their only launch will be the new Max kite for big airs. It has an increased aspect ratio and 5-strut design, providing huge boosts and control. Slingshot has dedicated the past two years to testing new leading edges and auditing their whole construction process. "The result is lighter kites. Our RPX has shed 13% off its weight, and the SST, 15%", says Alex Fox from Slingshot. Naish also focuses on improvements to their Pivot and Triad Kites. F-One offers the 15th version of the Bandit. Drawing inspiration from their wing designs, they have come up with new double vertical panels along the trailing edge for excellent control. Eleveight is currently testing a new material for the inflatable structure. They are also working on reducing the overall weight but keeping the durability and performance intact. All these changes will be implemented through a specific tech line launching in 2022. Duotone keeps progressing their SLS and D/Lab series products to offer ever lighter kites. RRD is introducing 4 new kites next year. The strapless Religion, the all-rounder Passion, the Vision for freeriding and light wind kiting, and, finally, the Emotion, targeted at schools and foil fans. They are also working on an Aluula fabric kite which will be 50% lighter and 50% stiffer, we are keeping our eyes peeled for that. We will see loads of Aluula across Ocean Rodeo's range, too. This will include a new Big Air Kite called the Rise and an expanded line of HL-Series kites and wings. "The lighter, stiffer ALUULA composites also influence the performance and handling of the big wind kites too", explains John Zimmerman. Gin introduces the Marabou, the first ever hybrid kite for land, snow and water, ideal for travel. It offers good stability and reliability while riding, even in the face of wind gusts. Cabrinha announces some innovations, although we'll have to wait until January to see what they are all about. 
Boards
Weight reduction is the trend here too. After that, sustainability is becoming an important factor. Versatility is rewarded. Gaastra's bestseller is the Watts, with great all-round characteristics. It is flanked by the Blend, which offers ease of use and light wind performance, and the Pact, a high-performance TT for freestylers. Slingshot is having great results with their Formula V1, one of the lightest twin tips in the scene. Eleveight reports steady figures for their freeride boards. For Cabrinha, the Spectrum, targeted at intermediate riders, is the one driving more sales. More experienced riders prefer the Ace, available in wood construction, a stiffer and more responsive board. Goodboards finds it challenging to keep shelves stocked. The new ACT wavy edge, their Anti Chop Technology, has attracted a lot of attention. The incorporation of NFC boomtags to their boards has also worked well. It allows you to locate your board in case it gets stolen, or you get separated from it during a session. Nobile expects good business with the split boards. As travel reopens, kiters get ready to visit their favourite remote locations again.
Summer 2022 will bring a few innovations and a lot of tweaking to existing proven models. Gaastra and Slingshot carry over their twin tips designs from 2021, as the feedback was excellent. Nobile aims to reduce the board range. One solution has been the new NT5 model, a fusion of previous models NBL and T5. It combines the advantages they both offered, keeping the same material quality standards. Naish is improving the Motion twin tip and the GoTo and Skater surfboards. A lot of R&D has gone into the foil range. "By far the most cohesive, modular collection yet, offering a wide range of foils designed and suited for all types of conditions", says Scott Trudon. Duotone brings the surfboard into their D/Lab. The new version features Reflex Memory Foam, enhancing dampening for a super smooth ride. F-One aims uses a denser foam core in their surfboards and keeps innovating their SlimTech technology. This way they increase performance and reduce waste. After eight years, Goodboards has come up with a completely new design for the base of their Amnesia, Crossbay and Faphito boards. Also new is the cooperation between Boomtag and Goodboards, by which all boards will be equipped with an NFC chip. All you have to do is scan it with your smartphone. When you register, your board and all its specs will be added to your free Boomtag account, along with your contact details. As it is integrated in the board is virtually indestructible, and it looks better than a handwritten phone number with waterproof marker. Anyone with a smartphone can scan the Boomtag to notify you when your board is found or contact your emergency numbers in case something happens to you. Gin releases the Tiki, a board that allows you to ride in light or strong winds and offers easy upwind performance. The new Revo handle by Eleveight has had a great impact. The idea spawned from the concept that we all had trim options for our kites and for our bars, allowing us to choose the right set up according to conditions. Now we can also have options for our twin tips. The Revo is a turning mechanism on the grab handle that allows you to flatten the rocker line to suit different conditions. 
Looks
There are no rules when it comes to aesthetics, with every brand doing their own thing. Eleveight sticks to technical and clean designs. Nobile will develop a 4-season theme through their graphics. Gin relies on their own artistic designer, Amandine Desjeux, to give their products a unique look. Goodboards works with five different graphic designers who have already won the brand six Best Board Design awards. Next year, they are colour coding the different board series and integrating their slogan "Join the Good Way" in their new designs. Gaastra likes to make sure that all their products, whether wings, kites or twin tips, are immediately recognisable. They have their in-house graphics team closely working with the board shapers and kite designers, to make sure that each graphic looks great on different products. 
Sustainability
The quest for finding more environmentally friendly materials for kite and board productions is at the forefront of all product development teams. However, it is in manufacturing and shipping processes that we find more room for sustainability. Cabrinha reduces the plastic packaging as much as possible. All their surfboards are shipped with FlexiHex packaging, that can be reused for travelling. They are also using biobased Dyneema for the flying lines. It offers the same performance as conventional Dyneeme but has a 90% lower carbon footprint. Duotone minimises packaging and uses recyclable or recycled materials where possible. Eleveight is also reducing the use of unnecessary plastic as much as they can. They work with leading raw materials suppliers to endure longevity of their products. They also source from within Europe as much as possible, to decrease their carbon footprint in transport. Longevity is also the main focus of Gaastra and Goodboards. Gaastra also makes a point of using as much of the raw materials as possible to reduce waste. Apart from that, they collaborate with a number of sustainability initiatives. Nobile has introduced the eco resin and they are working on eco packaging for their products. Duotone uses sustainably sourced wood for their twin tips. These are manufactured in a 100% solar powered facility. 
Retailer Support
Test events and demo days are still regarded as the most efficient way to market kiteboarding products. Eleveight, Goodboards, Duotone and Nobile keep prioritising them. Product training also scores high amongst marketing efforts. Chloe Scamps says: "We strongly believe that purchasing kite gear should be done through real passionate people and offer the true experience with the right advice customers deserve". 
The past twenty months, with all the logistics problems affecting global business, have been challenging, though. Good customer service has become crucial. This involves open and honest communication combined with a willingness to find individual solutions. Cabrinha is investing a lot of efforts in their internal structure to support a top-quality customer support. For Gaastra, this is a top priority. A container stuck in ocean traffic is not something the brand can solve. However, updating the retailer and working together to find a solution makes a difference. "It could be replacing the product with an alternative, re-arranging shipments or simply keeping them updated about the status, but only communication can lead to the solution", says Konstantin Weier.