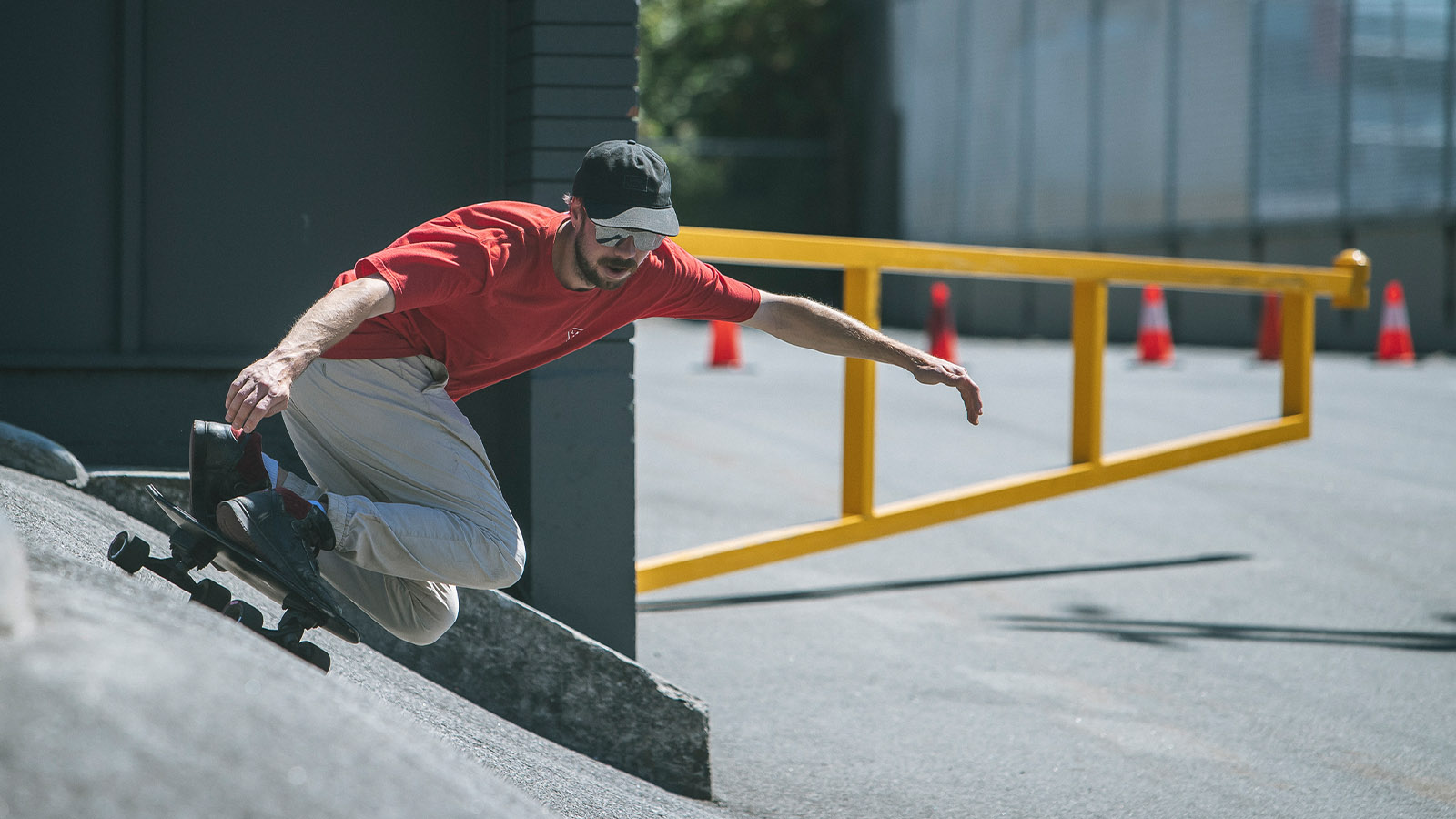 Landyachtz 2022 Surfskate Preview
Retail Buyers Guide: Surfskate 2022 Retail Buyer's Guide
Brand: Landyachtz
Interviewee: Nate Schumacher, Marketing Manager
How has the surf skate trend been evolving over the last 12 months?
We're new to the category and have seen solid growth over the last 12 months. We've seen Surf Skating explode in popularity in South East Asia, where mainstream social influencers have lead a movement that has popularized Surf Skating. In North America, we are getting positive sell through feedback from shops and they are stoked to see a Surf Skate option from Landyachtz. They are selling alongside our cruiser boards in shops and we're really happy with the reception they've received.
What are the main products in demand in the segment right now (completes etc)?
Our Surf Skates come as a complete package and were designed as a complete system. 
What are the "stars" right now. Products you couldn't live without?
There are three shapes in our Surf Skate line; The Pocket Knife, Butter and Surf Life. Each shape comes in a couple graphic options and our top seller is the "Butter Black Lines". This is an all black stained, stubby nose shape with black on black components. We definitely see high sell through on surf skates with simpler graphics. The shape and ride quality are what sells this category. 
What are the main features on your surf skate completes?
We have positioned our Surf Skates as Surf Cruisers, boards that handle and carve like a Surf Skate but are stable and skateable, so you don't need a ton of experience on a surf board to get the hang of our surf skates. A huge part of this ride feeling comes from the trucks we specifically designed for the Surf Skate line. We've done something unique with our truck setup, designing an entirely new front truck, the Bear Banger, and pairing it with our 155 Polar Bear TKP truck in the rear. The Bear Bangerz are a high angled RKP truck with wild geometry and an extra tall bushing which provides and unbelievable amount of turn. They have deep lean but are stable when you're pushing or cruising around. Once you get into those deep carves, the trucks come alive and provide a skate-able surf feel! We've dialed in a unique riser setup to ensure there is no chance of wheelbite. 
Other notable features:
Our Decks have two wheelbase options. A long wheelbase that is more stable and carves wider. This setup is great if you're commuting or cruseing around and still want a surf like feel.  The shorter wheelbase provides a snappy, tight turning, hard leaning ride that simulates a surf feel. If you want to pump hard and carve in circles, the short wheelbase option is your go to setup. 
Soft Top Grip:
We developed a special "soft top" grip tape years ago and it was a popular option on come of our cruiser boards. Soft top grip is regular grip tape with a thin layer of special adhesive foam between the grip and the deck. It provides vibration dampening and allows your feet to "sink into" the grip a bit, which provides additional support and traction. It's the perfect grip for our Surf Skate line! When you're leaning hard into a carve your feet are glued to the surface and you can confidently carve. The added vibration dampening makes these boards an absolute joy to skate! 
What kinds of trucks and wheels do you offer for this segment?
Trucks: Bear Banger up front, Polar Bear 155 in the rear. Wheels: 65mm Hawgs Wheels. These Trucks and Wheels are only available on the complete skateboards at the moment. 
Which technical features are you the proudest of?
We're most proud of two things, our Bear Banger Trucks and our Soft top grip.
What are you doing with materials and tech next season?
That's a bit of a secret! Are we are relatively new to the surf category, we have a few new innovations in the works but will also continue to offer similar setups as this season. 
What are your main price points for next season?
USA Retail: $199.99 complete
Euro Retail: $224.99 complete
BEST SELLERS 
Butter Black Lines:
The larger of our two Surfskate shapes, the Butter will give you a little bit of extra real estate at the front for a slightly more stable turn and powerful pumps. Perfect for slashing down alleyways, pumping around on banks, or just cruising, this board gives you the confidence you need to explore your environment. The Butter is a 31.2" Surfskate shape that comes in at 9.0" wide with a slight taper towards the nose and tail. 7-ply maple construction keeps the ride nice and responsive while mellow concave and a kicktail will keep your feet locked in for whatever obstacle you want to hit next.
Pocket Knife Black:
The Pocket Knife is a super nimble Surf Skate capable of mind-bending lines and nearly instantaneous changes of direction. Smaller than the Butter, the Pocket Knife gives you access to the tightest lines and smallest gaps. The Pocket Knife is a 29.6″ long Surfskate shape that's 9.1″ wide and features aggressive taper towards both the nose and tail and classic surfboard styling. 7-ply maple construction keeps the ride nice and responsive while mellow concave and a kicktail will keep your feet locked in for whatever obstacle you want to hit next. 
Surf Life Flippy:
A new addition to our Surf Skate line, the Surf Life borrows the same shape from our Ditch Life series for a retro 80s inspired look. Featuring the same truck and wheel set-up as our other Surf Skates but with a slightly bigger kicktail, this board is made to carve up anything. Featuring the same super popular shape as our Ditch Life series, the Surf Life boards have a wide nose with a healthy taper and deep kicktail. 7-ply maple construction keeps the ride nice and responsive while mellow concave and a deep kicktail will keep your feet locked in for whatever obstacle you want to hit next.
Bear Bangerz:
The Bear Bangerz Surfskate truck features a high angle RKP front truck with a unique geometry and extra tall bushings for an unbelievable amount of turn, paired with a Polar Bear 155 to give you a stable, leany back end you can really dig into with confidence