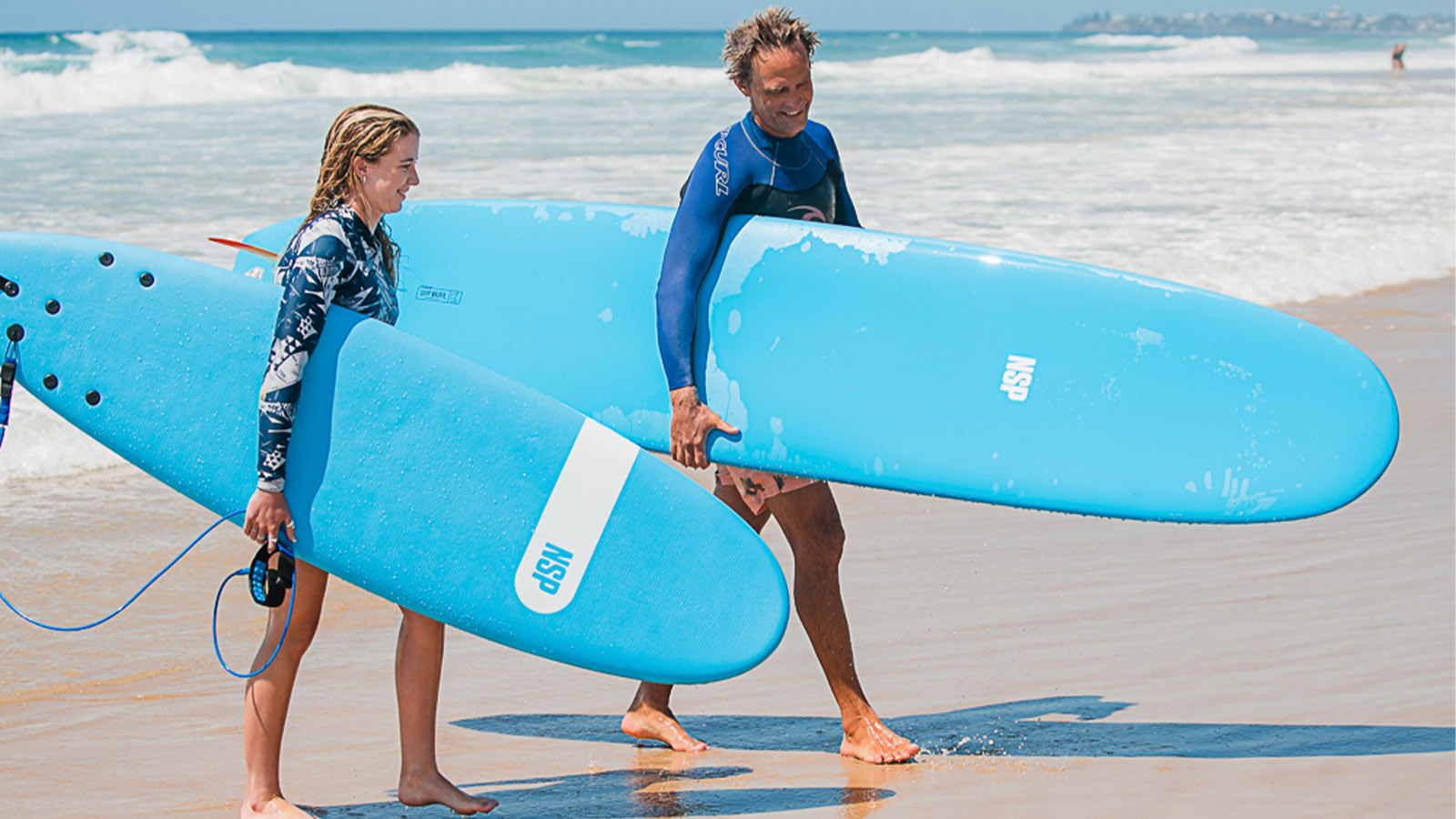 NSP 2021 Softboards Preview
Retail Buyers Guide: Softboards 2021 Retail Buyer's Guide
Brand: NSP
Interviewee: Sander Blauw, International Sales Manager
2021 saw a massive influx of newbies in surfing due to COVID "free time". Did they favor softboards over hardboards?
Hard boards remain our main staple, however we have seen a strong increase in demand for school boards. This is split into two groups… the small lower priced operators that often go for foamies vs the established schools that often go for our soft top/soft bottomed durable glassed boards.
We introduce our foamies last year and they are doing good sales – being sold by the schools for students to continue to progress from their lessons before investing to buy their first hardboard.
No name brands can be found anywhere, whereas boardsports retailers are pushing the core softboards brands. What piece of advice do you suggest so they can persuade customers to buy the "real thing"?
With many core brands also offering branded foamies it's about getting people onto the water with a board as fast and as easily as possible. With huge demand for hardboards the foamies are filling a gap at the lower end and most people know what to expect based on the price they are paying.
The branded boards start to stand out on the credibility and after sales service and the reputable stores selling them.
Which designs are trending in 2021? Nano shortboards, mini-mals and funboards, high-perf replicas…
With so many shaper brands in the foamie category it's a pretty congested space to be in. For us the longs and minimals remain the most dominant and most sought after shapes globally. 
Do you have a specific offer for schools/rentals?
Yes, we have our traditional glassed soft boards with soft top and bottom and our ever popular and durable rubber bumpers on the nose and tail. This category remains significant for us and the larger schools as boards that generally stay in a fleet for several years. Easily returning exponentially more than the cost of the board with much less time out of the water for repairs. To further support the "work-horse" positioning of these boards we've taken out the old fin boxes and gone with bolt- through fins to ensure easy servicing. So if it's the peak of summer and a fin breaks, it can be easily and readily replaced… rather than waiting weeks for a replacement fin
We have also started to offer lighter foamie boards and introduce guides on the boards to help teachers / surf schools. These have become a quick favourite with schools and are priced lower than our more traditional heavy duty soft boards boards. They also come with a single click fins system that allows schools to quickly remove fins when doing lessons on the sand, as well as easier to stack on rack or on truck / van. Fittingly called The Teacher's Pet
And with students hungry to buy their first boards to keep up with what they are learning between lessons, we have introduced our Sundowners as a great price point first soft board. All designed to help students progress and quickly move to wards their first hard board.
Anything new to mention in the construction area?
The single fins for the Teacher's Pets. As a school board for beginners the single fin is all that people really need as they learn the basics and come to "feeling" the ride of the board. At first some schools are asking why no thruster set up, but once they start using them they quickly find the single fins are working great. Plus, the click fin system makes it fast and easy doing lessons on the beach as well as for storage and transportation
Key Products:
P2 Soft Surf
Teacher's Pet
Sundowner