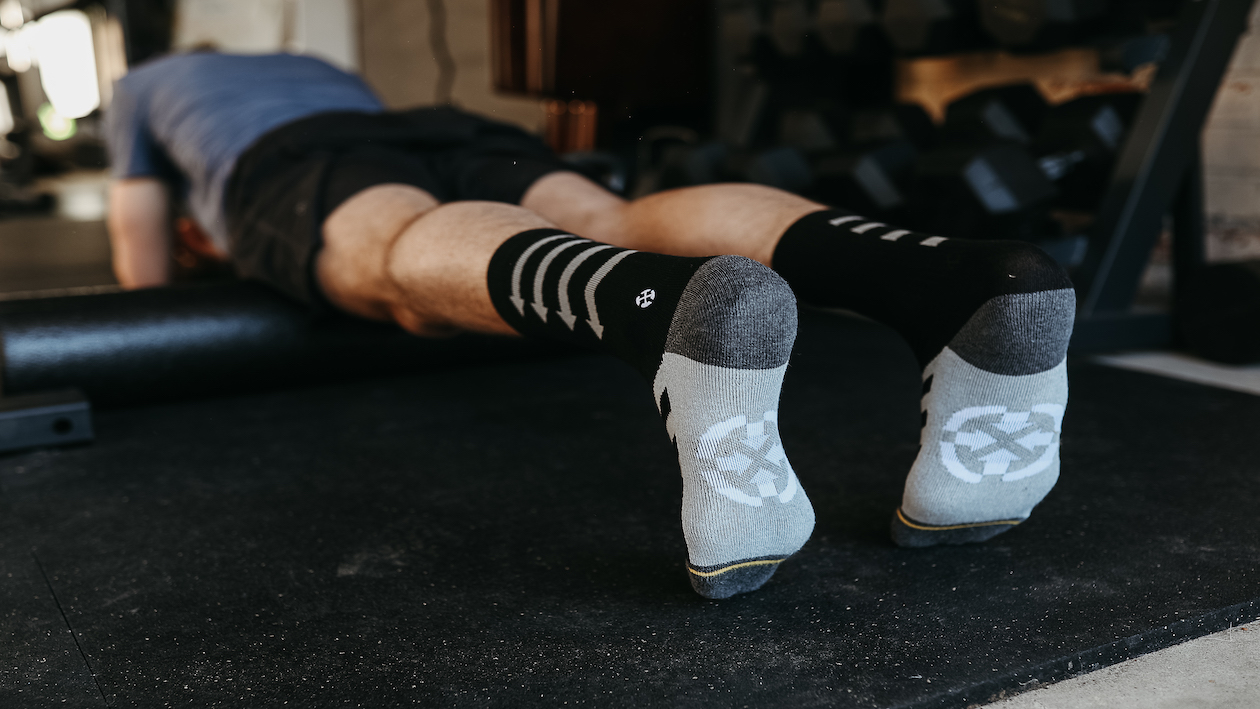 Merge 2022 Socks Preview
Retail Buyers Guide: Socks 2022 Retail Buyer's Guide
Brand: Merge
Interviewee: NA
What is your collection theme and which stories are you telling to get customers stoked on socks with a boardsports flavor?
Our collection theme is action sports legends and the great outdoors. The spring season offers ample opportunities to get outdoors – whether it be on the trails, the open road or on the slopes – our socks are designed to support our customers' athletic pursuits in style. We also feature timeless designs made in collaboration with legendary professional skateboarders like Tony Alva, Steve Caballero and Eric Dressen.
What general trends are you noticing?
We're noticing a big shift in consumer preference towards sustainability. Being a certified B Corp, sustainability has always been a priority for MERGE4 since day one, but with the introduction of new materials to our line like organic cotton, plant-based dyes, recycled polyester and REPREVE, which transforms single use plastic bottles into fiber that can be used in apparel, our customers have responded extremely positively and we'll continue to produce more sustainable socks.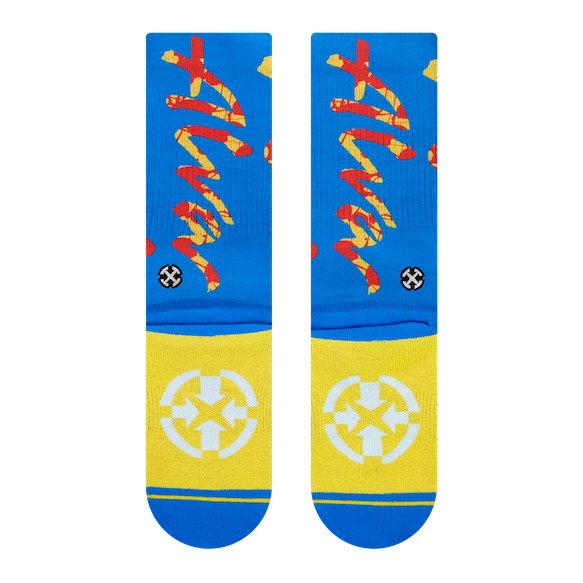 How are you segmenting your boardsports sock collection?
Sublimation socks featuring Skateboarder Hall of Famers
High performance athletic socks
Sustainable socksHow are you helping retailers sell your socks and educate customers (POS displays, etc.)?
Display racks, catalogues, newsletters
What are your main price points for next season?
$14-$22 USD
Which technical features are you the most proud of? Anything new to talk about here?
Compression – all MERGE4 sublimated crew socks designed with gradient pressure technology, meaning gradual compression starts at the ankle and goes up the leg. This ensures maximum comfort and effectiveness, boosting circulation and increasing healthy blood flow. At a light, non-medical level of 15-20 mmHg compression our socks are designed for everyday wear and situations, from lounging to working out or hopping on a flight to flying down a mountain bike trail.
Elastic arch support – all MERGE4 socks are knitted with ribbing on the soles and they really hug to your arches, offering all-day support.
Strategic plush cushioning – the toe beds and heels are cushioned with slightly thicker padding on the socks, while the arches are left thinner and breathable. This gives you cushioning where it counts without the sock feeling too heavy or bulky.
Moisture-wicking properties – all MERGE4 socks are made with moisture-wicking technology that literally 'wicks' moisture away from the skin and keeps your feet dry and cool all day long – especially important for sports and athletics.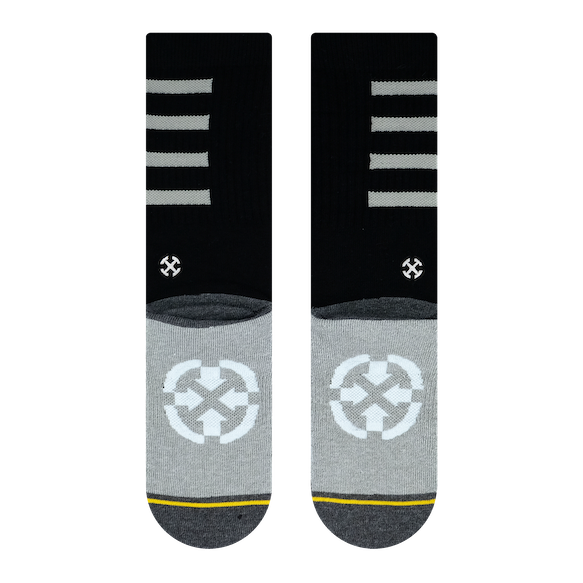 What are you doing with materials, colours and textures?
COOLMAX® – COOLMAX® Core Technology uses a temperature-regulating fiber structure to keep you cool and dry on hot days and provide warmth on chillier days – allowing you to play harder, for longer.
Organic Cotton – Organic farming methods use less water and are less reliant on harmful chemicals. MERGE4 combines organic cotton and recycled polyester in our line of socks making us one step closer to our goal of using only recycled or plant-based materials by 2023.
REPREVE® –  REPREVE® is the leading, most trusted, branded performance fiber made from recycled materials. The process transforms recycled bottles into an amazing fiber, embedding properties like wicking, adaptive warming and cooling, water repellency, and more at the fiber level for reliable, durable quality.
Plant Dyes – Using liquid dyes made from organic crops, we are able to significantly reduce waste water, emissions and energy use in our line of plant-based dye socks. No heavy metals, no petrochemicals – just beautiful, natural, earthy colors.
Hemp – Our Hemp/TENCEL blend socks are derived from eco-friendly hemp yarn and TENCEL fiber sourced from natural raw material wood. Fast growing hemp required less processing, water and land to produce and softens with every wash, and TENCEL is certifiably compostable and biodegradable. These eco-friendly fibers are blended with combed cotton to create a technically advanced yarn for ultimate stretch and comfortable fit.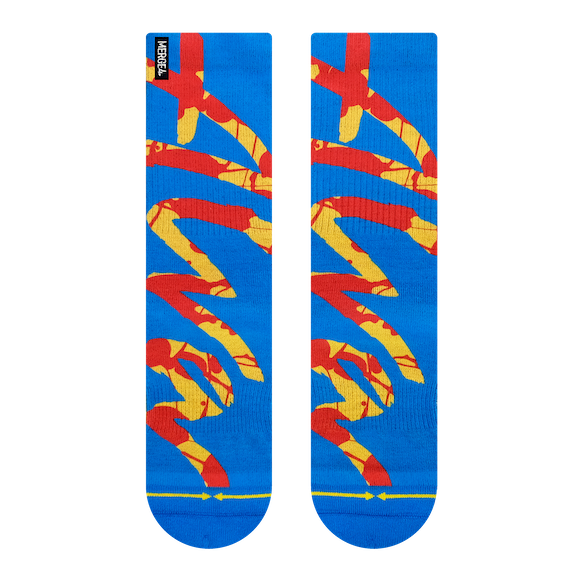 Best Sellers
Action Socks
Performance where it counts. Designed with a comfortable ankle cut, our Action socks are the premiere athletic sock for running, training and playing during the spring months. Constructed with elastic arch support, strategic cushioning and heel tabs for added comfort, MERGE4 Action ankle socks support you all day long, whether you're tearing it up on the trails or killin' it on the court.
Training Socks
Athletic socks you can put to the test. These training socks are perfect for CrossFit, weightlifting and intensive workouts. Constructed with COOLMAX® CORE technology – a moisture-wicking and temperature-regulating fiber structure designed to keep you cool and dry while you do what you do best.
Tony Alva Socks
Tony Alva is an innovator, trendsetter, and is regarded to be one of the greatest stylists to ever set foot on a skateboard. Alva is credited with being the creator of modern vertical skating and is one of the most stylish skateboarders to pull a Frontside Air. MERGE4's collaborations reflect the bold stylistic statements that fans have come to expect from the Alva brand including bright colors and eye-catching prints.