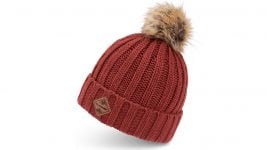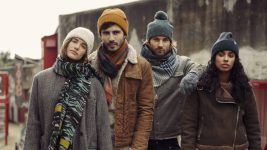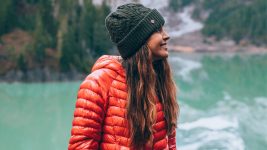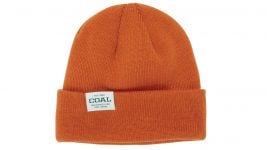 Worn for après, under your helmet or in the streets, the humble beanie has been transformed in recent times – from a mere afterthought to an in-demand accessory for snow enthusiasts and city dwellers alike. By Ruth Cutts.
Shape & Design
The traditional medium fit beanie with rolled cuff continues, rather unsurprisingly, to be the most popular shape, but what alternative silhouettes are also making headway in the beanie market?
BBCo, Barts and Earebel all identified that fisherman-style rustic beanies remain king for male buyers, feeding into wider workwear apparel trends. Earebel's Street Beanie is fisherman-style with a cuff and is slightly longer cut, meanwhile their Dock Beanie is cut shorter – perfect for smaller adult heads and kids.
Barts' urban line is suitable for in-between weather conditions and is perfect to wear both on the slopes and in the city. Their Janiya model can be worn as a longer slouchy beanie, it can be folded once for a classic cuff, or it can be folded again for the fisherman's look.
The slouchy fit beanie, however, is far stronger within the female market, often thinner in construction compared to their traditional cuffed cousins, these beanies can usually be worn under helmets and work well aesthetically with longer hair (hence their popularity in the women's market).
In FW20/21 BBCo is reaching into another segment and releasing its first range of kids' headwear. As Owner Annie Richmond explains, "it's important that the kids range also reflects our brand values of sustainability and quality… …parents are educating their children on the importance of protecting our environment, so to dress this new generation in fast fashion and unsustainable product doesn't seem the right direction."
Colours & Design
Many brands are going to back to nature to influence their colour palettes. For Coal Headwear, new colours this season range from rich, earthy colours like nutmeg, golden mustards and deep greens, to a vibrant mint and grey lilac. Barts are looking at burgundy, bottle green, red, cherry, and purple, and for Dakine it's all about dark rose, red earth, spice and crabapple, alongside workwear-inspired colours such as dark olive, caramel and stone.
Almost as the antithesis, however, to these muted shades is the inclusion of statement tones and bold graphics within collections as a point of difference. Barts have identified that contrasting colours could a huge trend for FW20/21 using combinations such light blue with red, mint with yellow and orchid with camilia, whilst also including bright fuchsia pink as a statement tone. When it comes to standout graphics there'll be sportive stripes, coloured checks and abstract animal prints in their collection, including tiger, zebra and even Dalmatian prints!
Coal are introducing exclusive new custom camo patterns and a saturated Shibori pattern, and Dakine are cleverly using a knit interpretation of the Quest prints found in their neckwear, gloves, socks and lifestyle pack ranges.
For beanie/headphone hybrid brand Earebel, "Black is the new Black!" Their innovative 'Sound by JBL' headphones are also black, so they match best with their black beanies and headbands.
Materials & Manufacturing
"I think the headwear trends still carry over from last season which is the demand for more sustainability and transparency when it comes to manufacturing and materials," states BBCo Owner Annie Richmond. A statement echoed across many brands in the market, as they choose to branch out into more sustainable processes and materials. BBCo, Coal and Dakine have introduced Polylana into their collections which is made from a mixture of virgin and recycled materials to create a low-impact alternative to 100% acrylic fibre with less energy, water, waste, CO2 and microfiber release. There has been a rise in the want for vegan products, so brands need to balance using non-animal fibre materials whilst minimising the pollutive plastic alternatives. "Every season the pursuit is how to build better headwear, from sourcing new fabrics that increase the comfort and performance of the style, to new materials that reduce environmental impact," explains Coal Design Director Jennifer Nelson.
For those that continue to use wool, they're looking to localised sources to offset their carbon footprint. Swiss brand hä? are testing and producing special yarns such as alpaca, cashmere, merino, recycled cotton from jeans and, new for FW20/21, they're using wool from the local Black Nose Sheep of Valais, Switzerland. BBCo are also using ethical yarns such as non-mulesed Merino and British wools working closely with more British manufacturers to reduce their carbon emissions during freight.