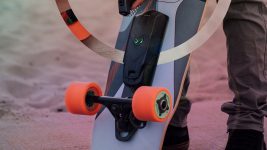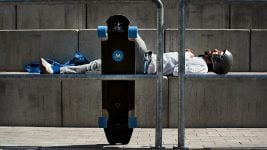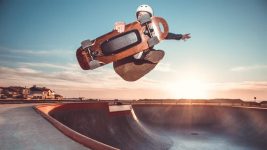 IS E-MOBILITY DISRUPTING ACTION SPORTS?
E-bikes, e-skateboards, and artificial wave gardens: Is E-Mobility the wave of the future in action sports? Analysis by Dirk Vogel.
The future waits for nobody. But sometimes the future arrives in ways that disrupt, or downright destroy, the existing order. Consider the rampant rise of e-scooter mobility platforms in major cities across the globe. Despite the fact that pretty much every municipality wants them off the their streets! In Europe, five major e-scooter companies have emerged and raised over $150 million in capital since 2018. By 2030, the global electric scooters market is expected to reach $41.98 billion (Grand View Research) and personal e-mobility is hailed as the next urban mega trend.
As the first urban sport to feel the force of disruption, mountain biking has already undergone significant transformation. The European Cyclists Federation (ECF) forecasts at least 150 million e-bikes to be sold in Europe over the next eleven years. In 2018, customers in Germany bought over 980,000 e-bikes, and the number of e-bikes surpassed mechanical bikes for the first time in the Netherlands. This trend has had a major impact on core retail: "Electric mountain bikes have transformed the fortunes of independent bike shops, and the bike side of our business has bounced back hard after slowing down because of consumer-direct brands," said Martin Green, owner of Zero G shop in Chamonix, adding: "Now we're thriving winter and summer!"
Despite the current e-bike boom, Martin said: "Careful, the exponential growth of the category has slowed so it's not a license to print money anymore. Also, importantly, e-bikes share a ton of components with regular bikes, so it's critical to have a competent workshop out the back and be able to provide the level of service e-bike customers require." From a cultural angle, e-bikes are mostly legitimized at this point, said Martin: "Saying electric is an unfair advantage over bikes is like saying snowmobiles are an unfair advantage over splitboards. We are talking about very distinct categories here."
Going deeper into the issue, he pointed out that, "in the adoption of electric mountain bikes, France and Europe are ahead of anglophone countries. In the UK the category distinction between the two hasn't been created yet, so there's still this notion that e-biking is 'cheating', 'unfair', or 'only for old people' or some of that nonsense."
Nevertheless, it's already arrived on Zero G's doorstep in the French Alps: "Looking out of the window as the sun sets over the Chamonix peaks, I can see ten people riding bikes, all electric, from gnarly enduro dudes covered in mud to middle-aged, well-dressed couples riding out for dinner. This thing is here to stay!"
SURFING: WAVE OF THE FUTURE
Surfing is another sport on the cusp of e-disruption. Inventions like e-SUPs from Onean or Red Dot Design Award-winning electric surfboards by Awake foreshadow the shape of things to come. But with price points still at €18,000 per board (Awake), hardware is not going to be the catalyst. Artificial wave parks will be the game changers for surfing.
The world's first dedicated surf park, Adventure Parc Snowdonia, opened in Wales in 2015. It features technology by Spanish firm Wavegarden, currently being implemented in more than 20 projects on five continents across the globe. Other major players literally creating electric waves include American Wave Machines and the Kelly Slater Wave Company, which was purchased by the World Surf League in a major power moves two years ago.
The dominoes are now in place for a chain reaction across the globe. The WSL held its first Championship Tour event in a wave pool – at Kelly Slater's Surf Ranch – last year and brought the competition back in 2019 under the new moniker Freshwater Pro. Wave pools sure aren't cheap to build at $20 million apiece, but the wave is coming: More than 30 surf parks and pools will go up over the coming months. As the disruption continues, surfing will not only become a stadium spectacle but a year-round sport even in landlocked areas. Entirely new audience segments will have access to the physical act of surfing, not just the lifestyle. Skill levels will go up, kook levels will go down (hopefully).
E-SKATEBOARDS: NEXT IN LINE?
With that said, is surfing's illicit stepchild, skateboarding, next in line for electric disruption? So far, the response in core retail has been much like Martin at Zero G in Chamonix reported: "We've tried electric skateboards, longboards, and conversion kits every few years for the last ten years or so now. The margins have been horrible, and everything seems to break. Until a reliable electric skate product comes out with sensible retail margins we'll be staying out of the category."
In 2019, E-skateboards are definitely making a splash on social media these days and hardware has evolved over the past three years: Premium brands such as Loaded, Mellow, Elwing, Boosted, and Evolve offer quality completes featuring maple or composite decks, legit trucks and wheels, powerful battery packs, and Bluetooth remote controls with different drive modes for top speeds up to 45 kph. But quality comes at a price (see below) and electric cruisers by Elwing start at €500, while serious e-powered longboards retail for no less than €1,299 right now.
Sure, customers can throw down €400 on Amazon for an e-skate by me-too brands with suspicious skate hardware and even more suspicious electric drive technology. But who are they kidding? A lot of these brands are tech companies first, skate companies second. So they offer questionable quality when it comes to actual skateboard components like trucks, wheels, and decks (so many plastic decks! Why? Why? Why?). Plus, most of the battery and drive hardware lacks certification according to international standards, like the ABE in Germany (see Legislation).
LEGITIMATE SKATEBOARDS FIRST, E-DRIVES SECOND
Most of all, budget e-skateboards from non-endemic companies also translate into budget riding experiences. "There are a number of price point products on the market already, however, poor quality leads to poor experiences and may impact long term adoption," said Pablo Castro at Loaded Boards, who just joined forces with electric drive experts Unlimited.
As a result, customers receive a legitimate skateboard from a seasoned hardware company, which also happens to pack a highly advanced combination of electric drive, batteries, and software under the hood. In summer 2019, the Unlimited x Loaded collab spawned three completes pairing state-of-the-art motors and lithium-ion battery packs with premium Loaded bamboo composite decks, fat Orangatang Wheels and soft Bushings, plus V3 180mm Paris Trucks: The ultra-light Omakase Solo Complete, the freeride-oriented Basalt Tesseract Cruiser Complete, and the best-selling Icarus Cruiser fitted as an e-skate complete.
Riders control the Unlimited x Loaded boards via a Bluetooth remote offering four distinct riding modes ranging from easy-going to racing-style performance. Users can also fine-tune their settings via the mobile phone app for speed, acceleration and braking. For extra kicks, a hidden extra boost and cruise control mode are revealed in the package manual.
Mellow Boards currently offer two complete board options: The longboard-style Mellow Board Surfer Complete and the stubbier Mellow Board Cruiser Complete. Both feature the Mellow Drive Kit and exchangable urethane wheels. The team is especially proud of the remote controller: "Our remote is custom made for electric skateboarding and has slide control for throttle and brake, switch between four riding modes, LED-displaying state of charge, vibrating alert before discharge. It's rubber coated for better grip, and has a safety wrist strap, and encrypted Bluetooth connection."
Elwing's core offering consists of the Halokee longboard (€529) and the 32.5 inch Nimbus complete board (€499) both featuring 7-ply Canadian maple wood and up to 32kph top speed with regenerative braking. "At Elwing Boards we design singular electric skateboards. We search the best balance between power and weight, but we pay a special attention on the riding feel. Creating singular and beautiful products along with a great customer service is our DNA. Everyone in the Elwing team shares the same dream, make commuting the best part of the day."
E-SKATES AS AN UPGRADE
Making e-skateboarding an upgrade instead of an entirely new equipment purchase, Loaded Boards also sells three drivetrain kits (Solo, Race and Cruiser) from €829 upwards to transform any board into an e-skate. The driving force is a custom-designed, ultra power-dense motor with loads of torque and a premium Orangatang urethane liner. It fits almost any truck with no modification thanks to Loaded's patented mounting system.
"One of the unique features of this system is the ability to apply it to any skateboard. So if you have a favourite board you'd like to use that's an option, or go all in and treat yourself to one of the finely curated setups using Loaded, Paris, and Orangatang components," said Pablo at Loaded. "Our kits and completes are amongst the lightest e-skates ever built.  That said, their super powerful torque and proprietary motors and battery designs allow for speeds up to 43.5kph, ranges up to 21km and the ability to ride uphill grades up to 20 degrees!  That said, we don't think that tech specs are what should be driving the purchase of an eboard, rather the riding experience."
Mellow also offers several motor kits, including the Drive S starting at €999 with top speeds up to 40 kph to rev it uphill on 15 percent inclines.
E-SKATE: BARRIERS & OPPORTUNITIES
Despite innovative leaps, the category still faces potential roadblocks, including:
Legislation. Although several countries have recently adopted legislation for Personal Light Electric Vehicles such as e-scooters – now requiring licence plates in Germany – so-called 'self-balancing vehicles' like e-skates are not traffic-legal in the European Union. The Type Approval Regulation (EU) No 168/2013 for two- or three-wheel vehicles and quadricycles has been in force since January 2016, but a slew of accidents with e-scooters has caused regulations to tighten. Countries like Spain have intensified e-scooter regulations and they're mostly banned from sidewalks everywhere. Still, there's no definite word on e-skateboards yet.
Speaking on the situation, Pablo at Loaded said: "Hopefully regulators will be enlightened enough to see the value of electric boards as a method of combating congestion and traffic." The team at Elwing is on the same page: "Electric skateboards have now a real place on the electric mobility market, which places it at the heart of the legislation discussions which make much talk all around Europe. This topic is very important for customers, so it will be essential to adapt to the limits and rules that will be set in each country."
Riding skills. Are mainstream consumers ready to go 40 kph without a handlebar? "From a strictly practical viewpoint, riding an e-scooter is faster to learn. Getting on an e-skateboard without a skate background is not recommendable. It's going to hurt a whole lot," said Jörg Ludewig at Urban Supplies distribution.
The transition for experienced skateboarders is rather seamless but responding to oncoming traffic and obstacles by toggling speed on a remote may take some serious reconditioning. Plus, you're still riding what is basically a juiced-up cruiser or longboard on skateboard wheels, so pebbles, pinecones or cracks in the pavement can and will take down inattentive riders. With that said, blatant newbies may find electric scooters the more beginner-friendly vehicle, and compliant with legislation.
Price. The majority of quality e-boards from core brands still command four-digit price points, but e-boards are still at the bleeding edge of innovation. "The high costs are justified by the ability to use them as efficient and compact transportation devices," said Pablo at Loaded, adding: "Our European price points start at €829 for the Solo kit with one battery, one motor and go up to €1,709 for a full bespoke complete setup using the full Race Kit for two batteries, two motors), Loaded decks, Paris trucks and Orangatang wheels and bushings. Our offering is fully modular and allows riders to purchase a base kit and upgrade to their needs and style."
It's also worth keeping in mind that the category has seen rapid technological evolution over the past few years. The amount of IP and underlying technology in areas such as wireless controls and drivetrains is nothing short of impressive, and much of it will trickle down to mid-price ranges over time. Remember how the Apple iPod started at $399 in 2001 – for a clunky machine with an actual hard drive – and only cost $49 for a device hardly larger than a coin (iPod Shuffle) seven years later. Says Pablo at Loaded Boards: "As with all electronics we are seeing the costs steadily decreasing and the performance improving."
OUTLOOK
Despite these challenges, the aforementioned use of e-skateboards for commuting holds tremendous potential for the category's future growth and relevance. "We are addressing not only an insiders' community but all individuals who are interested in electric mobility and wish to change the way they commute. We have gone from a niche clientele to a much larger audience," said the team at Elwing, adding: "Electric skateboarding is no longer perceived as mere 'entertainment' but as a means of transportation in itself. It is therefore essential for brands to continue pushing the development of products to meet the growing expectations of potential users."
At Mellow Boards, Sanna also sees e-skateboards as an answer to traffic overload: "Europe's main cities attempt to green up their inner cities by banning cars for example." The company is committed to offering quality products as the category continues to evolve and diversify. "Ever since Mellow has started in 2017, the market has grown so much. From exciting DIY projects to Asia brands and high technology like Boosted or ourselves, it has become a wide field where every skater or non-skater finds his ride."
Loaded Boards has also been supporting retailers with demo boards to give them a taste of the riding sensation. Which usually leads to conversion, said Pablo Castro: "The transition from kook to cool just takes a minute or two of riding.  The response we've had focuses on the unique fact that our kits can work with almost any deck and truck and therefore feels like an electrified skateboard more than a skateboard-shaped electric vehicle."
The team at Elwing already sees core retailers changing their tune on e-skateboards: "Last year, most retailers were straight up rejecting the products without even trying them out. Today, with the increasing demand from their customers, we feel that they are more inclined to listen to what we have to offer. I think that core skaters are starting to understand that electric skateboards don't pretend to replace traditional skateboards but to offer a different and innovative proposal."
With that said, e-skateboarding presents not radical disruption, but just another way to get around. "For seasoned skateboarders, e-skateboards are a wicked fun way to get from point A to B," said Jörg Ludewig. And who knows, perhaps the category will go viral and e-skates will become the new Penny cruisers. We will be watching closely.