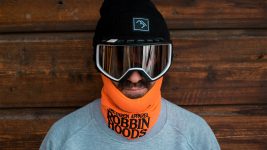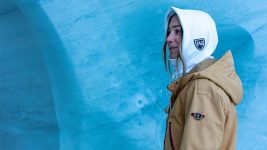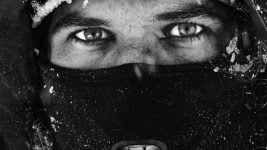 When it comes to snow accessories, the face continues to be the last area that many riders think to cover. Gloves are a staple item in many snowboarders' arsenal, and most would never choose to ride without gloves, so it's baffling why so many continue to expose their face to the elements. Brands want to keep customers having a good time on the mountain and part of that is keeping warm on the colder days… as well as looking good in the mirror. Facemasks are just as much a fashion item as they are a technical piece of gear, with many design influences coming from the fashion and streetwear spheres. By Ruth Cutts.
Shapes
For many brands, the hooded category continues to be the focal point going into FW 20/21, especially with the capacity to wear them over the helmet. Airhole's hooded facemasks have a built-in balaclava to provide much-needed warmth, Brethren's infamous Thug Rug is still their most popular model, working well with a helmet, and Phunkshun's Helmetclava, with its DWR exterior and fleecy lining, repels moisture whilst retaining warmth.
Tubes are continuing to see significant growth in the market too, with Phunkshun bringing an adult model (the Double Tube) and kid's models (Youth Double and Thermal Tube) to their collection. As CEO Jason Badgley explains, "kids spend as much if not more time on the hill than adults and deserve the same level of performance and quality."
For PAG Neckwear it's all about adaptability. The retractable hood in their Adapt collection gives the wearer the opportunity to amend the accessory to suit the conditions. Wear it as a tube during warmer days, then pull the hood up when the clouds come in with minimal effort required.
Airhole and Brethren are expanding their collections to include technical hats. The Airhole Technical Hat uses outer ripstop fabric with a 10,000mm membrane, and lets the rider refine the fit with elastic at the back. They're offering 5 panel, bucket hat, and trapper hat shapes with a built-in neck protectors and facemasks to keep the elements at bay. The Brethren Patrol Cap has been inspired by Swiss military caps and features a flexible peak, quilted liner, fully waterproof outer with an anti-gap panel to give you a full seal from goggles to cap.
Colours & Design
PAG – founded by pro rider Victor Daviet – are using blue, grey, beige and dark green colours within their collection. They use mainly block colours for the neckwear with the hoods featuring a different colour and, in some cases, varying fabric as a point of difference.
Airhole have expanded their colour palettes, offering more earthy tones and interesting shades of staple colours. The result is a refined collection of visually striking graphics that are distinctly on brand. For FW20/21 they've introduced snow camo, a pattern from mid-1960s German military, consisting of needle-like patches of dark green with blurred edges on a white base.
Manufacturing & Materials
CEO of PAG, Paul Obermosser explains how the brand's core value "has always been to bring accessories to the same standard of quality and technicity as the rest of the entire outfit. In our mind, accessories are too often dispossessed of technical nature and the brand objective is to address this issue by creating high-quality accessories textile for the global market." For PAG, this means the creation of a new technical material in partnership with 37.5 Technology which dries "five times faster" than any other product in the market.
Airhole are using laser welding, membrane bonding, DWR treatments, and direct injection techniques alongside 10,000mm waterproof fabric to provide the ultimate protection against the elements. This protection extends to the warmer days too, with their use of a lightweight perforated polyester called Drylite, which offers UPF 50 protection. They've also introduced a new fabric called Milk Fleece in multiple styles for FW20/21 which is luxurious, warm, and soft with a comfortable stretch finish. It's hydrophobic in nature, so minimises moisture absorption, keeping you warm and dry.
Brethren are introducing a Storm Hood that's made from a softshell fabric that condenses the material down to one waterproof layer with an 8k/8k rating. "We're excited to offer our customers a more technical fabric that people have been asking for, still within our affordable price range," explains Director Chris Kyte.
Phunkshun are expanding their use of Polartec® and Hardface® in their FW20/21 catalogue. "There's a strong demand for durable gear, above and beyond general use applications," states Jason Badgley, and these fabrics provide exceptional durability and impressive water repellence. The brand is also working exclusively with Repreve® recycled fibres for all the polyester content in their products.