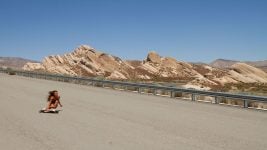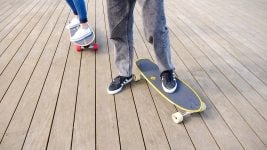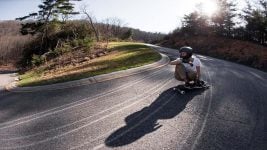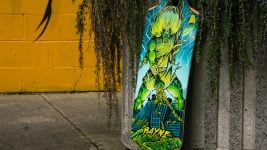 Longboards S/S 2022 Retail Buyer's Guide
With lockdowns finally lifting and people able to be outside through the summer months, longboarding has seen a solid increase in popularity. How are brands dealing with the continued growth of the activity and what's new on offer in the coming months? We take a closer look with the Source Longboard Retail Buyer's Guide 2022 with Skateboard Editor, Dave Morgan
Throughout the pandemic, we saw a huge increase in participation for all kinds of skateboarding, due to the fact it could be done alone, anywhere and most of the time for free. Louis Pilloni – Global Marketing Manager at Arbor Longboards explained: "Indoor and group activities are being limited by the pandemic and we are continuing to see a rising interest in outside activities, hobbies, sports, and lifestyles in all areas. Skateboarding caters to all these interests with longboard skateboarding drawing a lot of new potential customers to the market as it is accessible in most areas while naturally social distancing yourself whilst participating."
David Price, International Sales Manager at Landyachtz touched on how skateboarding has helped people steer through the pandemic: "Skateboarding is so accessible and the mental health benefits are huge…all you need is a board and some pavement. We really want to share the message that skating is a great way to step out, explore your neighbourhood and unplug from reality for a brief moment."  It is most definitely a brilliant aid to your mental health and it's great to see companies aware of, and promoting this.
Surf Skates and Olympics
A strange combination, however both of these things look to influence the longboard market in the long run. Skateboarding's inclusion in the Olympics has definitely sparked more interest in the activity, and the many branches of skateboarding will be feeling the effects for some time. Benoit Brecq, Brand & Marketing Manager at Flying Wheels said in response to the current surfskate boom: "As with Skateboarding at the Olympics, the surfskate boom can only be positive for longboarding. It allows people to discover the world of skateboarding. People discover skateboarding or surfskate but some of them try other practices like longboarding which also gains followers. The global market is therefore on the rise." It's a good thing that hardware components are relatively interchangeable as Shane Maloney, Brand Manager at Madrid mentioned: "The benefit we've seen from the surfskate boom is increased sales of high-quality aftermarket components like wheels and bushings."
Téa Nordhoff, Controller at DB & Rayne Longboards , said: "We are definitely hoping that longboarding gets a boost from the Olympics, keeping the pandemic boom for the industry going into late 2022." Nate Shute – Product Manager at Arbor Longboards agreed, saying: "The surfskate boom is a very positive attribute to the popularity in longboarding, among skateboarders and surfers alike. The capability to cross-train on a surfskate when the waves are flat, along with the growing interest in surfing as a whole have aligned perfectly, and we're excited to launch our Shaper series with innovative surfboard shapers, paired with our Carver Truck partnership." It seems most longboard companies also manufacture surfskates now, or at least collaborate with surfskate brands such as Carver to bring out a finished item. Loaded Longboards has recently released a Carver collab board 'The Bolsa' that looks to be a big hit in the coming year! "I think many people now have quiver of different boards" said Mike Jucker, Co Founder of Jucker Hawaii, as he sees the surfskate craze only influencing certain styles of longboarding, and not a general influence. EG Fratantaro Brand / Marketing Director at Sector 9 hoped that "Maybe they will bring Downhill in as event and that would be amazing. Everyone loves a good race."
Supply Chain Issues and rising prices
Ivan Garcia Arozamena, product manager at Miller Division broke down their issues: "Covid continues to impact the supply chain in much the same way as it did last year. It has not improved, in addition, because there is a great demand, raw materials are scarce and prices rise, this added to the fact that space in transport is also scarce, and the price rises again from the raw materials factory to the manufacturing factories and then to the brand." It seems however that there is a light at the end of the tunnel as far as supply chain issues are concerned. As with every element of skateboarding, the pandemic effected supply and material costs greatly, but it seems brands are now finding ways to navigate these issues for 2022. Shane Maloney, Brand Manager at Madrid skateboards said: "We haven't changed our marketing too much during the pandemic as our brand's value proposition remains the same, which is a commitment to producing the highest-quality skateboards in our Huntington Beach, California factory and our history as an innovator in the industry. There has had to be an adaption to marketing plans for every brand out there wanting to remain in view. Brands are shifting the majority of their marketing to social channels and advertising online, especially as most business completed in the past year has been through the web. David Price, international Sales Manager at Landyachtz said: "Getting products to market in Europe continues to be a struggle and the 2-300% increase in shipping costs has made things very difficult. We have been forced to raise prices because of this. I think many other brands are in a very similar position, regardless of industry." In comparison to the US, Europe it seems is struggling more as Téa Nordhoff – Controller at DB & Rayne Longboards explained: "Europe still seems to be facing more restrictions and challenges than the US with lockdowns, which has affected a lot of smaller retailers as well as the large distros. We are hoping that, as restrictions hopefully lessen, there will be even more demand there going into 2022. " 
Themes for 2022
Dusters California will be launching a collaboration with Felix The Cat this fall, with 2 Longboards  and 2 cruisers in the range. Arbor will be releasing an artist collection featuring Boss Dog. Boss Dog is a creative team of husband and wife that use Boss Dog as an outlet to communicate positive messages about mental health, staying socially aware, and remaining true to one's values which couldn't be more important during these current times. Kris O'Brien, Founder/Director at OBfive  said: "We have great following of Girls buying our boards due to the fact that our designs are always on trend. Our new Daisy Collection will definitely be a stand out." So themes seem continuous, with more experimentation in graphics than hardware tech. 
Shapes
With longboard shapes, it seems to be the case of 'if it ain't broke, don't fix it', so brands are mostly sticking to their guns with previous shapes. Shane Maloney of Madrid skateboards explained: "Symmetrical drop-thru boards are still the most popular shapes, such as the Madrid 'Abstract Trance 40' Drop-Thru." Téa Nordhoff – Controller at DB & Rayne Longboards said their "Commuting completes (tkp trucks, shorter lengths, larger wheels) are still in demand – Those are anywhere from 33" to 36." Kris O'Brien Founder/Director at OBfive mentioned that "If anything, I would think that cruisers are becoming more popular as riding a small agile super responsive cruiser is a lot closer to the movement of a surfskate than a longboard is." Mike Jucker – Co Founder of Jucker Hawaii agreed, noting that cruisers and mini cruisers seem to be a big trend. "For Sector 9 it's always been everything. From long to mini we see a good sell through on our entire line and we like that" EG Fratantaro Brand / Marketing Director.
Sustainability
Thankfully brands are now making an effort towards sustainably producing their boards. Ivan from Miller Division said, "we have been very aware of the environment and all our wood comes from sustainable forests and with the FSC seal." Loaded Longboards/ Oragatang Wheels touched on their approach: "We've transitioned almost all of our composite boards to Entropy bio-resin and continue to work on sustainability. It's a work in progress but we've been committed to environmentally friendly and non-toxic production for all of our 20 years in business." – Pablo Castro. It's reassuring to know that these brands are consciously improving the way boards are manufactured and shipped. Mindless Longboards also added an interesting tactic, as Andy King explained: "We are working hard to remove polybags from all our completes, replacing with cornstarch. Some of our range has already swapped and we aim to have the entire range packaged in plastic free by 2022." Desiree Moore, Dwindle Distribution Marketing Director said Dusters Longboards was aiming for similar goal: "Our REGROWTH mission goal in 2022 is to find a solution to reduce plastic packaging and get rid of shrink wrap. We are also proud to announce we will be using Super Sap Resin® in 2022, a bio based eco-friendly resin more sustainable to the environment."