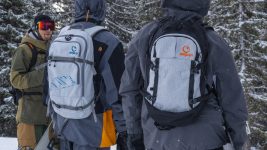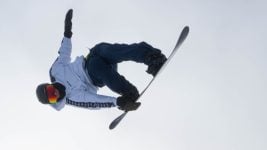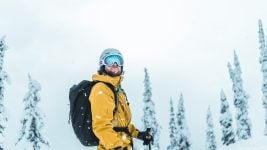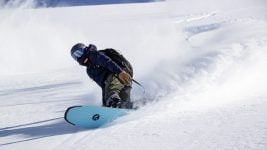 Snow Protection 2022/23 Retail Buyer's Guide
As the trend for off-piste riding rises, so does the demand for protective equipment. Body protection is still not as accepted as helmets, though. Brands hold the key. By delivering easy to wear pieces they will promote acceptance and secure the demand. By Rocio Enriquez.
The increased interest in backcountry explorations has put the spotlight on protective equipment. People are more risk aware. Demand for protection is growing, although not at the same pace for all categories. Helmets are experiencing a surge in demand, whereas body protection still faces some reticence. Most riders still find them restrictive, heavy and hot. Consumers are demanding thin, light, flexible and well-ventilated armour pieces. Combined with well-fitting, technical fabrics they will feel like a second skin. Free from restrictions of movements and heat build-up, riders will be eager to wear them. When choosing materials, sustainability will be rewarded. 
New for FW23
Products launched last season did not enjoy the deserved exposure, and their market performance remains unseen. Brands keep researching and innovating, mostly in materials and environmental impact. Flaxta, Forcefield, Koroyd and Amplifi talk about new products in development. These new launches will be postponed. FW22 offered some serious progress and brands will focus on promoting them for FW23. 
Flaxta's main focus is their Behold back protector. "It is the most ventilated, flexible and low profile back protector in the market", claims Ola Melin. Evoc keeps pushing their LiteShield Plus back protector, offered in backpacks and vests. "It offers the highest possible degree of spinal protection with excellent impact protection. It is extremely lightweight and, thanks to its segmented design, it allows for maximum flexibility in all directions and high air circulation", explains Alexandra Hlawitschka. Their offering is completed with functional shirts and crash pants with certified protection and perfect fit. Amplifi introduced the MKX protection pad. Only 10mm thick, it has great shock absorption, is very flexible and creates no heat build-up. The brand has managed to implement a Zero Waste production process when injecting MKX parts in their products. Every offcut of material is carefully collected and upcycled into new products. Amplifi has also stepped up the game in backpacks with the super light Snowlite Airflow Backsystem.
Fabrics are becoming quite technical. Forcefield will push its GTech fabric. "It is a high-performance base layer manufactured using recycled ocean plastics", explains Patrick Lambert. Amplifi introduced the natural fibre Miharo in their base layers. Miharo offers odour managing properties with the added value that it is a fast-growing, renewable source. Blended with polyester it results in a fabric that absorbs odour, is anti-bacterial and works actively on moisture regulation, helping you stay dry. 
Retailer Support
Retailer support in this category has been defined by two main factors. On one hand, last winter's sell-out was heavily impacted by travel restrictions and resorts closures. On the other hand, there are unprecedented challenges in production and logistics worldwide. Stock management is the key. Retailers need brands to help them fill up the gaps in stock. They also need them to secure sufficient inventory to serve in-season re-orders, if this winter's sales pick up. Brands have listened. "We've had to adapt and remain flexible", says Patrick Lambert. Flaxta is looking for alternative shipping and logistic solutions to keep their options open in the future. A lot of retailer support energy is poured into offering new solutions to these new problems. Even so, product and brand communication is not forgotten. POS displays are an important part. Triple 8 has a gondola display that can hold the protection pads along with their helmets, offering a cohesive look. Forcefield and Koroyd also offer POS boards to showcase their technology. Evoc offers modular, individually customisable display systems. Flaxta and Amplifi take an individual approach, working closely with retailers to build POS materials that suit their needs. Education is crucial when communicating about body protection, both in-store and through digital channels. "The safety category is the one that requires more explanation and information", says Alexandra Hlawistchka. It is important to train retailers properly so they can communicate to customers in an efficient way. Koroyd has set up an online training portal and organises workshops for this purpose. Evoc uses videos to explain the technology and for manuals. Progress in the technology of these products is what will make them be accepted and adopted by customers. As Ola Melin says: "The safest protector is the one you use".  
Highlights:
Pads lighter, more flexible and better ventilated.
Fabrics aim for fit, thermal regulation and odour control
Efforts in sustainability
New launches postponed
Retailer support focus on education