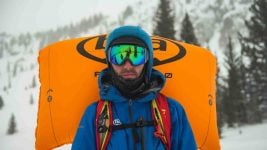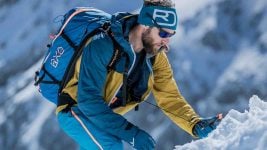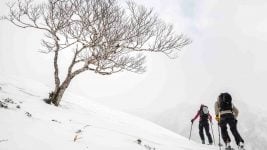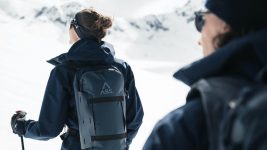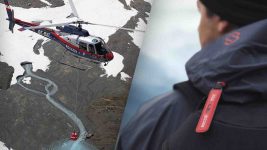 Snow Safety 21/22 Retail Buyer's Guide
The pandemic is sending snow lovers into the backcountry, away from slopes and infectious crowds. A lot of novices are entering avalanche terrain, where safety equipment is needed. Brands are making sure this equipment is as reliable as it is easy to use. By Rocio Enriquez.
The boom in backcountry riding is bringing along an increased interest in snow safety. New users want to feel 100% protected in their off-piste adventures. "Protection and avalanche safety are becoming more important", says Jan Sallawitz of Evoc. The most reliable equipment is of no help if the rider cannot use it properly. "Rookies should be able to easily use the equipment in the right way", says Lea Winkelbach of ABS. "Education is more crucial now than before", says Manuel Duermoser of Recco. 
Avalanche technology
Airbag equipped backpacks must match safety with user-friendliness. BCA's Float airbag system has a small air compressed cylinder that fits into the same compartment of the airbag, freeing up space and reducing weight. A display lets you check the pressure of your cartridge at any given moment. Black Diamond's JetForce Pro is lighter, smaller and more rechargeable, allowing users to train with their own pack. The airbag automatically deflates after three minutes to create an air pocket and has self-automated diagnosis. Other packs in the JetForce series use the Alpride 2.0 canister system, which boasts complete inflation of a 150-litre bag in less than 5 seconds, and the Alpride E1, which is electrically powered.
ABS' unique system can deploy two independent airbags. The twin bags guarantee a stable position, preventing serious crash injuries. ABS' A.Light pack features RescUnit to perfectly integrate the shovel and the probe. The colour coded emergency flap allows quick and easy access, even while you are carrying the pack. 
Evoc pursues the communion of safety and ergonomics with its Line RAS Protector pack. It incorporates the removable Mammut RAS 3.0 airbag and a lightweight, certified, removable back protector. The comfortable and breathable design makes sure that safety does not get in the way of performance. 
Ortovox keeps a full offer of avalanche safety products, including the lightweight AVABAG airbag system, and announces a new launch for late February.
Avalanche safety largely relies on technology. BCA boasts the beacon with the strongest signal. The new A.Way beacon and app by ABS allow users to tag their equipment with Bluetooth receivers and track it through the app. The app provides all you need for a tour, too, from planning to navigating and even booking Allianz insurance directly. ABS' P.Pride pack comes with Protegear's emergency beacon, which makes an instant emergency call when the airbag is triggered, or when you are unconscious or buried. It is the only system that can call for help even when you cannot. Recco's SAR (Search and Rescue) helicopter programme expects to have eighteen operative units in seven countries in Europe and North America by the end of 2021. They are also testing their first rescue drones, which they expect to have up and flying within one to three years. 
If fully tech'd comes first, easy to carry comes second. "When it comes to airbag systems, shovels and probes, there is a focus on lightweight", says Dieter Kotlaba of Ortovox. "A constant eye is set on staying lightweight", says Christian Lehmann of Black Diamond. Their shovels and probes come in aluminium and carbon versions. The Recon LT is the lightest digital beacon in the market. The Transfer LT shovel only weighs 450 g. The riveted blade is thin enough to slice through debris, while large enough to move snow around. 
Non avalanche technology
Some non-avalanche products round up the snow safety catalogue. BCA offers the Link radio system with the interface located at the fingertips, so you don't have to get the radio out to change the settings.  ABS introduces a new minimalistic day pack for after work tourers who move in safe terrain. It has a safety compartment for probe, shovel and first aid kit with a quick access emergency flap. Evoc presents a tour-oriented backpack with the new Liteshield Plus back protector. Protegear offers the A*Live SmartSafety tool which works all year round for all outdoor sports. 
Retailer Support
Education is key. All brands invest efforts in training retailers, through meetings and visits to stores, or digitally in times of restrictions. The aim is to educate retailers in avalanche prevention and to provide guidelines about how to behave, so they can transfer this know-how to consumers. Shops can expect the visit of many first-time users with very basic knowledge of snow safety. Offering the right training along with the right product will turn these visits into sales.