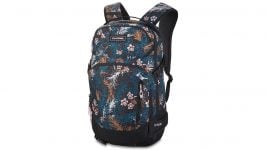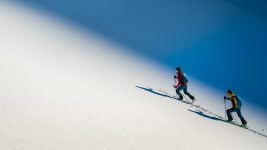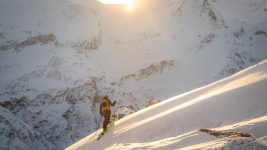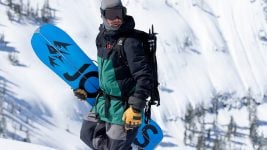 Technical Snow Backpacks FW20/21
Dubbed the 'backcountry boom', the touring industry is growing and it's growing quickly. Tourers therefore need technical backpacks that can keep up with the rigorous demands this side of snowboarding entails, and brands are having to step up or risk being forgotten in the busy market.

An increasing desire for a close affinity with nature, the athletic benefits of touring (bikers, swimmers and runners have been known to use ski touring as a recreational sport in winter), the increasing cost of lift passes, the influx of touring companies, the improvement (and availability) of safety equipment and simply the desire to try something new can all be attributed to this apparent surge of interest in backcountry snowsports. Touring is no longer reserved for a select few, a sentiment that is echoed by brands such as EVOC who are "covering all aspects of All Mountain Touring – from the valley to the mountain to the peak – delivering a completely redeveloped backpack for every use" in their upcoming FW 20/21 range.  

Technical Features
"With the market becoming increasingly competitive, consumers are looking to brands who are authentic in this space and offer products which meet the needs of modern snowboarders and freeskiers," explains Dave Trenholm, Product Line Manager for Snow Packs at Dakine. But what does the modern tourer need?

Protection is paramount in the backcountry and brands need to work to address the safety concerns of their consumers. Ascents are also physically demanding so tourers seek a product that allows them to do this without any unnecessary weight on their back. "Weight will always be at the forefront of the conversation," explains Patagonia's Austin Robbs (Product Line Director – Equipment & Accessories) which is why they've kept their Descensionist model light and simple whilst also keeping a larger size range at 40L and 32L for big mountain touring.

Removable lightweight back protectors are featured in many of the FW20/21 models. Ortovox, for instance, are introducing the new Haute Route series which features an ergonomic back system for enhanced protection and comfort. Amplifi have also responded to this demand by introducing a super lightweight back protector into their collection from their partners at Sas-Tec which weighs a mere 230g and doesn't sacrifice on safety or quality.

It's no secret that touring also requires a fair bit of equipment and backcountry enthusiasts need a backpack that can accommodate a plethora of tools to be stored safely and methodically. Dakine's snowpack offering is spearheaded by their popular Heli Series. In FW20/21, their most compelling tech advancement in this range is the improved snow safety tool carry features, the reinforced abrasion areas for carrying skis/boards, an elevated quick dry mesh padded back panel, and an improved fit.

"Riders expect packs to be purpose built to efficiently hold the technical gear they use and to stand up to serious use and abuse in the mountains," explains Seth Lightcap, Jones' Global Marketing and Team Manager. Their DSCNT 32L model is designed for long tours and technical objectives that demand a full kit. The vertical board carry straps plus side ski-carry straps allow multiple options for carrying your board and a back-panel zipper to the main pocket provides access to your gear even with the board attached.

Design
The main trend in FW20/21 leans towards multi-use wintersports backpacks that are both reliable and functional on the mountain but sleek in aesthetic for everyday use. Picture's Johanne Berthou explains that "if the bag does not crossover and is only for freeride use then doors are automatically closed." Many of their FW20/21 designs therefore feature an elongated rectangular shape, which gives their backpacks an ergonomic and versatile design that feels at home in the city as well as the slopes.

Technical snow backpacks can have all the bells and whistles, but the consumer rarely (if ever) will need to use them all at the same time. Stowing away or minimising unused features like helmet, pole and other webbings when they're not in use is essential.

These design trends are echoed in the colour choices for many brands; Amplifi are sticking to their popular stealth black with the inclusion of some tonal melange for a tough urban touch. Ortovox are deviating from previous colourful palettes and heading more towards monochrome for a clear, minimalist yet functional design. All of Jones' packs continue to be black for "universal appeal" and Dakine are looking at key solids next season with a focus on caramel, deep red, dark rose and dark olive.

Materials
The search for ever-more sustainable solutions and environmentally friendly manufacturing processes continues to grow year-on-year so expect to see an influx of bluesign approved, recycled polyester (Dakine, Jones, Patagonia), PVC free nylons (Ortovox, Jones) and regenerated nylon made from recycled fishing nets, plastic bottles and other nylon waste from our oceans and landscape (Pacsafe's Vibe, Citysafe and Venturesafe models) in FW20/21. Patagonia have gone as far as removing the DWR coating from the liner of their Snowdrifter packs since it's a non-critical element for keeping water out.