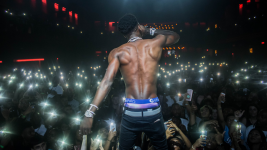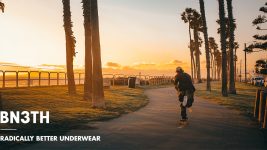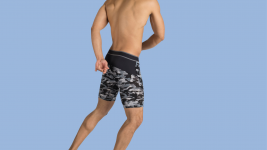 Sporty, stylish and sustainable: Next season's boardsports underwear for men offers the complete package. Catch all the latest trends in our buyer's guide by Dirk Vogel.
Boardsports-specific underwear is having its moment in the spotlight. It's the perfect storm of rising consumer demand and declining external involvement in market. "There seem to be a lot of big brands dropping the category, leaving the space for underwear-specialized brands that make less generic product and can service this category well," said Juan Gonzalez-Vega, CEO and Co-Founder of Moskova Underwear, while adding that for retailers, "underwear brings one of the best ROI per square meter in stores."
This sentiment is shared by Nora Shaughnessy, Director of Product at BN3TH: "Our underwear is a large sales driver that takes up very little space in the store. While pouch underwear is relatively new to the consumer, with proper retailer knowledge our product helps to incrementally increase sales of all underwear on the floor."
MARKET & PRICING
In 2019, boardsports underwear aligns with current retail trends. "Consumers are placing a bigger emphasis on smaller categories such as underwear," said Danny Evans, VP of Marketing at Ethika, adding: "While other categories may be declining, underwear is leading to larger year-over-year revenue for our retail partners." The team at Stance said: "Underwear is still the fastest growing part of our business and this is without question been due to the quality of the offering." One of the main growth drivers is the fact that, "men are willing to pay a premium price for quality products that can improve their day-to-day lives," said Darren Wilcox, Brand Manager at Saxx Underwear.
How much are consumers willing to spend? At the entry level, fun boxer shorts with cool graphics sell between €14.99 to €29.99. Technical shorts with pouches and advanced fabrics range from €14.99 to €44.99. Premium merino wool – offering natural antibacterial and moisture-wicking properties – can raise prices up to €54.99, depending on the brand and technicality. For retailers ready to bank on underwear this season, here are the five major 2019 men's boardsports underwear trends:
1. Cuts: Longer legs
Boxer briefs with elastic waistbands and 'ball' pouches are still the number one cut for 2019. The big change is that leg lengths are increasing across collections. "The longer length holds the underwear in place and prevents the pairs from riding up," said Danny at Ethika. Meeting consumer demand, Moskova is launching a longer version of the M2 model with 90% thigh coverage, while Saxx has long-leg versions of the Vibe and Kinetic.
2. Materials: All-season comfort
In terms of materials, merino wool is still king but proprietary blends – with every brand concocting its own mix – are trending. The common denominator is comfort in any situation. For Adrian Rief at super.natural, it's all about underwear that, "keeps you warm on cold days and ensures you stay cool and comfortable on hot days." Mons Royale has found its perfect blend with Merino Air-Con Single Jersey. "It's 83 per cent Merino wool surrounded by a 13-percent nylon yarn to get the right stretch and the benefits of merino wool right next to you skin, with four per cent Elastane," said Jana Linicus – Marketing Coordinator Europe Mons Royale.
3. Technology: The full package
Today's underwear packs major performance tech – including seamless construction, ventilation, plus male-specific pouch compartments – to satisfy customer demand. For 2019, Bawbags introduces "a more generous 'baw pouch' for extra comfort." Saxx incorporates proprietary technologies such as BallPark Pouch, Flat Out Seams and 3D Fit, and provides in-store torso displays to support retailers. Moskova includes cotton-lined inserts in the crotch region for added hygiene and polyamide back panels for flexibility.
4. Graphics: Bright and loud
Putting a finger on this season's aesthetic, Jana at Mons Royale identifies, "bold colours that are bright and loud." Design standouts include horizontal stripes in orange and blue (Bawbags), wavy black-on-white lines (Moskova), black and red scribbles (BN3TH), natural scenes and Tropicana (SAXX), and artist collabs with TJ Rogers and Lucas Beaufort (BN3TH). And of course, camouflage is always fresh in boardsports. And as the team at Stance points out: "The waistband remains the battle ground for branding, but subtle and clean is definitely the direction going forward."
5. Storytelling: That special something
Consumers want special brands with special stories. These range from pro athlete endorsements, like Ethika with pro skateboarder Danny Way, or commitments to positive causes. Bawbags continues its collaboration with the Teenage Cancer Trust to mobilize donations while proliferating flyers with self-diagnosis instructions. The underwear category is also seeing a major commitment to sustainability. Efforts include bluesign certification for brands such as super.natural and green materials like BN3TH's Tencel Modal from ethically sourced beech trees and Merino wool from Mons Royale that is ZQ-certified for animal welfare. The team at Stance said: "The consumer is definitely more aware of how every element of their wardrobe is made, and sustainability continues to drive innovation for us – ButterBlend fabric with SeaCell is a huge focus for us in 2019." With that said, wearing boardsports underwear feels good on your skin – and your conscience.